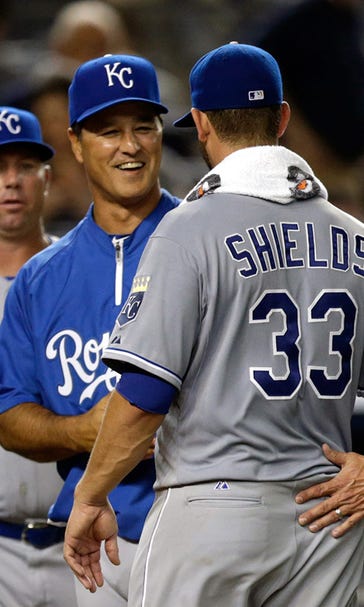 Big Game James lives up to his name in pulsating Royals win
September 5, 2014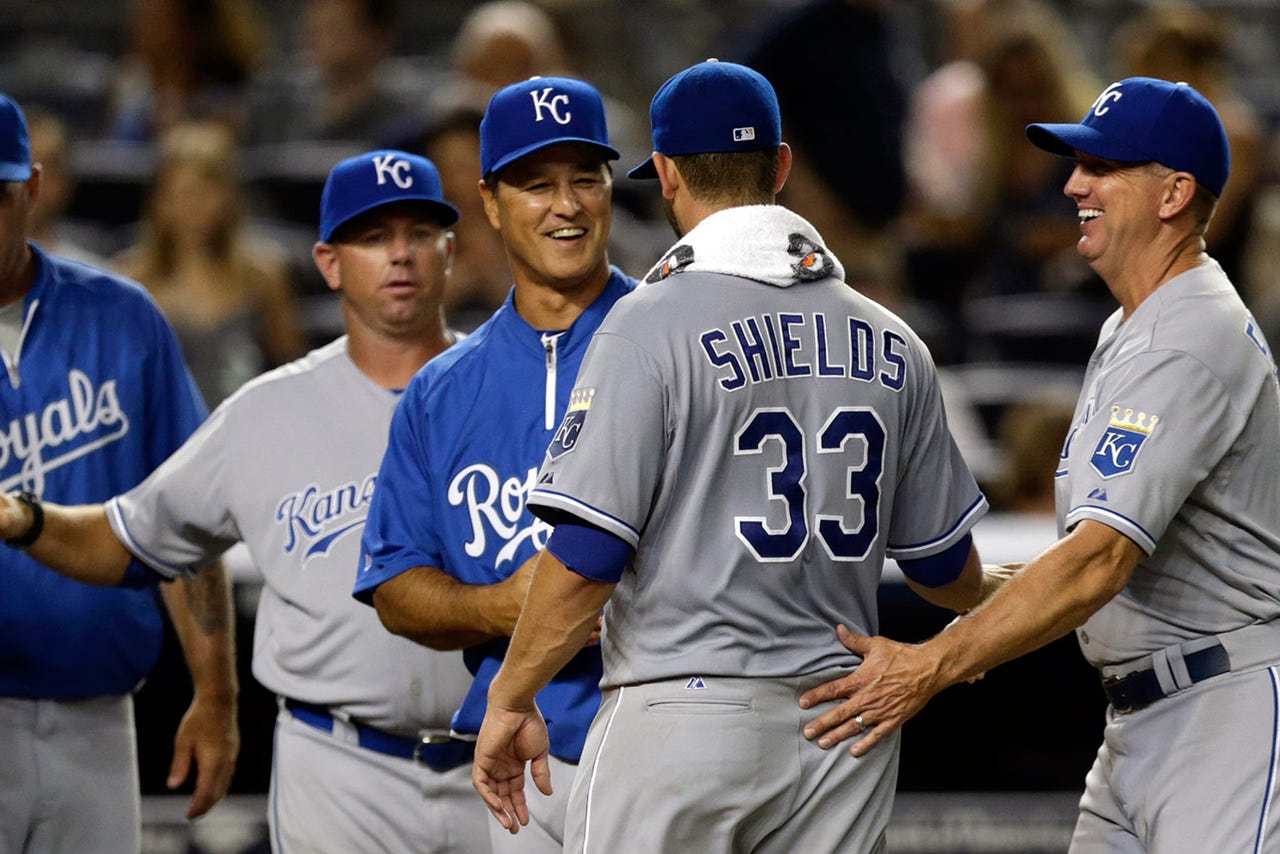 There probably are some Royals fans who still hate the James Shields-Wil Myers trade. But it's hard to understand why.
And here was perhaps the signature win of the trade as Shields overpowered the Yankees for 8 1/3 innings at Yankee Stadium, and Wade Davis, also acquired in the trade, got the final two outs for a pulsating 1-0 win.
This no doubt was what general manager Dayton Moore had in mind when he acquired Shields -- a pitcher who could lead the Royals to a clutch September win in a playoff race.
Shields gave up just three hits. And the real drama started after Shields gave up a bloop single to Derek Jeter with one out in the ninth. In came Davis instead of Greg Holland, and he calmly struck out Brett Gardner and Carlos Beltran to end it for his first career save.
And with that, Royals fans everywhere breathed again.
Davis told FOX Sports Kansas City's Joel Goldberg afterward that Holland apparently needed another day of rest after working three straight games earlier this week.
Manager Ned Yost said on the Royals Live postgame show that Holland felt some triceps tightness after his last game against Texas. Yost said he didn't consider the injury serious and that Holland was kept out another day "as a precaution."
Davis felt confident he could do the job.
"We feel confident with everyone down there (in the bullpen)," Davis told Goldberg.
Added Shields, "Other than Holly, there's no one I trust more than (Davis)."
Shields walked none and struck out six.
"Best game I've seen him pitch all season," Yost said.
3 UP
-- Esky's speed. Alcides Escobar had perhaps his best at-bat of the year, working 12 pitches in the third inning before finally hitting a hard ground ball to the left side. The ball scooted past third baseman Chase Headley and was ruled an error, though it seemed a tough play. Esky then alertly kept running toward second when Gardner in left field was slow picking it up. Esky made it easily. That allowed Esky to score on Nori Aoki's single to center.
Watch the Royals Live pregame and postgame shows before and after every Kansas City Royals game on FOX Sports Kansas City.
-- Aoki in the clutch. Well, no one else was doing anything offensively other than Sal Perez (two hits), so it was Aoki who came through in the third. Aoki hit a belt-high fastball right through the middle for a base hit and Esky scored easily. Great job.
-- Big Game James. What else can you say about Shields? When the Royals needed a great start, Shields came through in a big way. He probably had the best command in a game he's had in his two seasons with Kansas City. Shields spotted his fastball, cutter and changeup like we've never seen before. Just a sensational outing to stifle the Yankees' lineup. "I was just pounding the strike zone and getting ahead in the count early," Shields said.
3 DOWN
-- Bad steal attempt. Hard to pick on Aoki after he came through with a clutch hit in the third, but it didn't make much baseball sense for him to be trying to steal after his single with Alex Gordon up and two out. Gordon has hit 10 homers in the last month or so and is always a threat, especially at Yankees Stadium with a short porch in right. Aoki tried to avoid the tag but slid past the bag and the tag was applied for the final out of the inning.
-- Swinging at 3-0. You already know my position on swinging on 3-0 pitches -- it's just too low of a percentage to make sense. The percentages are far higher that a hitter can reach base on a walk. But the Royals keep hacking at 3-0 pitches, refusing to take walks. This time Billy Butler hacked at a 3-0 pitch in the fourth and hit a weak pop-up behind the plate to end the inning. The Royals now are just 3 for 14 swinging at 3-0 pitches. Ridiculous.
-- Plate discipline. Hey, we know Michael Pineda is a tough pitcher. He's tough against anyone. But he's also on a pitch count as the Yankees try to get him out of games before he gets to 100 pitches. And the Royals started out the game making him work, forcing 51 pitches through three innings. It seemed like Kansas City at least would chase him in the sixth. But the Royals abandoned their patient approach after Butler's AB, and Pineda worked all the way through seven innings.
You can follow Jeffrey Flanagan on Twitter at @jflanagankc or email him at jeffreyflanagan6@gmail.com.
---