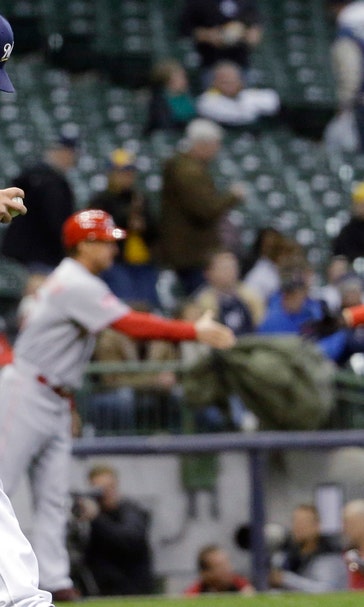 Big blasts push Reds by Brewers
April 22, 2015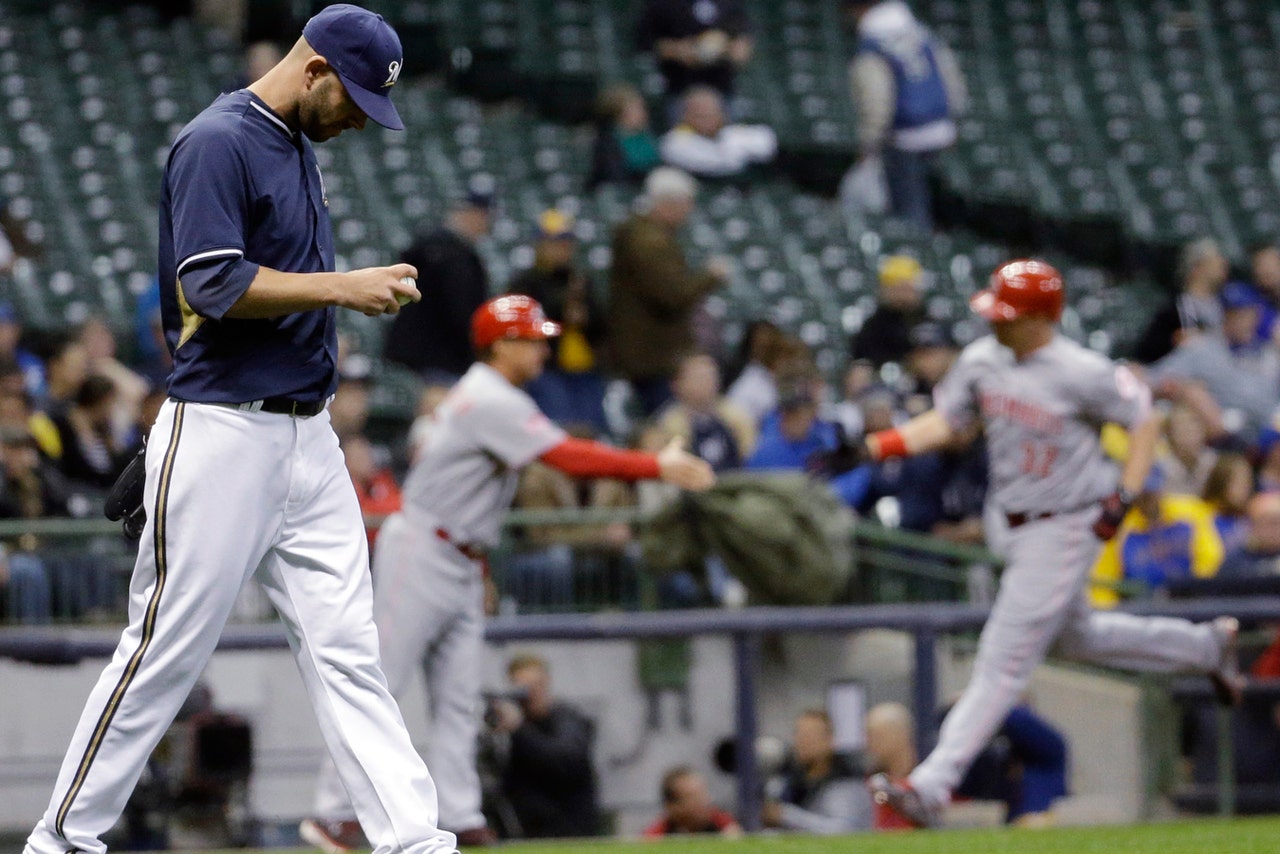 MILWAUKEE -- On a night in which their struggling offense finally broke out, the Milwaukee Brewers pitched their poorest game in almost six years.
Ten runs weren't enough for Milwaukee to snap out of its early-season doldrums, as the Cincinnati Reds hit grand slams in consecutive innings Tuesday in a 16-10 victory over the Brewers at Miller Park.
"For us to score 10 there and not even be close to winning . . . I can't really explain it," Brewers starter Mike Fiers said. "Things haven't been going our way; things definitely haven't been going my way. I need to be better. I don't know what else to say."
This time, the offense wasn't to blame.
Fiers wasn't sharp from the start Tuesday, but he should have been through the third inning unscathed after forcing Brandon Phillips to hit a routine ground ball to third base. Rookie third baseman Jason Rogers threw the ball high and wide of first baseman Adam Lind, however, loading the bases for Jay Bruce.
Three pitches later, Bruce launched a grand slam to the bleachers in right field to put Cincinnati up, 4-0.
"I need to buckle down and get that out," Fiers said. "You can't go back and look at little things like when a guy makes an error. We're a team. I need to pick them up at that point and I didn't."
That has been a deficit too large for the Brewers to overcome this season, but they showed a bit of resiliency by responding with four runs in the bottom of the third to tie the game.
But Todd Frazier made Fiers the first pitcher since 2011 to allow two grand slams in a start by connecting on a 440-foot blast to left with two outs in the fourth to put Cincinnati in front at 8-4.
Cincinnati is the first team to hit two-out grand slams in consecutive innings since the San Francisco Giants did so against the Los Angeles Dodgers on Sept. 19, 1998.
"He wasn't throwing the ball (like) he wanted to," Brewers catcher Martin Maldonado said of Fiers. "He was missing location and they got us good. Hopefully (Wednesday) we come back better and make better pitches. I think we have to concentrate a little bit more -- both me and the pitcher -- and execute more. Hopefully we go out there and [do better].
"Our team, we showed we've got the fire today. We made a push. Next time we have to go out there and try to not do too much, especially me and the pitchers."
Capped by a grand slam from second baseman Elian Herrera, the Brewers scored five times in the bottom of the sixth to cut Cincinnati's lead to 13-10. But each time Milwaukee crawled back into the game, the Reds answered.
Zack Cozart's second home run of the night combined with a two-run single from Phillips turned the game back into a rout in the seventh inning.
Fiers lasted just four innings Tuesday, allowing eight runs (four earned) on six hits. Relievers Tyler Thornburg and Neal Cotts combined to allow seven earned runs in 2 1/3 innings.
Milwaukee's starting pitchers now have a league-worst 6.12 ERA, an aspect of the early-season struggles overlooked due to what has been an anemic offense prior to Tuesday.
"It's concerning; it always is," Brewers manager Ron Roenicke said. "Some of those starters are guys that are really consistent that we think every time out have a chance to win. So we need to get back to that feeling -- not just the pitching staff, but the regulars, too, that every time one of those guys goes out there we feel like we have a chance to win."
Herrera finished with a career-high five RBI, while Jean Segura, Ryan Braun and Rogers added two hits each. But on their most productive offensive night of the season, the Brewers committed two costly errors and surrendered the most runs they have in a game since 2009 to fall to 2-12.
Up next? Reds ace Johnny Cueto on Wednesday night.
"It's tough right now," Fiers said. "It's a tough hole we're in and we need to figure out a way to get out of it. Instead of sitting here pouting or saying the call didn't go our way, we need to make an adjustment and get it the next time."
Follow Andrew Gruman on Twitter
---