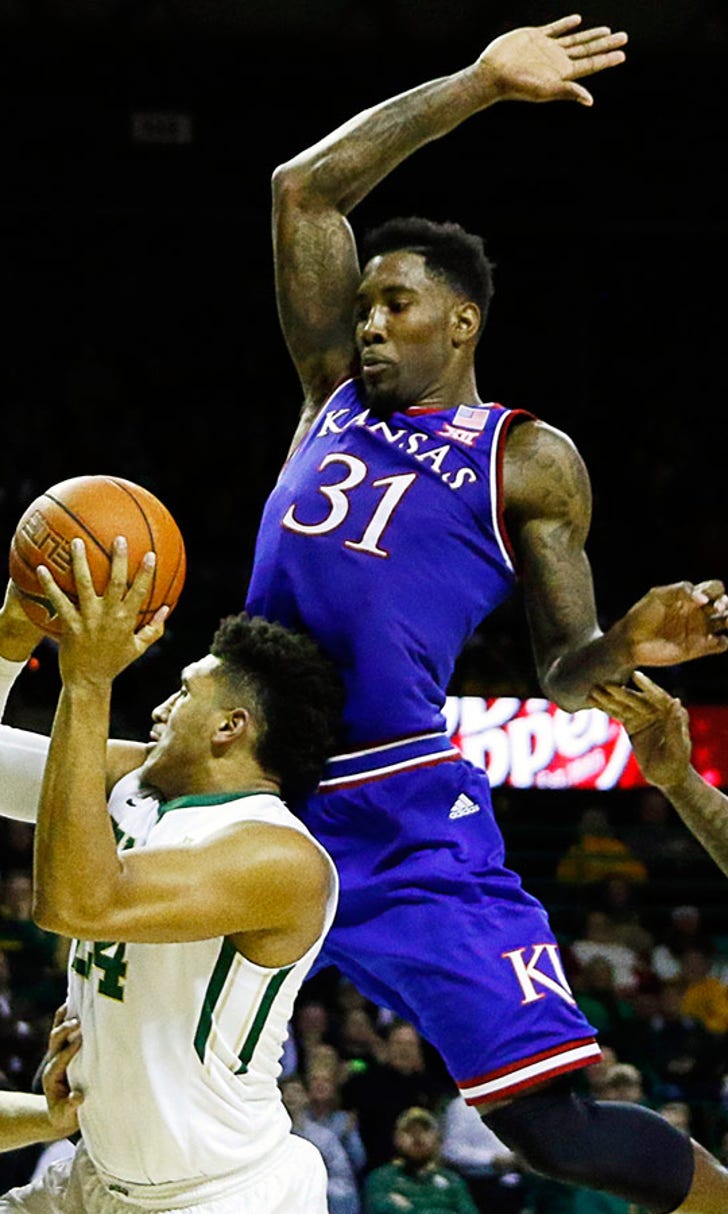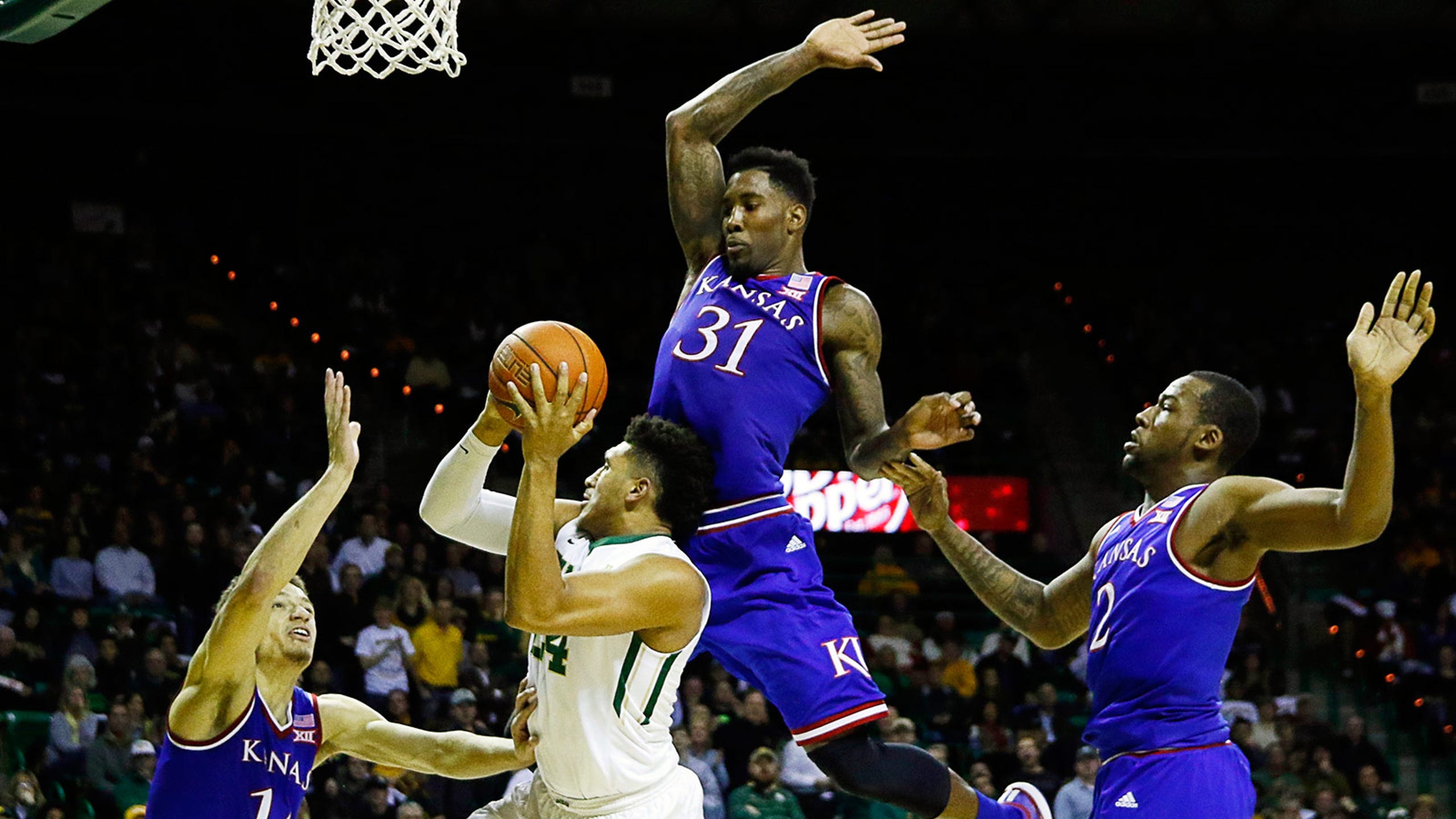 Big 12 will be a grind -- and nobody grinds at this time of year like KU
BY foxsports • January 8, 2015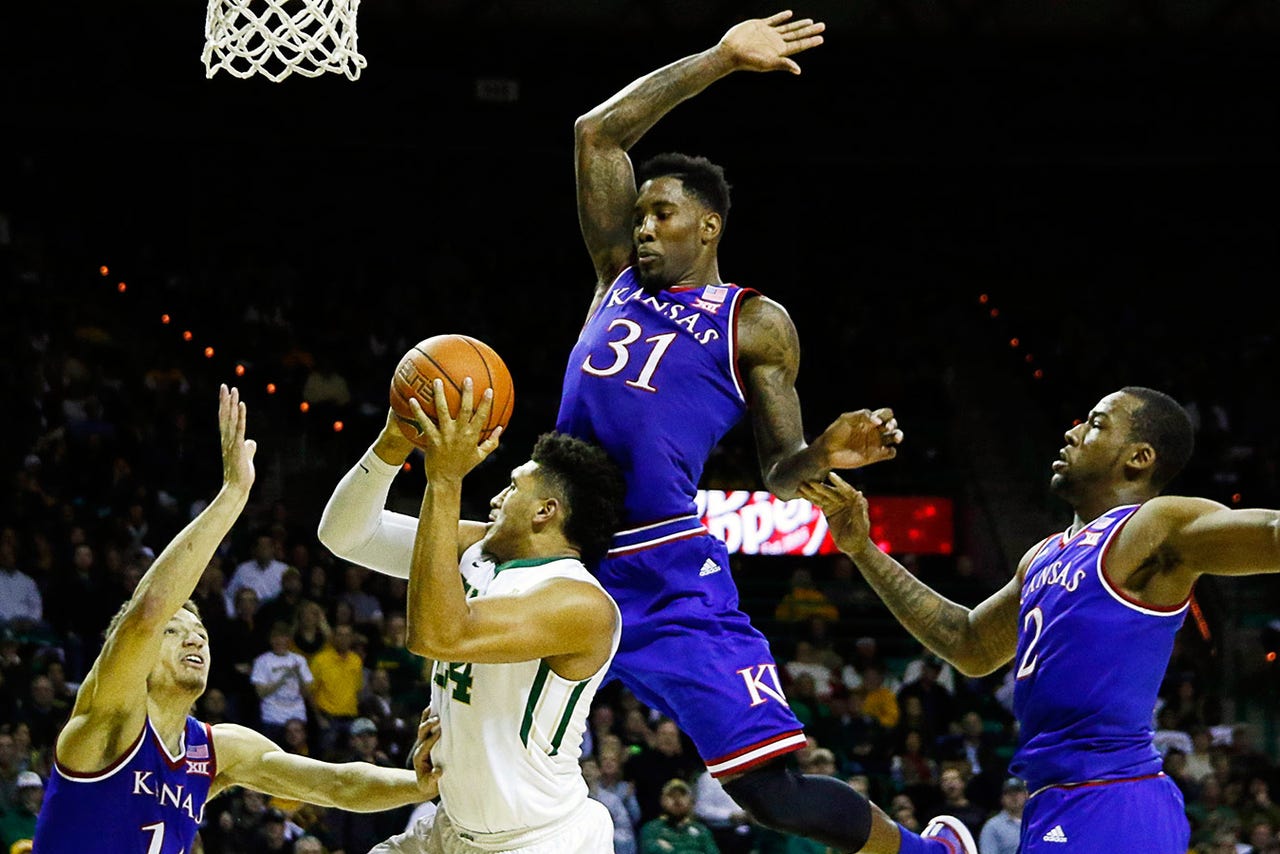 Can we exhale now? Welcome to the Big 12 in 2015, where every game, potentially, is a game of inches.
Down 54-53, Baylor's Royce O'Neale surges down the court for what should be a lead-changing layup with 10.1 seconds left. Kansas guard Wayne Selden and forward Perry Ellis, closing fast and late, converge, changing a shot that never truly finds the rim. The carom lands on the hands of the Bears' Rico Gathers, who gets an easier bunny than O'Neale just had. Only that comes off too strong, and the second carom goes off of Ellis. Baylor ball.
Enter Kelly Oubre Jr., whose fingertips and 7-foot-2 wingspan deflect the inbounds pass by 5-11 Bears guard Kenny Chery. The two go up in a dead heat, both hands on the rock as it reaches its apex, bouncing back out of bounds, and the nearest official rules the ball went off Chery last.
The two sides trade a pair of free throws each, and when Jayhawks point guard Frank Mason misses the front end of a one-and-one with 3.9 seconds left, Baylor, down one, gets another crack. Four seconds is an eternity in college basketball. Oubre squeezes the dribbler on the defensive end to delay the relay, and Selden and Ellis race back to tighten the screws at midcourt. By the time Baylor sees daylight at the other basket, the final horn has already sounded.
Did we say inches? We meant millimeters.
We hope you enjoyed KU 56, Bears 55, because you're starting to get the feeling that a lot of Big 12 tilts the next eight weeks could end up following Wednesday night's script, that you could divide the top six schools in the loop -- seven if you want to count Oklahoma State (11-3, 1-1 conference) -- by a kitten's whisker.
If the Jayhawks (12-2, 1-0) are destined to grab an 11th straight league title, it will likely be more a slog than a runaway. And it could require a different hero every night.
Or, in the case of the wild win at Waco, a different hero every 10 minutes. It was Brannen Greene early, Jamari Traylor in the middle, Selden late and Oubre right at the end.
"We had different guys step up and make plays," Jayhawks coach Bill Self told KUSports.com after the contest. "It was a great team win."
It was the sixth time in two years Ellis, KU's leading scorer and spiritual center, had scored four points or fewer in a contest -- and just the third time in those six aforementioned games that the Jayhawks walked away on top.
Self (as per usual) had the better roster, but Baylor (11-3, 0-2) had the better game plan early, zoning and junking the Jayhawks to death, then zoning them again. A little 1-2-2. Some 1-3-1. A KU team that's still plenty green in some spots was forced to adjust on the fly -- and not everyone took to it.
Traylor (13 points, five rebounds, two assists) seemed to recognize the soft spots immediately, either dropping rainbows from the holes in the zone inside the paint, or exposing the gaps on the weak side on an alley-oop feed to Cliff Alexander with 13:31 left in the contest, a slam that cut the Bears' lead to 33-32.
But when Big No. 31 fouled out with 5:18 to go, it was Selden -- who'd been even quieter than Ellis to that point -- that netted the Jayhawks' last three buckets, including a floater with 90 seconds left that pushed the KU lead to 54-51, the seventh of seven straight makes to end the contest.
This one had everything: Unlikely leading men in Greene early, shooting over the Bears' zone (five first-half points) and Greene late (two free-throw makes with six seconds left). A cliffhanger in Self's gamble -- a calculated one, granted -- to foul, up three, with five seconds on the clock.
And plenty of crisis early. The Jayhawks were tentative at the outset even by Jayhawk standards, not even taking a foul shot in the first half. Ellis played as if in a fog, missing five of his six first-half attempts. Instead of surging to the gaps in the Baylor zone, he settled for baseline jumpers that rimmed out or forced runners that went short.
At least the Bears didn't run away in the meantime: The hosts missed 18 of their first 25 shots, and shot three for 17 inside the arc.
But a win is a win is a win, and league championship trophies don't give a gerbil's patootie about style points. KU was KU, Baylor was Baylor, and look -- nobody said this was going to be easy. Don't be shocked if a lot of road tilts -- and some home ones, too -- look a lot like this one, a sweatbox to the end. It's grind time, and nobody grinds at this time of the year the way the Jayhawks do. Still.
You can follow Sean Keeler on Twitter at @SeanKeeler or email him at seanmkeeler@gmail.com.
---