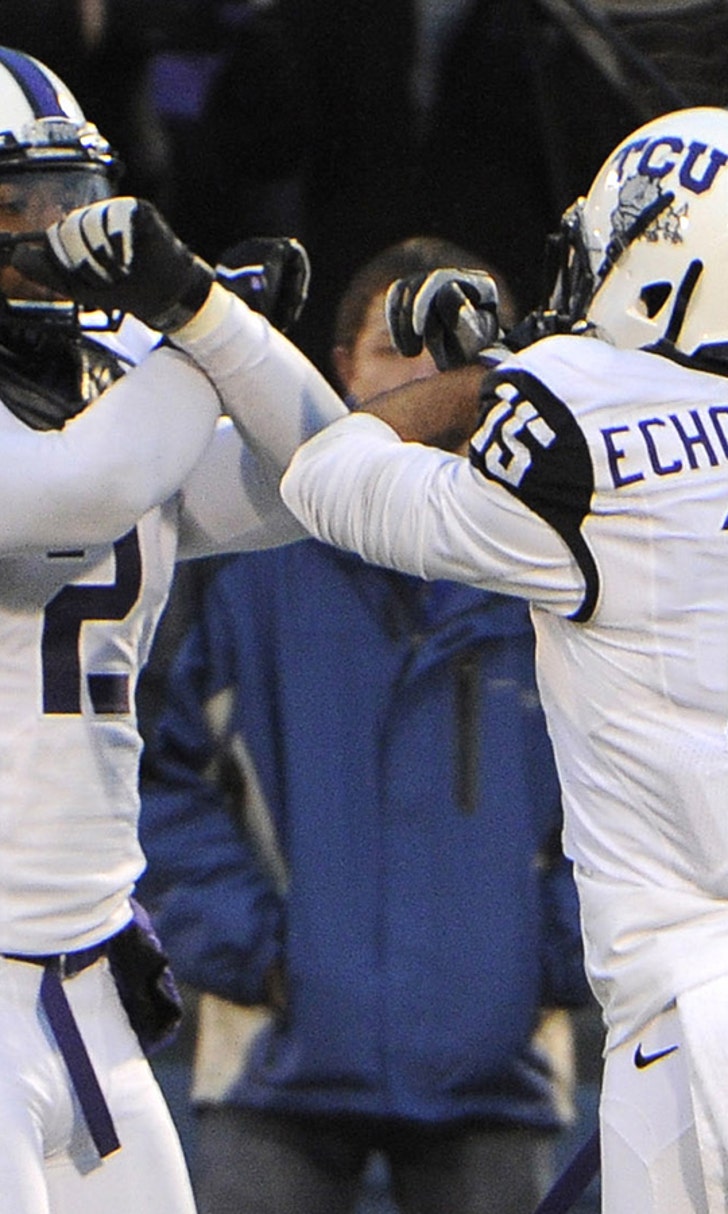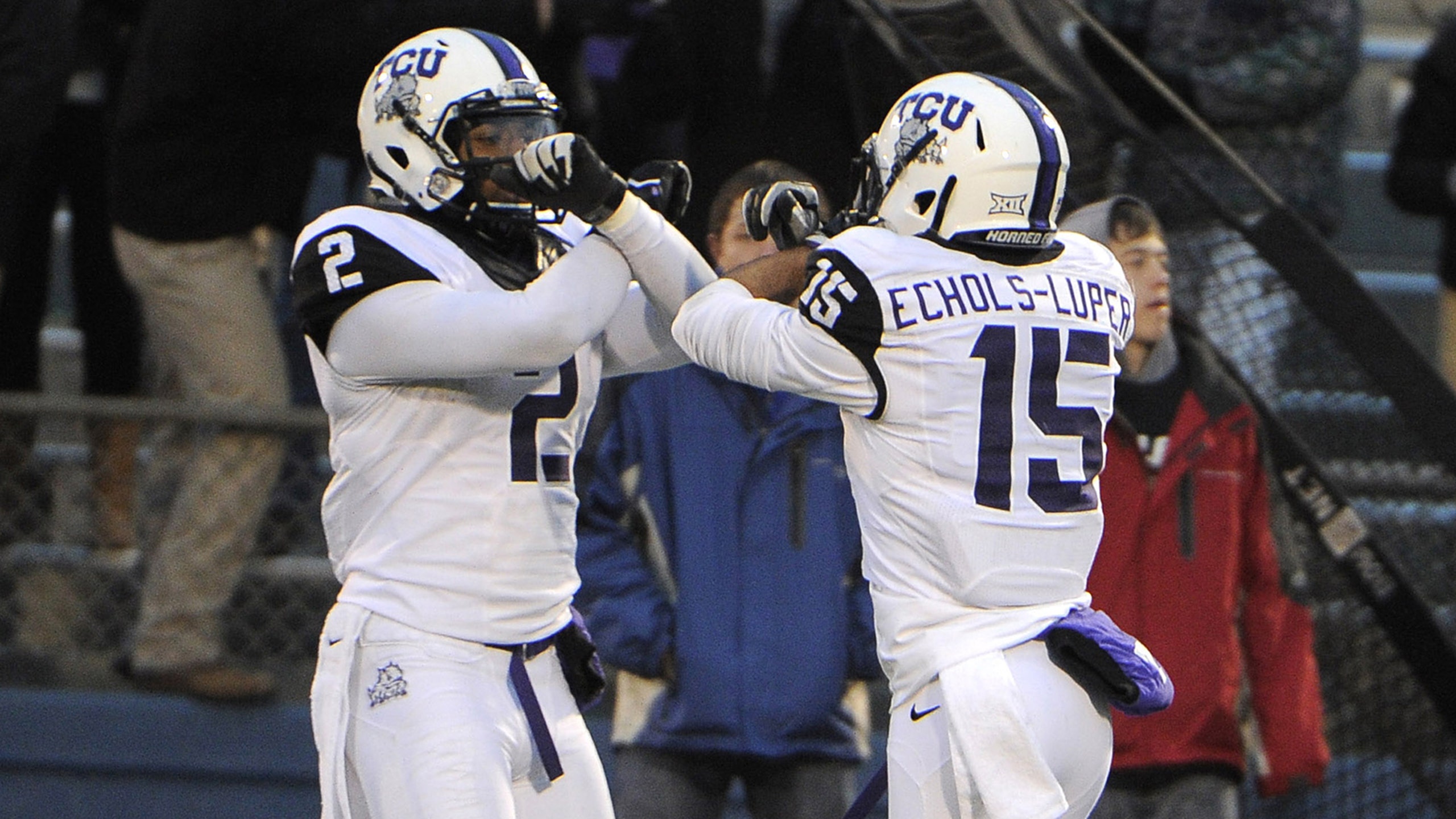 Big 12 Mailbag: Playoff, TCU/BU, OSU QBs
BY foxsports • November 21, 2014
Thanks for all your questions this week. Be sure to follow me on Twitter or on Facebook for a chance to make the next Mailbag. 
This week, we're covering the future of the playoff, officiating, OSU's quandary, the KU coaching job and more. Let's get to your questions.
David Beville asks: Should the Cowboys burn Mason Rudolph's redshirt or play a walk-on if Garman can't go?
David Ubben: I feel for Mike Gundy in this situation. He said it best this week: There's no right or wrong," he said, asked about the prospect of Garman not playing. "You're caught in a deal there where you do what you have to do."
If Garman doesn't play (or gets hit and has to leave), I'd definitely go with what's best for the program as a whole. One game is one game. 
OSU has already invested in redshirting Rudolph. To burn it on the road in a game you probably have a 10 percent chance of winning just seems foolish. Preferred walk-on Tyler Cornelius is the only other quarterback on the roster, and he somehow weighs 184 pounds at 6-foot-6. Hand him the ball and don't waste an entire year of eligibility. Even if Garman can't go this week, he practiced on Wednesday. As such, it's reasonable to assume he'd be able to play against Oklahoma, who OSU has a much greater chance of knocking off to play in a bowl game. 
OSU is committed to retaining a year of eligibility for Rudolph. If it wanted him to play as a freshman, September and October was the time to do it. It'd be absurd to get Rudolph time now, even if a bowl bid is theoretically within reach.  
Kevin Reed asks: Should conferences rate officials based on performance? 
David Ubben: I hate to be the bearer of bad news, Kevin, but they already do. The Big 12 coordinator of officials, Walt Anderson, is a hard-working guy and officials get postgame grades from current and retired NFL officials. That film then gets trimmed down to about 40 plays for each officiating crew, which Anderson grades himself. 
Officials have access to those grades, but they're guarded from everyone else like they contain every deep, dark secret from the Big 12 secret society. 
There's a subtantial amount of accountability that happens with officials, but it doesn't help anyone if those things are handled publicly. In the case of controversial calls, I wish officials were more available for questions, rather than sending a single pool reporter, but don't assume these guys are out here throwing flags without anyone checking their work. 
That's just not the case. 
Jason Mitchum in Kansas City asks: Do you think Kansas will hire a guy with head coaching experience or an assistant like Bowen?
David Ubben: We'll know in the coming weeks. If Kansas somehow knocks of K-State (the Wildcats' average margin of victory the last four seasons vs. KU: 37.75 points), I do believe Bowen will get the job. KU's already come a long way in the last month. Simply being competitive in four of five Big 12 games is a huge step in the right direction, and there's not a lot of shame in getting blown out by Baylor. It happens to the best of us. Ask Oklahoma. 
Even if Bowen doesn't end up getting the job, whoever does would be foolish not to save a spot on the staff for Bowen. 
Nick Pants in Texas asks: More likely to cause the destruction of mankind: the final CFB playoff rankings or shawn oakman?
David Ubben: With the current logjam for the fourth spot in the playoff between TCU, Baylor, Ohio State and Mississippi State, we're on a crash course for a historic bushel of sour grapes. With the old BCS, you usually only had one or two teams with a decent case to be included in the national championship. Double the teams included and you'll probably be able to double the number of angry fan bases. 
More than anything else, this should provide us pause for expanding the playoff to eight teams. Our anti-riot infrastructure may simply not be able to handle it. 
John Wheeler in Waco asks: Which one loss team (or FSU with a loss) when left out would cause the greatest national outrage and a push for an 8 team CFP?
David Ubben: Do I really have to answer this question? Lunatic fringe aside (every fan base has them, even if the ones in Tuscaloosa are a bit further out on the limb), it'd easily be Alabama. I don't see any scenario in which No. 1 Alabama slides out of the top four, but if it happened, you better believe there will be outrage. 
My vote for the nation's best team right now would be Oregon, but I wouldn't begrudge anyone who says it's Bama. And fair or not, the playoff just wouldn't be as much fun without an SEC team in there. If Bama's not in, Mississippi State's not in, and yeah, the national outrage would be deafening if the committee crowns a top four without an SEC team among them, unless both Alabama and MSU lose between now and Dec. 7. 
One question I've gotten a lot in the past month is if Baylor and TCU were Oklahoma and Texas, two more traditional powers, they'd be in the top four. Maybe based on preseason polls it's possible, but I really just don't buy it. Traditional powers do have some advantages when human polls and perception get involved, but Mississippi State isn't exactly a blue blood, and they stayed in the playoff field after a loss on a week that all three of their best wins suffered losses. Historic power just isn't as big of a deal as fans of programs with more modest histories believe it is. 
Jeff Olson in Fort Worth, Texas asks: What is your favorite meal and why is it breakfast?
David Ubben: There's no contest here. Make a list of all the breakfast foods you DON'T like. It'll be one of the shortest lists you'll ever see. Oh, you don't like the texture of oatmeal? You're not doing it right. Put some fruit in there and add another tablespoon of brown sugar. 
Waffles? Pancakes? French Toast? Crepes? Blintzes? Dutch babies? Kolaches?Omelets? Eggs done almst any possible way? The options are limitless on both sides of the sweet/savory coin, and bacon, ham and sausage can all find a way to horn in on the fun on both sides of the aisle. It's all delicious. 
Except for eggs benedict. That's disgusting. 
Spartacus Crawford asks: Since the committee seems to be favoring the idea of a conference championship, could you see the big 12 implementing one soon?
David Ubben: This is just a faulty line of thinking I see far too often. I don't understand where Big 12 fans got this idea that the Big 12 is at a disadvantage without a championship game. 
It's the exact opposite.
The league plays nine conference games, but that's a lot better than nine games and a championship game like the Pac-12 does. That league has the most difficult road to the playoff. 
Previously, the Big 12 champion had to play eight league games and a ninth against the best team in the opposite division. Now, that ninth game is just another game. The Big 12's road to the playoff is easier than ever. 
From 1996-2010 the Big 12 Championship game did not once slingshot a team into the title game. On five occasions, a team ranked in the top three lost. 
The Big 12 negotiated its last television contract without a championship game as part of the package, and its money is still on par with every other power conference in college football. 
Unless the playoff somehow forces the Big 12 to do it (which presents loads of logistical questions, the answers to which are all dubious), the championship game is dead. There's zero momentum for it within the conference among decision-makers. 
John Kitch asks: Would a conference championship game really help Baylor or TCU this year since they'd be in the same division?
David Ubben: And this is a nice addendum to that conversation. It would be nice if the Big 12 would only commission and hand out one trophy, but you're exactly right. It wouldn't do very much in terms of settling the TCU/Baylor debate. 
The Big 12 had a championship game in 2008 and though that was a three-way tie and a different conversation in terms of the standings, Texas fans still insist they should have played for the title, not Oklahoma. The Big 12 added a rule to its bylaws because of that season. 
Landon McGee in Waco, Texas asks: What are the chances that the CFP goes to 8 teams with P5 automatic bids in the near future? (From a Baylor fan, of course)
David Ubben: It's definitely going to happen eventually. ACC commissioner John Swofford's comments this week will be the patient zero for its genesis, but it was going to happen whether he said anything or not. Like I wrote last week, there's too much money to be made. I'm a four-team playoff guy, but I'm not necessarily against eight games. I just have some reservations about it. I never had any about the four-team playoff. 
The current CFP TV contract runs through 2025, but these things can be amended. In this case, they will. Unfortunately, Baylor fans, it's not happening this year. My conservative guess is by the Year 2020, we'll be preparing for the first-ever eight-team playoff. 
Justin McCoy in Las Vegas writes: here's a scenario no one is discussing: TCU/BU win out, FSU/Oregon lose championship game. SEC/Big 12 Final Four. Thoughts?
David Ubben: The only thing missing would be Bob Stoops. 
---