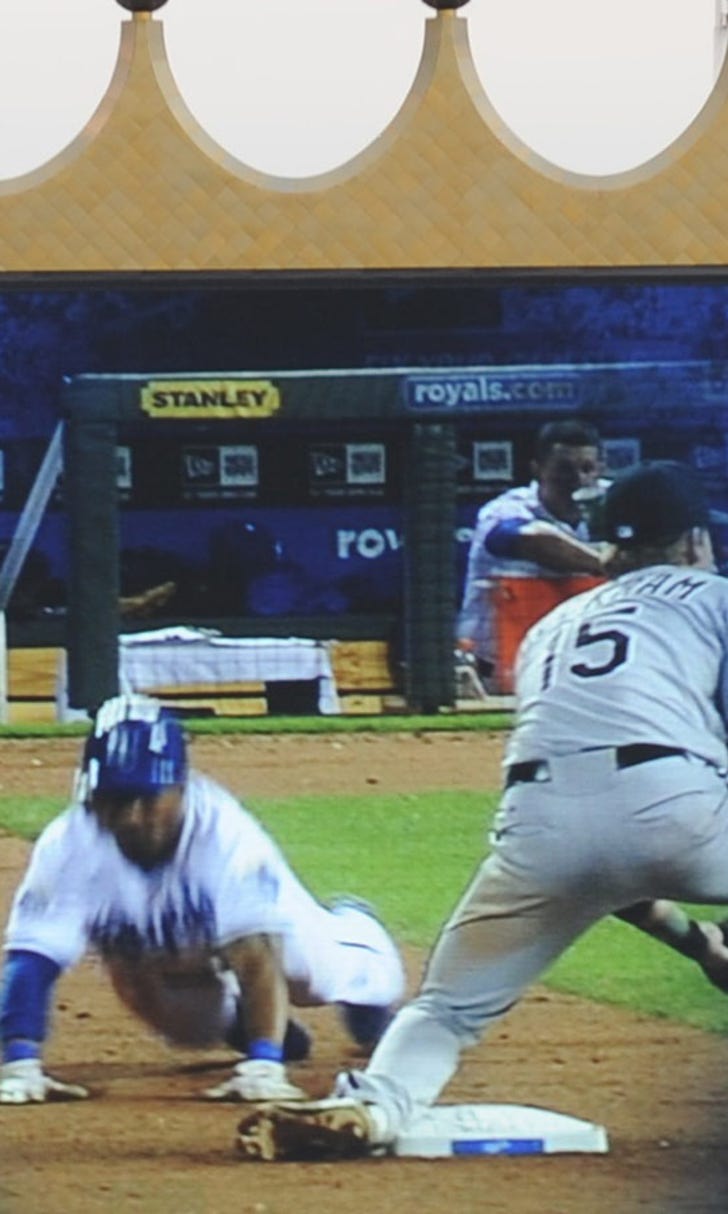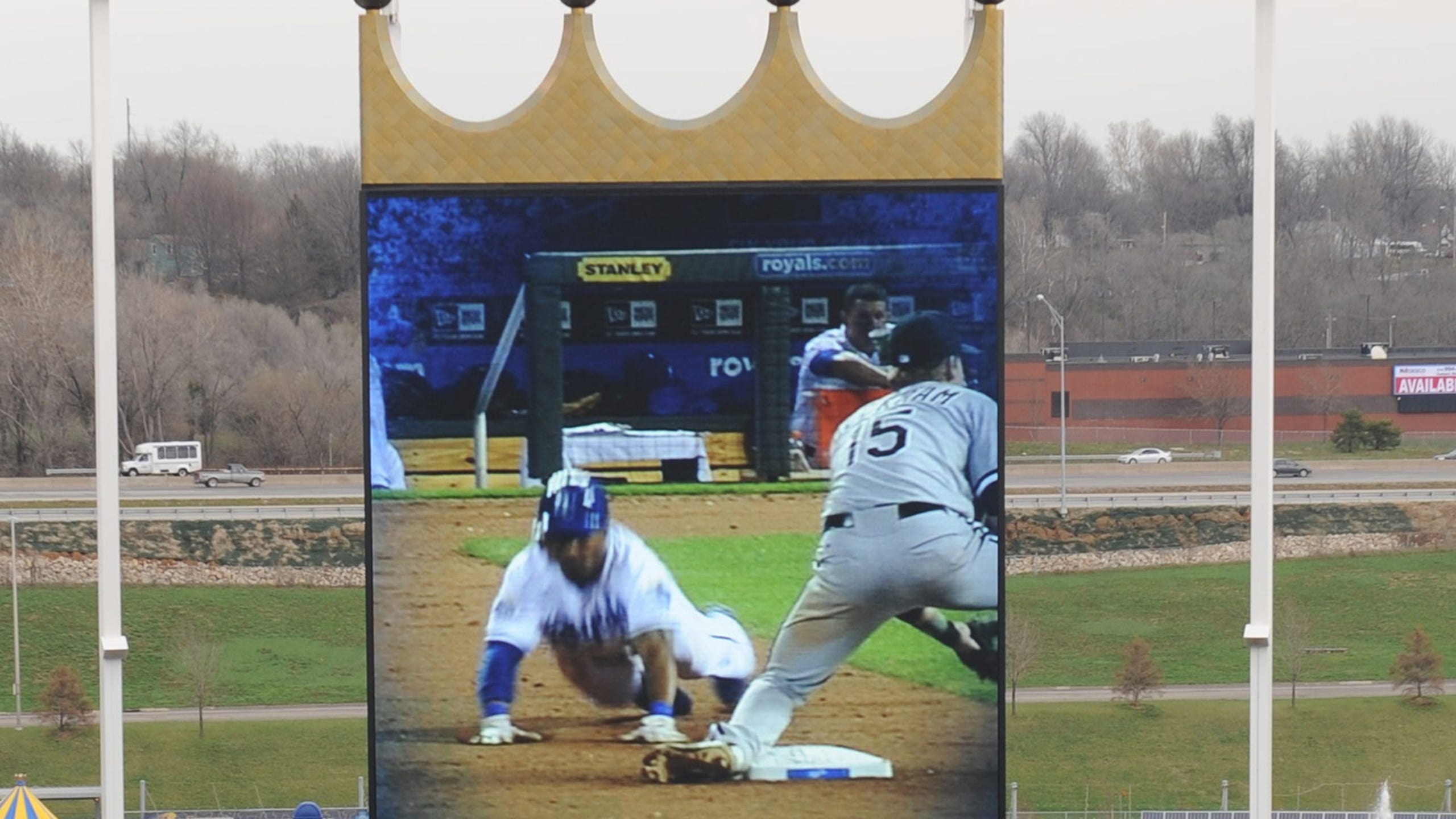 Best part of baseball's expanded instant replay? Controversial calls now will be shown at The K
BY foxsports • February 26, 2014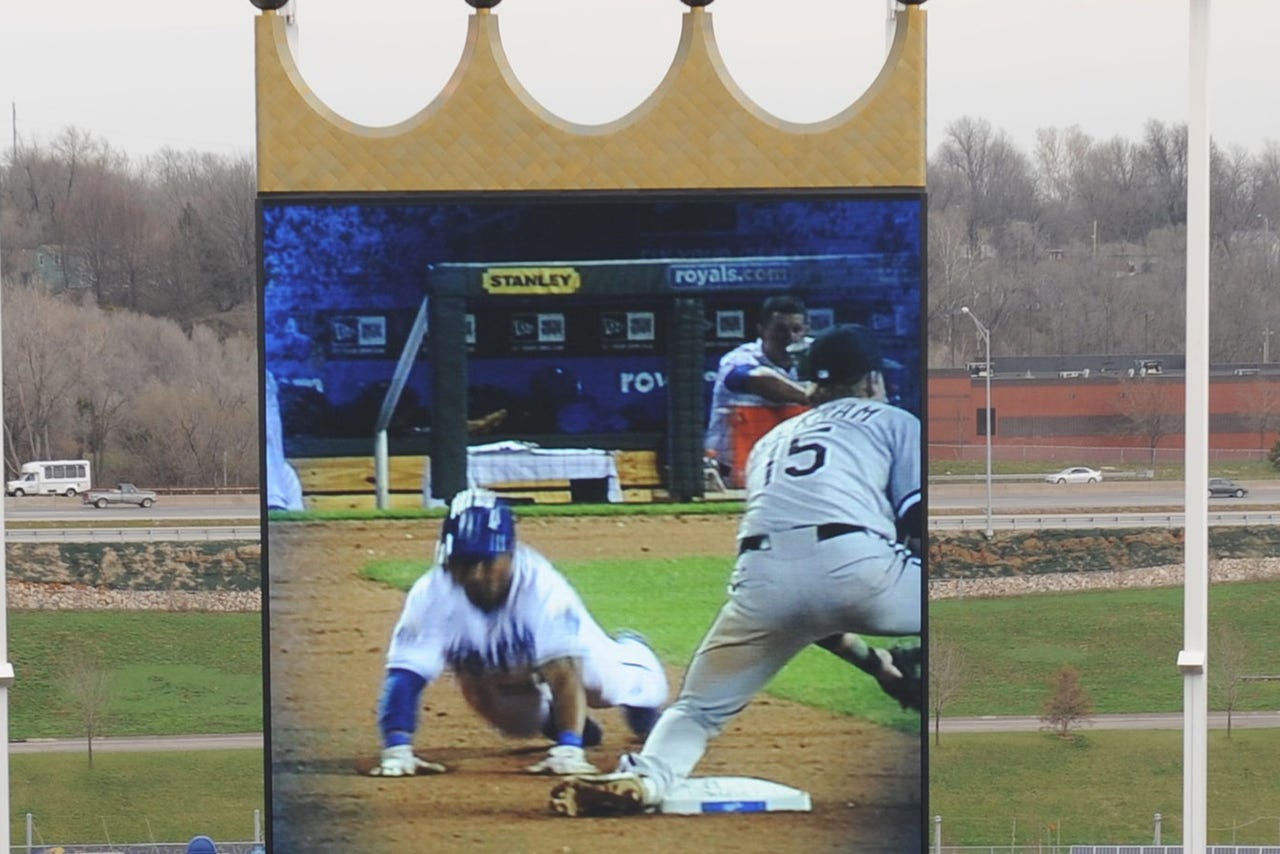 KANSAS CITY, Mo. -- Perhaps the best side effect of Major League Baseball's decision to allow managers to challenge at least one umpires decision each game this season is that fans at Kauffman Stadium (and everywhere else) will be allowed to see controversial plays on the Crown Vision scoreboard.
Yes, now fans at the stadium will get virtually the same instant-replay experience that fans at home have enjoyed for years.
The only restriction is that only plays under review will be allowed to be shown in slow motion at stadiums. But hey, at least fans will get a look in real time at all close calls, which certainly is a departure from the past.
Royals general manager Dayton Moore said he is all for more replays at the stadium.
"Any way we can enhance the experience for the fan at the stadium," Moore said, "we're supportive of that."
The last controversial call shown in replay in a major league stadium is believed to have been at Yankee Stadium in 1976, the same year owner George Steinbrenner was showing off his new $3 million video board there.
In the eighth inning of a game with the Orioles, the Yankees were trailing 6-5 and had the tying run on third base with two out. Gene Locklear hit a grounder to O's third baseman Doug DeCinces, who threw to first baseman (and former Royals manager) Tony Muser.
Locklear was called out, but Yanks manager Billy Martin immediately argued that Muser had bobbled the throw, and that Muser may have missed the bag, too. The replay then was shown repeatedly on the video board and seemed to support Martin's contentions.
Naturally, the Yankee Stadium crowd booed the umpires mercilessly, and continued to do so after the O's won the game. The league reprimanded Steinbrenner and fined him a whopping $1,000 for violating "recommended" policy, according to The Associated Press.
Not long after, fearing for the physical safety of umpires at games, Major League Baseball began to strictly enforce that recommended policy of not showing any controversial plays at stadiums.
Almost four decades later, that policy is no more.
Meanwhile, the Royals also are working on the best methods to ensure that manager Ned Yost has sufficient evidence to know when to challenge a call. Under the new rule, each manager can challenge one call, and if the challenge is upheld, he will be allowed one more challenge.
Watch the Royals all season long on FOX Sports Kansas City.

Once the seventh inning begins, the crew chief umpire can review any play at his discretion.
Moore indicated that several individuals now with the Royals -- and possibly one or two future hires -- will work in the team's video room near the clubhouse each game. That group will study each call from various angles and be in charge of letting Yost know, likely by calling the dugout phone, when a challenge is warranted.
Moore said he probably won't identify those in the video/challenge group.
"It's a matter of protecting their identity," he said.
The Royals and Yost will get a chance to practice the challenge system during the five games that will be telecast this spring.
"It's going to be interesting," Moore said. "This is what baseball wants, the direction it wants to go, and we support that."
The following plays will be eligible for challenge and review: home runs, ground-rule doubles, fan interference, force plays (except the "neighborhood" play at second base on double-play balls), tag plays (including steals and pickoffs), fair/foul balls in the outfield only, trap plays in the outfield, hit by pitch, timing plays (whether runners score before a third out), touching or tagging a base (requires appeal), passing runners on the bases, and record keeping (ball-strike counts, number of outs, etc.).
Balls and strikes are not reviewable, nor are checked swings.
When a challenge is made, the umpiring crew will inform the replay command center at MLB headquarters in New York City. MLB umpires there will review the video fed to them from the ballpark and make the ruling.
You can follow Jeffrey Flanagan on Twitter at @jflanagankc or email jeffreyflanagan6@gmail.com.
---