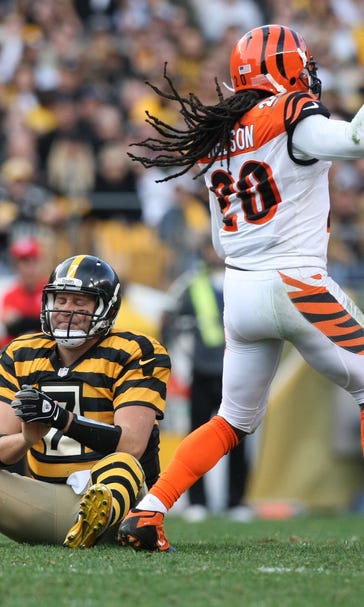 Bengals playing for something greater than just undefeated season
November 2, 2015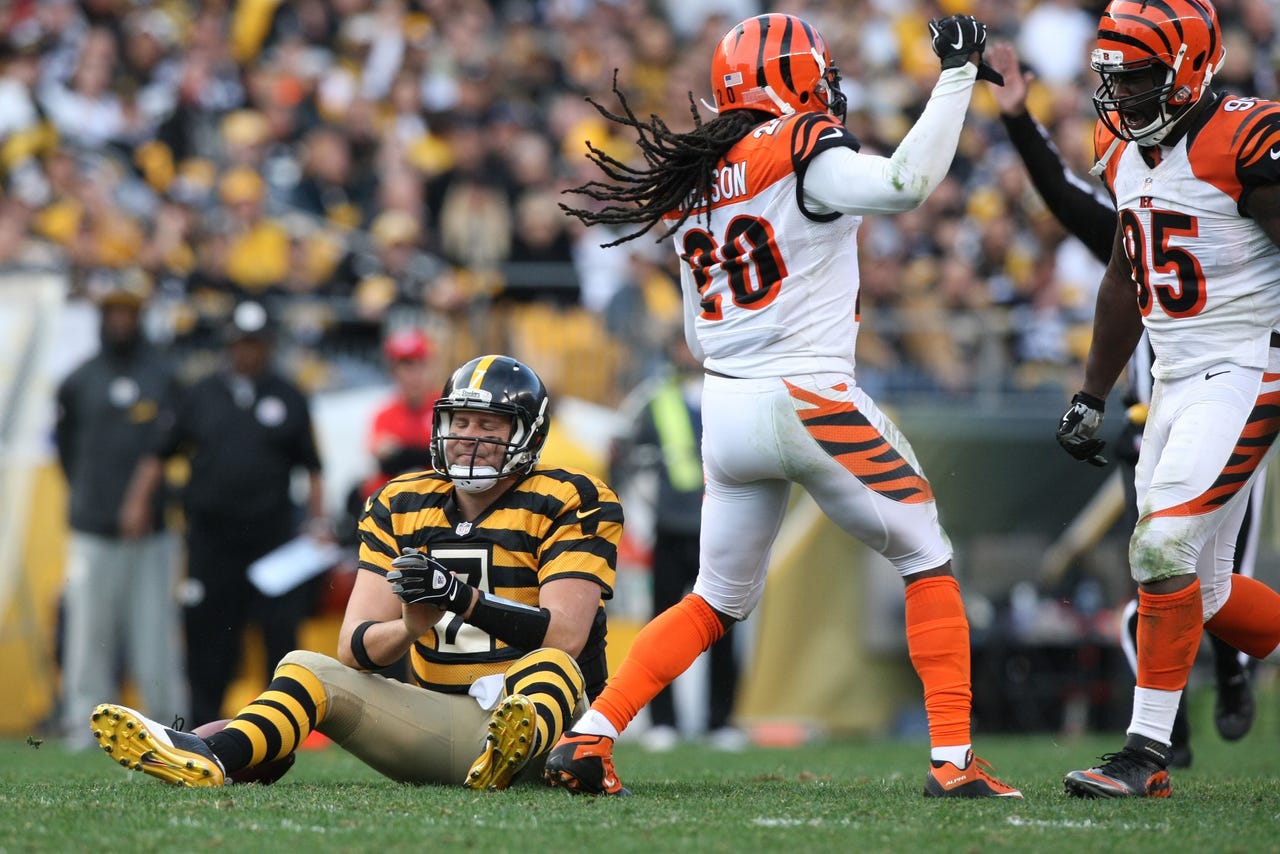 PITTSBURGH (AP) -- Even after Andy Dalton botched a snap and threw two fourth-quarter interceptions, the Bengals kept thinking that all he needed was one last chance to shine.
Got it. Did it.
Dalton passed for Cincinnati's lone touchdown with 2:57 to go as the Bengals rallied to a 16-10 victory over the Pittsburgh Steelers on Sunday and the best start in their history.
Cincinnati is 7-0 for the first time and in control of the AFC North heading into the season's midpoint. The defending division champion Steelers (4-4) were hoping that having Ben Roethlisberger back would turn it into a race again.
Instead, it's a rout.
"We're playing for something greater than being 7-0," said A.J. Green, whose 9-yard touchdown catch was part of another big game against Pittsburgh. "We're trying to win a championship. We feel a game like this helps us build resiliency going into the postseason." 
Roethlisberger returned after missing four games with a sprained left knee. He led the Steelers on a touchdown drive to open the game, but Pittsburgh managed only a field goal the rest of the way.
Roethlisberger threw a pair of fourth-quarter interceptions that set up Cincinnati's decisive 10 points in the closing minutes. Given one final chance, he led the Steelers to the Cincinnati 16-yard line with 4 seconds left, but sailed a pass out of the back of the end zone to finish it.
"Disappointed in my play and letting this team down, letting the fans down," said Roethlisberger, who was 28 of 45 for 262 yards with three interceptions. "This one is on me. I'm fine with taking that blame and letting everyone know that I have to play better." 
That's not all the bad news for the Steelers. Running back Le'Veon Bell got his right knee twisted underneath him as he was tackled and couldn't put any weight on the leg as he was led to a cart. He was getting an exam to determine the extent of the injury.
Five things to take away from from Heinz Field:
DIFFERENT DALTON: The fifth-year quarterback led the NFL in passer rating and fourth-quarter rating heading into the game, but had a dreadful time of it on Sunday with the two interceptions, including one in the end zone. Shawn Williams' interception at the Pittsburgh 45-yard line set up the winning TD drive and showed that Dalton has developed a knack for pulling off fantastic finishes.
"With everything going on today, we kind of stayed the course of the game," said Dalton, who was 23 of 38 for 231 yards and a season-low passer rating of 64.7. "We knew something was going to work, and eventually it did."
RUSTY BEN: Roethlisberger sailed his deep throws and was off-target several times, showing a bit of rust from missing so much time. "It was just bad football on my part, and I apologize," he said.
ANOTHER BLOW: The Steelers were enthused to have their offense intact until Bell -- their versatile back -- got hurt and is now sidelined indefinitely. DeAngelo Williams took over and picked up 71 yards, including a 55-yard run.
"It's always an emotional blow when you lose any guy, let alone a guy and a star like Le'Veon Bell," Williams said.
BURFICT BACK: Bengals middle linebacker Vontaze Burfict missed the first six games while recovering from offseason surgery on his left knee. He was activated on Saturday and started the game, making tackles on the first two plays. He wound up with five tackles and played more than anticipated after linebacker Rey Maualuga suffered a calf injury in the first quarter and didn't return.
STATS: Dalton's 23rd career win on the road matched Dan Marino, Roethlisberger and Matt Ryan for most by a quarterback in his first five seasons during the Super Bowl era. ... Roethlisberger became the fifth active quarterback to throw for 40,000 yards career, joining Peyton Manning, Drew Brees, Tom Brady and Eli Manning. ... TE Heath Miller had only five catches in the last four games. With Roethlisberger back, he got a season-high 10 catches for 105 yards. 
---
---