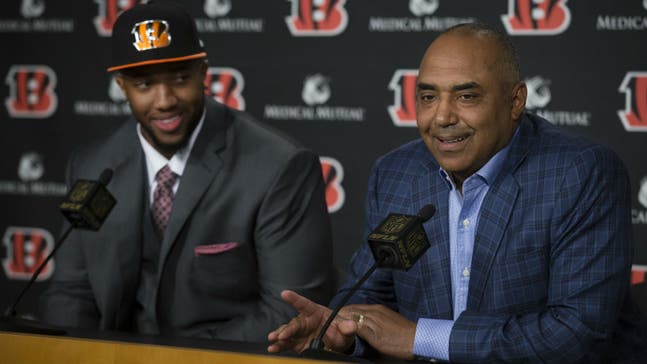 Bengals draft 2015: Go big or go home
Published
May. 3, 2015 10:50 a.m. ET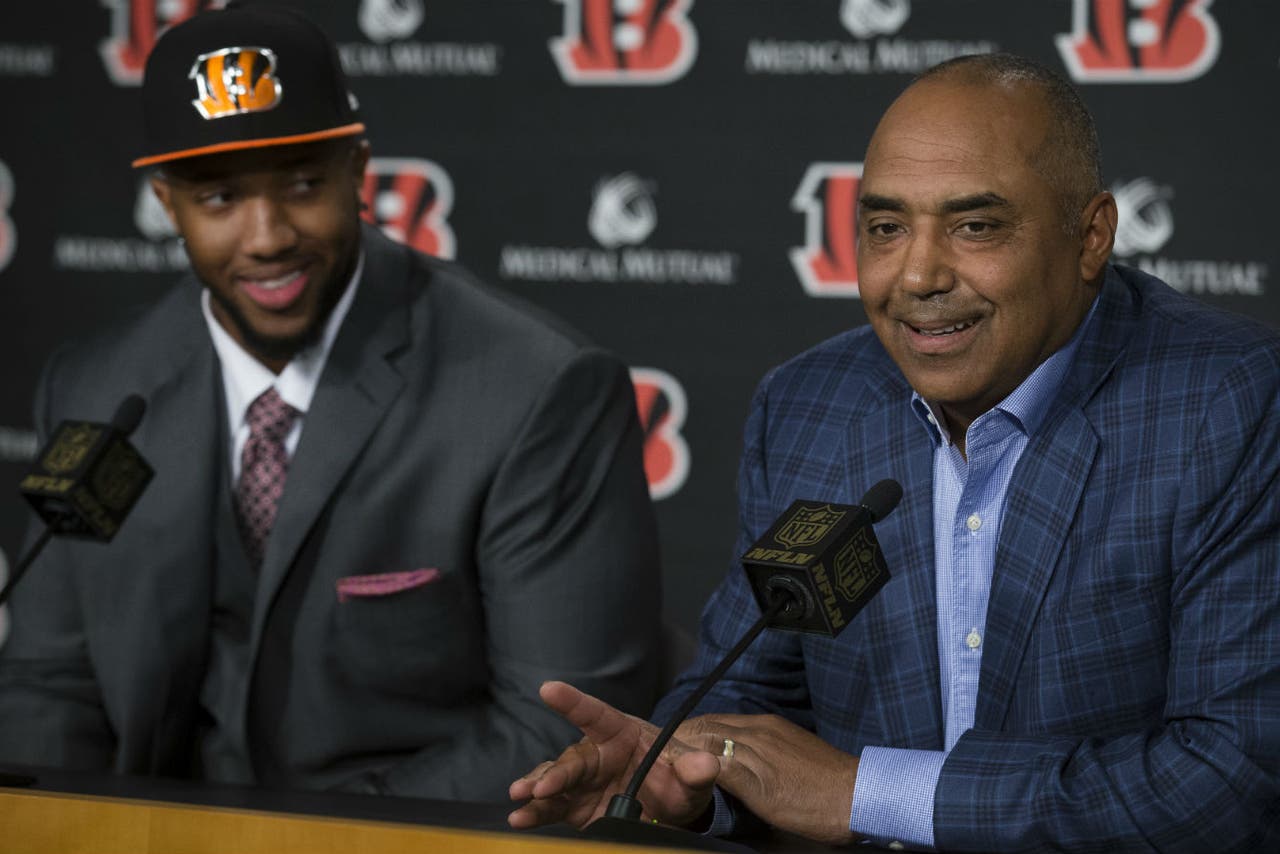 CINCINNATI -- There wasn't much of a "Wow" factor when it came to the Bengals and their 2015 draft class. That was just fine with them. They were more concerned with adding big bodies, bodies that can help them within the AFC North division first and then take their game outside of the division.
"We're in a revival," said head coach Marvin Lewis.
The Bengals went into the draft in a position to attack needs at various position groups and they were successful in doing so. Yet those various positions were all close to the line of scrimmage. Fourth-round cornerback Josh Shaw was, with all due respect to tight ends Tyler Kroft and C.J. Uzomah, the only skill position player taken among the first seven (of nine total) picks.
"We got big, physical men, with big stature," said Lewis. "That's what we have to have to play in this division. I remember standing on the sideline at the end of the year in Pittsburgh, and that's a big, physical game we were playing. Here at the end of the year against Baltimore, that was a physical football game, with big people. And the games with Cleveland. Our division is so physical, you can't come here with frail people. They've got to be big, strong people."
Here's a rundown on the nine players the Bengals chose in this year's draft:
Round 1 -- OT Cedric Ogbuehi (6-5, 306) Texas A&M
There was mixed reaction to the Bengals taking Ogbuehi (pronounced oh-BWAY-hee) from outside the building. There was a singular exuberance inside Paul Brown Stadium. Top tackles might not be as rare as top quarterbacks but if you want your quarterback to have a shot at being as good as possible you'd better be able to protect him. The Bengals are convinced that if not for a torn ACL suffered in the Liberty Bowl last December Ogbuehi would've been a Top-10 pick. The Bengals love his athleticism and quick feet and believe he'll be ready to play at some point this season.
Round 2 --€" OT Jake Fisher (6-6, 306) Oregon
Double down on the theory of taking top tackles when possible. The Bengals had Fisher among the players they were targeting in the first round, so when he was still around in the second round they stayed true to their draft board. He may have played in a hyper-speed offense at Oregon but don't think that means he's soft by any stretch of the imagination. He's got an edge to his play that offensive coordinator Hue Jackson craves.
Round 3a --€" TE Tyler Kroft (6-5, 246) Rutgers
Kroft said he grew up watching and admiring Dallas' Jason Witten. The Bengals wouldn't mind half of that production. Kroft was asked to be more of run blocker last season but showed he could be a down-field threat in 2013, catching 43 passes. The Bengals were down two of their top-three tight ends nearly the entire 2014 season (Tyler Eifert, Alex Smith) because of injury and Jermaine Gresham missed a December game at Cleveland as well as the playoff loss at Indianapolis with injuries. Gresham and Smith won't be back this year, so the Bengals found one replacement.
Round 3b --€" LB Paul Dawson (6-0, 235) TCU
Dawson could end up as the most important member of this draft class. Vontaze Burfict is coming off microfracture knee surgery besides the fact he suffered at least two concussions last season. The Bengals needed to add to their linebacker depth after seven different players started games in 2014. Dawson was the Big 12's Defensive Player of the Year who had to cover a lot of space in a conference where the spread offense is on steroids. 
Round 4a --€" CB Josh Shaw (6-0, 201) USC
The Bengals add another tall, physical corner for their man-to-man coverage style. Shaw will get a chance to contribute right away on special teams while learning from four first-rounders in Leon Hall, Adam Jones, Dre Kirkpatrick and Darqueze Dennard. Shaw played on the outside, in the slot and at safety for USC. The Bengals love that versatility. It helped trump any issues they might have had concerning his suspension last season for lying.
Round 4b --€" DT Marcus Hardison (6-3, 307) Arizona State
Robert Geathers (2004), Domata Peko (2006), Geno Atkins (2010) were all fourth-round draft picks for the Bengals. Defensive line coach Jay Hayes joked he that he liked getting his guys in this round, but he's certainly gotten some productive players in this spot. Hardison was a junior college transfer who went from making five tackles as a junior in 2013 to leading the Sun Devils with 10 sacks and 15 tackles for loss as a senior. Played as an end most of last season but the Bengals plan on start him out playing inside in their 4-3 system.
Round 5 --€" TE C.J. Uzomah (6-6, 262) Auburn
If there was any inclination to possibly bringing Gresham back as a free agent, this pick ended those thoughts. Uzomah (pronounced YOU-zah-mah) played in total of 49 games with 13 starts for Auburn. He wasn't used heavily in the passing game as a receiver, making just 29 receptions for 435 yards, but he was productive when he did catch the ball, scoring seven career touchdowns.
Round 6 --€" S Derron Smith (5-10, 200) Fresno State
Smith was a four-year starter in college and finished with 15 interceptions, including 13 between the 2012 and 2013 seasons. He is one of just six players in Fresno State history credited with 300 or more tackles. Breaking into the secondary for playing time will be difficult but the Bengals are looking to replenish their special teams after Taylor Mays signed with Minnesota as a free agent.
Round 7 --€" WR Mario Alford (5-8, 180) West Virginia
The Bengals privately are still kicking themselves over not keeping Andrew Hawkins as a restrictive free agent last offseason. The offense has plenty of bigger receivers who certainly have speed but none have the pure breakaway jets Alford showed in his two seasons at WVU. He led the Mountaineers with a 14.5-yard-per-catch average last season and 13 total touchdowns; he had 11 touchdown catches and returned two kickoffs for scores. He ran a 4.27 40-yard dash at his pro day.
---