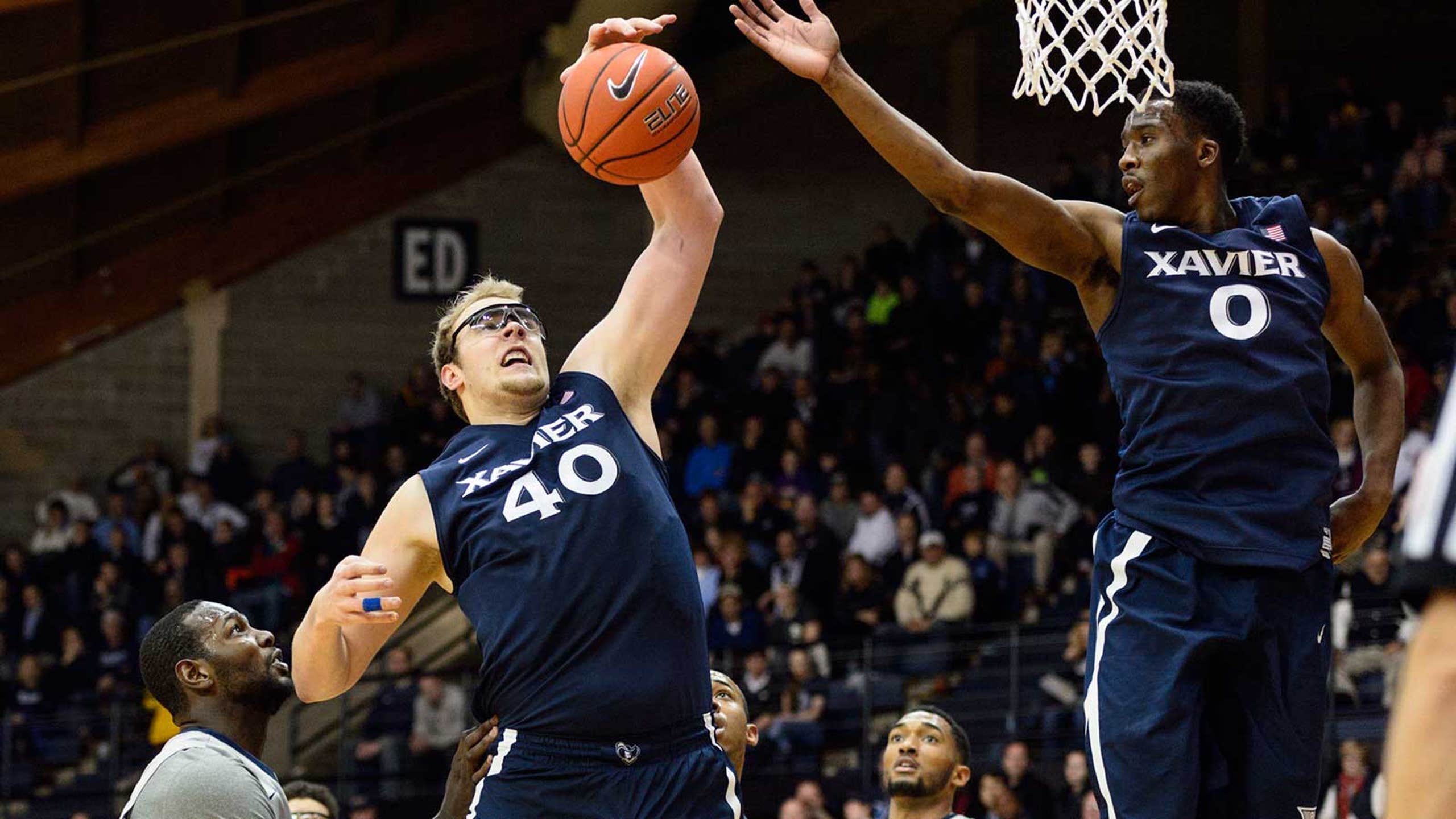 Bell leads No. 6 Villanova past Xavier, 81-58
BY foxsports • February 3, 2014
VILLANOVA, Pa. (AP) -- Xavier can pin a losing streak right on its second-half woes.
"We're getting our (rears) kicked in the second half," coach Chris Mack.
The Musketeers had another long 20 minutes -- and another loss.
James Bell hit six 3-pointers and scored 27 points and Darrun Hilliard had 17 to lead No. 6 Villanova to an 81-58 win over Xavier on Monday night.
Semaj Christon led Xavier (15-7, 5-4) with 17 points and Matt Stainbrook had 14. The Musketeers have lost three straight.
"It was Villanova's night, especially in the second half," Mack said. "We were a step slow in all three of those losses. We've got to be a better second-half team."
With Xavier slumping from the floor, the Musketeers tried to get physical.
Christon shoved Daniel Ochefu after on Xavier possession, then trash talked his way off the court after nailing a 3 that pulled Xavier to 57-45.
Villanova coach Wright's call for a technical was ignored by the refs. Christon's conduct wasn't forgotten by the fans, who booed him each time he touched the ball the rest of the game.
Bell pulled Ochefu aside to ease rising tensions. Bell put the focus back on basketball, hitting consecutive 3s from the same corner spot for a 65-50 lead, and the rout was on.
"He takes responsibility off the court. He takes responsibility on the court," Wright said. "There are times I can just go at him and I don't have to go crazy on anybody else. He just gets it done on the team."
Wright matched Rollie Massimino, who led Villanova to the 1985 national championship, with nine 20-win seasons.
The Wildcats (20-2, 8-1 Big East) never trailed and have won four straight games since a 28-point loss to No. 12 Creighton on Jan. 20.
Bell made 6 of 10 3s, was 10 of 14 overall from the floor and grabbed eight rebounds. He scored 21 points in the second half to the Wildcats hit the 20-win mark at the second fastest point in program history. The 2009-10 team opened 20-1.
"Everything's pretty much on me, good or bad," Bell said. "I think they respect me for it and that makes us a better team."
Bell was never better this season than he was in the second half.
"I told him, `This is your team, man. And look what they're doing,'" Wright said.
Xavier was outscored 46-41 against Providence, 41-32 against Seton Hall and 53-36 in the second half against the Wildcats.
The Wildcats wore gray uniforms for the first time this season, making them look more like Georgetown than the traditional beasts in blue.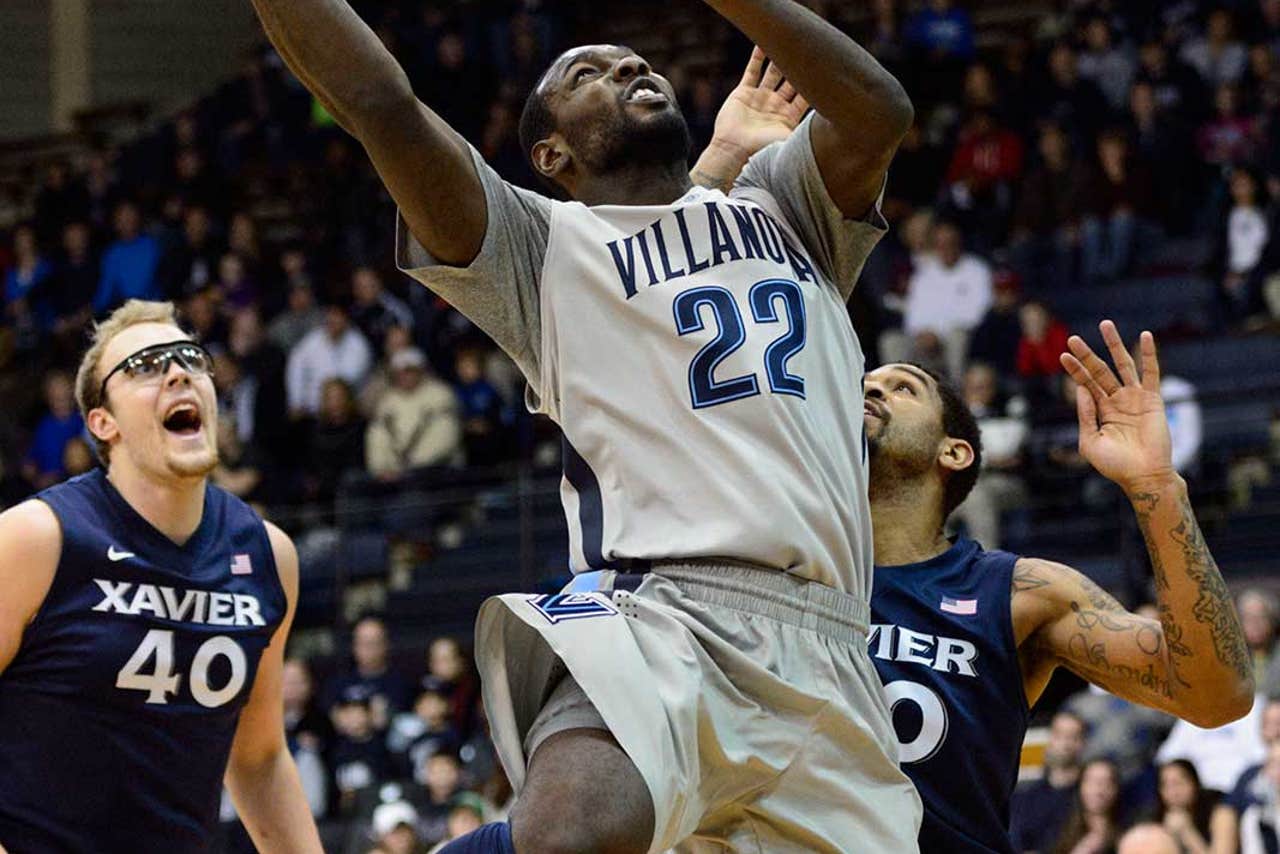 Villanova Wildcats forward JayVaughn Pinkston shoots during the first half against the Xavier Musketeers at The Pavilion.
"I just love our blue and white," Wright said. "I've got to get used to it. Thank God it says Villanova on the front."
No matter the color, the Wildcats were stout in holding off Xavier's second-half run.
Justin Martin hit consecutive 3s that trimmed Nova's lead to 31-28.
Hilliard steadied the offense with a 3-pointer. Bell hit two straight 3s -- making Villanova a solid 7 of 17 -- to open up a 10-point lead.
Dylan Ennis fed Bell for a dunk on the break, and Ennis followed with a monster dunk of his own that put the crowd on their feet and a 51-36 lead heading into a timeout. Ennis' next shot rattled around the rim before it plopped through the net.
A winter storm dumped several inches of snow on campus, the Philadelphia area ranged from 3 to 9 inches, and school was closed. But the game went on, and the Wildcats opened 750 tickets to students without any, with a valid ID, keeping the student section full.
The fresh faces were impressed early with the home team.
JayVaughn Pinkston's first 3-pointer made it 9-0 and forced Xavier into an early timeout. His third 3 of the half made it 20-9. Pinkston entered the game only 5 of 24 on the season from 3-point range, but made all three attempts in the first half.
About the only part of the game Pinkston couldn't master was slam dunks -- he botched two. Hilliard also misfired on a dunk, giving the Wildcats more missed slams (3) than free throws (2).
Bell, Hilliard and Pinkston are the three key upper classmen that have turned Villanova from a 19-loss program two seasons ago into conference contenders this year.
"We're not going to stop coming at you," Hilliard said.
---