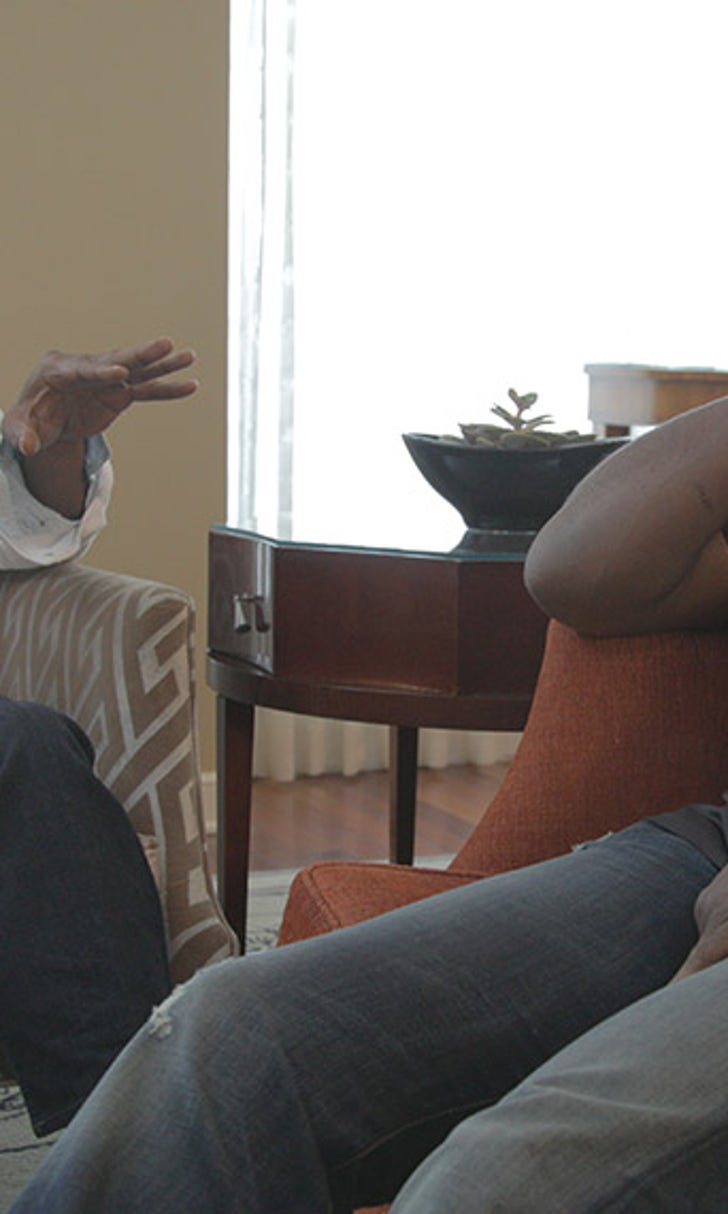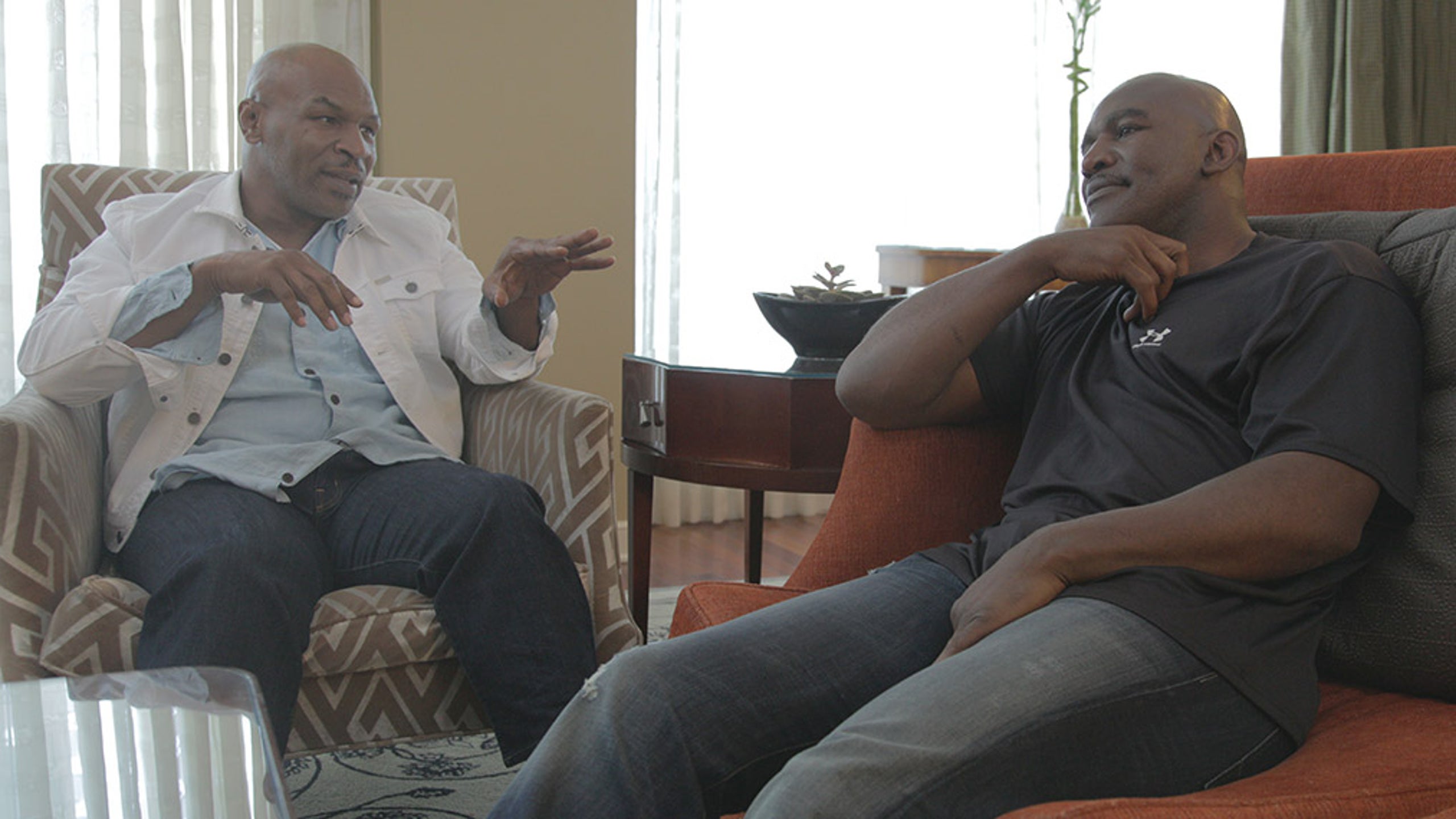 Being Tyson Blog: Season Premiere
BY foxsports • September 22, 2013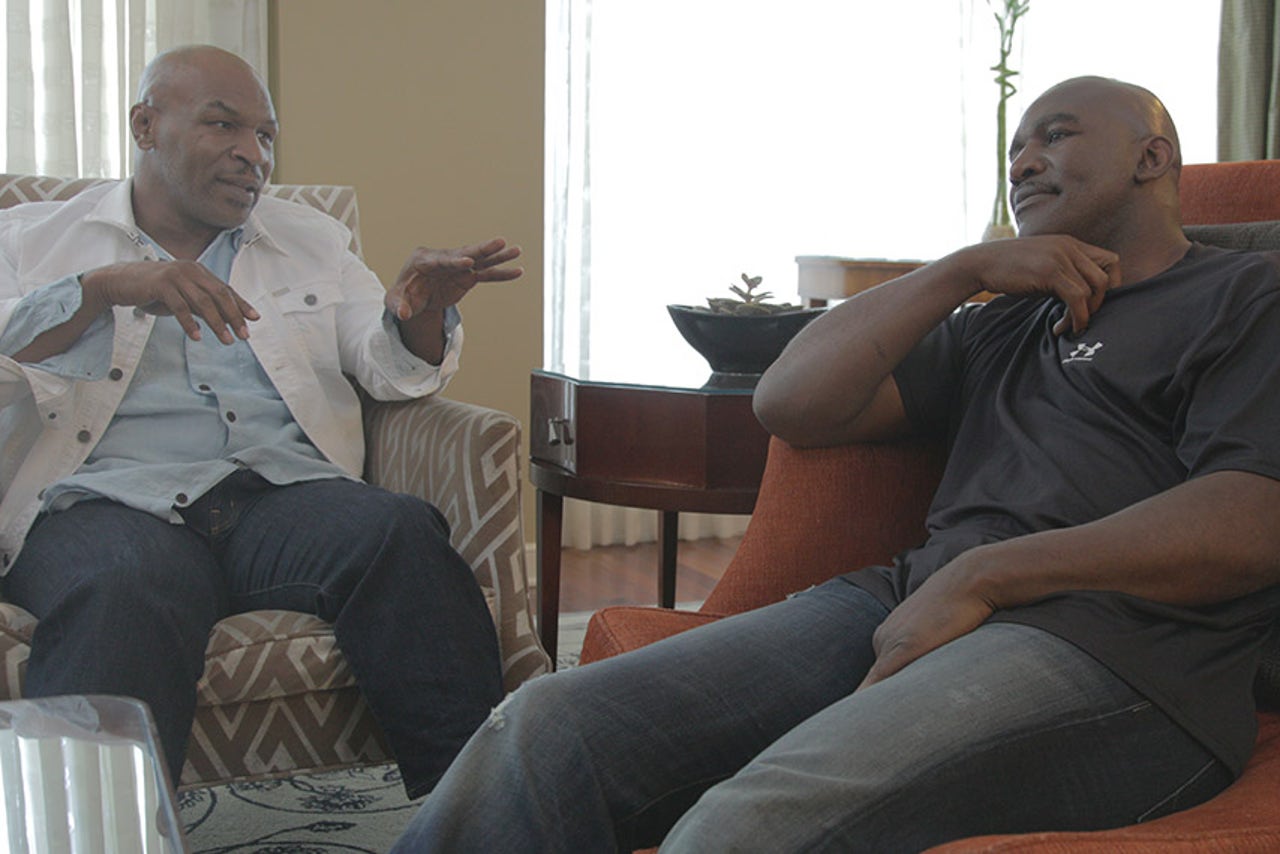 Each week, Kiki Tyson will offer her perspective on each episode in her own words.
I'm Mike Tyson's wife, Kiki.  I was asked to write a blog about the forth-coming episodes.  Although, I am happy to do so to give some insight into the man that I love, respect, admire and adore; please understand you still won't leave knowing as much about him as you may have hoped.  That is the beauty and mystique of Mike.  He connects with you but still leaves you weary.  He pulls you in and pushes you away at the same time.  He's as complex as calculus, with a heart as big as Mother Teresa, a wit that matches Mark Twain and he's as funny as Richard Pryor.  You will meet all of these Mike's throughout the documentary series.  My job in the blog is to give you an insight into which one you are meeting. 
Outside of blogging for Being Mike Tyson, I spend the majority of my time as a mother to our two children, Milan 4 ½ and Morocco 2 ½, both, you will be introduced to in the show.  When I'm not tending to them, I am working with Mike on various projects.  I actually wrote Mike's one-man show, which was a rewarding experience.  Mike and I have been very fortunate to be able to make being partners in business work in our marriage.  We have some amazing things on the horizon so please stay tuned to Mike's website and social media for updates (miketyson.com, ironmikeproductions.com, facebook.com/miketyson, twitter.com/miketyson, instagram.com/miketyson).
I just love this man and I hope after viewing these episodes you will understand why I love him too.  Thank you for taking time out of your day to read this.
Mike Tyson: The Real Deal
I am so very proud of Mike for the man that he is and the man that he continues to grow into.  The ear-biting incident with Holyfield, which would become the pun of his life thereafter isn't something that Mike reflects back on with pride.  But the true testament of a man and his growth isn't necessarily the mistakes he's made but the way he makes amends for them.  Mike was given the opportunity to apologize to Holyfield on the Oprah Winfrey show back in 2008 and Holyfield was gracious enough to accept his apology.  As a matter of fact, Holyfield later admitted that he even bit his own brother many years ago when they were fighting.
I was actually at the fight the night Mike bit Holyfield's ear (or shall I says ears).  I was there with my parents watching from the sidelines.  At this time, Mike and I were friendly but we weren't in a relationship, I was just 19.  A few months before this notorious fight, I had spent some time with him  at his home with my parents during a visit to Ohio.  During this visit is when I learned how funny and kind Mike really was.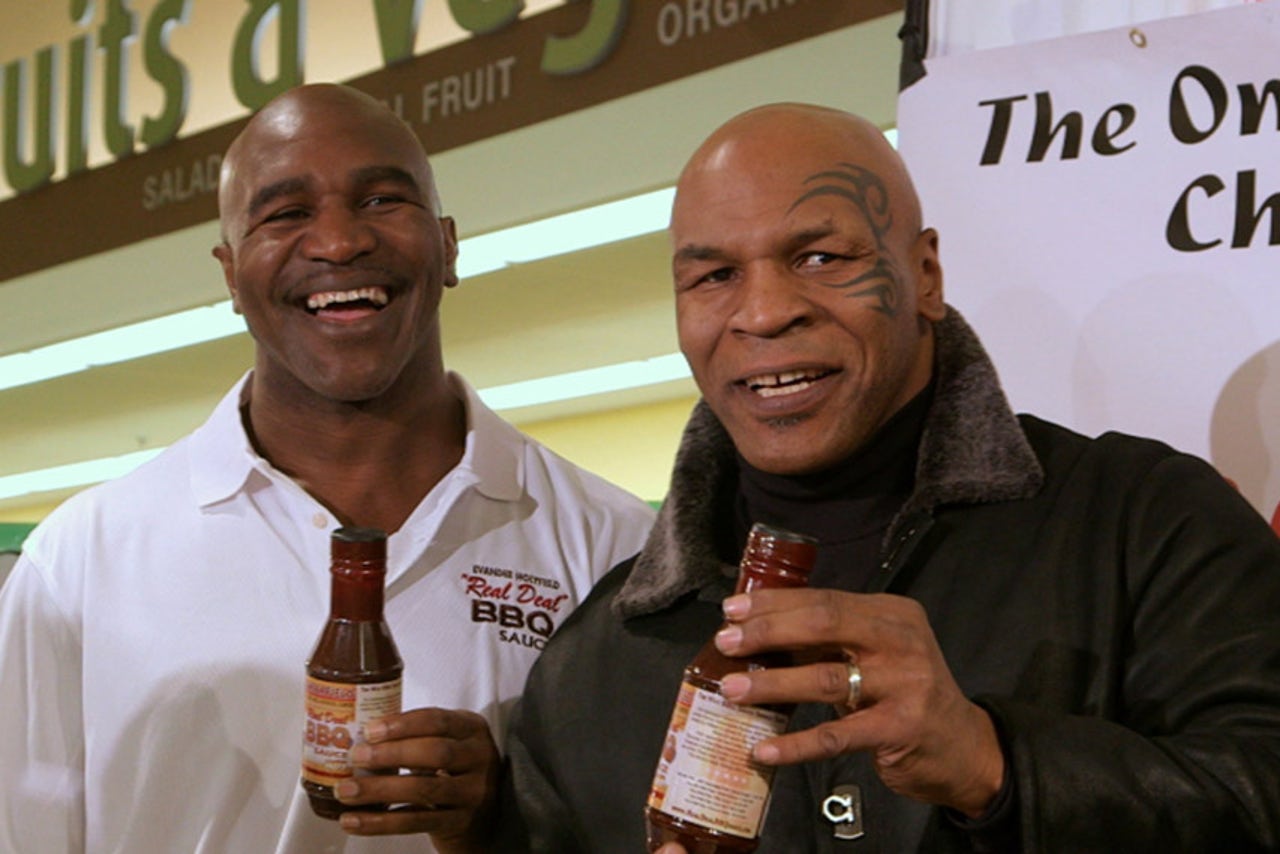 Mike surprises Evander Holyfield at a public appearance.

The night of the bite fight, I remember how the crowd erupted into pandemonium after Mike took the second bite.  My first reaction, honestly, was laughter.  It was so unexpected and surreal, like watching a sideshow in a circus.  It just didn't seem like it really happened.  Everything was unraveling so quickly it was impossible to process the magnitude of what happened in that moment.   I just looked on with my mouth opened wide in awe of the spectacle. Everyone was just in disbelief and some in horror.  Looking back on it, although I don't condone what he did, I certainly understand it when I try to put myself in his shoes that night.  If you look back at the footage of the events that unfolded, Mike was constantly head butted and the referee, Mills Lane, who was an outspoken Holyfield fan, wouldn't do anything about it.  It doesn't justify the act, but I certainly felt compassion for his situation and could understand definitively the reasons that led up to this catastrophe.
Everyone expects two trained boxers to be professionals, as they should, but they are in a fight.  Forget that it is a sanctioned fight with rules.  The common denominator is that it is a fight and when you are fighting and adrenaline is pumping, it's hard to resume professional composure as you're getting bashed in the head.  It's the only profession that you are expected to fight in but expected to be composed at the same time.  I could never do that!  I'm too emotional, I would lose my mind the first time someone punched me in the face.  And then a head butt... forget about it.  I'd bite an ear too (maybe, lol)!
After the fight, I wouldn't see Mike until a few years later so we never talked about that incident during the time it happened.  When we did resume our relationship, it would just be a headline that no longer really mattered in the grand scheme of our lives.  Yet, Mike did tell me after the incident, people would drive by his house and throw things on his lawn, including pig ears, and that he felt really bad about how he handled things.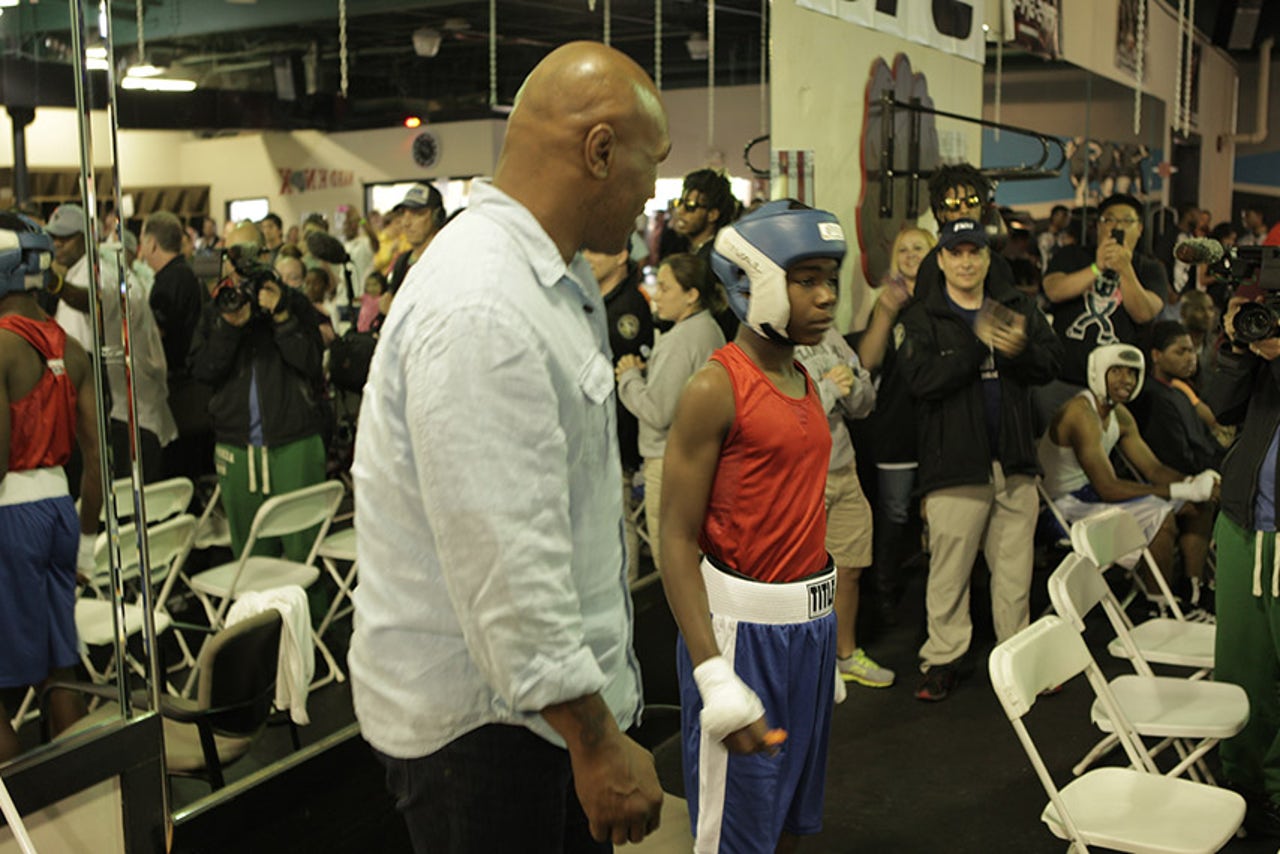 Mike speaks with Evander Holyfield's son, Evan, prior to his amateur fight in Kennesaw, GA.
Bring us to present day...  Mike and Evander now consider themselves friends.  This episode is really special because it is the first time that Mike and Evander talk about the incident candidly with one another in an intimate setting.  The mutual respect that each of them shared for one another before this incident was resurged, and I think it's a healing that both of them value.  Yes, both of them could have gone on leading their separate lives the way they had before the apology had occurred and their lives would not have been derailed much either way.  But it says a great deal about the character of both men that they can come together, put the past behind them and show mutual respect and love for one another.  It sets a precedent, in particularly to young African American males that are having altercations in the streets and killing one another over pride.  If these two strong men can put their differences aside and love one another why can't they?
---