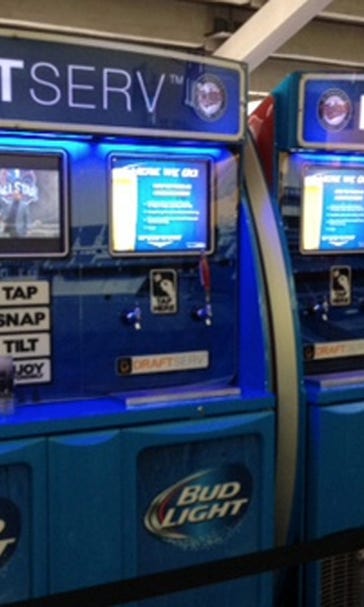 Beer here! Target Field debuts self-serve stations
BY foxsports • July 7, 2014
MINNEAPOLIS -- There are plenty of attractions to draw fans to Target Field during All-Star weekend, from the Futures Game to the Home Run Derby to the All-Star Game itself.
Add beer to the list.
The Twins on Sunday unveiled a self-serve beer station that team spokesman Chris Iles said is the first of its kind in Major League Baseball. The station allows fans to purchase a card for amounts of $10, $20 or $50 to use at the machine.
One of the stations was installed before Sunday's game between the Twins and Yankees, and another will be added before the All-Star Game next week. Iles said both will be located on the main concourse level, with one down the first base line and the other down the third base line.
Four beers are available for purchase at the self-service stations: Budweiser, Bud Light, Goose Island 312 Urban Pale Ale, and Shock Top Lemon Shandy. The beers are priced per ounce, allowing fans to fill up however much they want. Bud and Bud Light are 38 cents per ounce, while Goose Island and Shock Top are 40 cents per ounce. Patrons are limited to dispensing 48 ounces every 15 minutes.
While the self-service stations eliminate the need for an employee to pour the beer, it doesn't mean they aren't staffed. There is an employee at each station to check IDs to verify that customers are at least 21 years of age. Sales at the self-serve stations will end after the seventh inning, as is the case with regular beer sales at all MLB games.
Most fans at Target Field next weekend will be at the park to see the game's brightest stars. There's a good chance, though, that the self-serve beer stations could be almost as popular.
Follow Tyler Mason on Twitter
---
---