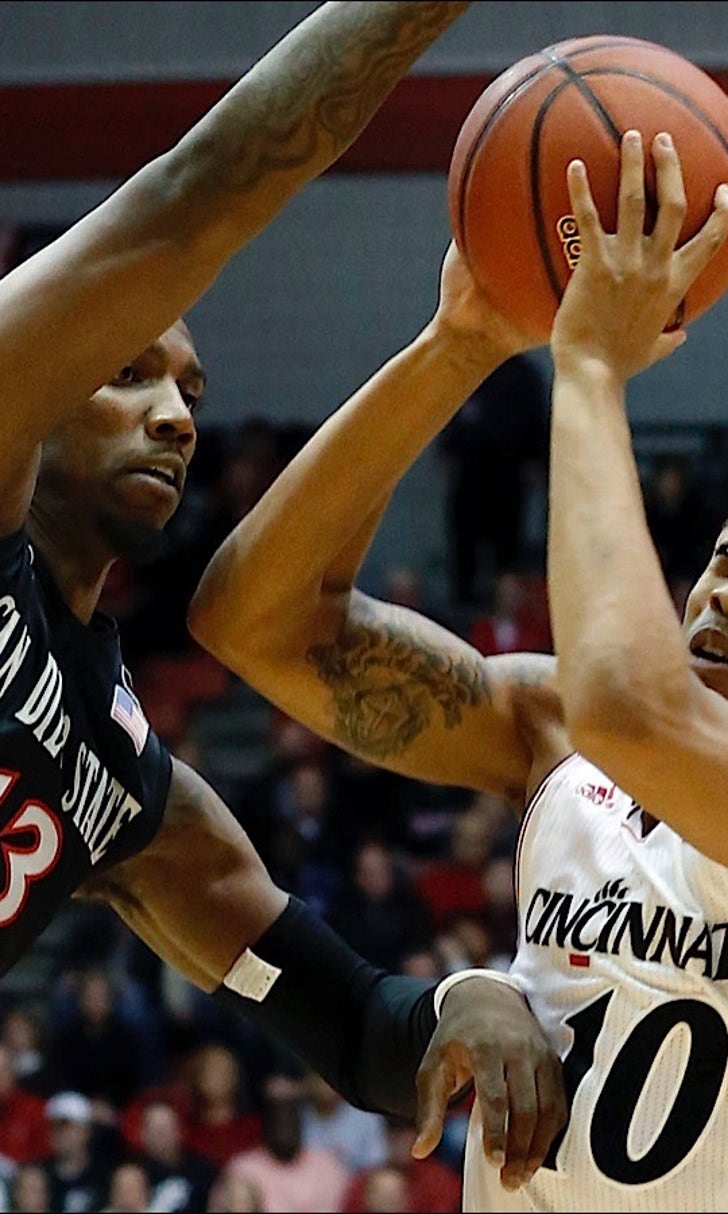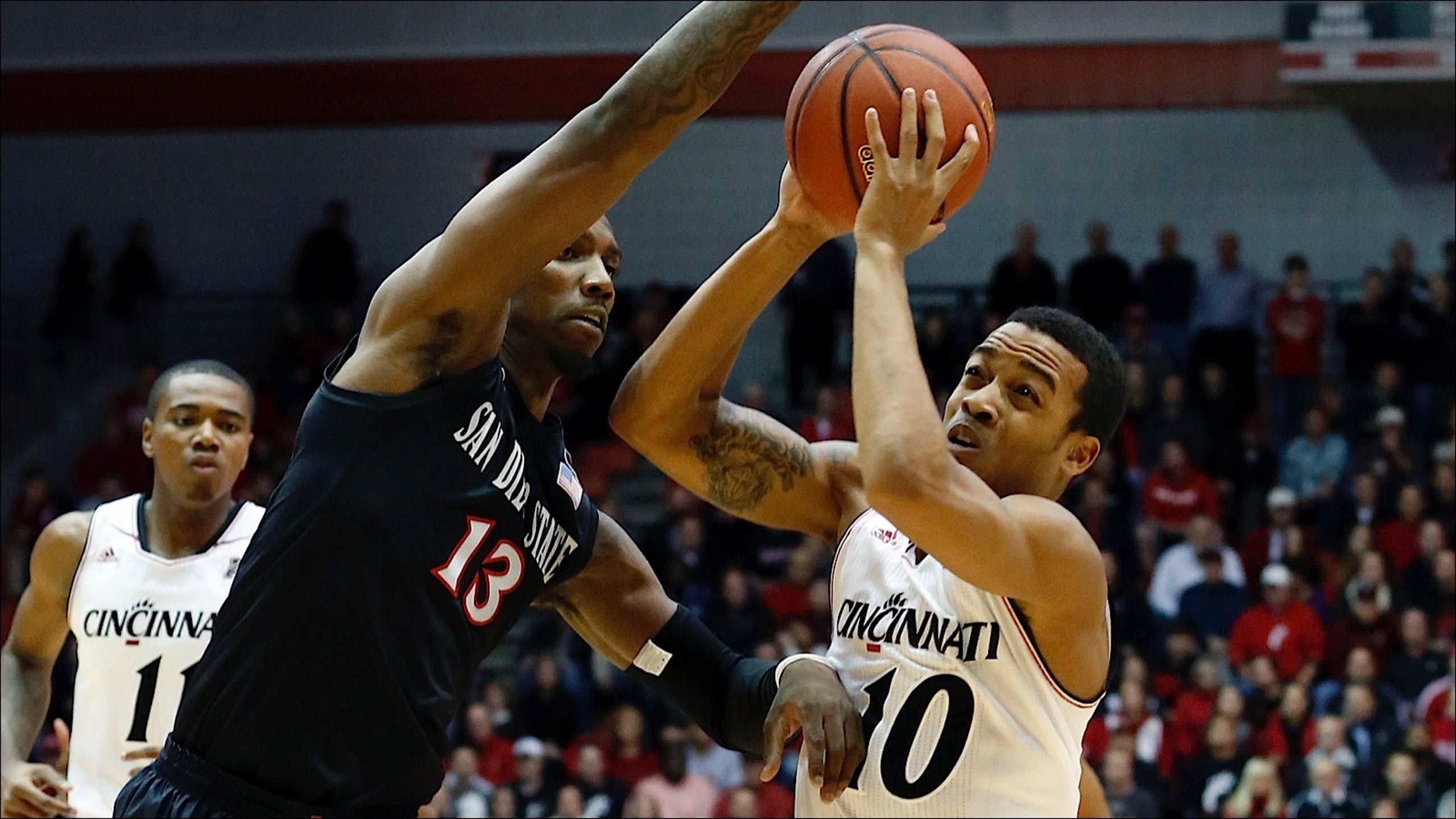 Bearcats learn lesson, beat San Diego State in OT
BY foxsports • December 18, 2014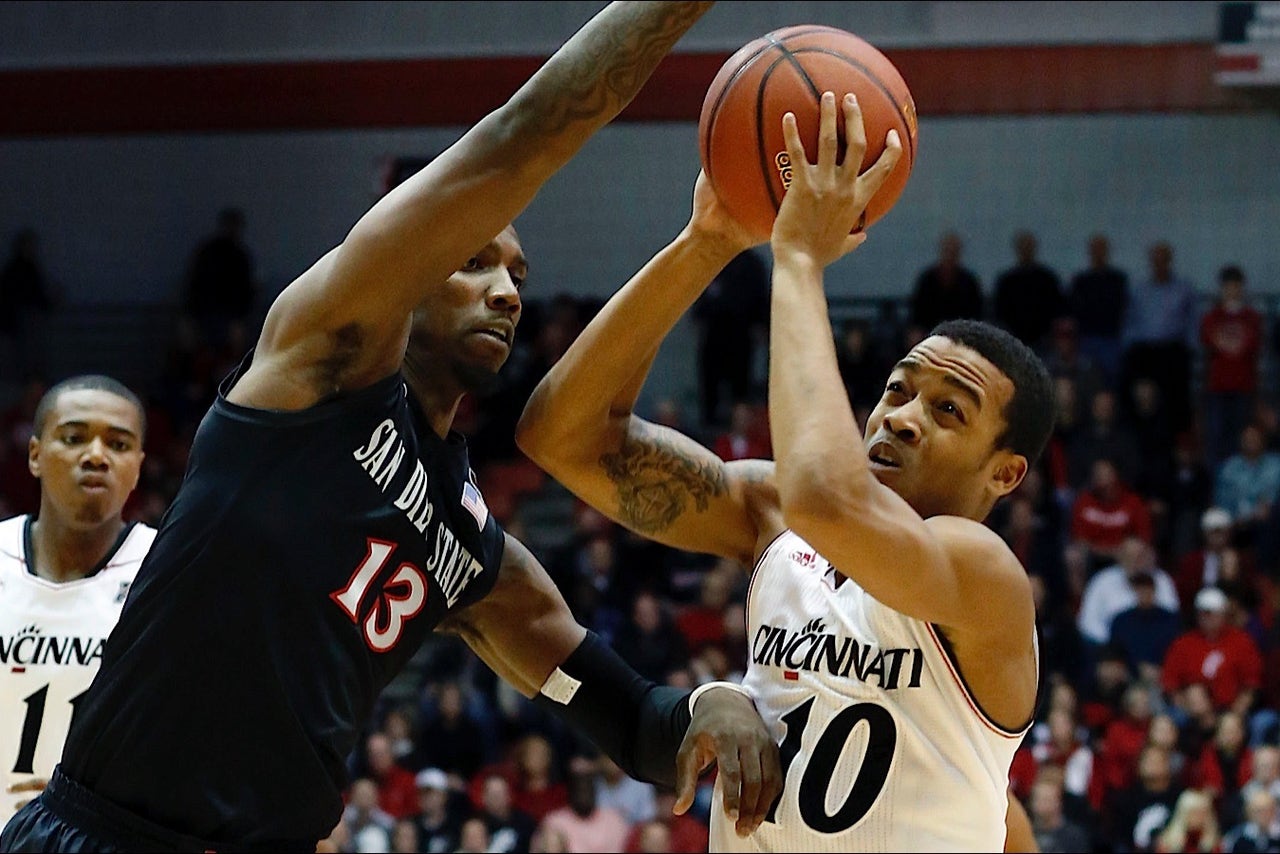 CINCINNATI -- Saturday night in Lincoln was a tough lesson for the Cincinnati Bearcats basketball team. Wednesday night they showed they could apply what they learned.
The Bearcats overcame a poor shooting first half, their own inability to close out regulation when they had a five-point lead with 42 seconds remaining and a questionable foul call with 3.9 seconds left in regulation to beat No. 19th-ranked San Diego State, 71-62, in overtime at Fifth Third Arena. The win improved UC to 7-2 on the season. It's a win they can put on the plus-side of their resume at the end of season when the NCAA tournament committee is filling out its bracket.
It's also a win that can give a young team searching for its identity some confidence.
UC is in the midst of a stretch of playing four teams that reached the NCAA tournament last season in five games. The Bearcats lost 56-55 in double overtime at Nebraska in a game it could have won numerous times over. This game had 12 ties and 12 lead changes, nearly all of which happened after halftime. The Bearcats could have lost this game numerous times over but didn't.
"They grew up a lot in the Nebraska game in that they showed some great toughness because it was a back-and-forth game and a double overtime game but we didn't always play the smartest down the stretch in that game," said associate head coach Larry Davis, who was subbing in the postgame press conference for sick head coach Mick Cronin. "To come back in this game and to win this kind of game is huge for us."
UC hosts Virginia Commonwealth and its Havoc pressure game on Saturday at noon and then has a road trip to North Carolina State on Dec. 30 with a home game against Wagner in between.
"This was a big win tonight," said guard Farad Cobb, who had 12 points, all after halftime, to share team-high honors with Troy Caupain. Cobb made five of his eight shots after missing three shots in the first half. He didn't score until there was 7:36 remaining and he hit a floater in the lane to bring UC to within three points, 41-38. He made a layup a couple of minutes later, followed by a jumper that was just inside the 3-point arc and then one from outside the arc with 2:11 left in regulation that gave UC a 52-49 lead.
His 3-pointer in overtime gave UC a 64-60 lead and was part of a 12-0 run by the Bearcats after Trey Kell's 3-pointer one minute into overtime put San Diego State up 61-60.
"The layup I hit in the second half kind of got me going," said Cobb, who had his first double-digit scoring game since scoring 24 points against Morehead State in the second game of the season. "I always have confidence. My teammates, and even the crowd, keep telling me to keep shooting. (The defender) just had his hands down so I rose up for the (3-pointer)."
The Bearcats led 22-20 at halftime despite making just 10-of-29 field goals (34.5 percent) and going 0-for-5 on 3-pointers. They scored just six points in the final 6:22 of the half but that was enough for the lead because San Diego State went scoreless in that stretch. The Aztecs turned the ball over 11 times in the first half but UC converted those into just 10 points.
UC shot 59.1 percent in the second half against a San Diego State team that was ranked 20th in the nation in defense. While San Diego State improved to 51.9 percent in the second half the Bearcats held the Aztecs to just 2-of-10 shooting in overtime. Octavius Ellis had eight points, nine rebounds, four blocked shots and two steals.
In the loss at Nebraska, the Bearcats had the ball with 21 seconds left in double overtime but couldn't get a good look for a final shot. Nebraska kept the Bearcats, Caupain in particular, from driving to the basket. Caupain was better at that against the Aztecs. Although he was just 6-of-9 from the free throw line, including missing the back end of a 1-and-1 with 9.2 seconds left that would've have given UC a three-point lead, he kept taking the ball to the basket.
"We were getting a lot of late shot clocks with the time winding down. What are you going to do, keep shooting the jump shot? Coach tells us if you're in the 1-and-1, attack the basket, attack the basket, attack the basket," said Caupain. "I wasn't hitting any jump shots so the next thing is to attack the basket."
Consider that a lesson learned.
Follow on Twitter FSOhio_KGoheen
---