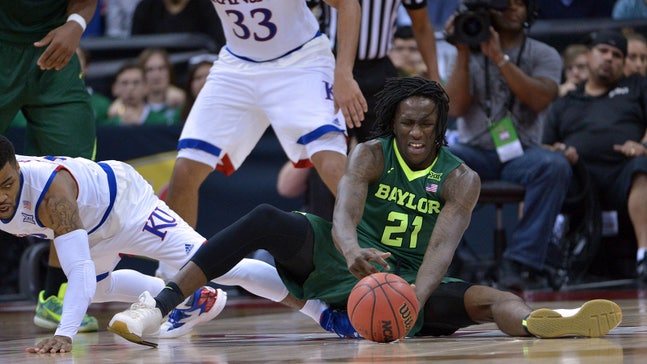 Baylor unable to knock off Kansas in Big 12 tournament semifinal
Updated
Mar. 4, 2020 5:26 p.m. ET

KANSAS CITY, Mo. (AP) -- Perry Ellis had 20 points, Devonte Graham added 14 points and eight assists, and top-ranked Kansas held on through a shaky finish to beat No. 22 Baylor 70-66 in the Big 12 Tournament semifinals Friday night.
Wayne Selden Jr. dunked his way to 11 points for the Jayhawks (29-4), who muddled through an ugly first half before eventually avenging their loss to the Bears (22-11) in last year's semifinals.
Kansas will play sixth-ranked Oklahoma or No. 9 West Virginia for the title Saturday night.
The Jayhawks were in control when coach Bill Self put in his reserves late, but a series of missed free throws and turnovers allowed the Bears to make a run. And after Al Freeman's 3-pointer got Baylor within 68-64 with 20 seconds left, Self had no choice but to send his starters back in.
Jonathan Motley's putback got the Bears within three with five seconds to go, but Graham calmly made the second of two free throws at the other end to put the game away.
Freeman finished with 14 points, and Rico Gathers had 13 points and nine boards, but nobody in green got into much of a rhythm against the Jayhawks' man-to-man defense. Taurean Prince was held to nine points, going 0 for 6 from beyond the arc, and Ish Wainwright managed four points on 2-for-9 shooting before fouling out.
The victory was the 13th straight for Kansas, which can match the number of tournament titles won by every other Big 12 school with its 10th. The Jayhawks also improved to 3-0 at the Sprint Center this season with their eighth consecutive win over the Bears.
Not that they didn't have a chance: Baylor forged a 23-21 lead after a sloppy first half.
The teams combined for 17 turnovers, Kansas at one point throwing it away on four straight possessions. Baylor's Lester Medford tossed a pass to nobody at one end of the floor, and then Ellis launched an air ball from beyond the arc as the teams went into a deep offensive funk.
For a while, it seemed as if nobody wanted to score.
There were only two real highlights: Graham had five assists for Kansas, including back-to-back alley-oop lobs to Ellis, and Jake Lindsey hit a buzzer-beating 3 to give the Bears the halftime edge.
Kansas began to take control as soon as it left the locker room.
Ellis went on a personal 8-0 run, and Selden woke up a sleepy crowd with a soaring dunk. A few minutes later, Graham tossed up a lob from just inside midcourt that Selden threw down for a 43-33 lead.
Baylor began trying to get the ball to Gathers and Prince in the paint, but the Jayhawks did a good job of collapsing on defense. The Bears missed nine consecutive shots during a critical stretch midway through the second half, and that allowed the Jayhawks to establish a comfortable lead.
They wound up needing just about every point of it.
TIP-INS
Baylor: Motley finished with 11 points and seven rebounds. ... The Bears were playing in their third straight semifinal. They still have never won the Big 12 Tournament.
Kansas: Carlton Bragg had 10 points and seven rebounds. He had a career-high 12 points in a quarterfinal win over Kansas State. ... Frank Mason III had nine points and six rebounds.
UP NEXT
Baylor heads back to Waco, Texas.
Kansas plays for its first title since 2013.
---
---