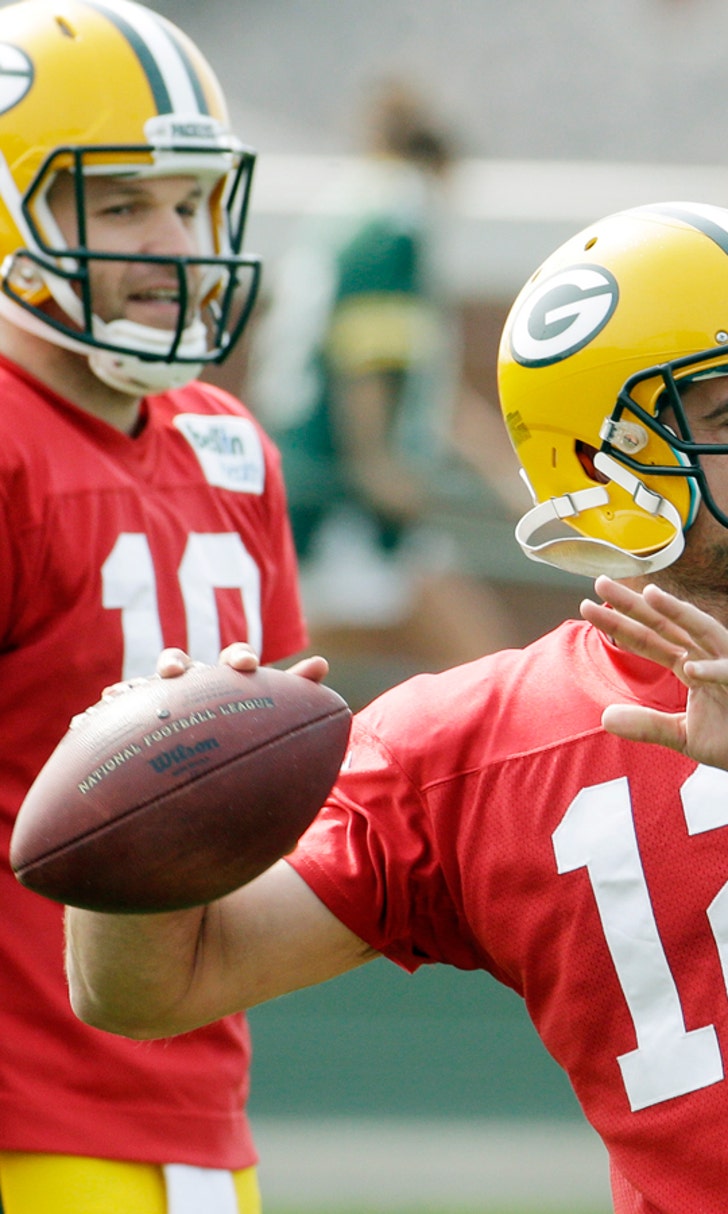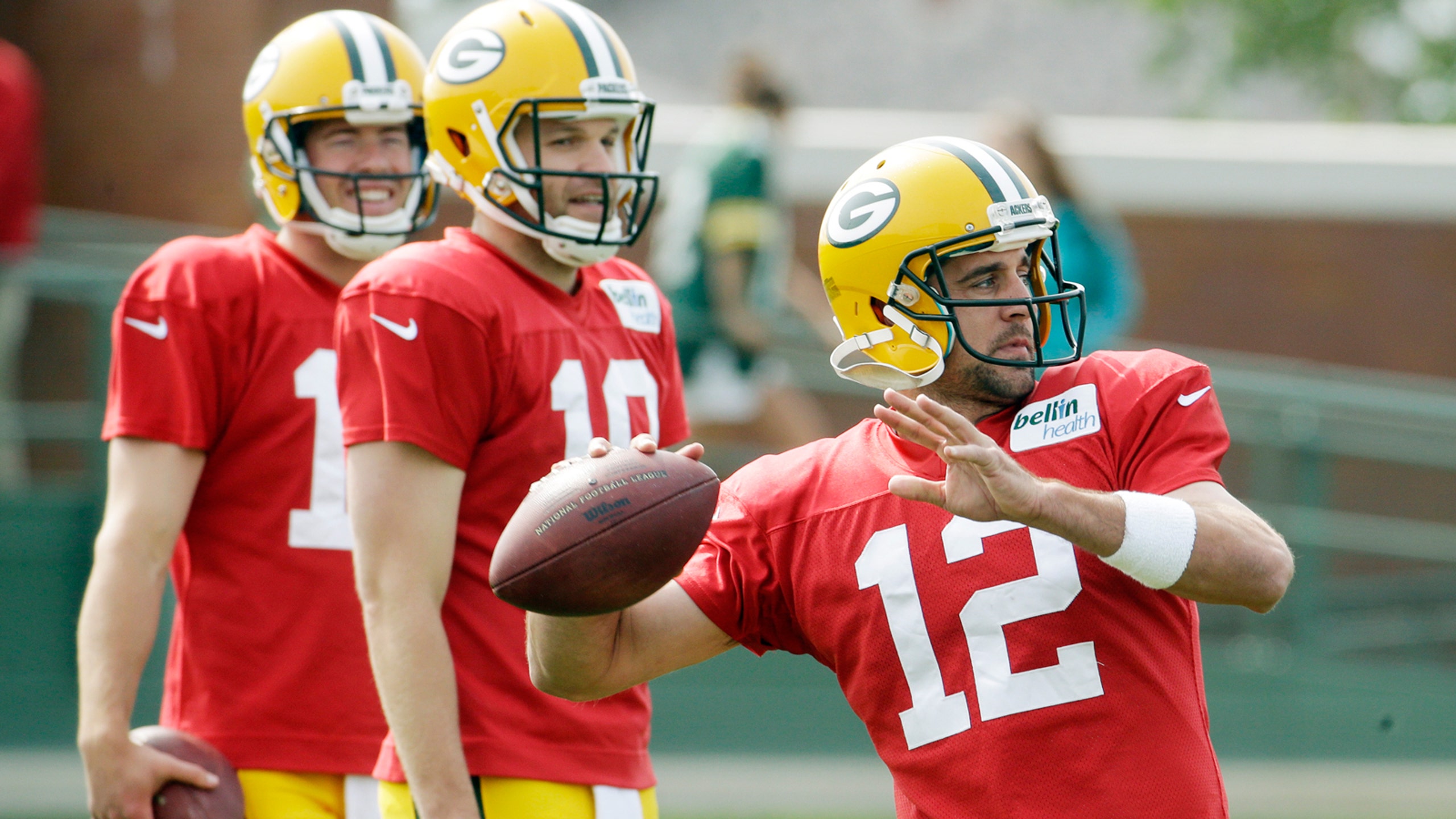 Battle for backup QB job heats up between Flynn, Tolzien
BY foxsports • August 15, 2014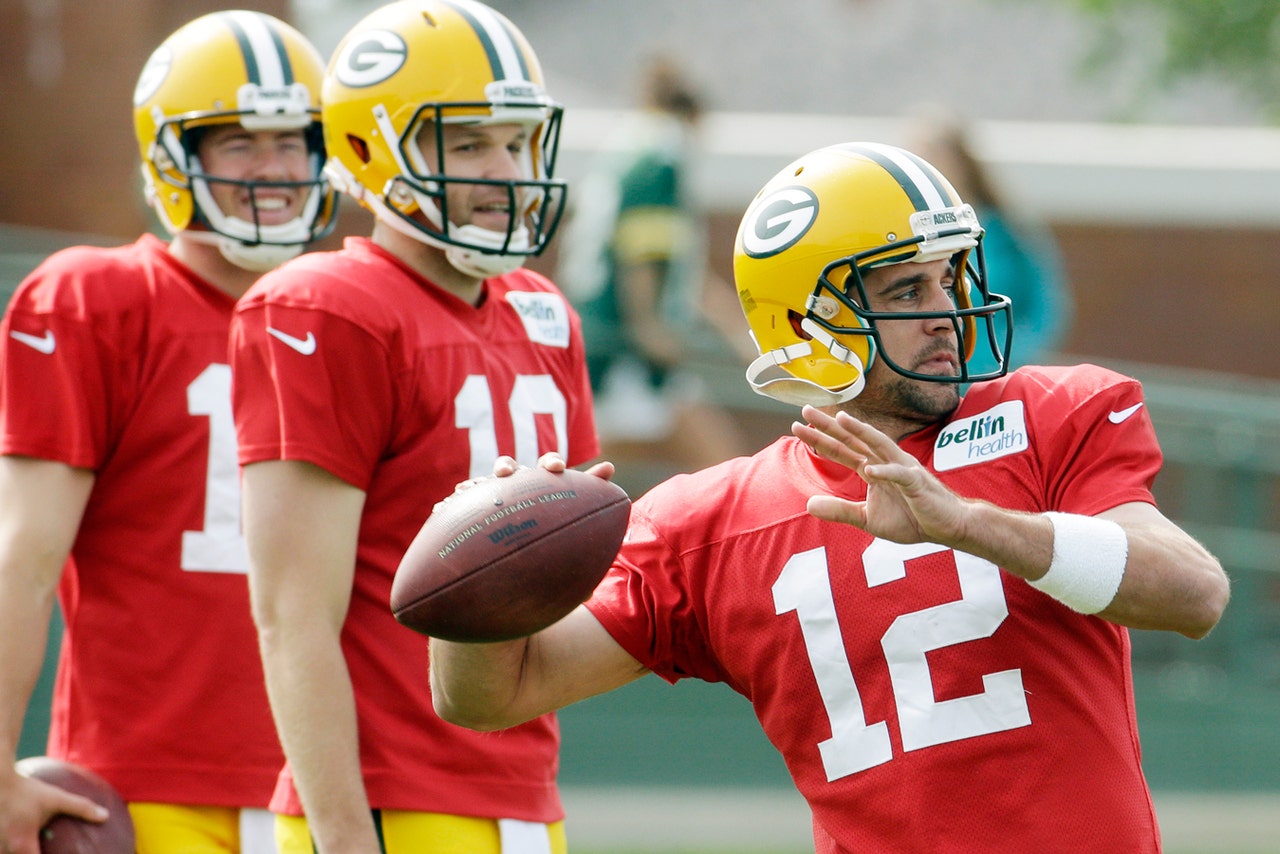 GREEN BAY, Wis. -- The battle for the No. 2 quarterback job could be the least important competition taking place during training camp and preseason for the Green Bay Packers. If the upcoming season for Aaron Rodgers is more like 2008-2012 and less like 2013, it won't matter whether it's Matt Flynn or Scott Tolzien waiting behind the former NFL Most Valuable Player.
But last year, the Packers paid the price for having a backup quarterback battle in training camp that didn't produce a winner. Graham Harrell wasn't the answer, nor was B.J. Coleman or Vince Young. All three were released before Week 1 of the regular season, and all three are no longer in the NFL at all. When Rodgers fractured his left collarbone in Week 9, Green Bay was forced to turn to two quarterbacks, Seneca Wallace and Tolzien, who had only been with the team for two months and had no offseason time to get comfortable with the playbook.
Determined not to make the same mistake twice, the Packers are much better prepared this season in the event that another injury sidelines Rodgers.
It's showed, too.
Flynn entered training camp with a healthy elbow (an injury that bothered him when signing with Green Bay in November 2013) and was the early leader to be the No. 2 quarterback. Tolzien came in a lot more comfortable with head coach Mike McCarthy's offense and has been given opportunities to surpass Flynn and be next in line after Rodgers.
After 13 training camp practices and one preseason game, Tolzien still might be No. 3 on the depth chart, but he's been the better of the two backup quarterbacks. That was especially true in the preseason opener in Tennessee when Tolzien went 8-of-12 passing for 124 yards (statistics that should have been better if not for two drops) and Flynn completed 5 of 10 passes for 49 yards.
"Scott Tolzien played very well; very well," McCarthy said. "I thought his tempo was excellent. That was the one improvement I wanted to see from him, playing faster. I thought his footwork was better. I thought he was decisive. I liked the way Scott played."
That performance led to Tolzien getting more practice repetitions this week. And while McCarthy wouldn't state whether it would be Flynn or Tolzien to enter after Rodgers in Saturday's preseason game in St. Louis, the back-and-forth nature of the competition would give the nod to the former Wisconsin Badger.
"We try to keep it even between the two, splitting them between the No. 2 and No. 3 group, trying to make it as equal a competition as we can," quarterbacks coach Alex Van Pelt said.
Tolzien, whose attitude is about as consistent as any NFL player's can be, has continued his steady approach. No good day gets him too excited and no bad day gets him too down.
"I feel much better than when I first started here," Tolzien said. "But with that, you're always trying to continue to improve. I know I have a ways to go. It's been fun learning it, but still got a ways to go."
Placing too much judgment on Tolzien based on his three games last season would be a relatively inaccurate representation of what he could be if pressed into action this season.
"He did a great job handling all the stuff that he had to handle in such a short period of time," Van Pelt said of Tolzien's 2013 season. "I thought he did really well. Really well. Now, can he get better? Absolutely. Has he gotten better? Absolutely. Has the offseason helped? Absolutely."
It's a similar story for Flynn. While many assumed that his comfort level with the Packers offense last season was a carryover effect of his first stint in Green Bay, a lot changed during the year and a half that Flynn was gone. Now, he too looks like a much better quarterback than the version that started four games late in the 2013 season.
"He's done a really good job of getting through progressions; I see that," Van Pelt said of Flynn. "He's done a really nice job of working through a progression, reading it out, back to a third receiver on the back side. He's done a really nice job with blitz pickup and the adjustments that we make at the line of scrimmage in our protections."
Once preseason is over and the team's wins and losses begin to matter, the Packers obviously hope the winner of the Flynn/Tolzien competition spends the rest of the year on the bench. Unless it's a situation similar to Week 17 of the 2011 season, when Green Bay's 14-1 record allowed Rodgers to rest in the regular-season finale, having zero snaps from Flynn and/or Tolzien this year is the best-case scenario for the Packers.
After Green Bay's 2-5-1 record last season without Rodgers, though, erring on the side of extreme caution might be the best idea. That would mean the Packers having both Tolzien and Flynn on the 53-man roster. If that happens, it'd be the first time since 2008 the Packers have chosen to go the route of three quarterbacks.
But regardless of whether Green Bay keeps two or three quarterbacks, there still needs to be a winner in the next two weeks between Flynn and Tolzien. And that battle will likely go down to the final day of training camp.
"I would think that would be the fair way to do it," Van Pelt said.
Follow Paul Imig on Twitter
---