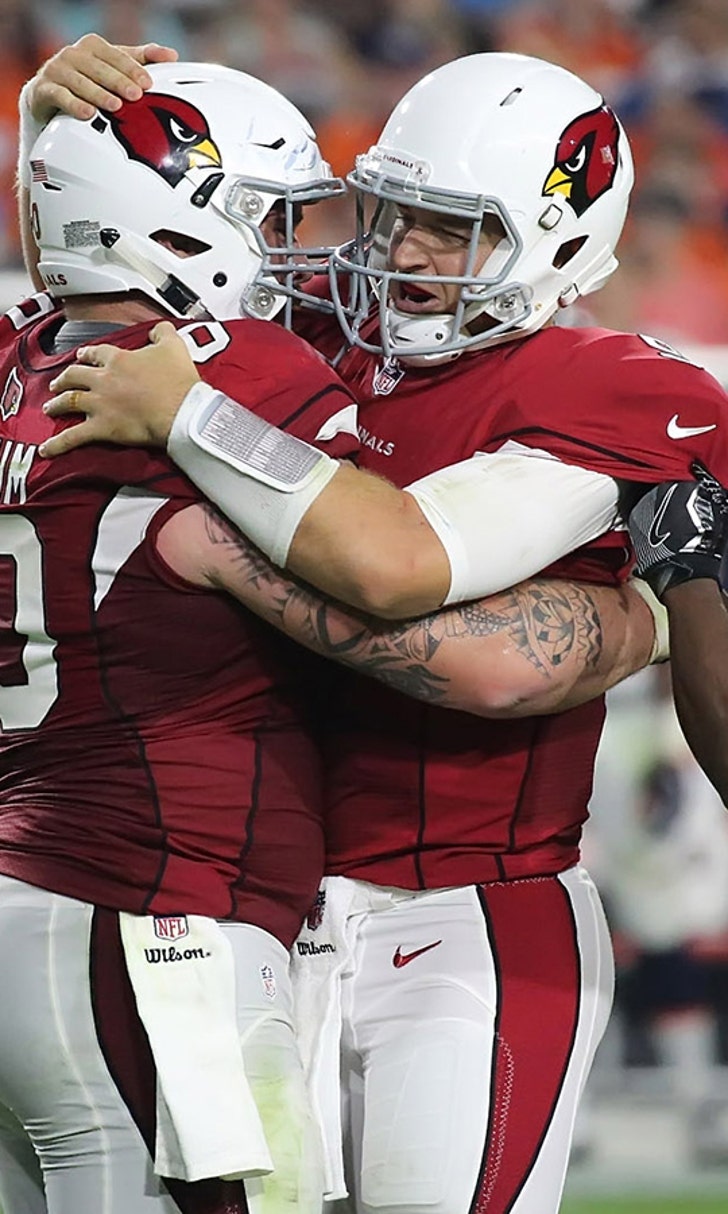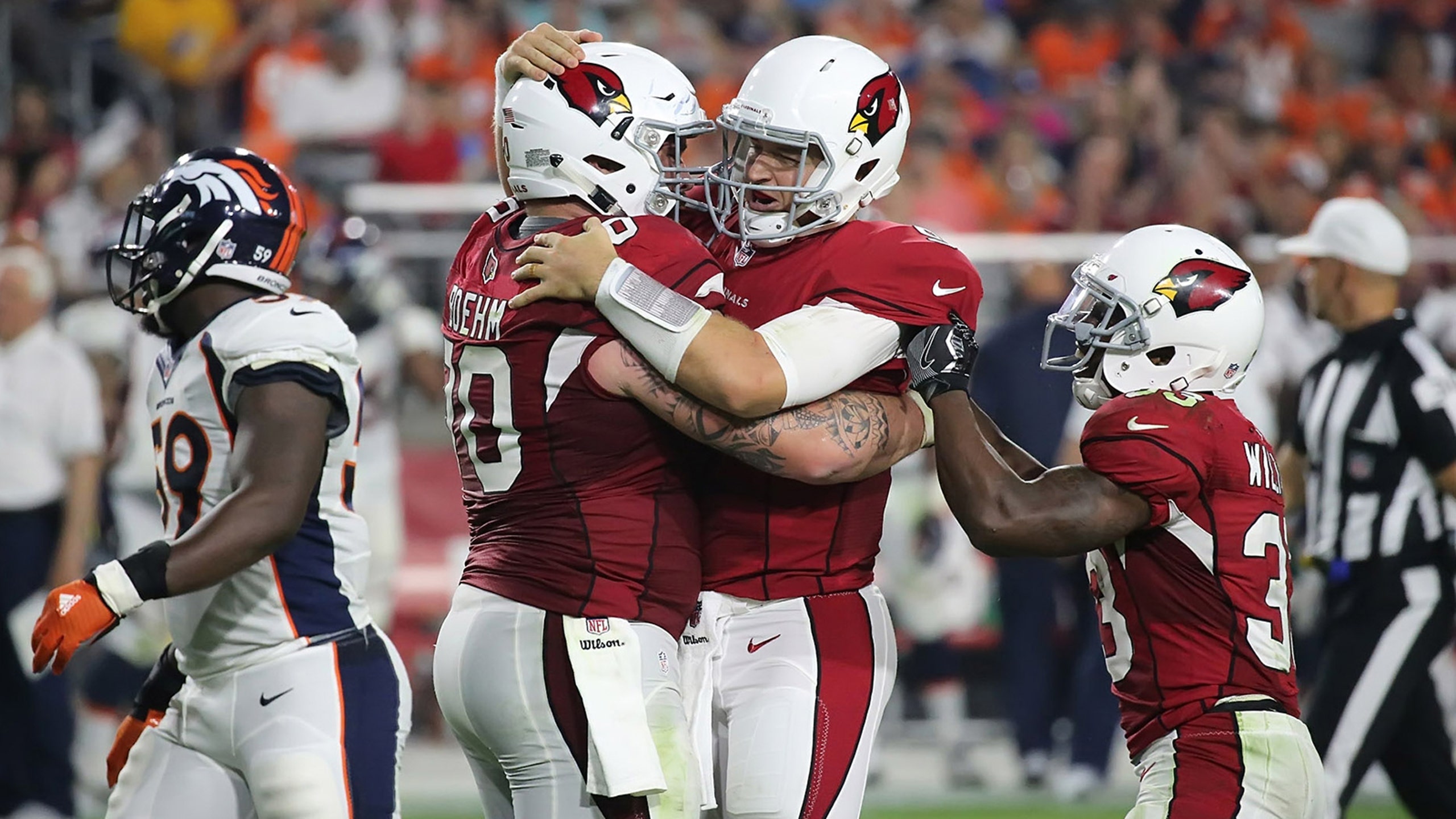 Barkley leads Cardinals to preseason-closing win over Lynch, Broncos
BY foxsports • September 2, 2016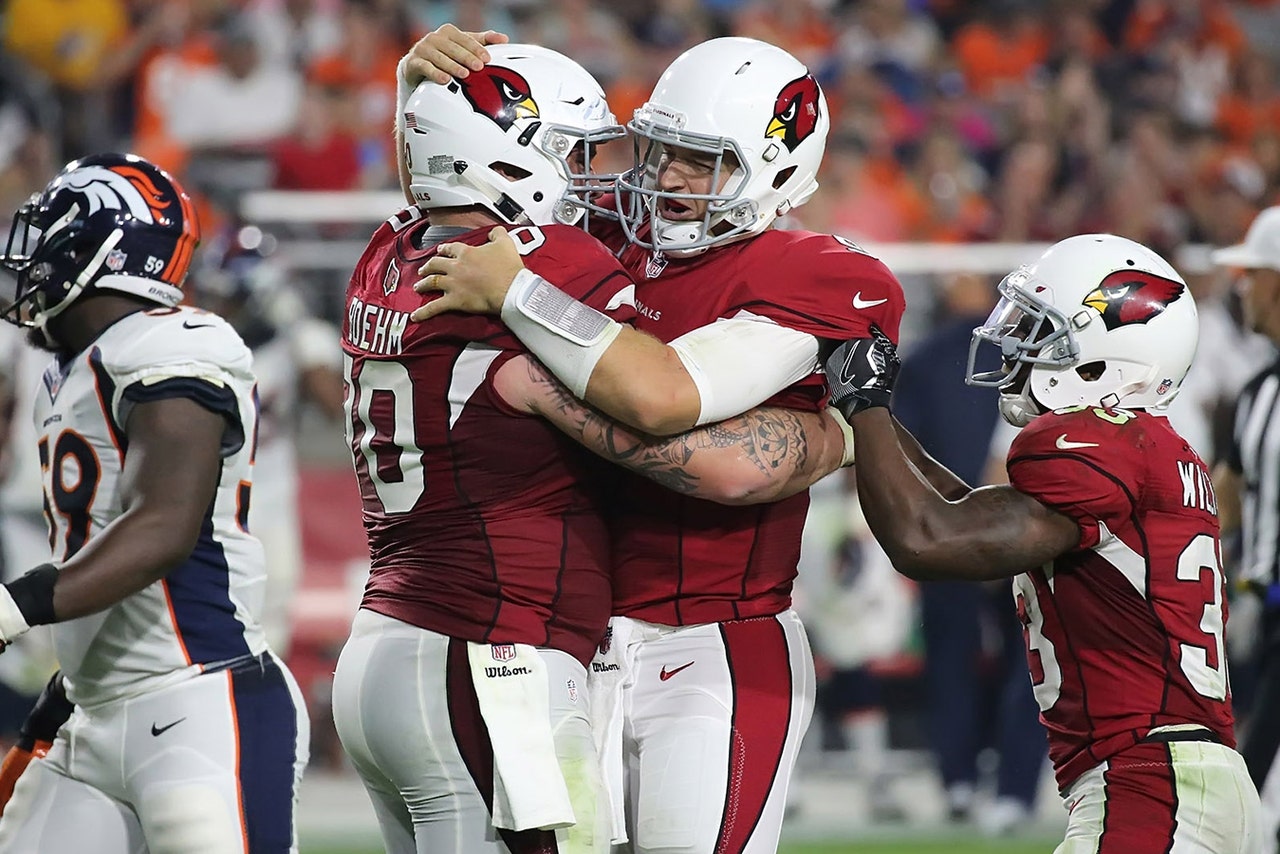 GLENDALE, Ariz. -- Paxton Lynch was Denver's No. 3 quarterback on the depth chart before Thursday night's game.
Now, the question is will he move up to No. 2.
"I got a lot of decisions to make," Broncos coach Gary Kubiak said.
Lynch, the Broncos' first-round draft pick, had some good moments and one very bad one while playing the entire game in the Broncos' 38-17 loss to the Arizona Cardinals in the teams' preseason finale.
His Arizona counterpart Matt Barkley, trying to hang on to the Cardinals' No. 3 quarterback job, overcame an early turnover to complete 20 of 29 passes for 269 yards and two touchdowns with no interceptions.
"We're not going against All-Pros, but we moved the ball and we put points on the board," Barkley said. "That's what our goal was. I think we did a good job of doing it tonight."
As the starters for both teams took the night off, Barkley, in his fourth NFL season out of USC, completed 20 of 29 passes for 269 yards and two touchdowns with no interceptions.
Lynch, the No. 26 pick overall in this year's draft after a standout career at Memphis, was 13 for 22 for 214 yards and two scores, both to Jordan Taylor, but had an interception returned 29 yards for a touchdown by Gabe Martin.
"I just think I need to be more consistent day in and day out," Lynch said. "I have gone up and down while I was learning everything. I think as time goes on, I just need to be more consistent."
Lynch's night got off to a great start. His first pass went short to Taylor, who slipped a would-be tackle by Cariel Brooks and raced to the end zone on a 57-yard play.
The rookie QB played the entire game after Kubiak announced that Trevor Siemian would be the starting quarterback. Mark Sanchez, listed as the No. 2 quarterback, did not play.
Taylor, who spent his rookie season in 2015 on the practice squad and was best known as the personal receiver for Peyton Manning in the quarterback's rehab work, caught four passes for 109 yards.
Rookie Elijhaa Penny rushed for 113 yards in the Cardinals' lone victory of the preseason. Cracking the deep running back corps in Arizona might be tough, but Penny figures he showed he belongs somewhere in the league.
"That is kind of what I prepared myself for this offseason, just games like this, knowing what kind of running back I am," Penny said. "I have put some weight on to carry the load and tire some defenses out. I'm pretty sure, if not the Cardinals, I impressed 31 other teams."
Many, if not most, of those who played won't have a job tomorrow.
"It's the saddest time in the NFL," Denver running back C.J. Anderson said. "...Those guys who went out there today, they gave it their all and all they can do is just wait."
After spotting Denver to a 10-0 lead, the Cardinals scored the next 23 points, capped by Chandler Catanzaro's 59-yard field goal early in the third quarter. Catanzaro's longest in his first two NFL seasons was 51 yards.
Broncos: In the competition for the No. 3 running back job, Kapri Bibbs gained 51 yards in 10 carries. Ronnie Hillman had 9 yards in three attempts.
Cardinals: Arizona coach Bruce Arians said linebacker Lamar Louis may have played his way onto the team, especially with his special teams performance.
Broncos: Riley Dixon, who won the punting job from Britton Colquitt, had an 18-yarder late in the first half. That led to a six-play, 45-yard Cardinals touchdown drive, Barkley throwing 14 yards to Jaxson Shipley for the TD with 30 seconds left in the half.
Cardinals: Defensive tackle Robert Knemdiche, Arizona's first-round pick (No. 29 overall), spent considerable time in the Denver backfield in his first extensive playing time. He missed most of training camp with a high ankle sprain.
Broncos: DE Henry Melton, an eight-year NFL veteran who signed with Denver last week, limped off the field in the first half, but returned in the third quarter.
Cardinals: OLB Kareem Martin had to be helped off the field in the third quarter with a knee injury. Arians said he expected Martin to be out two or three weeks with a sprained ligament. OLB Tristan Okpalaugo left in the second quarter with a right knee injury.
---
---