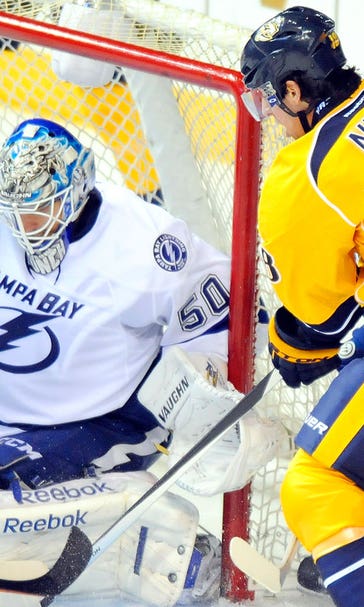 Balanced Preds still running strong near the NHL quarter-pole mark
November 21, 2014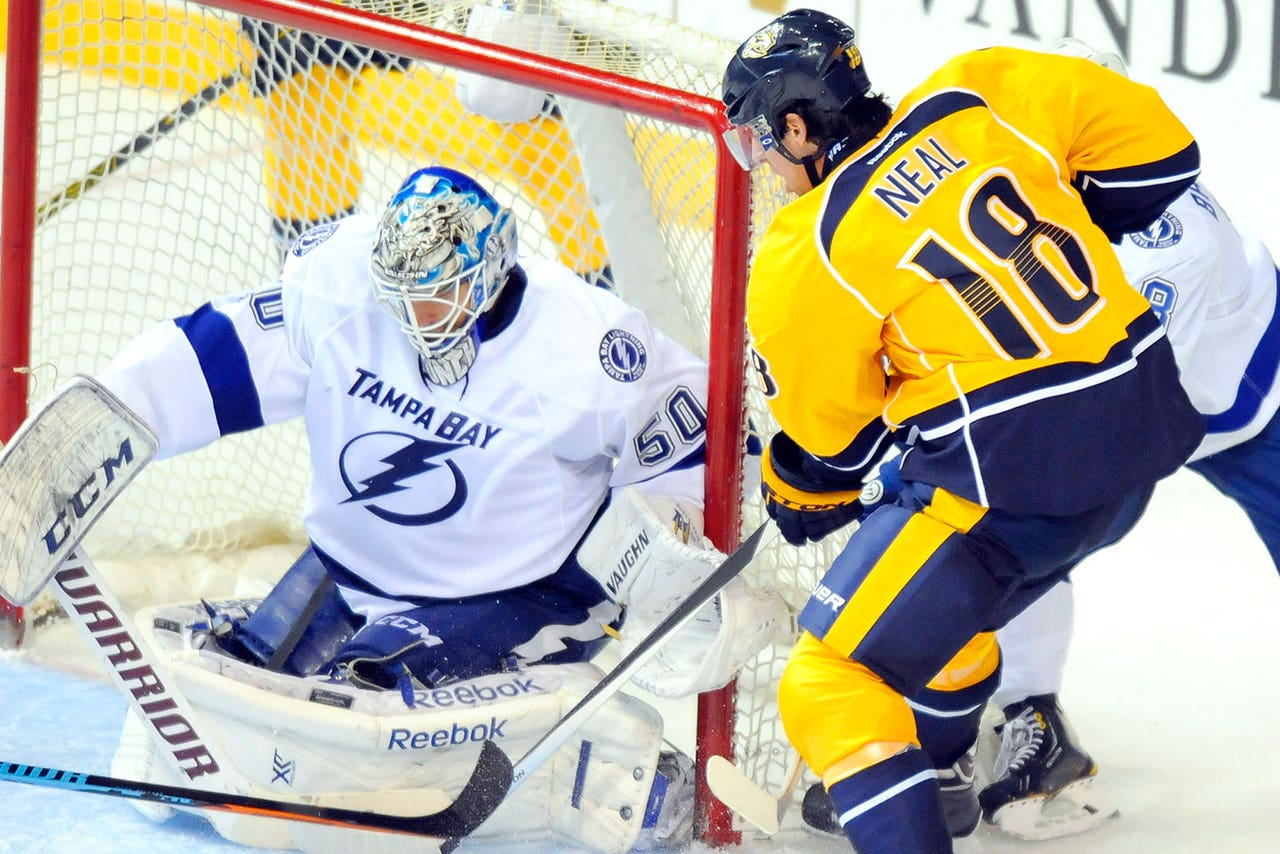 NASVHILLE, Tenn. -- Before the season started, Predators coach Peter Laviolette figured it would take roughly 20 games for everything new to start becoming routine.
If that's the case, then the Predators (12-5-2) are well ahead of the curve, as the quarter-pole of the 82-game season nears. In fact, they're off to one of the fastest starts in franchise history, leading the Central Division with 26 points and trailing only the Ducks (29 points) and Canucks (27) in the Western Conference (as of Nov. 21).
Certainly, the Predators, who didn't make the playoffs the last two years after seven of eight seasons, have to be one of the NHL's biggest surprises.
Then again, the avowed offensive stylings of Laviolette have quickly meshed with a team already deep and talented on defense, along with at the net.
"There has been a good understanding coming up in the first 20 games," said Laviolette, whose team begins a four-game homestand Saturday (against the Florida Panthers). "These guys have worked really hard. That drives our system. If you want to be a fast, hard forechecking, go-type of team, then your team has to be in shape and they have to work really hard.
"And our team has done both of those. That puts us in games and gives us an opportunity."
The Predators' offensive has been carried by one of the NHL's most potent first lines. A draft-day trade from the Penguins, forward James Neal has teamed again with center Mike Rebeiro (former Stars teammate) and rookie Filip Forsberg on the other wing. The trio has accounted for 46 percent of Nashville goals (23 of 53).
Neal and Forsberg each boast nine goals, while Rebeiro -- the setup man -- has five to go with 12 assists. Forsberg (team-leading 13 assists) leads the team and all rookies with 22 points -- good for No. 6 overall in the NHL.
Forsberg leads the entire league in plus/minus ratio (+20), five points higher than the next-closest player -- Vladimir Tarasenko (St. Louis Blues).
"I think it is a combination of things," Neal said of the first line clicking. "I know (Ribeiro) from playing with him in Dallas. He's a guy that likes to pass it first. He is always looking to get it off to one of us, and we're both shooters who like to get the puck to the net as much as possible. That's been a good combination and a good threat with both of us on the wings."
Neal quickly moved into an assistant captain's role with the team. His job is to score, and his 3.5 shots on goal (per game) rank among the top 15 in the league. He has been impressed with Forsberg, the 20-year-old former first-round draft pick of the Capitals.
"Filip is learning the NHL game quickly," Neal said. "He is getting better every day, and he has been great for the team and fun to play with."
While the front line is skating along just fine, Laviolette would like for the next three lines to start picking up the scoring slack. Those lines have been mixed and matched, although center Derek Roy and forward Matt Cullen have been constant on the second line, while veterans Paul Gaustad and Eric Nystrom (No. 4 line) have been running together since the season started.
Several Predators broke through during Tuesday night's 9-2 win at Toronto, while veteran forward Olli Jokinen, a free-agent acquisition, finally scored his first goal in Thursday's loss to Ottawa. Outside the frontline trio, Craig Smith tops the remainder of forwards with 10 points (six goals, four points), followed by Roy with nine (one goal, eight assists).
"We are constantly working on things," Laviolette said. "Because there are areas I would like to see get better. It was good to see some guys get on the board scoring-wise. I think they have played well, but to get a balanced attack and more scoring from all the lines and distribution from all the lines is important.
Play on special teams has been a point of emphasis, as well, although both the power play and penalty kill have started to show more signs of life recently. Still, the Predators rank 23rd on the power play (15.8 percent), while the penalty kill is 28th (71 percent).
"We work on our power play and our penalty kill," Laviolette said. "They are getting better. The power play is generating a lot more shots. We are starting to get the puck to the net and on the net and in the net from the power play. The penalty kill has become a lot more aggressive. So, we're working on things constantly here to get better.
"Coming up on 20 games, I think the guys have a good understanding, and we're getting there."
While the offense appears to be improving by the game, the steadiness of standout goaltender Pekka Rinne cannot be overstated. After missing two-thirds of last season with an infection following hip surgery, the two-time Vezina Trophy finalist (league's best goaltender) appears to be as good as ever.
One of just seven NHL goaltenders to play 16 games already, Rinne remains tied for the league lead in victories (12), fourth in goals-against average (1.92) and fifth in save percentage (.930).
Weber, the three-time Norris Trophy finalist (best defenseman), leads all Predators blueliners with 12 points (six goals, six assists) and sits fourth in the league in ice time (26:55).
"I think it's been pretty good," Laviolette said of the club's start. "What's impressive about our group from the time that they have been here, they have worked extremely hard. From day one of training camp, they've worked hard. They went out and they really went after in practice and went after it in games."
---