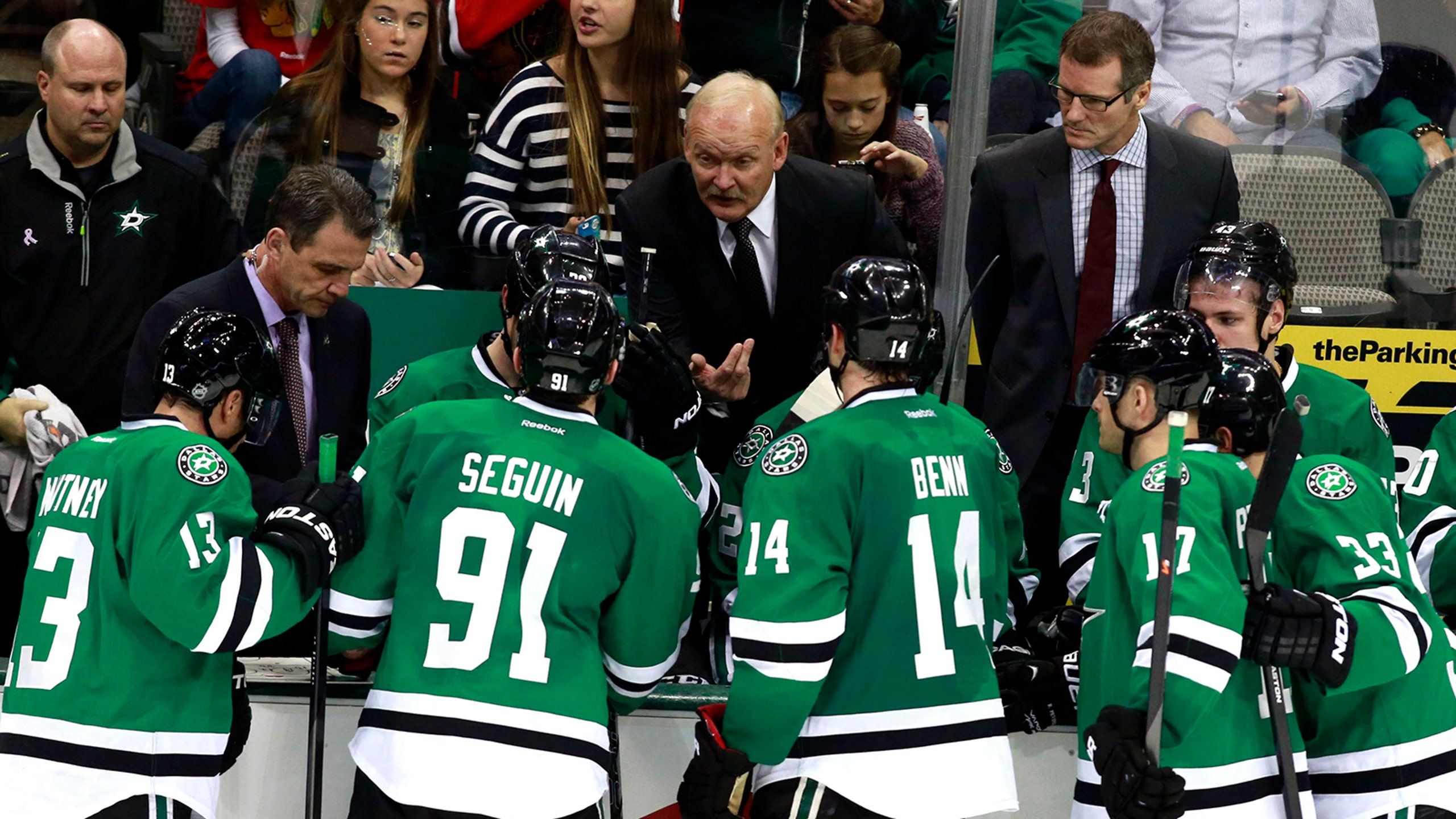 Bag of Pucks - Feb 25 - Trade Deadline History
BY foxsports • February 25, 2014
So, will they rock our world with a trade of great significance?  Well, a look at the 20 years the Stars have been in Dallas and what they have done in the month leading up to the Trade Deadline each spring will of course yield a mixed bag of postures and results.  Some years you feel you are close and you want to find that last piece to make a run at either a playoff berth or a Stanley Cup, and other years you are putting a garage sale together and everything must go.



It is kind of enjoyable to dig through the dusty archives to see names you haven't seen in ages, so I thought you might want to see what 20 years of trade deadlines look like.  I even bolded the 5 most significant trades to discuss:




1994 -

Mar 19 - Stars get Doug Zmolek and Mike Lalor for Ulf Dahlen and 7th from San Jose
1995 - 

Feb 27 - Stars acquire Corey Millen for Neal Broten from New Jersey

Apr 7 - Stars get Greg Adams for Russ Courtnall from Vancouver
1996 -

Feb 17 - Stars acquire Darryl Sydor and a 5th for Shane Churla and Doug Zmolek
Bob Gainey does a very nice job there of snagging Sydor for 2 pieces and making sure he successfully grabbed the best player in the trade and a foundation piece for some fantastic Stars teams that were led by a deep blue-line.  By trading for Sergei Zubov and Sydor, he absolutely planted the seeds of June hockey.


1997 -

No Significant Trades
1998 -

Mar 24 - Stars bring in Mike Keane, Brian Skrudland, and a 6th for Todd Harvey, Bob Errey and a 4th from New York Rangers
I figured this was the first time to break out the bold type and marvel at a trade that did not pay off immediately in that spring, but surely was the proper play to get the necessary sandpaper and experience to win the Cup.  It is also an example of a deadline trade that does not get national attention but surely pays dividends.


1999 - 

Mar 21 - Stars Acquire Benoit Hogue and 6th for Sergei Gusev from Tampa Bay

Mar 23 - Stars trade for Derek Plante for a 2nd rounder from Buffalo
2000 - 

Feb 8 - Stars get Sylvain Cote and Dave Manson for Derek Plante, a 2nd rounder, and Kevin Dean from Chicago

  
Sylvain Cote best remembered for being on the scene for the Jason Arnott cup winning goal.  And Derek Plante arrived at the '99 deadline and left at the '00 deadline 1 year later.


2001 - 

Mar 13 - Stars acquire Grant Ledyard for a 7th rounder from Tampa Bay
2002 -

Mar 12 - Stars trade for Manny Maholtra and Barrett Heisten and send Martin Rucinsky and Roman Lyashenko to New York Rangers

   
Mar 12 - Stars receive Jason Arnott, Randy McKay and a 1st for Jamie Langenbrunner and Joe Nieuwendyk from New Jersey
 There are a few on here that just about every reader would love to have back.  This is easily one of the least enjoyable trades because symbolically it is linked in with the end of Ken Hitchcock, Bob Gainey, Ed Belfour, and pretty much that entire run of greatness of the Stars.  The Stars received back a top pivot in Jason Arnott who combined with Mike Modano to provide a very strong duo, but given the results and the public's perception of the move, this one is no easier to sell than the Goligoski trade that ironically was performed by Nieuwendyk.


2003 -

Mar 10 - Stars trade for Lyle Odelein for Sami Helenius and a 7th rounder from Chicago

Mar 10 - Stars acquire Stu Barnes for Michael Ryan and a 2nd from Buffalo
2004 -

Mar 8 - Stars receive Chris Therian for a 3rd and 8th round picks from Philadelphia

Mar 8 - Stars get Valeri Bure for a 2nd and Drew Bagnall from Florida
2006 -

Mar 8 - Stars get Willie Mitchell and a 2nd for Shawn Bell and Martin Skoula from Minnesota
I would love to know how many things would have been different if the Stars would have been able to get Willie Mitchell signed to an extension that summer.  He ended up signing a 4 year, $14m deal in Vancouver and the Stars made due in other directions for a while before the bottom fell out of the blue-line.


2007 -

Feb 27 - Stars receive 

Mattias Norstrom, 2007 3rd and 2007 4th for Jaroslav Modry, 2007 2nd, 2007 3rd, and a 2008 1st from Los Angeles

   
Such an under-rated move by Doug Armstrong, and an anchor on the blue-line through the 2008 Western Conference Finals.


Feb 26 - Stars receive Brad Richards, Johan Holmqvist for Mike Smith, Jeff Halpern, Jussi Jokinen, and 4th from Tampa Bay
Brett Hull didn't last long as a GM, but when he pulled the trigger he sure grabbed those headlines.  Of all of the moves they had made at the deadline, this is the one that made the jaws drop around the league as the Stars sent Mike Smith and a bunch of assorted parts to go get one of the best centers in hockey.  The Brad Richards era (and Brett Hull era) coincided with bankruptcy, so we never will really know how good things could have been in Dallas, but he certainly has put the numbers up throughout his career.


2009 - 

No Significant Trades
Feb 9 - Stars get Kari Lehtonen for Ivan Vishnevskiy and a 4th from Atlanta
Joe's first deadline was a rather under the headlines move that turned into one that is still paying off when the Stars gambled on a goalie from Atlanta who had a very poor reputation as an underachiever who had questionable work ethic.  Since then, you could argue he has been the best player in the organization and was acquired for seeds.


Feb 21 - Stars acquire Alex Goligoski for James Neal and Matt Niskanen
Sadly, this is the move that overshadows the Kari trade with most and colors the perception of his entire run with the majority of Stars loyalists.  This was the all-in move to go fix the blue-line once and for all, and as anyone who has been watching will attest, this trade has had results in Dallas and in Pittsburgh that have both loudly spoken that the intent and the result were drastically different.


2012 - 

Feb 16 - Stars receive a 2nd and a 3rd for Nick Grossman from Philadelphia
2013 - 

Feb 26 - Stars receive Erik Cole for Michael Ryder and a 3rd from Montreal

Mar 24 - Stars get Joe Morrow and a 5th for Brenden Morrow and a 3rd from Pittsburgh

April 2 - Stars get 

Lane MacDermid, Cody Payne, and a 1st for Jaromir Jagr from Boston

April 2 - Stars receive Cameron Gaunce for Tomas Vincour from Colorado

April 2 - Stars receive a 2nd round pick and Kevin Connauton for Derek Roy from Vancouver
 Last year, the flurry of moves made seem to have laid a further foundation for Jim Nill as we move forward.



Now, it is Nill's turn, and he is publicly saying all of the right things that he is "happy with his team as it is", but I figure that we will see something to improve this roster that is good, but has weaknesses for sure.



A few weeks ago, we tried to sum up the Stars spot in the standings at the break, and I recommend you review that blog entry here.



As I said there:




---