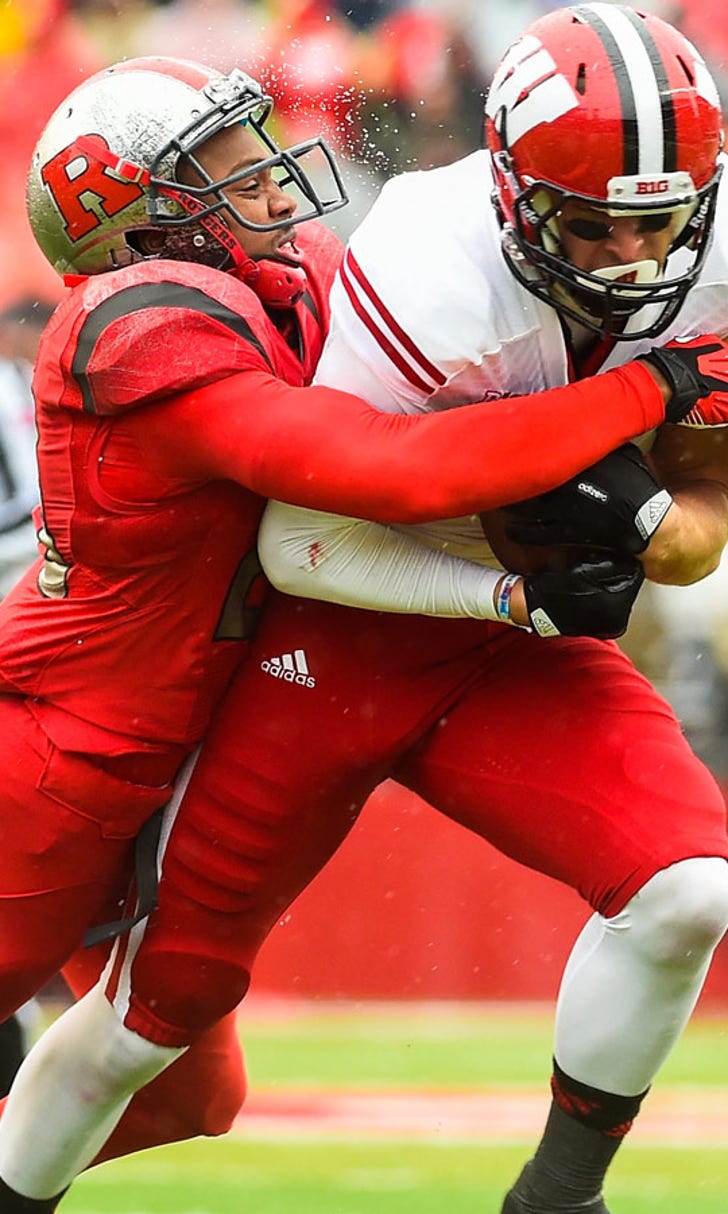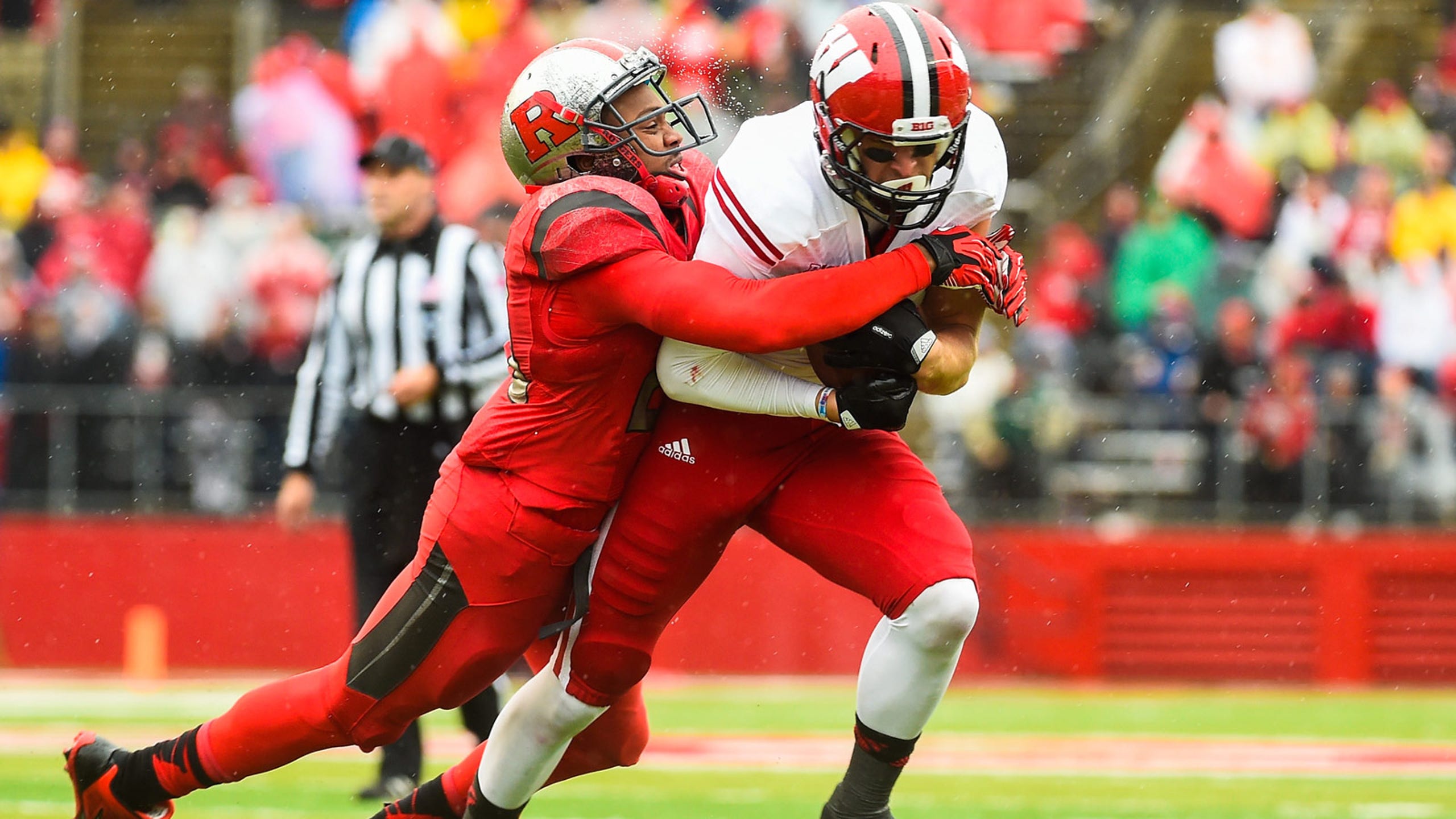 Badgers WR Fredrick makes impact with blocking
BY foxsports • November 19, 2014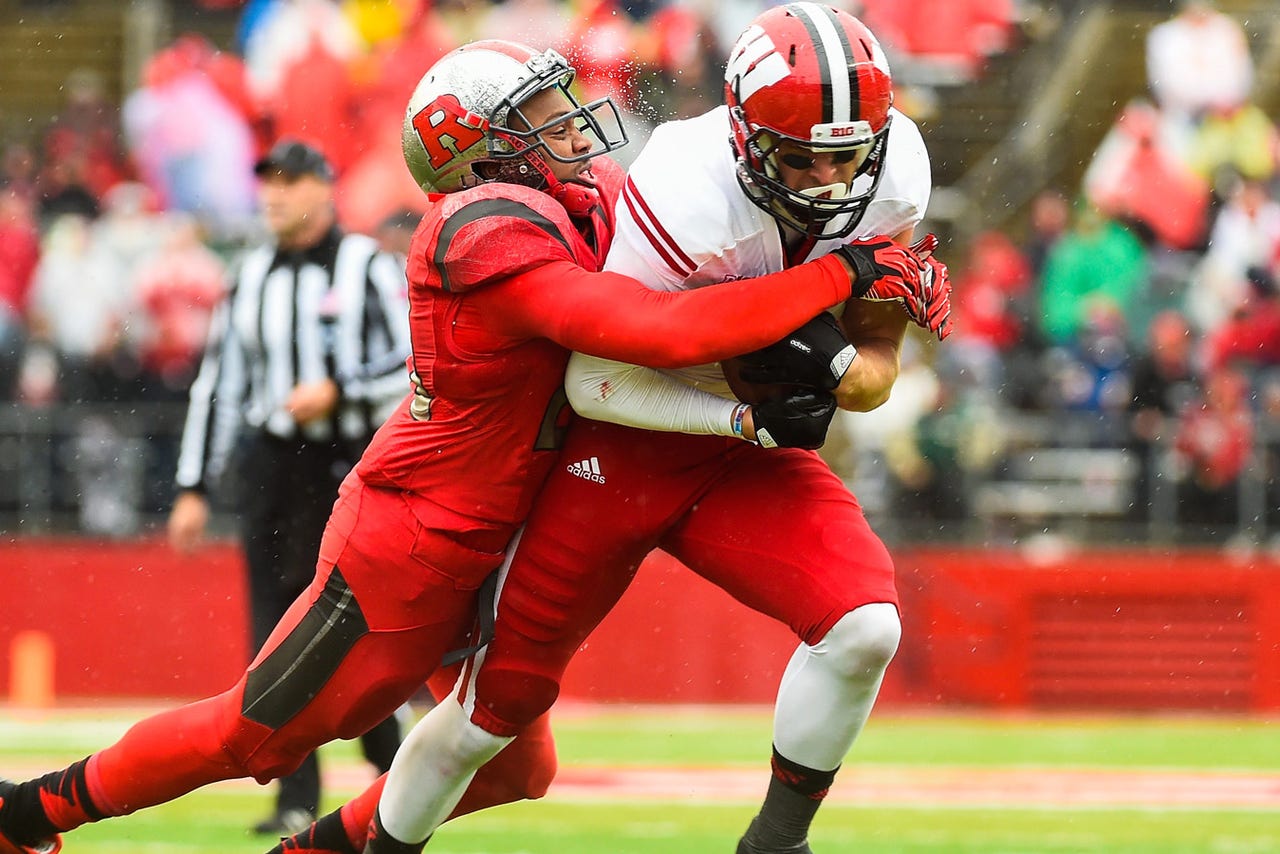 MADISON, Wis. -- Wisconsin's starting offensive line measures an average of 6-foot-5 and 321 pounds, so when tailback Melvin Gordon darted his way to the single-game FBS rushing record Saturday with 408 yards, it stood to reason the big hogmollies would rightfully earn their share of praise. Their job is to block and create holes, and Gordon's success is their success.
But what of Jordan Fredrick, a 6-4 wide receiver who weighs 107 pounds less than the average Badgers' O-lineman? What about his impact as a blocker? If you're an observer of Wisconsin football games and haven't taken notice of Fredrick's innate blocking talent, coaches and teammates say it's about time you do.
"The offensive line obviously gets a lot of credit for big runs and stuff like that, but what often goes unnoticed is guys like Jordan who come flying in and crack a safety, and now Melvin can pop outside of that guy and turn an eight-, nine-yard run into a 50-yard run," Wisconsin quarterback Joel Stave said. "That's something that Jordan does all the time."
Fredrick has developed into Wisconsin's best blocking receiver by embracing the concept of unselfishness. If he needs to open a crease for Gordon, he'll do so. If he needs to be the lead blocker for receiver Alex Erickson on one of the team's famed ammo screen plays, he does not bat an eye.
The secret to Fredrick's blocking success? It's not technique but simply effort.
"Just going all out every single play," he said. "Throughout my three years, I've kind of learned that the first year you're trying to play so well for yourself, kind of make a big name for yourself. But really you're playing for more than that. There's a lot of livelihoods at stake. With the coaches. With the players. With just people throughout the program. So really just playing not for yourself but for other people. The running backs, O-line. You get some more respect also that way, and you just kind of build from there."
If Fredrick does his job correctly, he generally is the last one to see how the play develops because he still is trying to hold a block. The fact teammates see that extra effort and acknowledge it continues to fuel Fredrick, the 214-pound redshirt junior.
Wisconsin wide receivers coach Chris Beatty compared Fredrick's pride in excelling in the little things to former NFL player Bill Bates. In 1989 and 1990, Bates became the first Dallas Cowboys player to lead the team in special teams tackles for two consecutive seasons, tallying 19 and then 23 tackles. For four straight seasons, from 1990 to 1994, he earned the Bob Lilly Award, which is voted on by fans and goes to a Dallas player who displays leadership and character on and off the field.
"He's not selfish," Beatty said of Fredrick. "He takes pride in everything that he does. He wants to be better in every part of his game. And he knows, 'Hey, I've got a niche.'"
Oddly enough, Fredrick said he arrived at Wisconsin without much blocking ability. At Madison Memorial High School, Fredrick caught 113 passes for 1,216 yards and 15 touchdowns while operating out of a spread offense.
"Blocking wasn't really a part of it," he said.
But Fredrick also possessed the type of toughness necessary to become an elite-level blocker. He earned all-conference honors as a high school senior at outside linebacker. And when he arrived at Wisconsin, he knew blocking could become one way to see the field earlier. With all-conference receiver Jared Abbrederis earning many of the targets, Fredrick began to forge a new path.
"When you realize you're not going to get the ball every play, you just try to earn some playing time, really," Fredrick said. "It's when you're starting from ground zero is when you build it, when you acquire it. It's not something you can all of a sudden ball out, have 50 catches a season and then learn how to block. It's really got to come first, especially here where we have the best running backs in the country."
What makes Fredrick such a special blocker, Stave said, is that opponents never truly know when he'll run his route or block. It is comparable to the way a pitcher in baseball does not reveal whether he is throwing a fastball or a changeup until the last moment.
"I think the way that he attacks corners looks similar every time," Stave said. "The way that he comes off the ball. He'll be running at you looking you right in the chest and all of a sudden he'll dive at your knees. For a corner, that's scary, but that's a legal block. So I would think for corners, that's got to be in the back of your mind as he's running at you. Is this guy running a route or is he going to take my knees out?"
While Fredrick continues to excel as a blocker, he quietly has become one of the more reliable third-down receivers on Wisconsin's team this season. In fact, eight of Fredrick's 12 catches on the year have come on third down. And in the last three games, he has eight total catches for 90 yards, including a season-best five catches for 62 yards against Purdue. Through Wisconsin's first seven games, he had amassed only seven catches for 27 yards.
Fredrick's most significant catch of the season came Saturday against Nebraska with Wisconsin trailing 17-3 and backed into a corner. Wisconsin faced third-and-six from its own 27, when Fredrick caught a pass over the middle from Stave for 11 yards and a first down. On the ensuing play, Gordon scored on a 62-yard touchdown run to turn the tables in an eventual 59-24 Wisconsin victory.
"That changed the whole momentum of the deal," Beatty said.
Added Stave: "That was as big of a catch as he's had in his career. That was a huge play for us. I think he's done a really good job, especially these past two games just running his routes to win and getting open and giving us an opportunity to make plays."
Fredrick said he began the season intent on surpassing his career high of 17 catches, 196 yards and one touchdown, which he established two seasons ago as a redshirt freshman. The numbers have not materialized yet in the way he hoped. He has 12 catches for 117 yards without a touchdown thus far. But as long as Wisconsin continues to perform well and adds to its five-game winning streak on Saturday against Iowa, he is perfectly content to keep playing his role.
"That's just the kind of player he is," Stave said. "He's doing everything he can to help the team, and obviously being an effective blocker is very helpful for the team, especially with how effectively we run the ball. That's just his game."
Follow Jesse Temple on Twitter
---