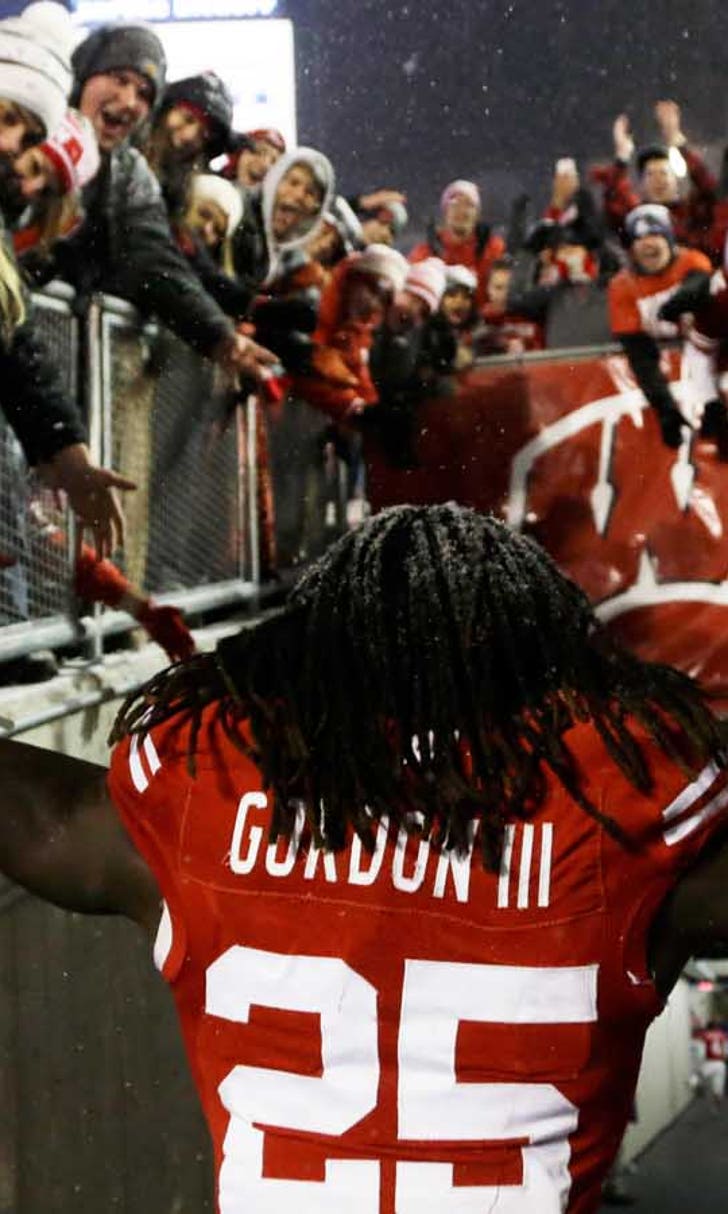 Badgers report card: Title-worthy performance against Cornhuskers
BY foxsports • November 16, 2014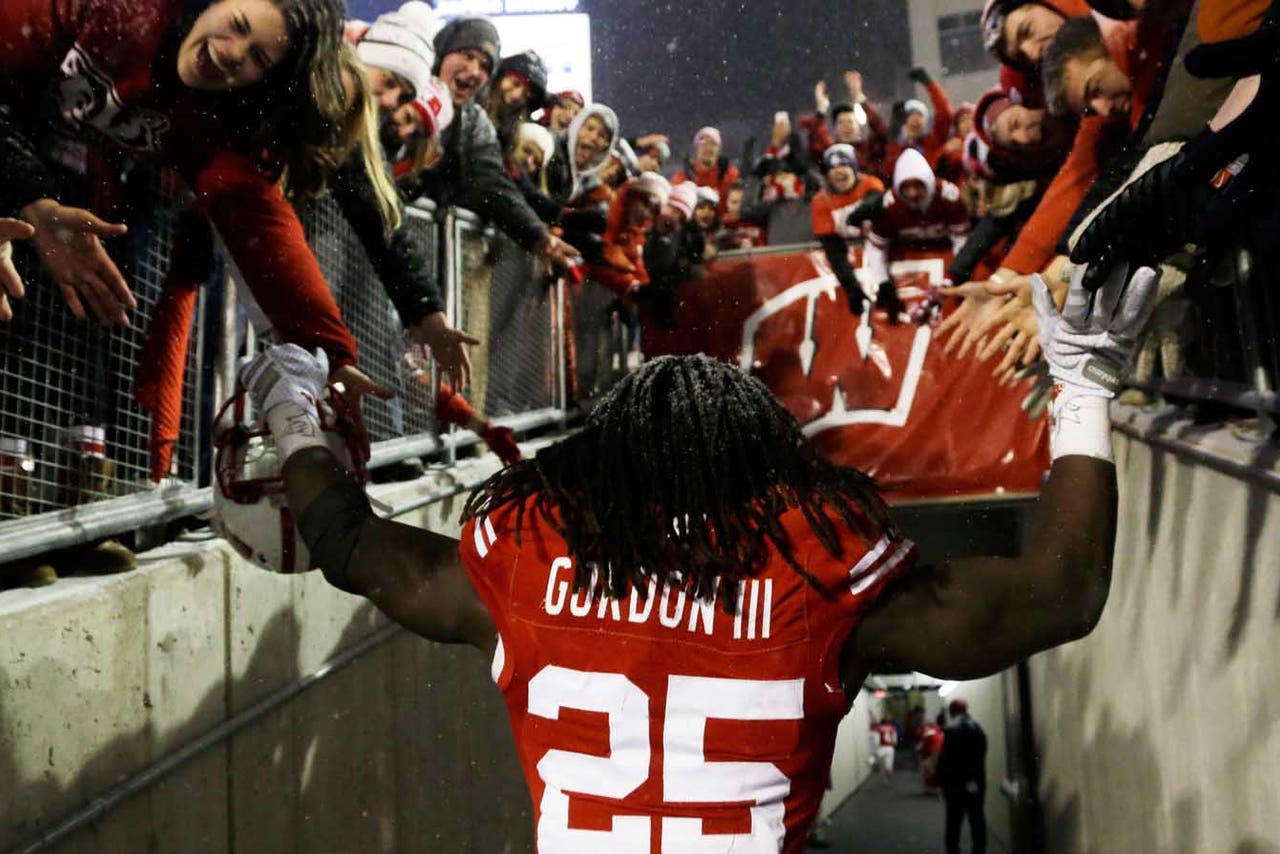 Well, that was some kind of game Saturday, wasn't it?
No. 20 Wisconsin destroyed No. 16 Nebraska 59-24 at Camp Randall Stadium to take control of the Big Ten West race for now. But what everyone will be talking about was the performance of Badgers tailback Melvin Gordon: 25 carries, an FBS single-game record 408 yards and four touchdowns.
Gordon didn't just run past Nebraska, he absolutely demoralized tacklers, knocking them back or leaping over shoestring tackle attempts. He looked like the most unstoppable force college football has seen in years, and he vaulted into the Heisman Trophy discussion as a frontrunner.
There were other phases to Saturday's game, too, so we'll touch on those as well in our weekly report card. Let's hand out some grades:
I think we can all agree the passing game was about the last thing on everybody's mind inside Camp Randall Stadium on Saturday. But given the limited opportunities to throw, quarterback Joel Stave performed well.
Stave completed 7 of 11 passes for 46 yards with a 5-yard touchdown pass to tight end Sam Arneson, which gave Wisconsin a 24-17 lead. Stave's biggest pass play, however, came on a third-and-six from Wisconsin's own 27 during the second quarter. At the time, Nebraska led 17-3, and it appeared the Cornhuskers might pull away for good.
But Stave connected with receiver Jordan Fredrick for 11 yards to give Wisconsin a first down. On the very next play, Melvin Gordon scored a 62-yard touchdown to trim the Badgers' deficit to 17-10.
"There was no panic," Stave said of the team's mindset despite trailing by two touchdowns. "No panic from the offensive line. No panic from the skill positions. Everyone just understood what was going on and knew that we're right there. We were stopping our own drives by turning it over. But ultimately if we just execute, hang on to the ball, be smart with what we're doing, there's no reason they should be able to stop us."
There are dozens of descriptors to try and properly explain the day Melvin Gordon put together. But let's just go with this: historic.
Gordon carried 25 times for an FBS single-game record 408 yards with four touchdowns. He surpassed LaDanian Tomlinson's record of 406 yards, which stood for 15 years. He single-handedly put Wisconsin on his back and blew past Nebraska. And he vaulted into the Heisman Trophy talk, alongside only Oregon quarterback Marcus Mariota.
For the game, Wisconsin carried 53 times and rushed for 581 yards. In most programs, that also would set a record. At Wisconsin, it was just another great day. The Badgers averaged 11.0 yards per carry, primarily because Gordon's average was 16.3 yards. Third-string tailback Dare Ogunbowale added 62 yards rushing in the fourth quarter, and quarterback Tanner McEvoy was effective in the read option game, running for 56 yards with a touchdown.
This is how good Gordon has been this season: He is averaging 190.9 yards rushing per game. No other player in the FBS is within 23 yards. Not too shabby at all.
Nebraska quarterback Tommy Armstrong Jr. had no idea what hit him Saturday -- figuratively and literally. He began the day averaging 203 yards passing per game but looked like a player who was completely lost.
Armstrong completed 6 of 18 passes for 62 yards with one touchdown and one interception. He also was sacked four times. At halftime, he had completed 1 of 10 pass attempts for 12 yards.
"We felt that Nebraska was caving in," Badgers linebacker Marcus Trotter said. "Especially with the crowd, we have such a great stadium and great fans. We could see that Nebraska was kind of giving up by the third quarter, so we just kept on attacking them."
Nebraska running back Ameer Abdullah was bothered by a knee injury, so perhaps his day could be partially explained away because of that. But Abdullah, who began the day in the conversation with Gordon as a Heisman Trophy candidate, quickly fell behind and could not recover. He carried 18 times for 69 yards and did not reach the end zone. He and tailback Terrell Newby also each lost a fumble. Armstrong Jr. lost two.
As a team, Nebraska carried 46 times for 118 yards -- an average of just 2.6 yards per rush. Wisconsin maintained its mark as a top-five defense in rushing yards allowed per game (96.7), though the Badgers did allow two touchdowns.
Carrying the ball was no easy task on a day that featured 26-degree weather at kickoff -- the coldest game played at Camp Randall Stadium in 50 years. Both teams had fumbling issues, but Wisconsin took advantage when it mattered most.
"It was a cold day," Badgers linebacker Derek Landisch said. "The ball is hard and we knew the ball was going to come out. That's what the coaches were telling us during the week. The turnover margin wasn't in our favor, so as a defense we felt like we needed to get turnovers. And so to see all those balls on the ground today, that was a good sight."
There wasn't a ton of action on special teams, and that was probably for the best given the weather conditions. But it continues to be alarming that Wisconsin's punting game struggles so much.
Bart Houston, the third-string quarterback turned rugby-style punter, has tempted fate all season with his low-lining kicks that threatened to deflect right off the punt shield. On Saturday, it finally came back to haunt him when his lone punt attempt traveled 18 yards before it caromed off a teammate. Nebraska took possession at the Wisconsin 43 and quickly scored a touchdown to put the Cornhuskers ahead 10-0.
When Drew Meyer entered, he was better. His first punt traveled 37 yards, though his second attempt was just 24 yards. Yes, the weather stunk. But Wisconsin must improve in this area because field position battles are even more important against the best teams in the league.
Special teams aside, this was a day worth celebrating. Wisconsin (8-2, 5-1) absolutely dominated the most formidable team on the Badgers' Big Ten schedule to open up a crease to capture the division title. With two more similar performances, Wisconsin will be in Indianapolis on Dec. 6 with a chance to win the league championship.
The defense continues to perform at a level not seen very often in college football, which is a big reason for Wisconsin's success. But who are we kidding? We'll all remember this game for Melvin Gordon's performance -- a record-breaking day that deserves to be played on highlight reels for years to come.
Follow Jesse Temple on Twitter
---