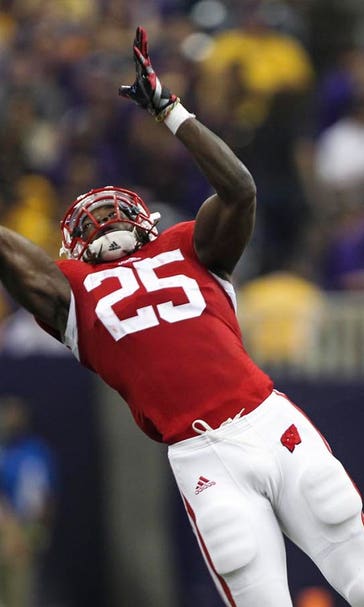 Badgers report card: Pass fails
August 31, 2014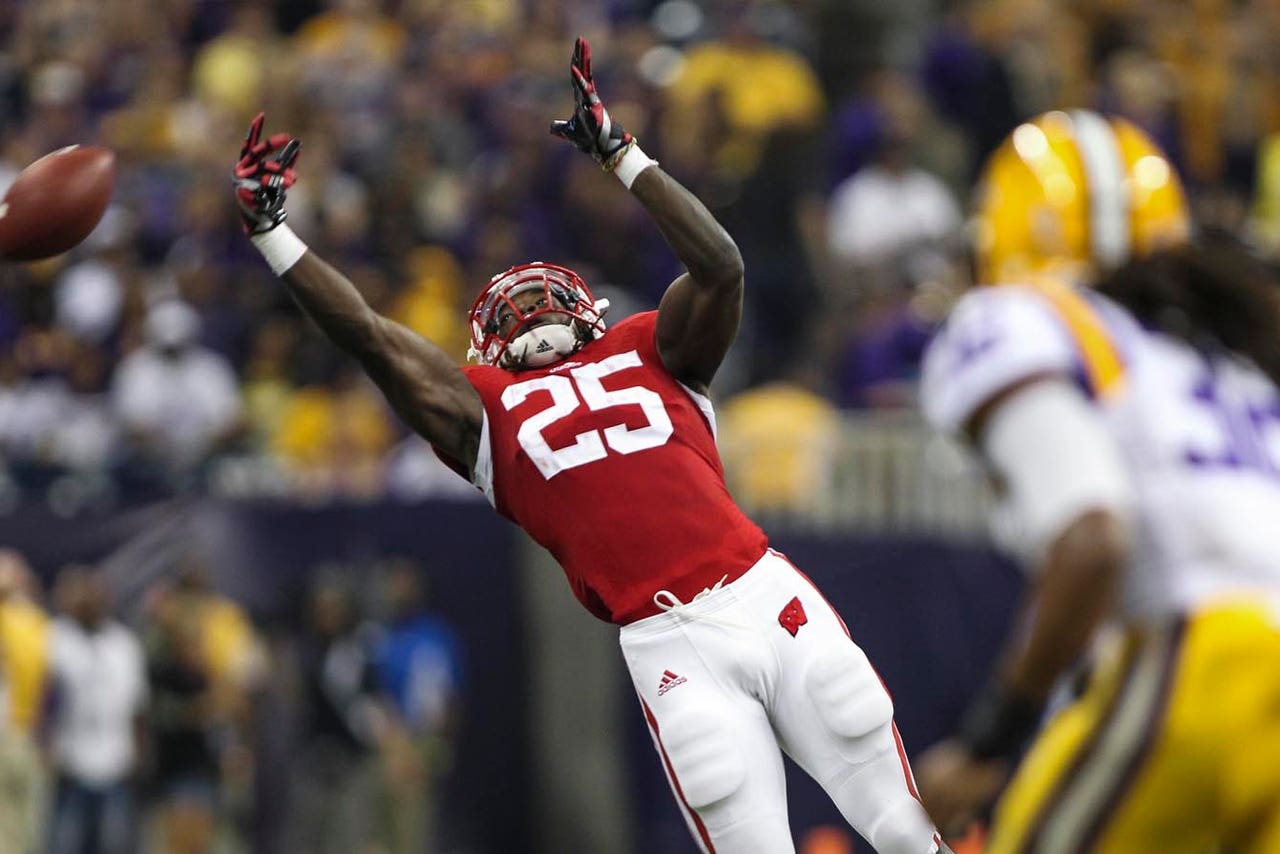 Wisconsin held a 17-point third-quarter lead against a powerhouse SEC team Saturday night, and it looked for all the world as though the Badgers would announce their presence this season on a national stage in a big way.
And then it all came crashing down.
LSU scored 21 unanswered points to squeak out a 28-24 victory against Wisconsin in Houston. Quarterback and wide receiver play simply weren't up to snuff, and the Badgers' secondary committed major gaffes to allow LSU back into the game.
The result leaves plenty of questions for the Badgers' coaching staff and fans alike. Now, Wisconsin must pick up the pieces and find the positives from a game UW should have won.
But first, let's hand out grades for Wisconsin's season-opening performance:
Passing offense: F
I'm not sure if I have ever given a failing grade to Wisconsin's passing offense in four seasons on the beat -- and there were some games in which UW really had no interest in passing. But after witnessing what the Badgers put together on Saturday night, really, what other grade is there to give?
Tanner McEvoy made his first start at quarterback against the toughest team Wisconsin will play the entire regular season, and there were bound to be some mistakes. Badgers coach Gary Andersen tried to deflect blame from McEvoy in every way he could. He said no quarterback would have succeeded with such limited protection. He said the team's wide receivers didn't create enough separation and occasionally broke off routes early, which made McEvoy look silly when he missed throws by several yards.
Still, McEvoy did not inspire much confidence in the fan base. He completed 8 of 24 passes for 50 yards with no touchdowns and two interceptions. Throw in the fact Wisconsin showed that it does not have a go-to wide receiver threat, and this is an area that could spell trouble for the Badgers all season.
Alex Erickson caught three passes for 33 yards, and it appeared early as though he could be the playmaker this team desperately needed. But the passing game flat-lined. No other player caught more than one pass. And no other player garnered even 10 yards receiving. Tight end Austin Traylor finished second on the team in reception yardage with nine.
Wisconsin may have one of the more talented offensive lines and running games going, but without a consistent passing attack, this team won't achieve its goals of winning a Big Ten title and beyond. And McEvoy's performance has fans wondering if Joel Stave will get a look at quarterback after all.
Rushing offense: B-minus
Melvin Gordon did Melvin Gordon things on Saturday, and that was an encouraging sign for the Badgers. He finished the game with 16 carries for 140 yards and a touchdown and averaged 8.8 yards per carry. His 63-yard third-quarter run up the middle helped to set up teammate Corey Clement's 2-yard touchdown run, which put Wisconsin in front 24-7.
After that Gordon run, however, he curiously disappeared from the game. In fact, he carried the ball only three more times. How in the world can one of the best running backs in college football get only three carries over such an extended period of time?
Andersen did not seem to have an answer during his postgame remarks. Gordon insisted he was healthy. And, if both of those answers are true, then it makes no sense.
Wisconsin finished the game with 39 carries for 268 yards and averaged 6.6 yards per attempt. Given the opponent, those numbers are especially impressive. But the Badgers are docked for the inexplicable decision to stop using Gordon and the failure to keep the running game churning as the second half unfolded.
Passing defense: D-plus
Is this grade too harsh for a season opener against an SEC team? Perhaps. But if Wisconsin truly wants to be considered one of the elite teams in college football, the types of mistakes we saw Saturday simply cannot happen.
First, Wisconsin allowed receiver Travin Dural to sneak behind two of its defenders -- safety Lubern Figaro and sophomore cornerback Sojourn Shelton -- for an 80-yard touchdown that gave LSU its only reason for hope in the first half. It represented the Tigers' lone score and allowed them to enter halftime trailing 17-7. Figaro generally looked like a true freshman playing his first college game -- which he was -- and he will surely improve as the season progresses.
The 80-yard touchdown was bad, of course. But so was a fourth-quarter play in which four Wisconsin players had an opportunity to make a tackle and whiffed, allowing John Diarse to score a 35-yard touchdown that trimmed LSU's deficit to 24-21. Cornerback Devin Gaulden and linebacker Joe Schobert collided, Figaro missed his tackle try and cornerback Darius Hillary had no chance to catch Diarse from behind.
Given the fact Wisconsin had three returning starters in its secondary, the mistakes should make Badgers fans cringe. This was supposed to be one of the defense's strengths -- and it still may turn out that way -- but it sure didn't help the Badgers on Saturday.
Rushing defense: A-minus
LSU tailback Kenny Hilliard broke free for a 28-yard touchdown run that gave the Tigers the lead for good in the fourth quarter. But the Tigers were given a short field following a McEvoy interception, and Wisconsin had been outstanding with its run defense until that point.
Despite all the talk about how much trouble LSU's two dual-threat quarterbacks could present in the running game, Anthony Jennings and Brandon Harris combined to carry the ball 11 times for minus-13 yards. As a team, LSU carried 47 times for 126 yards -- an averaging of just 2.7 yards per carry.
Really, could you have asked for much more from Wisconsin's defense in the run game? Hilliard and Terrence Magee are seniors with substantial experience. True freshman Leonard Fournette is the most hyped tailback out of high school since Adrian Peterson. Magee finished with six carries for eight yards, while Fournette had eight carries for 18 yards. Hilliard had more success, tallying 110 yards on 18 carries. But Wisconsin did well to keep that three-headed rushing attack in check.
Wisconsin's front seven showed itself to be plenty talented despite not having much starting experience. Losing Konrad Zagzebski and Warren Herring on the defensive line to injury during the game significantly hurt the Badgers up front. But if both are able to return to full strength and play soon, the Badgers' run defense should be formidable all season.
Special teams: B-minus
Rafael Gaglianone is sure to become a cult hero among Badgers fans in time. How can you not like a true freshman stepping in there and drilling a 51-yard field goal with room to spare in the first quarter against LSU? And how can you not enjoy watching Gaglianone's sheer joy in the moment? Given the troubles Wisconsin has had in the kicking game during recent seasons, Gaglianone's arrival comes as a welcome relief.
Having said that, there still were some issues that materialized on special teams. Wisconsin allowed a first down on a fake punt when Kendall Beckwith rushed for three yards on fourth-and-2 in the third quarter. LSU kicker Colby Delahoussaye went on to make a 30-yard field goal, which trimmed the Tigers' deficit to 24-10.
Considering LSU coach Les Miles' history for using trickery, not being prepared for the play was inexcusable. A stop would have given Wisconsin the ball with a 17-point third-quarter lead.
Drew Meyer's punting also was a concern for Wisconsin. He has generally been one of the more steady members of the team, but he struggled to consistently get enough yardage on his kicks. At one point, he limped off the field and went back to the locker room. He returned later in the game, but it is cause for some concern. Meyer finished with eight punts and averaged 37.5 yards per try.
In the kick return game, Wisconsin didn't do much. Kenzel Doe returned one punt for minus-three yards and two kickoffs for 31 yards.
Overall: C-plus
Look, Wisconsin was good in enough areas to win this game, and that's what will ultimately sting the most. You cannot blow a 17-point third-quarter lead in a game of this magnitude, when a victory could set up the program for a realistic run at a playoff appearance.
The Badgers ran the ball extremely well for stretches of the game. But when it became apparent Wisconsin had no passing game, LSU stacked the box and dominated the line of scrimmage. The fact Melvin Gordon did not carry the ball more in the second half was baffling, particularly given the passing game struggles.
The good news for Wisconsin is that it will not face an opponent as tough as LSU for the rest of the regular season. The bad news is that a second-half collapse could very well limit what this team can achieve in the long run this season.
Follow Jesse Temple on Twitter
---