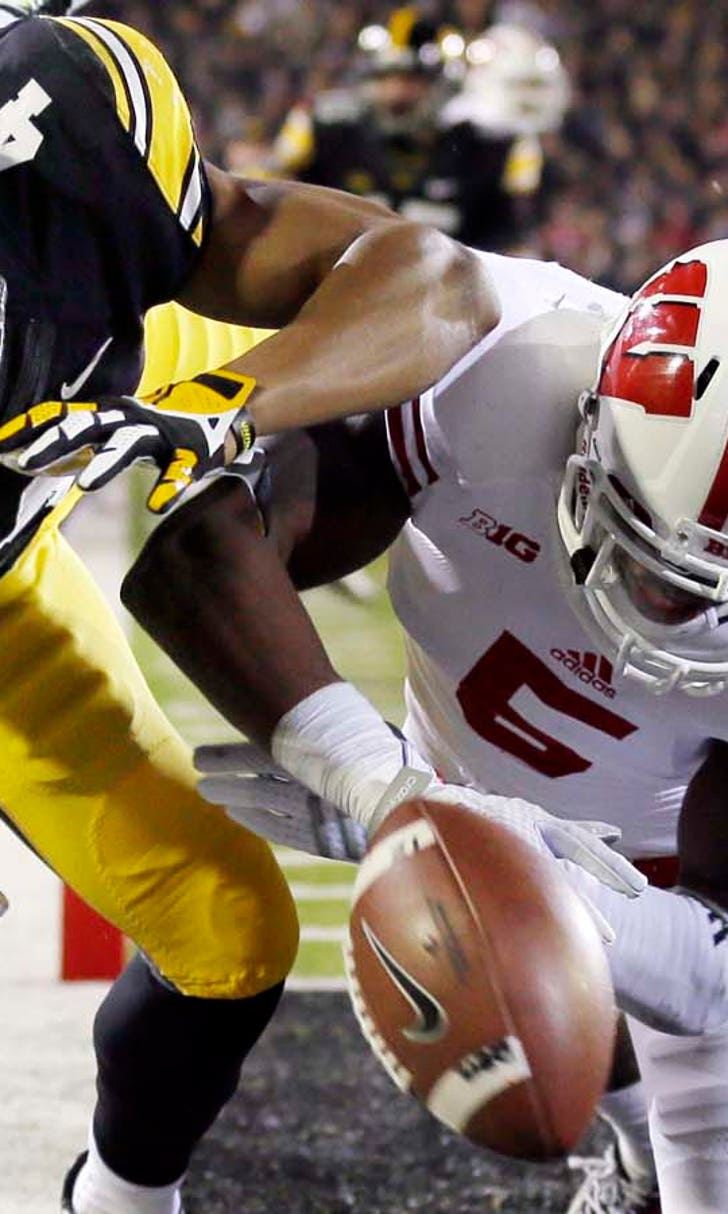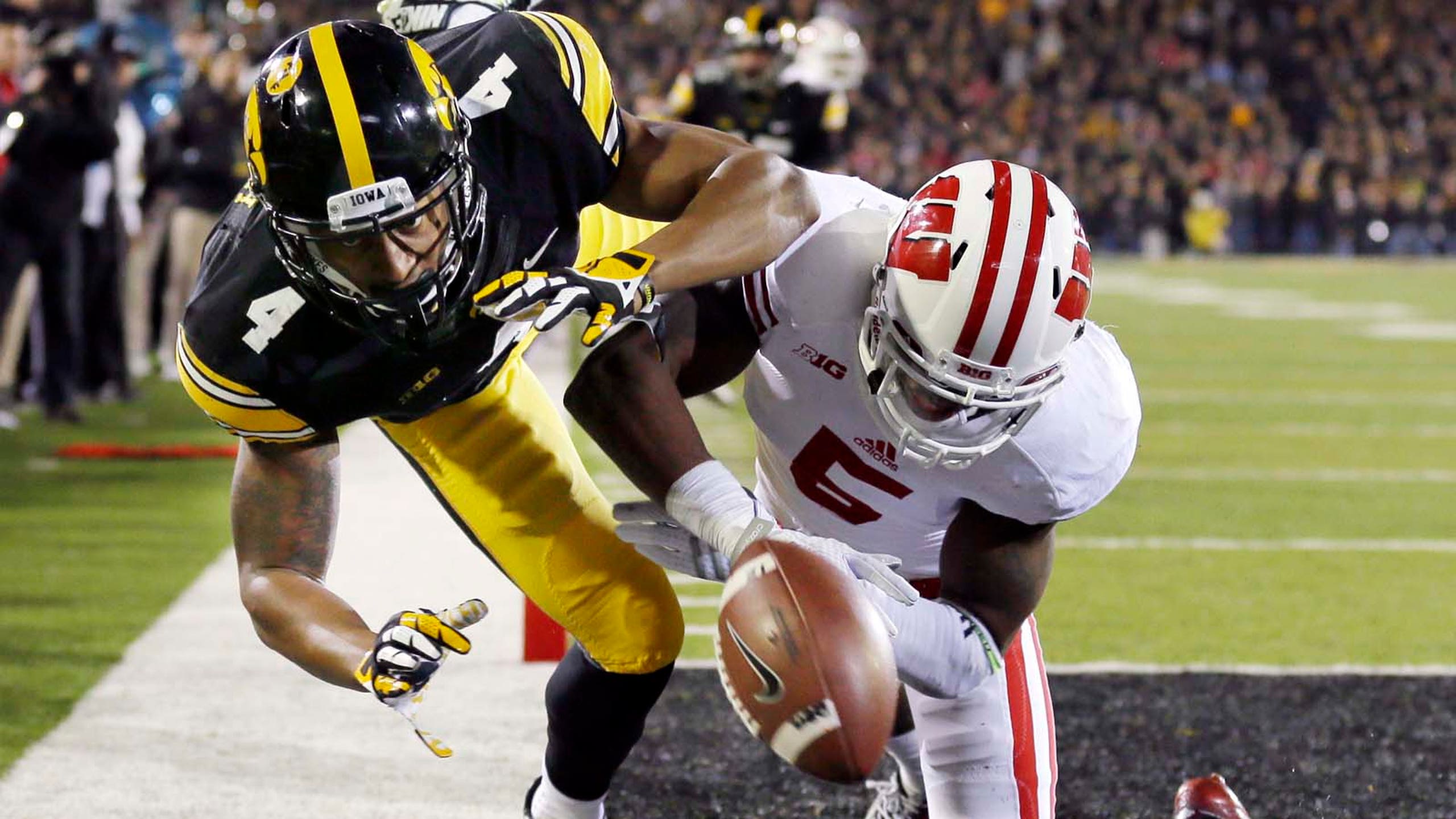 Badgers report card: Nail-biter a learning experience
BY foxsports • November 23, 2014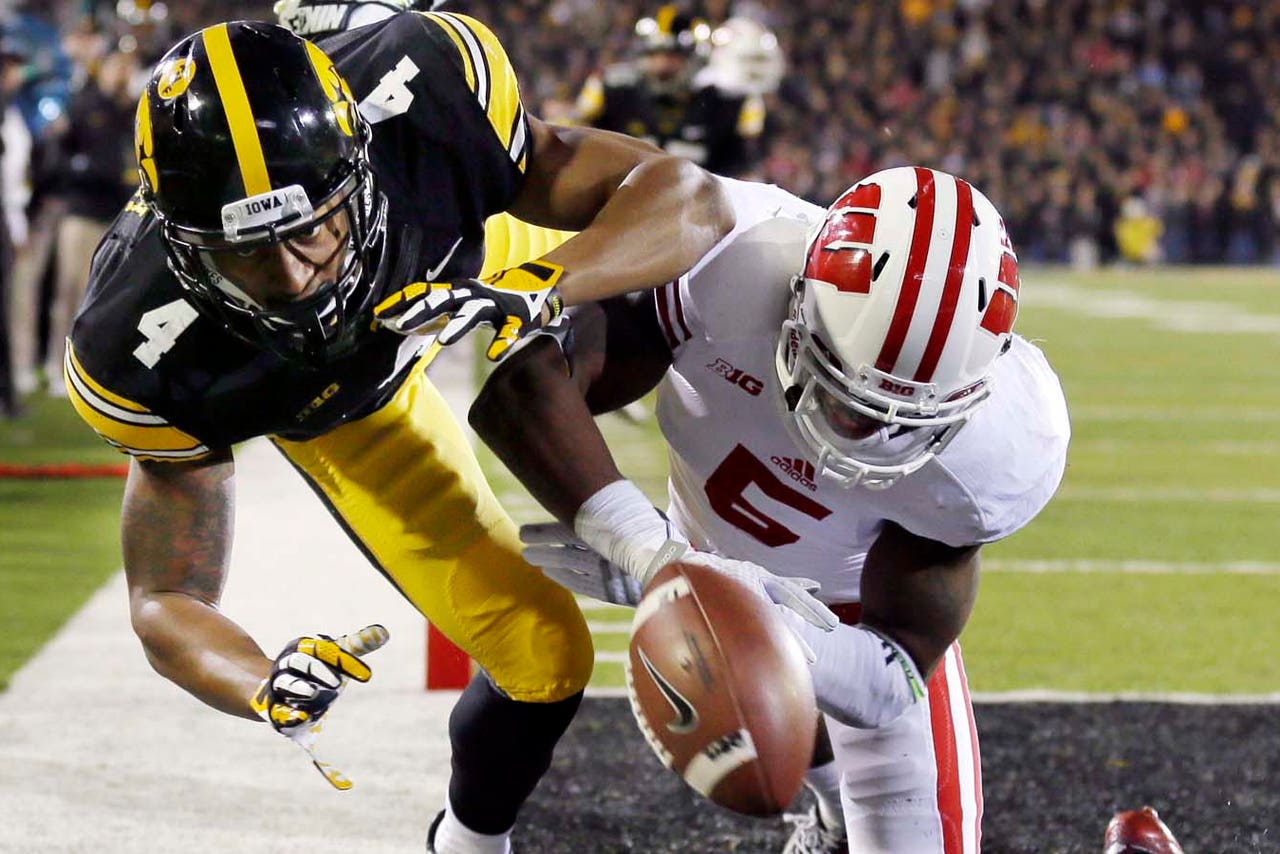 Quarterback Joel Stave never has been known for his wheels. But when it mattered most on Saturday, Stave scrambled for the game-clinching 12-yard run during Wisconsin's 26-24 victory against Iowa in Kinnick Stadium.
Stave's slide certainly left something to be desired -- he was crushed near midfield and flipped over at the knees. But no one can question his toughness. And his play, coupled with yet another sensational day from running back Melvin Gordon, has Wisconsin on the cusp of a third Big Ten championship game appearance in four years.
Before we look ahead to a huge Wisconsin-Minnesota game in the regular season finale, let's take one more look back at the Badgers' victory in Iowa City:
Stave continues to look better with each start he earns this season. Just a few weeks ago, Stave's season completion rate was around 45 percent. Now, he's back up to 57.6 percent, which is much closer to his career completion rate of 61.1 percent.
On Saturday, Stave connected on 11 of 14 passes for 139 yards. But what was most impressive about Stave was his ability to come up with the big throw on third down. Four times, he hit a receiver for first down to keep the chains moving: a 12-yarder on third-and-eight to tight end Troy Fumagalli, a 13-yarder on third-and-11 to tight end Sam Arneson, a seven-yarder on third-and-six to receiver Alex Erickson and a 35-yarder on third-and-13 to running back Melvin Gordon.
Those four plays helped instill confidence not only in Stave, but also in teammates.
"Obviously, the knock on our team and probably the knock on the quarterbacks has been we haven't been able to throw the ball on third down and convert when we need to," Arneson said after the game. "I thought we had some really big third down conversions today. And guys stepped up and made plays, and Joel put some great balls out there. You can't say enough about that."
Stave's most significant play of the game was actually a 12-yard run on third-and-eight with 1:55 remaining that helped to seal Wisconsin's victory. We won't exactly put that in the rushing offense category. But because of Stave's consistency in hitting passes on third down, it opened up the field for him to tuck and run when he did not have any more receiving options or time.
Stave absorbed a major hit at the knees and actually was seen limping on the field briefly. After the game, he sported an ice pack on his right knee under his pants but said he would be just fine for the regular season finale.
"I would've expected me to help pick up a key third down maybe throwing the ball," Stave said. "To say that I would've run for a big third down on the last play of the game, I wouldn't have put my money on it I guess going into the game."
Iowa's defense is perhaps as physical as any Big Ten opponent Wisconsin has faced this season, and the Hawkeyes continually punished Badgers tailback Melvin Gordon when he took a handoff. Gordon also had no favors done for him when backup tailback Corey Clement sustained an injury early in the game, which meant Gordon really did not have a sub.
No matter. All Gordon did was reel off 31 carries for 200 yards and two touchdowns to tie Ron Dayne's single-season program and Big Ten rushing record (2,109 yards). Gordon busted a career-long 88-yard run down to the Iowa 4 and was so gassed that Badgers head coach Gary Andersen had to call timeout so Gordon could catch his breath. Wisconsin ultimately kicked a field goal to close the drive for a 19-3 lead.
Gordon's effort came one week after he established the single-game FBS rushing mark of 408 yards, though it lasted only seven days before Oklahoma freshman tailback Samaje Perine dashed for 427 yards against Kansas on Saturday.
"Obviously he was the focus for Iowa's defense the whole game," Arneson said of Gordon. "That's how teams are going to play us. They want to stop Melvin, especially after that performance last week. It took a little bit to get him going. Just answering the bell, especially in the fourth quarter, can't say enough about his performance. I think that's just another moment in a Heisman season that will always be remembered."
Wisconsin finished the day with 42 carries for 266 yards -- an average of 6.3 yards per carry. That included Stave's unexpected 12-yard clincher and quarterback Tanner McEvoy's sparkling 45-yard read option run for a touchdown to give Wisconsin an early 9-3 lead. McEvoy completely faked out Iowa's defense, which thought Gordon had the ball.
"I heard everyone yelling," McEvoy said. "I figured they were yelling because I was breaking it. But I get to the sideline, they were all yelling. They thought they tackled Melvin. It was a good play. It was well drawn up and well executed."
McEvoy did not throw a pass on Saturday for a second straight game, but offensive coordinator Andy Ludwig continues to find ways to utilize his running ability in limited doses. And it has helped Wisconsin roll to a six-game winning streak.
Wisconsin's offense picked a good time to perform well because Saturday represented one of the worst outings from the Badgers' defense all season.
Iowa quarterback Jake Rudock completed 20 of 30 passes for 311 yards with two touchdowns and no interceptions. It marked the first time an opponent had passed for more than 239 yards against Wisconsin this season.
Badgers linebacker Marcus Trotter said Wisconsin had taken pride the past few weeks in being ranked No. 1 in total defense, but he noted the unit did not play up to that level on Saturday.
"I think that they just attacked different defensive schemes that we were doing," Trotter said. "We just weren't rushing the quarterback as good and prominent as we have been the past couple games. But at the same time, Iowa's a very good team as well. We knew it was going to be a fight."
Wisconsin surrendered a season-high 412 yards -- thanks largely to the pass defense -- to drop from No. 1 to No. 2 in total defense (259.3 yards per game). Clemson ranks first at 252.4 yards per game.
Overall, this was a pretty solid effort against a stout Iowa run offense. Iowa carried the ball 28 times for 101 yards -- an average of 3.6 yards per carry. Wisconsin ranks No. 5 nationally in run defense (97.1 yards per game), so this was right around where the Badgers have played all season.
The only rushing score Wisconsin surrendered came when Iowa quarterback Jake Rudock ran in from three yards away to trim Iowa's deficit to 19-17. But the defense held when linebacker Joe Schobert knocked away Rudock's two-point conversion pass attempt.
Iowa tailback Mark Weisman began the day ranked fourth in the Big Ten in rushing touchdowns (14), but he did not find the end zone. Wisconsin held him to just 44 yards rushing on 12 carries, and Jordan Canzeri tallied 32 rushing yards on eight carries.
Badgers kicker Rafael Gaglianone missed a 19-yard extra point try, and that miss threatened to derail Wisconsin's opportunity to win in a one-possession game. But Gaglianone has been surprisingly consistent all season, particularly for a freshman. He buried a 50-yard field goal to open the game and a 22-yarder in the second half. This season, he has made 10 consecutive field goal attempts, and the missed extra point did not come back to bite the Badgers.
Punter Drew Meyer put together one of his better games, which is an encouraging sign as the season winds down. He punted three times for an average of 39.3 yards and pinned Iowa inside the 20 twice. Meyer's punting average this season is up to 37.0 yards, and his improvement likely means we'll see less (or none) of Bart Houston on those rugby-style rollout punts.
Kenzel Doe fair caught two punts and returned one kickoff for 16 yards. And Wisconsin's kick coverage team did not have any significant flaws.
Earning a victory in Kinnick Stadium against a quality Iowa team is no easy task, so Wisconsin should be lauded for escaping with a two-point win that keeps the Badgers' Big Ten West title hopes in front of them. Yes, the pass defense was exposed. But we have to remember we're dealing with 18- to 22-year-old football players, and they can't be perfect every game. If nothing else, perhaps it will serve as a learning experience, as linebacker Marcus Trotter suggested, ahead of the Wisconsin-Minnesota game.
Corey Clement's health could be vital to giving Melvin Gordon an occasional breather. But Gordon showed once more against Iowa why he is such a special player. Even without a backup, he put Wisconsin's offense on his shoulders for crucial drives. And Joel Stave and Tanner McEvoy certainly did their parts as quarterbacks.
Wisconsin is riding high after six straight victories to set up one of the most significant battles perhaps ever for Paul Bunyan's Axe. This should certainly be an exciting week.
Follow Jesse Temple on Twitter
---