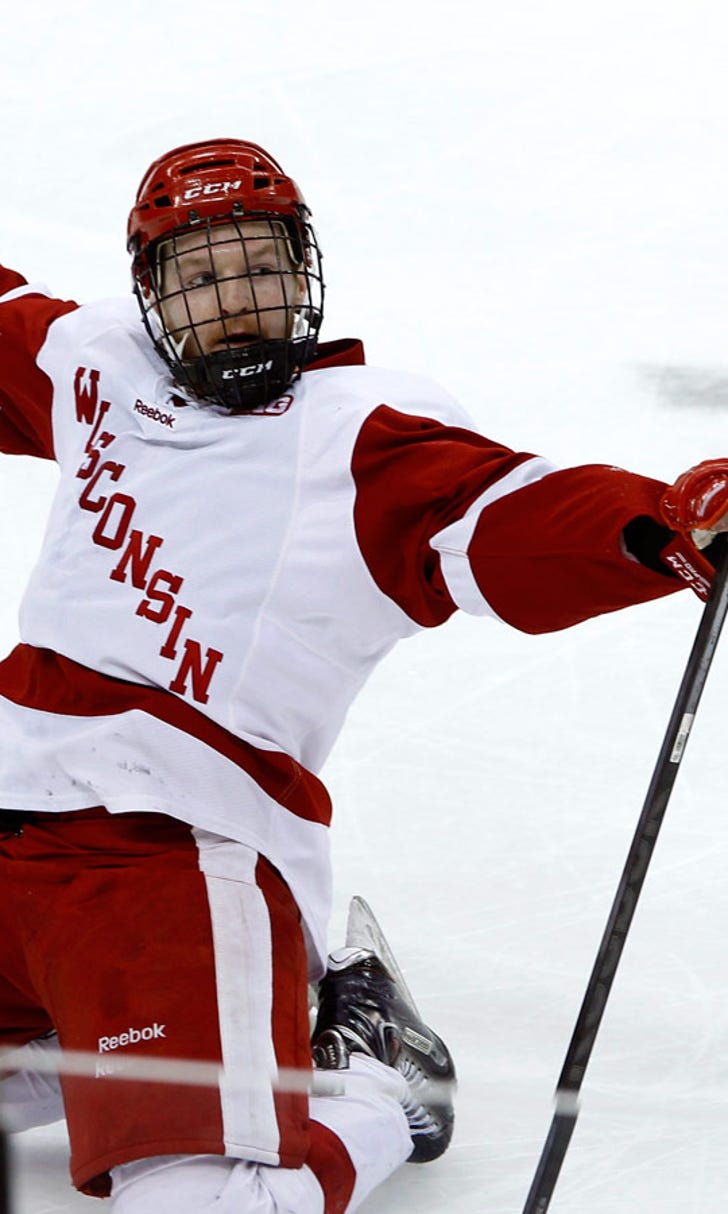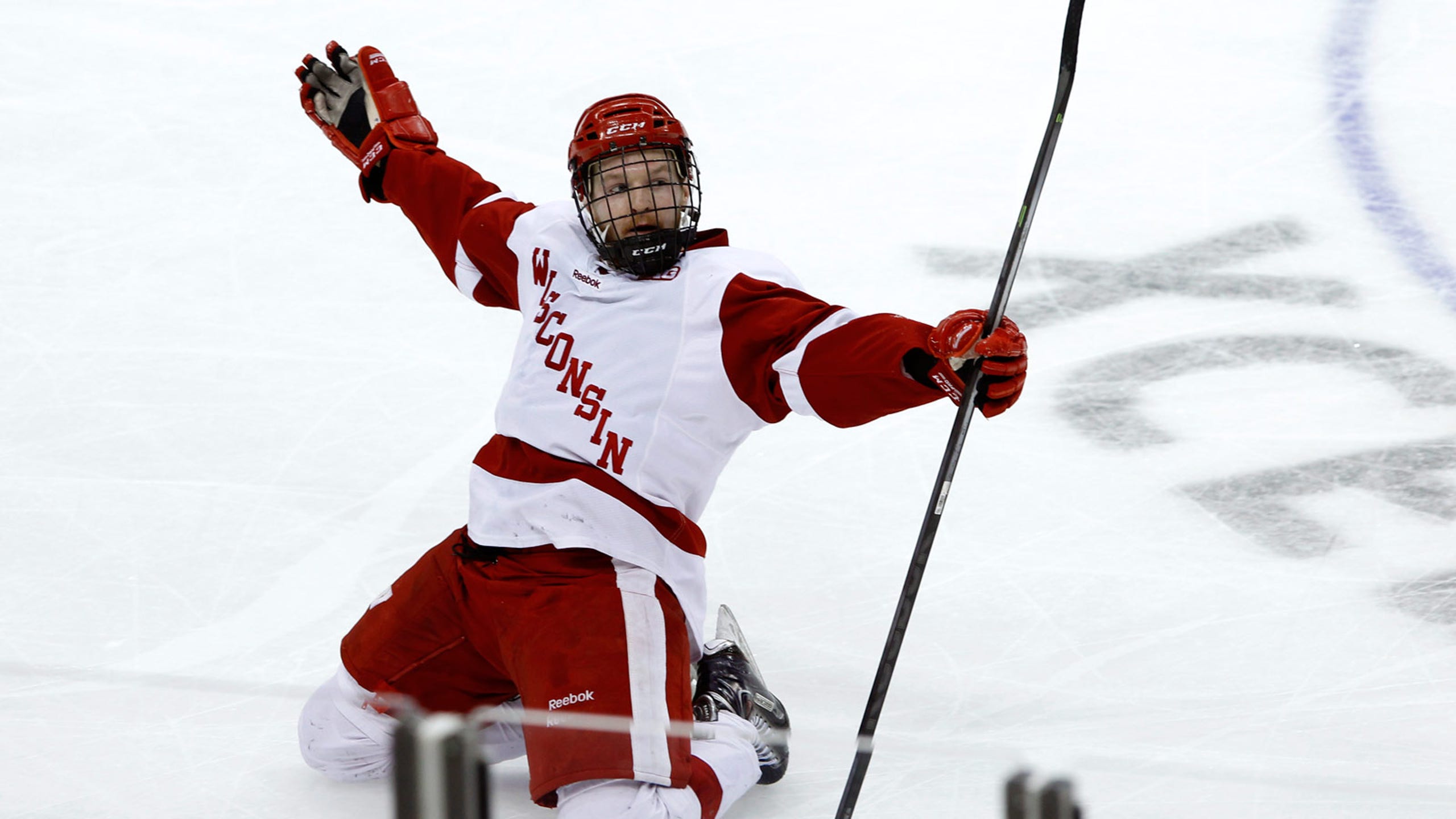 Badgers hockey claims Big Ten tourney title in wild fashion
BY foxsports • March 23, 2014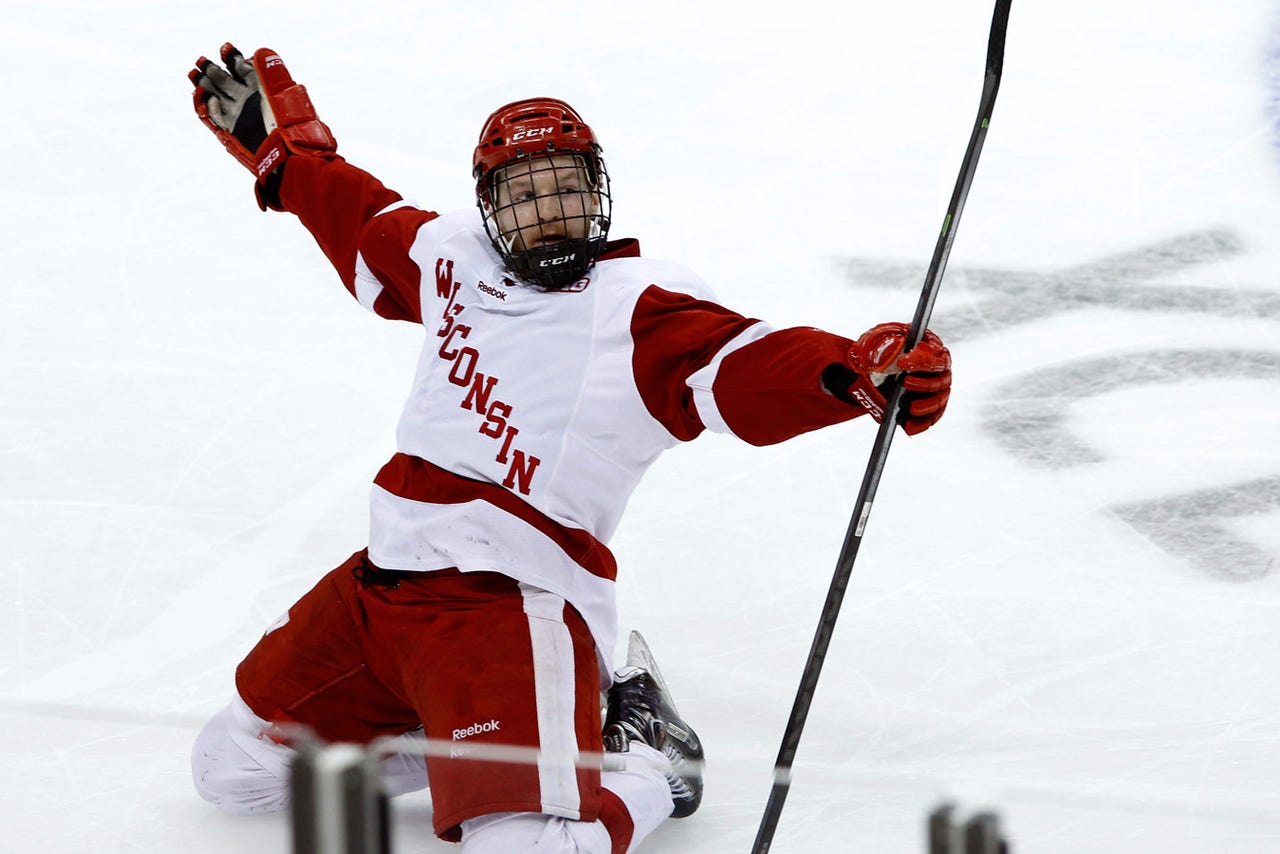 ST. PAUL, Minn. -- The Wisconsin Badgers enjoyed winning last year's conference tournament, so they figured they'd do it again -- although this time the conference has a new name.
Mark Zengerle buried a loose puck with 12:12 left in overtime to lift Wisconsin to a 5-4 victory over the Ohio State Buckeyes in the inaugural Big Ten championship game at the Xcel Energy Center. It's the same building that the Badgers hoisted the Broadmoor Trophy a year ago as the WCHA Final Five champions in their final year in that conference.
Unlike last season when an automatic bid was needed, Wisconsin was a lock to make the NCAA tournament regardless of Saturday's outcome. It now enters next weekend with some new hardware for the trophy case.
"We came into this tournament this weekend wanting that," said Saturday's hero, Zengerle. "We knew we were going to play next weekend probably no matter what, but that's not the attitude we came in with. We wanted to win."
The Buckeyes -- who needed to win Saturday to keep their season alive -- twice had two-goal leads over the Badgers. The first instance came midway through the first period after OSU's Nick Oddo put home a rebound to give his team a 2-0 lead at the 8:56 mark of the opening period. After Wisconsin battled back with two power play goals to tie it at 2-all midway through the second period, Ohio State again scored a pair of unanswered goals to take a 4-2 lead.
But for the second time in the game, the Badgers showed resiliency as they bounced back from yet another two-goal deficit. Senior forward Jefferson Dahl scored 20 seconds after Ohio State took a 4-2 lead to make it a one-goal game, sparking the Badgers in the process as Wisconsin tied it up a mere 28 seconds later.
Badgers senior Tyler Barnes, an Eagan, Minn., native playing in his home state, scored from the crease on a centering pass from linemate Nic Kerdiles at the 13:56 mark of the third period. It was Barnes' 13th goal of the season -- and arguably his biggest as it helped UW erase its second two-goal deficit of the night.
After Wisconsin tied the game once again, the Buckeyes didn't look like the same team that came out playing desperate with its season on the line.
"It was definitely heartbreaking," OSU captain Curtis Gedig said of losing a two-goal lead. "It was definitely a shock, but it's part of the game. It happens. You just have to step back and prepare yourself for the next shift."
In a game that saw punch after counterpunch, it was the Badgers getting in the last jab. Zengerle's 10th goal of the season sealed a postseason tournament title for Wisconsin and sent a good amount of the 10,153 fans in the Badger-dominated crowd into a frenzy. Zengerle and his teammates raced across the ice to celebrate with junior goalie Joel Rumpel, who stopped 28 shots in the victory.
After skating around with the trophy and posing for a team picture, Zengerle could hardly recall what happened on his game-winning goal.
"It's still a little bit of a blur, to be honest with you," said Zengerle, who skated through traffic in front of the net before shooting a loose puck past OSU goalie Christian Frey. "The puck was kind of hopping around. People were whacking at it in front of the slot. I just made my way around. It popped out a little bit and I got a little bit of wood on it. I still don't know if it went five-hole or under his pad, but it was nice to get that one."
Wisconsin can savor Saturday's title win briefly, but the Badgers know the bigger goal is still ahead: a championship of the NCAA variety. Head coach Mike Eaves and his team will find out their postseason fate on Sunday when the NCAA tournament bracket is revealed. Wisconsin knows it's in. The question is what seed the Badgers will be.
Saturday's victory could have helped solidify a No. 1 seed for Wisconsin, but its first-round opponent is still unknown. Regardless, the Badgers believe they can build off the momentum gained in this weekend's Big Ten tournament.
"It prepares us for the next level," Eaves said of Saturday's comeback win. "It prepares us for less oxygen in the air as we climb this mountain. We can talk about it, but the fact that they lived through it and handled it, you can't replace that with anything."
Follow Tyler Mason on Twitter
---