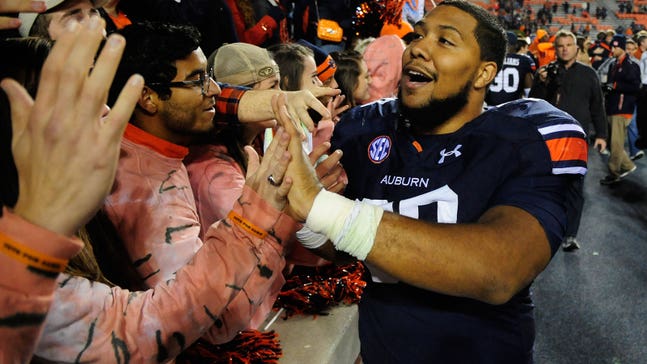 Auburn DT Gabe Wright headlines Lions' Day 3 draft picks
Published
May. 2, 2015 8:09 p.m. EDT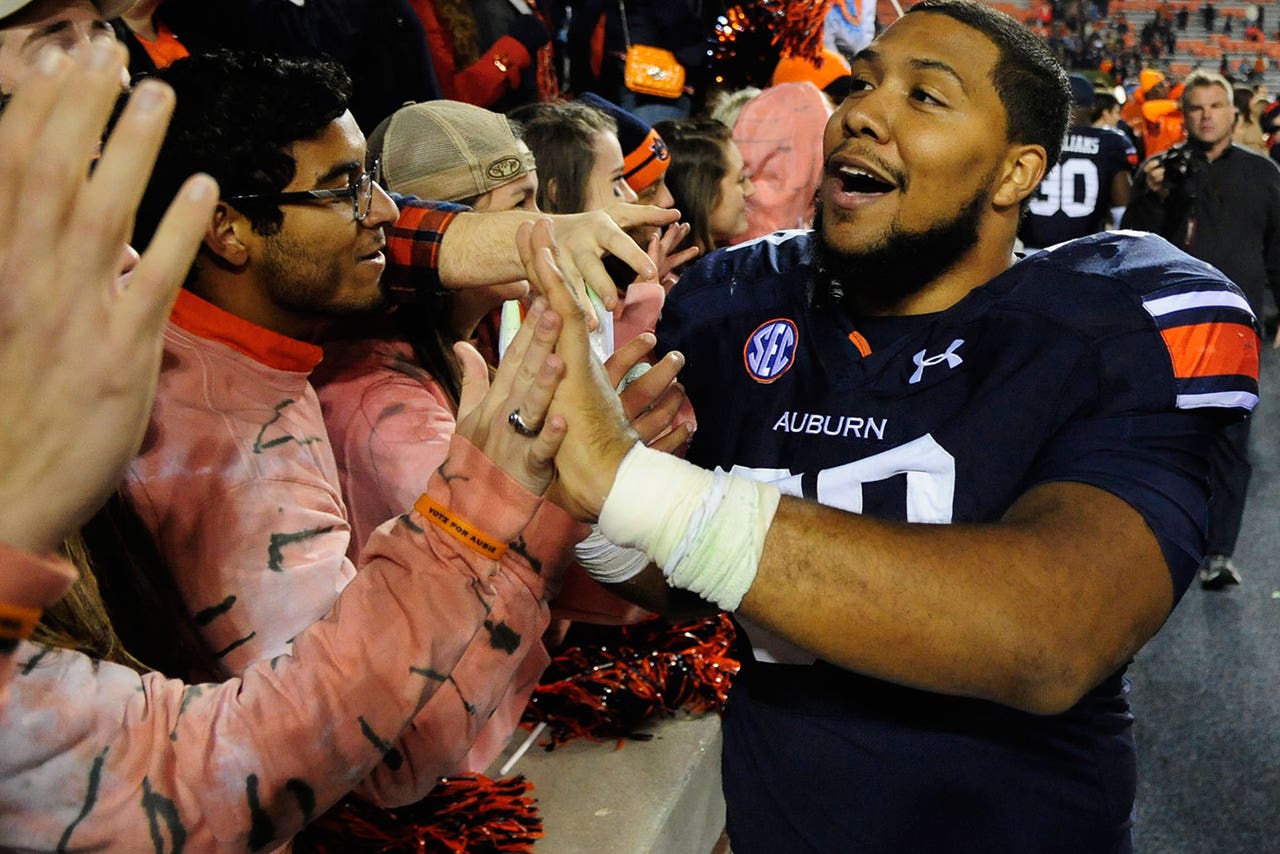 ALLEN PARK, Mich. -- Many talented college players have been humbled once they got to the NFL.
For Auburn defensive tackle Gabe Wright, a fourth-round draft pick Saturday by the Detroit Lions, that humbling happened a little early.
Wright went from playing in the national-championship game as a junior to a five-loss team as a senior.
His production also dropped, from 31 tackles, three sacks and 8 1/2 tackles for loss in 2013 to 24 tackles, one sack and 4 1/2 tackles for loss in 2014.
"I learned that consistency is key," Wright said. "I feel like once in a while in a man's life he needs a piece of humble pie. My senior year was definitely humbling to me."
The Lions entered the day without a fourth-round pick, but they traded a third-round selection in 2016 to obtain the 113th pick overall from the Philadelphia Eagles.
Wright (6-foot-3, 300 pounds) will join a defensive-tackle rotation that has to make up for the loss of Ndamukong Suh and Nick Fairley.
It's a familiar position for Wright, who also stepped in to help replace Fairley in his freshman year at Auburn.
Wright's quick, attacking style to get to the quarterback should be a nice complement to the run-stuffing talents of Haloti Ngata, who was acquired from the Baltimore Ravens in March as a replacement for Suh.
Lions defensive coordinator Teryl Austin projects Wright to be part of the D-tackle rotation immediately and then "at some point to be a starter in there."
"We want to make sure we have young defensive linemen to start grooming as we move forward," Austin said.
Austin downplayed Wright's production drop last season.
"It fell off a little bit but it wasn't terrible," Austin said. "Sometimes with defensive linemen, their production is up and down. What we look for are the skill sets and traits we need for us. He has those."
Wright believes his style will fit right in with a city like Detroit.
"I feel like the 'D' is a blue-collar place, and hard work is definitely something that they hang their hat on," he said. "That's something that I definitely hang my hat on as well."
Here's a breakdown of the Lions' other three selections on the final day of the draft:
--- Fifth round: Michael Burton, a 5-11, 242-pound fullback from Rutgers, with the 168th pick overall.
Burton is expected to replace Jed Collins, the team's top fullback last season, and also take on a heavy special-teams workload as he did in college.
Collins signed this offseason with Dallas as a free agent.
"It's a position I always like having," offensive coordinator Joe Lombardi said. "Fullbacks, some people call them a dying breed. They're tough guys. We like his toughness."
Burton caught the eye of general manager Martin Mayhew while playing in a bowl game in Detroit. He also received a strong endorsement from Ron Prince, the Lions' tight-ends coach, who was the offensive coordinator at Rutgers in 2013.
--- Sixth round: Quandre Diggs, a 5-9, 196-pound cornerback from Texas, with the 200th pick overall.
Diggs' brother, Quentin Jammer, was a cornerback for 12 years in the NFL.
"He's the most impactful person of my whole deal with football," Diggs said of Jammer. "He's always there for me. I talk to him every day. That's my role model. I love my brother to death. He was the first one to give me a hug today when I got the call."
Diggs ran the 40-yard dash in 4.56 seconds at the scouting combine, not a good time for a cornerback. He needs to rely on his anticipation to make plays.
"I feel like I'm the most intellectual DB in this draft just because of how I know the game," Diggs said. "It's not about what you run, what you test, it's about how you go out and play on Sundays.
"Don't let the speed fool you."
--- Seventh round: Corey Robinson, a 6-7, 324-pound offensive tackle from South Carolina, with the 240th pick overall.
Asked about Robinson's strengths, offensive line coach Jeremiah Washburn said, "He gets out of bed big."
Robinson adds some depth at tackle to go with youngsters LaAdrian Waddle (coming off knee surgery) and Cornelius Lucas, both of whom emerged to fill in as starters on the right side after being signed as undrafted free agents.
"I'm excited about the infusion of depth," Washburn said.
The Lions' three-day rookie mini-camp begins Friday.
---