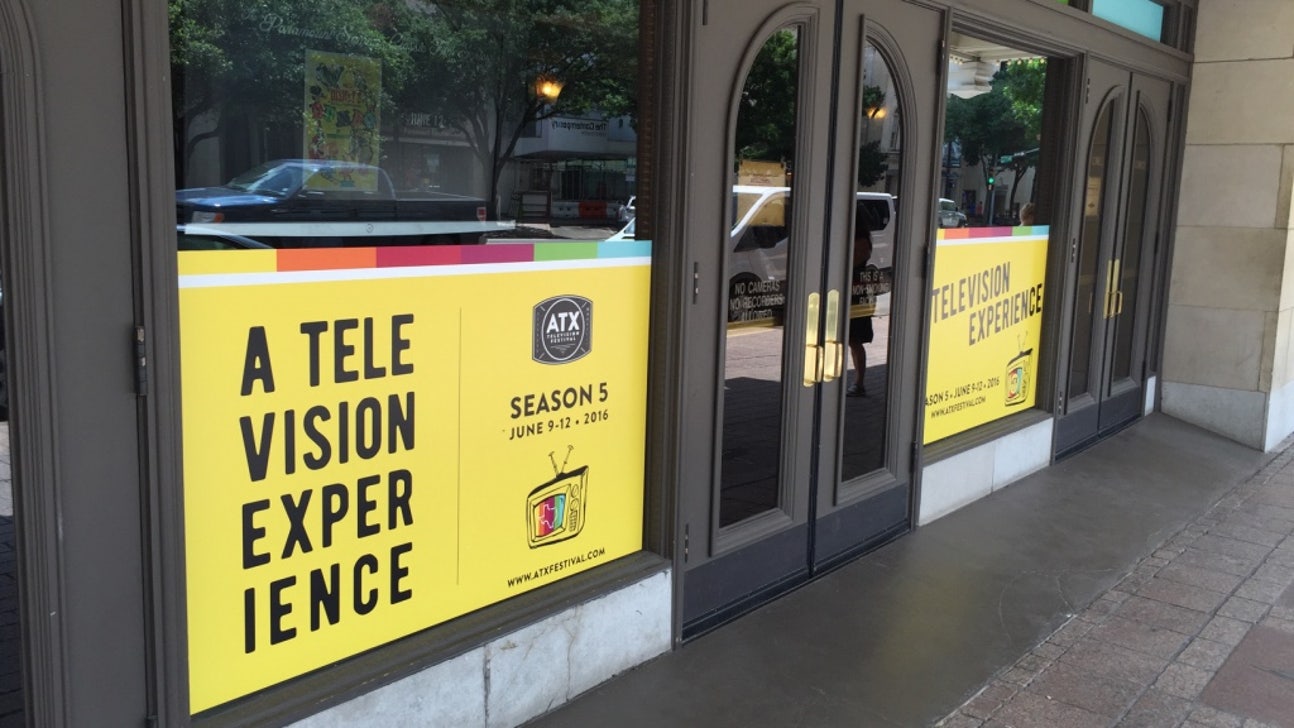 ATX Television Festival Diary, Part 1
Updated
Mar. 4, 2020 4:43 p.m. ET

QUEEN OF THE SOUTH (6/9)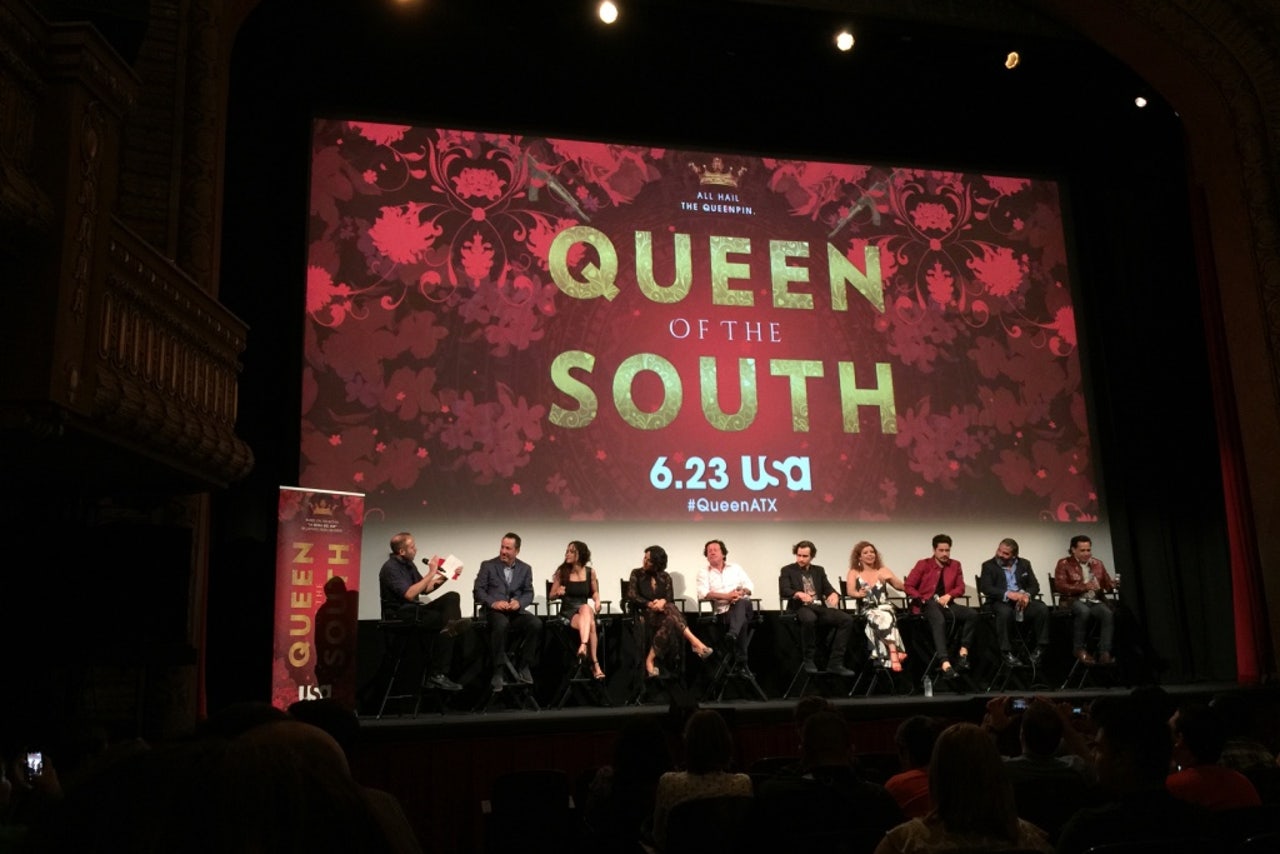 ATX officially opened with an advanced screening of the Queen of the South pilot, which will air on the USA Network on June 23. Adapted from the Arturo Perez-Reverte novel and the successful telenovela, La Reina del Sur, it tells the story of Teresa Mendoza, a young Mexican woman drawn into the drug world, who ends up one of the biggest "queenpins" in the country.
Without spoiling any of the fun, Queen of the South hits hard and hits often. Cocaine is snorted every five minutes and violence rings out continuously. It's loud, brash, and for those that like their crime stories more Scarface than Narcos, it's going to stand out instantly. But, it's Alice Braga who leaps from the screen and refuses to let go of the audience's throat. It will be interesting to see how people respond to the show, because some will see it as far more style than substance (including me), but there's real charisma behind all the madness. It's now the kind of effort built for me, but I'm tentatively on board for the time being.
The cast and David Friendly did a better job of selling the show than the premiere did, as they spoke to the importance of maintaining a truth to Queen of the South and avoiding homogenization. Friendly said, "Let's get the best actors for the part." Justina Machado agreed, and emphasized the opportunities for Latino actors on the show. Alice Braga added to the point, mentioning the role of women on this drama in particular, even going so far as to say her character "could easily have been played by a man." She loves that Teresa doesn't victimize herself. It's impossible to miss the sheer power she wields from the outset, and even in the situations where she has to think her way through it...she thinks her way through it.
The room LOVED the pilot, or if it didn't, those within it did a great job of faking it, because the audience exploded when the episode ended. While I didn't echo that feeling entirely, I thought the cast was fantastic and they made me want to watch the show a few more times, simply to see them work.
CASUAL (6/10)
Friday began with a screening of the Season 2 premiere of Hulu's original series, Casual, which certainly found an audience last year, but looks poised to do much bigger things this time around. The confidence seeped from every corner of the cast, but at no point did the conversation steer into too wild a direction. Virtually every key player was in attendance, but it was Tommy Dewey (Andy) who stole the show; dropping one-liners whenever the opportunity arose, including a declaration that creator Jason Reitman asked him to put on weight in the run-up to the new season, for the sole purpose of "fois gras," and with the intent of stuffing and killing him.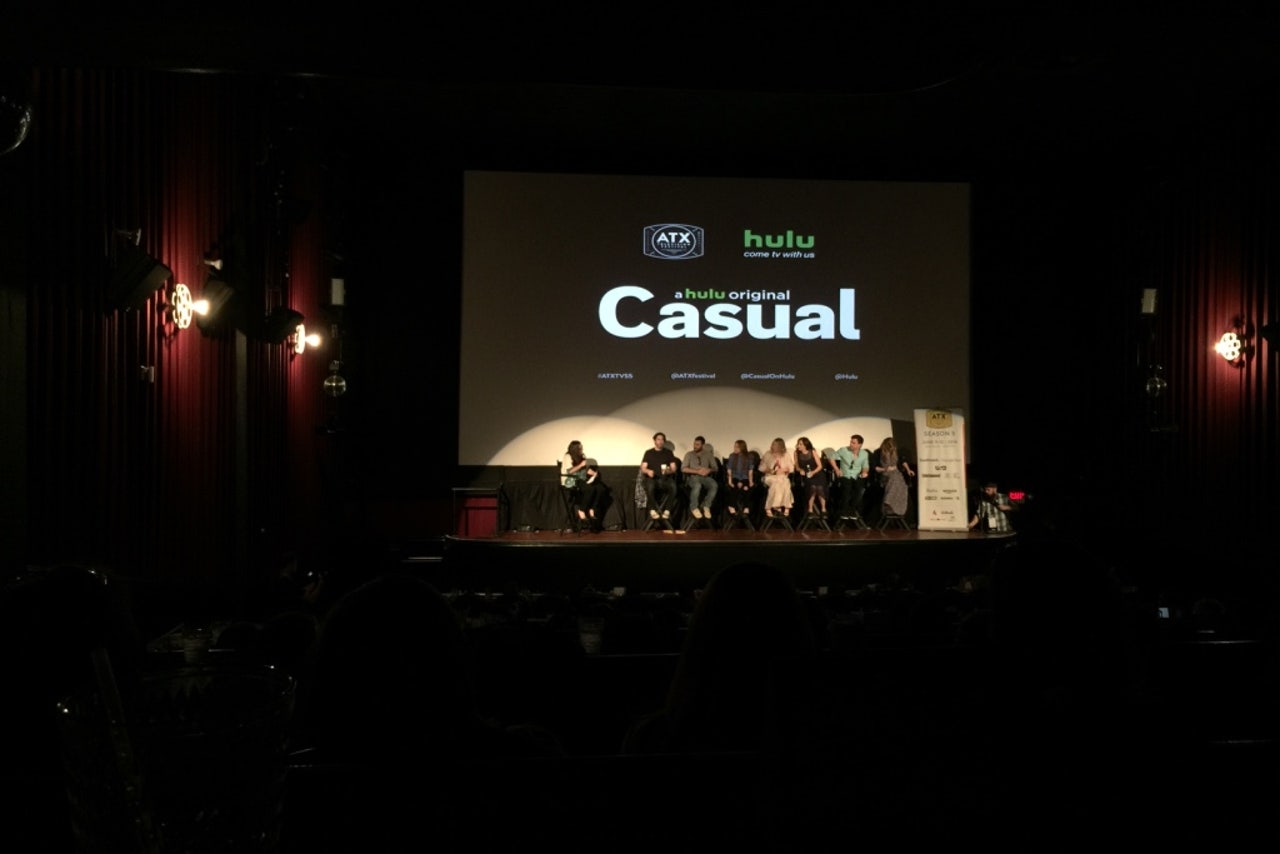 Entertainment Weekly's Danielle Nussbaum pressed the cast on what drew them to the show, and no one went with the, "I needed work," line, instead opting to speak about the project's sense of authenticity. Everyone on stage remarked about the quiet humor of the show, that while all of them were naturally funny people, very rarely was a joke the plan, even if the space existed in the script. Michaela Watkins (Valerie) said, "There's comedy where there's joke-joke-joke and then there's character driven comedy." She added, "You can see on the page where a joke could be -- on any other network. But on this, it's going against that." Dewey explained it thusly: "The comedy is in the ether between us. It's a rhythmic thing. And I just do funny looks." What results is an easy-going, yet uncomfortable feel to both the comedy and the drama.
Because Casual tells the story of newly divorced mother Valerie living with both her brother and her daughter, Laura, there's a clear uneasiness present on a continuous basis. Creator Zander Lehmann speaks to that being one of the driving forces behind the show. "Most people don't move back in with their siblings. As writers, it's our job to keep that tension there." And, it leads to a grounded character for Watkins, in complete juxtaposition to the semi-aimless nature of her brother, who injects his randomness into her carefully structured life.
Another recurring point - particularly from Watkins - was a feeling of genuine synergy to her character. Tara Lynne Barr (Laura) mentioned her role being how teens would see teens; actually how they are. Not a "human bicycle" (which means what you think it means) or so many other tired, overdone clichés of teenagers, but a character that teenagers can watch and immediately see themselves as, sometimes incredibly likable and sometimes an ass.
Maybe the most intriguing comment came from Reitman, who said when he first read Juno, he was seeing a character in Diablo whose voice he had never heard in his head before. It was unique and special. He said that same feeling returned when he read the script for Casual, and was extremely interested in getting involved shortly thereafter.
The packed Alamo Drafthouse enjoyed the half-hour conversation with the cast, which was a lighthearted, intimate affair, matching the room the panel inhabited. Casual's critically acclaimed second season premiered this week on Hulu, with the first two episodes now available for streaming.
HOWARD GORDON MASTERCLASS (6/10)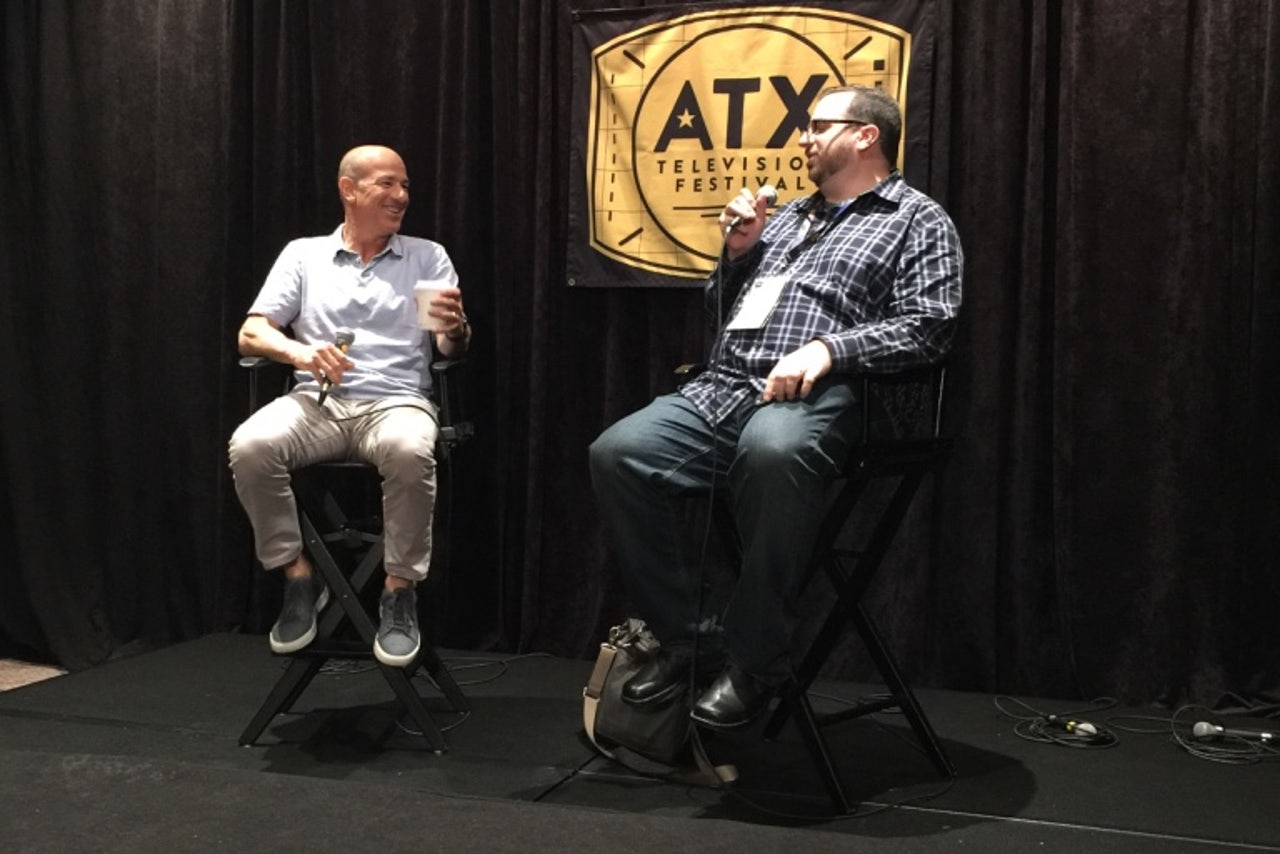 This conversation, moderated by HitFix's Alan Sepinwall, greatly benefited from an intimate setting at the Stephen F. Austin hotel. While Gordon spent most of the hour talking about 24 and Homeland, he told his entire story, including how Chris Carter read one of his pilots (that wasn't picked up), liked it, and brought them onto his new program, The X-Files. Working with writing partner Alex Gansa, who he said he "dragged into his dream," the two carved their own pathway into Hollywood, dealing with success and failure. The pair remained together for the first eight years each was in the business, splitting up after the first X-Files season, and coming back together for Homeland.
For 24, Gordon said there was always a question that fluttered about the writer's room, as to whether the show was more real time, or more Jack Bauer. When the decision was made to bring in someone new for the revival, it was because Howard had racked his brain, walked into that same writers room and thought, "This guy has lost too much." What he meant was the Jack Bauer character had suffered so much that it began to strain whatever believability the show had left. "How many bad days can Jack Bauer have?"
Gordon also mentioned that at one point he went to FOX and asked them point blank why it had to be 24 episodes. "Why can't we do 24 in 17 hours?" He felt the 24-hour structure was a little lazy, even though Live Another Day was a shortened version of the series. One thing about Howard Gordon is he's a good speaker with a dynamic pace to his words and a smile across his face, which brought a relaxed feel to the event. It was so obvious why he's been so successful. If I was head of programming for a network, or an executive who helped make decisions, he could sell me, no question about it.
Something I've never thought about was the relationship between 24, Homeland, and Gordon's newest endeavor, FX's Tyrant, which is about to enter its third season. "They're all part of the same story." He said 24 was a reaction to 9/11, and in many ways Jack Bauer was "wish fulfillment" for a country torn apart and frightened. Homeland showed the potential difficulties caused by American military efforts overseas, but also touching on the strain put on those called upon to protect the general populous. And with Tyrant, we're shown everything from the international perspective, giving the audience a sense of what's happening on the other side of the world and what the mentalities and challenges are for those groups of people, both because of our intervention and because of their own unique scenarios.
The thought process in the planning stages of Homeland was to differentiate it from 24. Claire Danes, who Gordon called "a gift," made Carrie Mathison possible, and gave his show a female lead. He also declared Homeland is really about Carrie and Saul Berenson, and no one else. In the case of Nicholas Brody, the early internal feeling was his story would end after one season. Gordon said it was pretty incredible that he lasted until Season 3.
Before the hour ended, Sepinwall pressed Gordon for an answer as to whether Jack Bauer could return in the revival, and although he didn't say anything definitive, he left the door wide open and said it was definitely a possibility. He and Kiefer are extremely close, and Sutherland was active behind the scenes of the show, making sure the scenes felt right and Bauer's actions reflected the essence of the character.
ACHIEVEMENT IN TELEVISION EXCELLENCE AWARDEE: NORMAN LEAR (6/10)
The Paramount Theater hosted most of the Festival's biggest events, and while the reunions always provide some of the more memorable, newsworthy moments, it was Norman Lear who provided the best storytelling. Considering his obscenely impressive body of work, that was quite fitting. The creative dynamo behind All in the Family, Good Times, The Jeffersons, Maude, and many more pillars of television history, made his appearance after we were treated to an early screening of "Just Another Version of You," the 2016 documentary about his life and career.
The film delighted audiences at the Sundance Film Festival earlier this year, and did the same in Austin. You'll definitely want to check it out when you get the opportunity. It will release on the big screen, but also will stream on Netflix and will be available via other avenues as well.
When it came time for Norman to take the stage, we found out panel moderator, Jerrod Carmichael, was unable to make the Festival and Caitlin and Emily had to find a replacement on very little notice. It always comes in handy when the honoree's goddaughter happened to be at ATX as a panelist along with her husband, A much different conversation than we might have gotten with Carmichael, but a more intimate chat between two people who love each other very much as Katey Sagal walked out to sit with one of the most important people in her life.
Sure, politics were discussed, and it was this quote that you might have already read: "I'm worried about Donald Trump. I think he's the middle finger of the American right hand," but that was just a small portion of the proceedings. This is a man responsible for inspiring a legion of creators, actors, and artists, and a great many in the entertainment industry changed how they do, what they do, because of Lear's efforts.
It was less an hour of questions and answers and more just a conversation, complete with the honoree's excellent memory and even better sense of how to tell a story, both for Katey, and for those in attendance in the crowd. It was a tender chat between Sagal and Lear, and at one point as Katey spoke, her godfather looked directly at the audience and said, "I see so much of her mother in her face." We found out Norman Lear introduced Sagal's mother and father, which brought a few muted, respectful niceties from the theater.
Of everything the two spoke about, there was one recurring theme from Lear, which popped up at numerous times during the event. He made it very clear that "Just Another Version of You" is exactly what he believes about himself and about humanity at large. When Katey asked him about things he'd like to do or what his life has meant, he replied, "It took me 93 years just to sit here with you. My whole life up to this moment has led to this."
When it was time for the question and answer portion, everyone who walked to the microphone first thanked Lear for everything he's done for the industry, and in many instances, for them personally. One gentleman asked about an old photo of Lear with Alex Haley where Norman had a black child on his shoulder and Haley had a white child on his shoulder. Lear recalled that time, and the questioner then asked his friend to stand up, revealing that it was that boy that was on Norman's shoulder so many years ago. Lear had him walk to the stage and hugged him, wanting to speak to him more when he was finished.
To close, Norman looked to the crowd and, with a grin, said he wanted us all to go shopping, find a huge bed, "And then we're going to get in it." One of a kind, and this was a spectacular way to polish off our first full afternoon at ATX.
FRIDAY NIGHT LIGHTS TAILGATE AND PEP RALLY (6/10)
The shuttle to Panther Field, where the football scenes were shot for Friday Night Lights, came via a yellow school bus. It was a nice touch, and although to call it hot and humid, with little shade anywhere to be found and scarce beverages from the food trucks, would be an understatement, missing the final FNL ATX event would have been unthinkable for us. We're Outkick right?
I want to thank the ATX folk for sending out an alert, reminding attendees to bring water, wear sunscreen, and even bring lawn chairs, though that wasn't an option for me. On the way to the bus, I picked up a pair of bottled waters from a convenience store, and you have no idea what a good decision that was. The food trucks sold out of just about every liquid less than two hours after most people got there, and the sun was still doing its thing.
Luckily, this was Friday Night Lights, this was ATX, and everybody was willing to deal with whatever they had to in order to take part in the festivities. FNL lasted five seasons, and this being the fifth "season" of the Festival, it was announced months ago that this would be the final year for honoring the show at ATX. So, it was time to let everything hang out, and for 2016, that meant bringing back every possible actor (who could make it), showrunner Jason Katims, and finding a way to recreate everything imaginable.
We were able to tour Panther Fieldhouse, which featured rally signs, dingy Dillon blue lockers, and yes, the Panther "P." I happened to be in the right place at the right time, in the Fieldhouse as both Gaius Charles (Smash) and Scott Porter (Jason Street) walked through. Most who came to this specific event walked in and touched the "P," snapping a photograph. While I didn't do it myself, I did have my camera out as Street did it, and underneath the "P," in permanent marker, was "J. Street." That was pretty cool, no question about it.
It was surreal to walk around and just randomly run into characters from the show, although some were kept behind lock and key. Most key players were there, although we didn't get Kyle Chandler (He did appear via a "Turn Off Your Damn Cellphones," video), Zach Gilford, Taylor Kitsch, Minka Kelly, and Aimee Teegarden, just about everybody else was on that stage when the time came, including Mama Saracen. Music from multiple acts, including Jesse Plemons' band, Crucifictorious, played during the daylight hours. As sun gave way to moon, Emily and Caitlin began the process of bringing up the cast. It was done in a very fun way, with each member being escorted up by a player from the Pflugerville Panthers. Many of the actors let the players introduce themselves first, before doing their thing. Most of the names were announced before the Festival, but Connie Britton caught many by surprise, and got a gigantic reaction. But, to be honest, everybody did.
In terms of news, there was one thing you'll want to know about, and it's that pick-up football can cause injuries, even on a television set. Scott Porter talked briefly about how they played off camera, just amongst themselves, and Jesse Plemons had a story. "I tore my ACL on this field." He said if you wanted to know when it happened, just pay attention to a point when Landry is sitting down in virtually every scene he's in for a long period of time.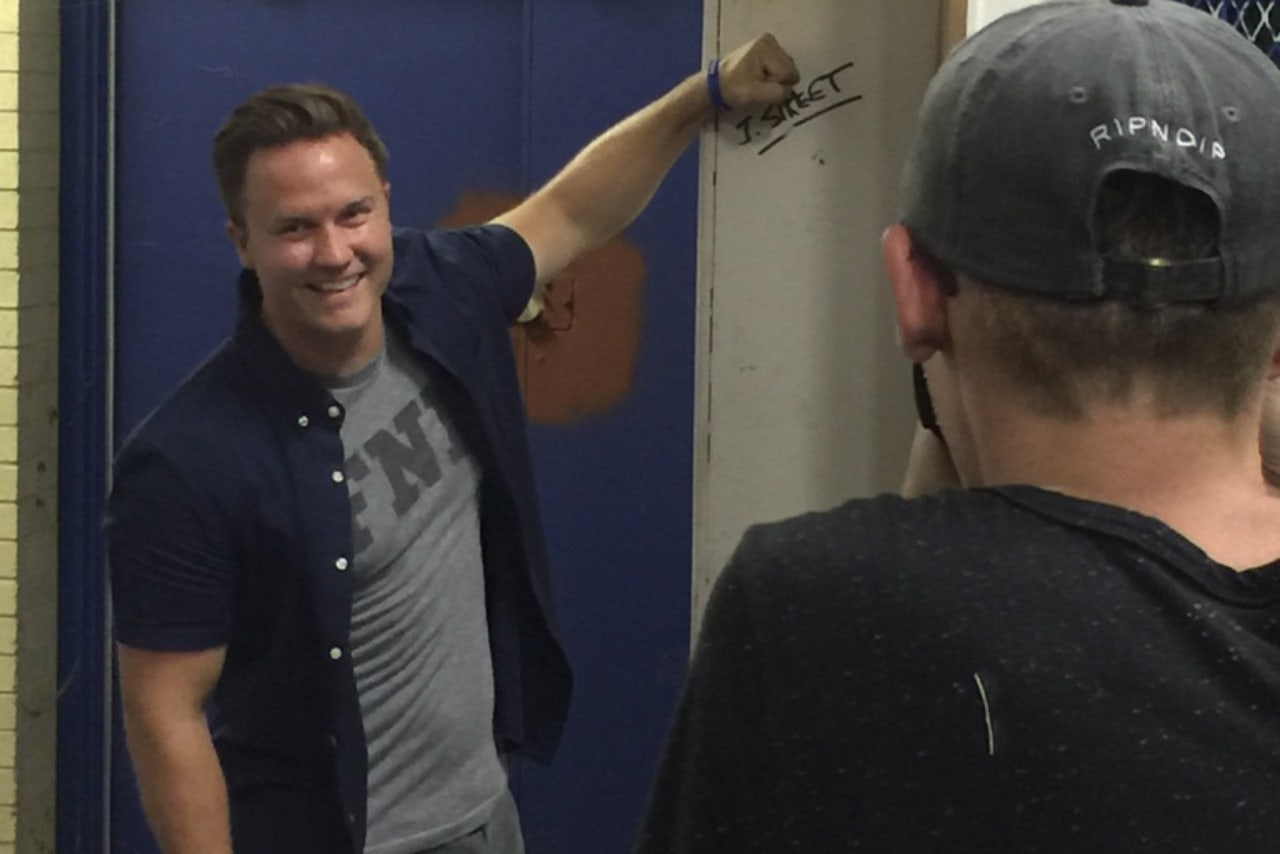 What I found out was just how important Friday Night Lights is to television enthusiasts in Texas. This was a giant love fest for one of the best shows of the century, which culminated and concluded with a screening of a classic episode on a movie screen. We'll never forget where we were when intoxicated Matt Saracen forced his way into the mortuary to see his father's body. If you, like me, adore Friday Night Lights, this was the best kind of fan service. Even the Texas heat seemed oddly appropriate, even though my clothes would beg to differ. And boy was it a good night's sleep once I returned to the hotel.
Part Two of my ATX diary coming soon, including my experiences at The West Wing, Shield Writer, and Ugly Betty Reunions. Look for it right here at Outkick.
I'm @GuyNamedJason. I like queso. I might even love it. Okay, I love queso.
---