National Football League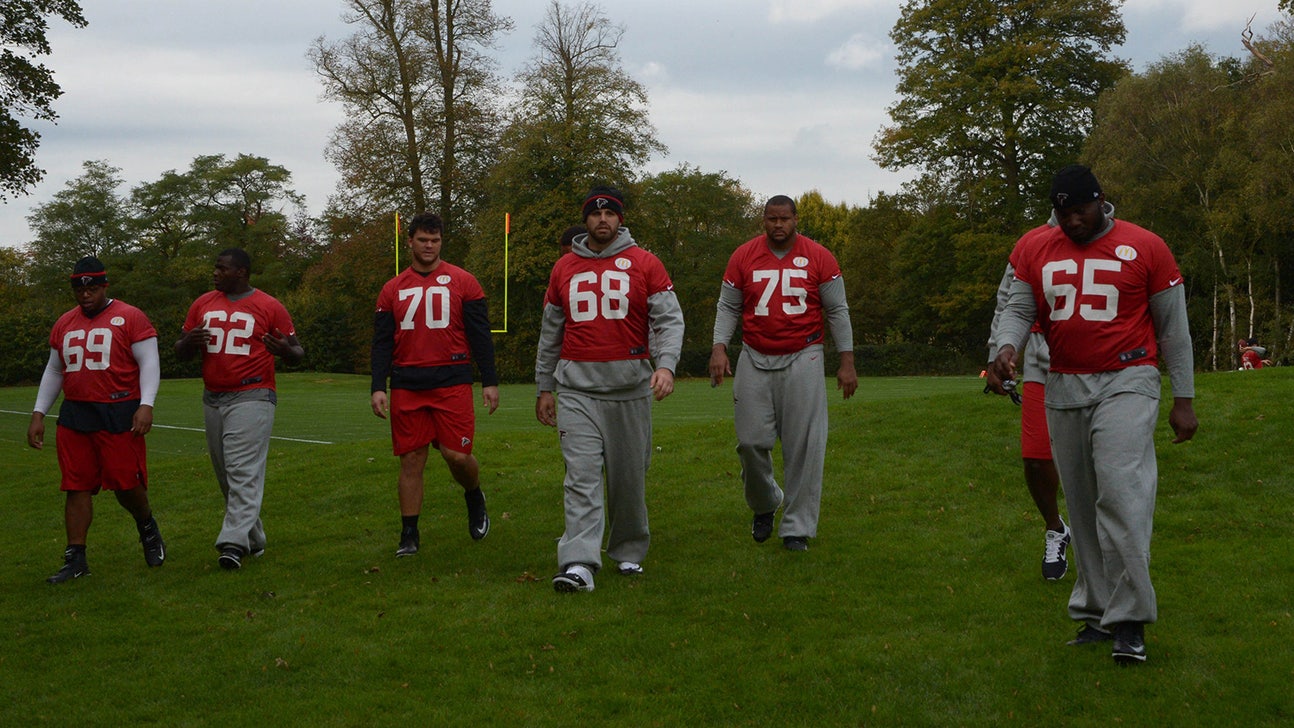 National Football League
Attacking Lions DL poses toughest task yet for Falcons' pass protection
Published
Oct. 24, 2014 7:55 a.m. ET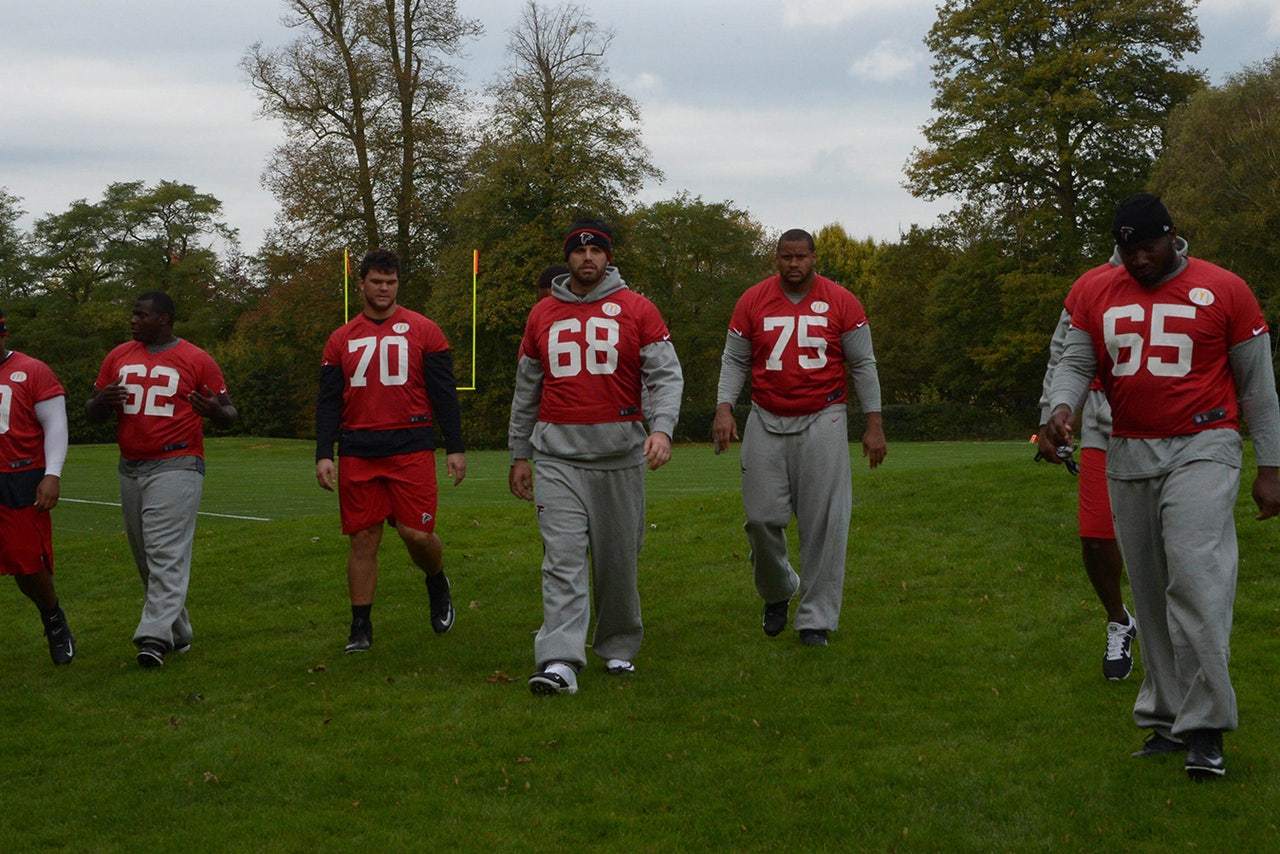 When James Stone was at the University of Tennessee, the left-handed center used his right hand to snap the ball when the quarterback was under center, but snapped the ball with his dominant left hand when the Volunteers were in a shotgun formation.
Stone did the same thing last week when forced into action against the Ravens. It made life easier for Matt Ryan, who didn't have to adjust while under center, and only has to deal with the ball spinning in the opposite direction when receiving a snap in the gun.
How's that for a fun fact about Atlanta's undrafted rookie center?
What might not be so fun for Stone, who is slated to make his first career start against the Lions in London on Sunday, is that he's going to have to deal with two of the best pass-rushing defensive tackles in the NFL.
Nick Fairley and Ndamukong Suh have combined for 4.5 sacks this season, and according to Pro Football Focus are the top-ranked and No. 7 pass-rushing interior linemen in the league.
Fairley's added 19 pressures (three hits and 16 hurries) to his sack total, while Suh has three hits and 18 hurries. The duo wreaks havoc in the backfield of opposing teams. But Stone's job won't be completed by simply stopping Fairley and Suh from rushing the quarterback.
The pair in the middle of Detroit's defensive line also plays the run extremely well. Suh's ranked fourth in the league versus the run and Fairley is five spots behind him at No. 9.
The three interior offensive linemen for the Falcons (Stone, Justin Blalock and Jon Asamoah) are going to face a fierce battle against two opponents that can do it all. Fairley and Suh rank in the top 10 in the NFL against the run and in rushing the passer.
At only 98.1 yards per game, Atlanta's run game hasn't taken off this season, and is ranked 24th in the league. Ryan has been under duress quite frequently this season, and 36.6 percent of the total non-sack pressures have come from the interior of his offensive line.
Fairley and Suh are going to pose a huge threat to Atlanta's run game, and Ryan's well being. It could be as bad as it's been all season for the Falcons.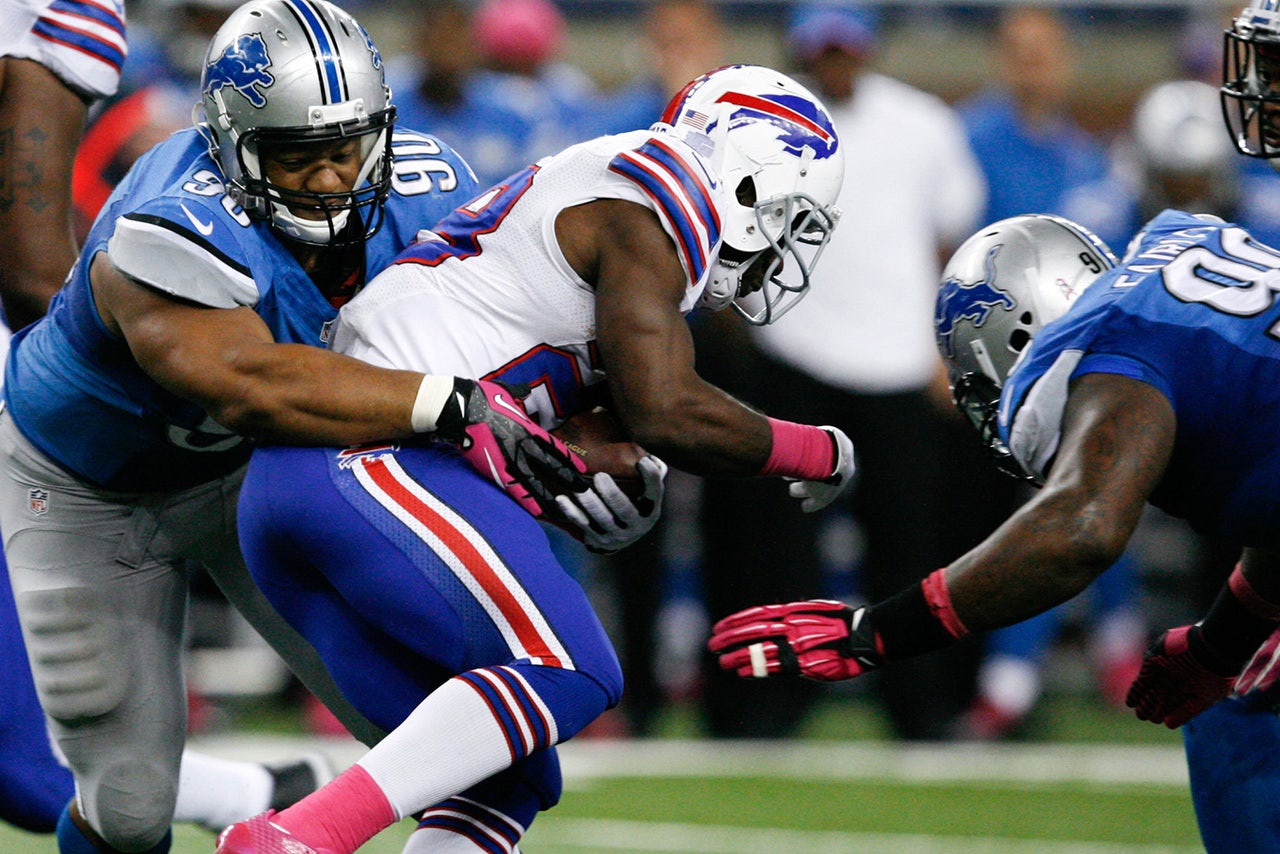 Detroit Lions defensive tackle Ndamukong Suh tackles Buffalo Bills running back C.J. Spiller. Suh and Nick Fairley pose a huge threat to Atlanta's run game, and are pesky pass-rushers.
And Atlanta doesn't get a break on the outside either.
When it comes to rushing the passer, Ziggy Ansah is the second-ranked defensive end from a 4-3 formation in the NFL, according to a Pro Football Focus metric called "Pass Rushing Productivity." Ansah has six quarterback hits and 12 hurries to go along with his 3.5 sacks.
And since the Lions like to do things in twos along the defensive line, Ansah is paired with a pretty good pass-rushing partner in George Johnson, who is ranked 15th by Pro Football Focus. On the opposite side of the line (which kind of blows the whole duo theory), Jason Jones is a quarterback disrupter as well.
Johnson has four sacks on the season and Jones one. But just because Jones hasn't pulled down as many passers, don't think he's that much less of a pass- rush threat. Jones is ranked 17th among 4-3 defensive ends in "Pass Rushing Productivity."
With three ends that all rank in the top 20 among pass-rushing exterior rushers, Gabe Carimi and Jake Matthews will be hard at work on Sunday.
Matthews is ranked dead last among tackles that have played at least 50 percent of a team's snaps. He's allowed three sacks, three hits and 17 hurries. Carimi is ranked 51st out of 59 on the list of tackles. He's allowed four sacks, five hits and 10 hurries.
The Lions defensive line is going to attack and push and disrupt this Falcons offensive line on Sunday. Ryan was sacked five times last week against Baltimore, and Detroit has just as much capability, if not more, to rush the passer.
Stone should benefit from a week of working with the first team. He was thrown into the fire against Baltimore, and the Falcons had to use running backs to chip and tight ends to help in pass protection to compensate. That still might happen in London, but maybe it won't be needed as much.
Bird is the Word: Falcons face tough road ahead by Fox Sports South Podcasts on Mixcloud
Stone should also feel more comfortable calling plays at the line this Sunday. When an offensive line is gelling, the center can make play calls sometimes without even making a sound. A look can do the trick, or at worst a hand signal.
But with Atlanta on its third center of a young 7-week-old season, cohesion along the offensive line hasn't been a luxury. And instead of calm in the pocket, Ryan's been maneuvering for his life.
Facing the Lions' fierce front four isn't the most optimal time to still be assembling pieces of the protection puzzle.
---
---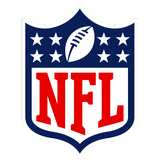 Get more from National Football League
Follow your favorites to get information about games, news and more
---