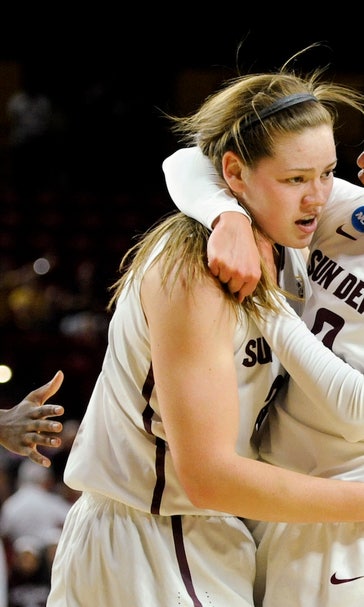 ASU women's basketball rallies, advances to Sweet 16
March 24, 2015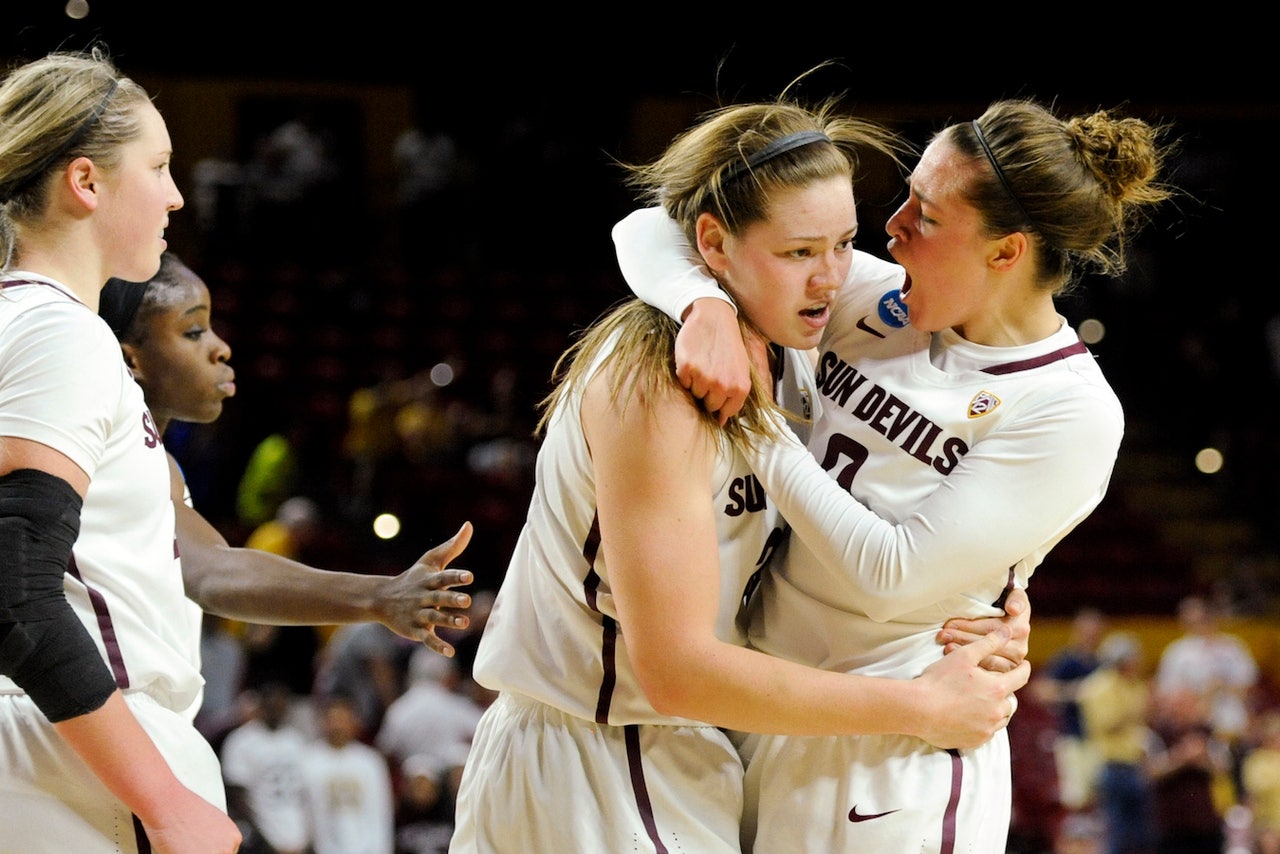 TEMPE, Ariz. -- Monday night's 57-54 victory for the Arizona State women's basketball team over Arkansas-Little Rock was a lesson in persistence and belief.
Trailing by as many as 16 points and only leading for 1:41 of the entire game, ASU rallied to earned a berth in the Sweet 16 of the NCAA Tournament. The Sun Devils head to Greensboro, N.C. for a Friday date against No. 2-seeded Florida State.
"You guys like the movie 'Elf'?" ASU coach Charli Turner Thorne said before humming a tune from the Will Ferrell comedy, in which a man raised as an elf leads regular folk to believe in Santa Claus once again. "I think our fans believed, we believed."
Pounding the ball into the post didn't lead to initial success and mostly to missed shots in the paint. But the Sun Devils didn't stray from their game plan, and it eventually paid off.
"I think we just needed to take our time on the shot," ASU guard Promise Amukamara said after scoring 17 points. "We were getting not wide open, but contested two-footers, and we just needed to take our time and make those shots. But we knew we were going to make them in the second half."
Forward Sophie Brunner also scored 17 points, added 11 rebounds and made the go-ahead basket with 55 seconds left to put ASU up 53-52. It was ASU's first lead since the scoreboard read 2-0 just 46 seconds into the game.
The difference between two halves, other than ASU's 21 percent shooting turning into 54 percent? Turner Thorne's squad simply needed to breathe. In doing so, the Trojans, who hardly dipped into their bench, found themselves short of breath.
"They were just pounding and pounding, and we just wore down," Arkansas-Little Rock coach Joe Foley said. "We just didn't have the energy to stay with them."
Added Turner Thorne: "We passed to the post, and they were coming and looking to strip. By the end of the game they weren't helping each other at all, so we had one-on-ones and obviously Sophie took advantage of that. They wore down a little bit."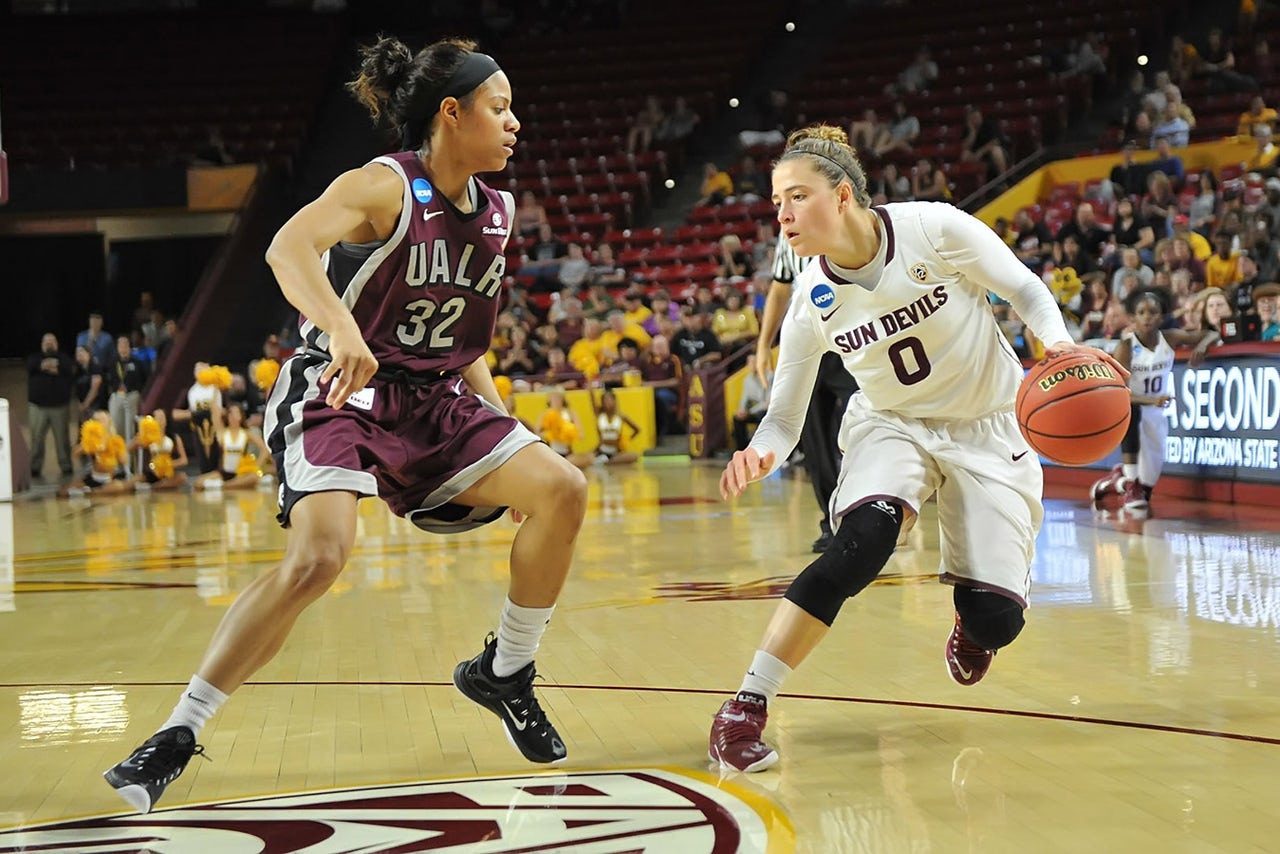 ASU's Katie Hempen tries to find room to maneuver as Arkansas-Little Rock's Ka'Nesheia Cobbins defends.
It wasn't that an athletic Trojans squad didn't have a good deal of success for most of the game. Namely, they locked down ASU leading scorer Katie Hempen, who finished with five points and took only six shots.
The points she did score were big ones.
For her first bucket, on just her third attempt of the game, Hempen curled off a screen with 6:55 to play and drilled a straightaway jumper to bring ASU within six points. She then hit a driving layup two minutes later to cap a 9-0 run and pull the Sun Devils within 46-42.
Arkansas-Little Rock continued to cling to its lead. The Trojans were up by six with 2:11 remaining when ASU called a timeout on a broken play and just three seconds left on the shot clock. Out of the timeout, ASU point guard Elisha Davis banked a 3 from the left wing to cut the lead to three. 
"I took a timeout to set something up," Turner Thorne said. "We didn't set up the 40-foot bank off the timeout."
That was life for ASU and death for Arkansas-Little Rock.
"The fact that it went in, I think it was just a lucky shot," said Trojans guard Taylor Gault. "I mean, we were there. It just went in."
Davis said God had a hand in making it go down.
Outside of Amukamara scoring the first six points of the game, ASU's halfcourt offense struggled against Arkansas-Little Rock's aggression and help defense, turning the ball over eight times in the first 11 minutes and falling behind 16-6. Arizona State ended its first-half drought with 8:14 left, when Brunner became the first Sun Devil other than Amukamara to score.
The Trojans led 26-17 at half and most impressively, their stifling interior defense kept the Sun Devils from hitting contested shots out of the post. They also keyed on Hempen, who was coming off a career-high 23 against Ohio two days prior.
Eventually, the Sun Devils' good looks started falling, the turnover issues subsided and the players, most of all, believed.
Said Turner Thorne: "Before you know it we're banking in 40-foot 3s and finding a way to win."
Follow Kevin Zimmerman on Twitter
---