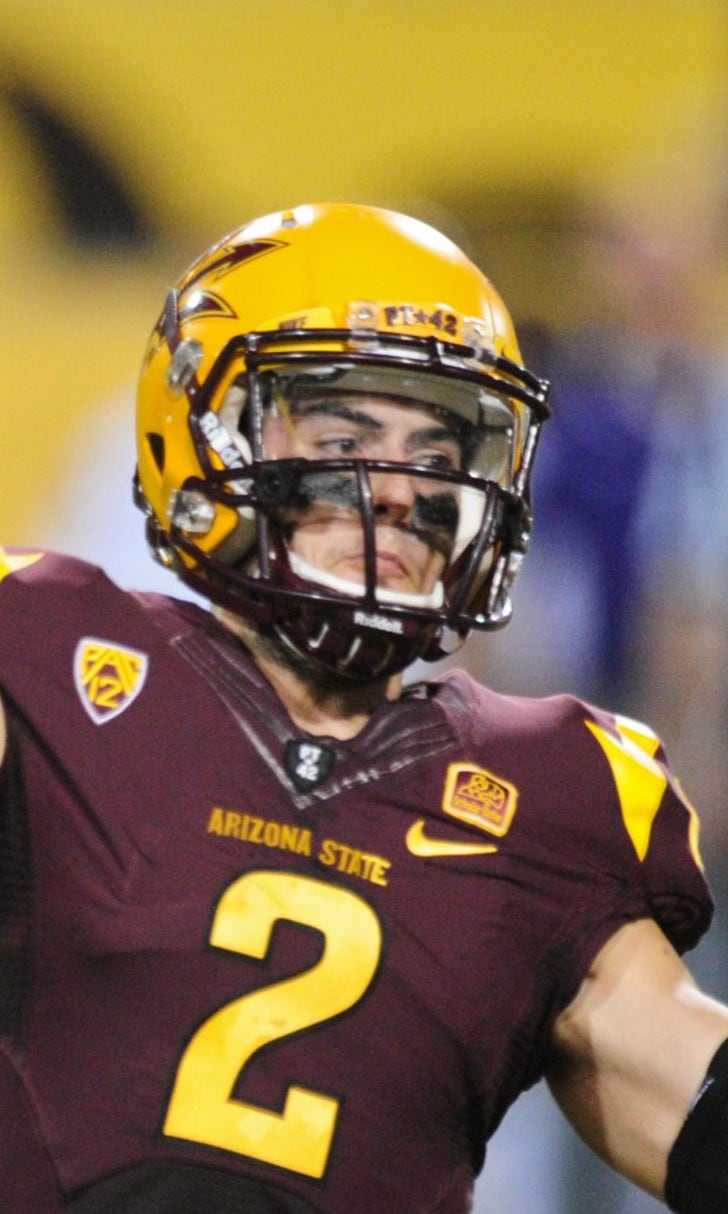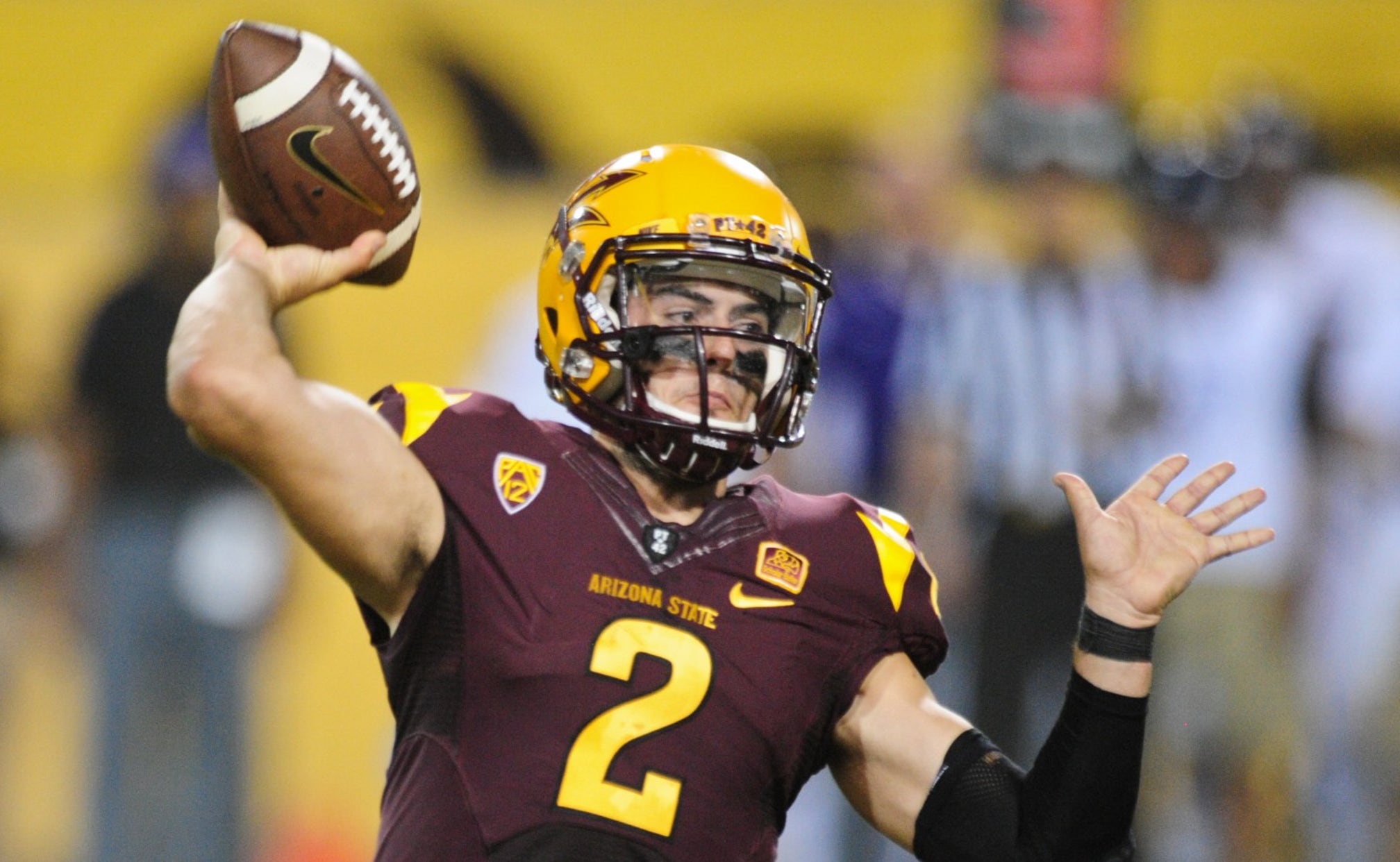 ASU QB Kelly 'doubtful' for USC, expected back for Stanford
BY foxsports • September 30, 2014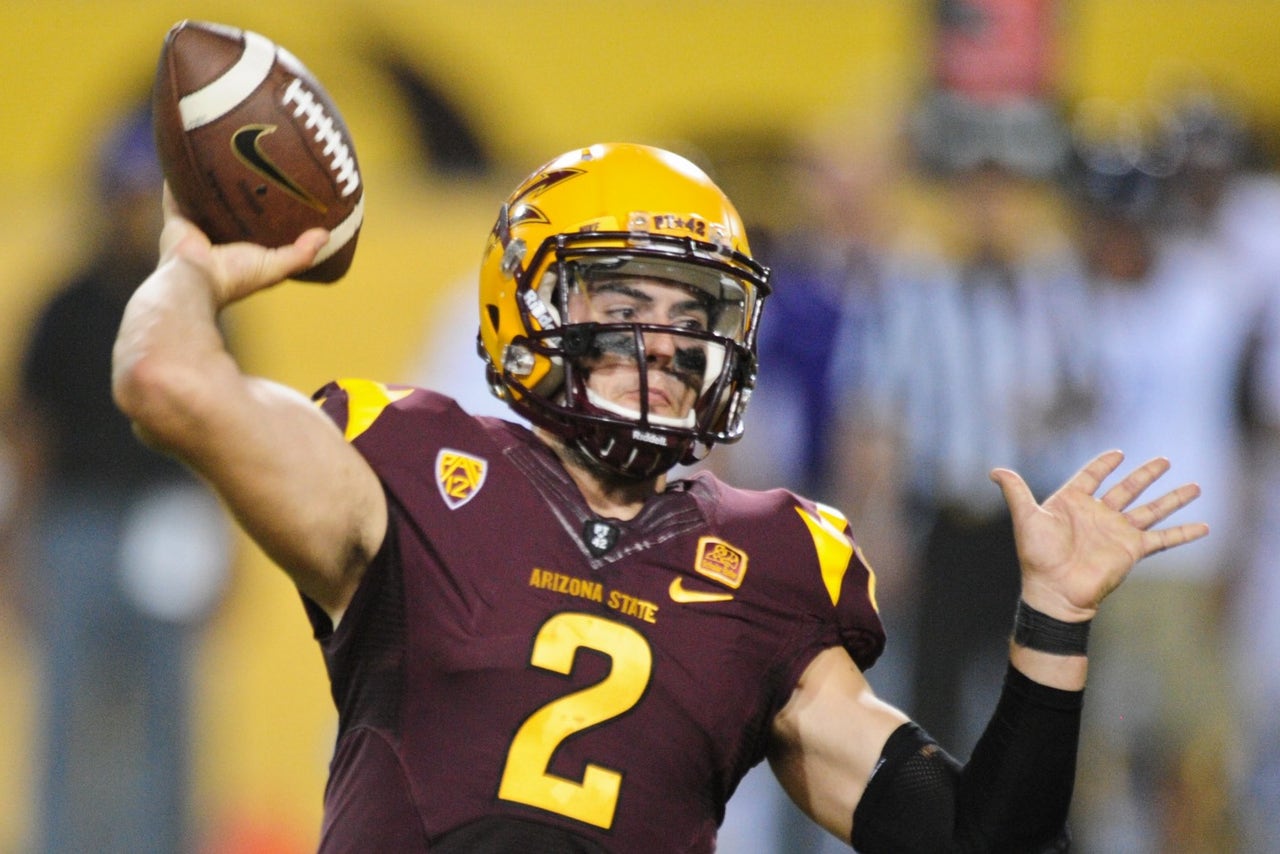 TEMPE, Ariz. -- After calling quarterback Taylor Kelly "pretty questionable" on Sunday, Arizona State coach Todd Graham on Tuesday characterized Kelly as "doubtful," all but assuring he'll miss Saturday's game against No. 16 USC.
"He's doubtful this week," Graham said. "I doubt he'll play. We expect him back for sure the next week."
The Sun Devils have a bye week following Saturday's game in Los Angeles before hosting Stanford on Oct. 18. Kelly is still wearing a protective boot on his injured right foot and moving around on crutches, but at Tuesday's practice Kelly was able to do some light throwing and conditioning on his feet.
With Kelly out, redshirt junior Mike Bercovici will get his second career start, playing in a venue not far from where he grew up and played high school football. In his first career start last week -- a 62-27 loss to UCLA -- Bercovici completed 42 of 68 passes for 488 yards and three touchdowns. That's an impressive line for a first start, but it was tainted by two interceptions.
"It doesn't matter how many yards you have, it doesn't matter how many completions you have," Graham said. "The bottom line is you've got to take care of the football, and that's the biggest area where we made the most mistakes.
"He'll tell you it wasn't a great performance. If it's a great performance, it's 100 percent ball security."
One of Bercovici's interceptions went for a 95-yard touchdown and proved to be the turning point in the game. The other was more a credit to UCLA safety Anthony Jefferson. Bercovici also turned the ball over on a fumble, which led to a UCLA touchdown.
Bercovici has worked this week to eliminate those turnovers, having seen just how costly one can be.
"I've just got to translate that onto the field," Bercovici said. "We like to call it, 'Us or nobody.' Just those spots where we're throwing ball and it's either coming down in Jaelen (Strong's) hands or nobody's hands."
Graham said along with eliminating turnovers Bercovici must operate within the system, which he said can be difficult for a player with limited experience.
Senior safety Damarious Randall entered the season with high expectations from himself, from coaches and from fans. So far, it sounds like he hasn't yet met them.
"My expectation of him is really high," Graham said. "I think early in the season maybe he's trying to do too much. The biggest thing is just executing the system. So he's played well, (but) he's not played as good as he can play. We're wanting a lot more out of him."
Still, Randall leads the nation in solo tackles with 9.0 per game. His 38 total tackles and four tackles for loss are both team highs. Randall doesn't yet have an interception, but he believes that's because he hasn't had any chances.
"I feel like teams haven't been throwing anywhere in my vicinity," Randall said. "I haven't really had a chance to get (an interception) close to me. It's just any game now. Maybe I'll have three or four picks in a game."
Randall missed a few key tackles against UCLA. The first came on an 80-yard touchdown as Randall and defensive lineman Demetrius Cherry collided while trying to take down wide receiver Eldridge Massington. The next came on Ishmael Adams' 100-yard kickoff return.
As one of two returning starters from last year's defense, Randall does face greater expectations to perform.
"I honestly feel like I've been playing OK," Randall said. "Nothing major but just playing decent. I can play a lot, lot better though."
On Monday, Graham called USC junior Javorius Allen "probably the best running back we'll see all year," which sounds like trouble for ASU's run defense, ranked last in the Pac-12 with 204.0 yards allowed per game. Allen has rushed 80 times for 433 yards. The Trojans will also rotate in Justin Davis.
But ASU's rushing attack could pose just as big of a problem for the Trojans, which rank second to last in the conference with 198.8 rushing yards allowed per game. ASU's rushing attack leads the conference with 362.8 yards per game, and junior D.J. Foster's 135.0 yards per game rank ninth in the nation.
USC's rushing defense has been an enigma of late. Against Boston College on Sept. 13, USC gave up 452 rushing yards and lost 37-31. Last week, the Trojans allowed 58 rushing yards and beat Oregon State 35-10. One key difference was the Beavers' lack of a running quarterback.
-- After getting in on a play or two last week, Carlos Mendoza practiced as the first-team will linebacker during the small portion of practice open to reporters. Graham wouldn't say if it meant Mendoza might start, just that Mendoza is back to a point where he can contribute following a knee injury, so he needs practice reps.
-- Redshirt sophomore Edmond Boateng was back at Devil-backer Tuesday after playing defensive end in last week's game. Boateng record ASU's only sack against UCLA.
Follow Tyler Lockman on Twitter
---