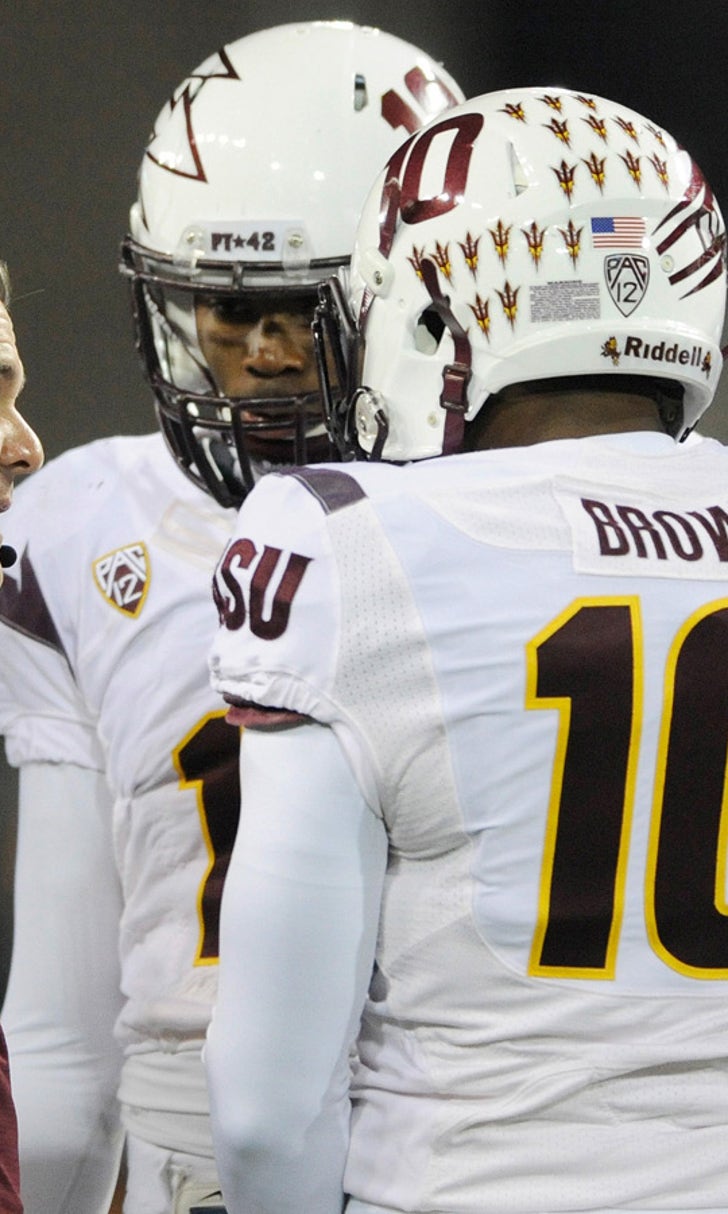 ASU meets Washington State's 'Air Raid' in rebound effort
BY foxsports • November 21, 2014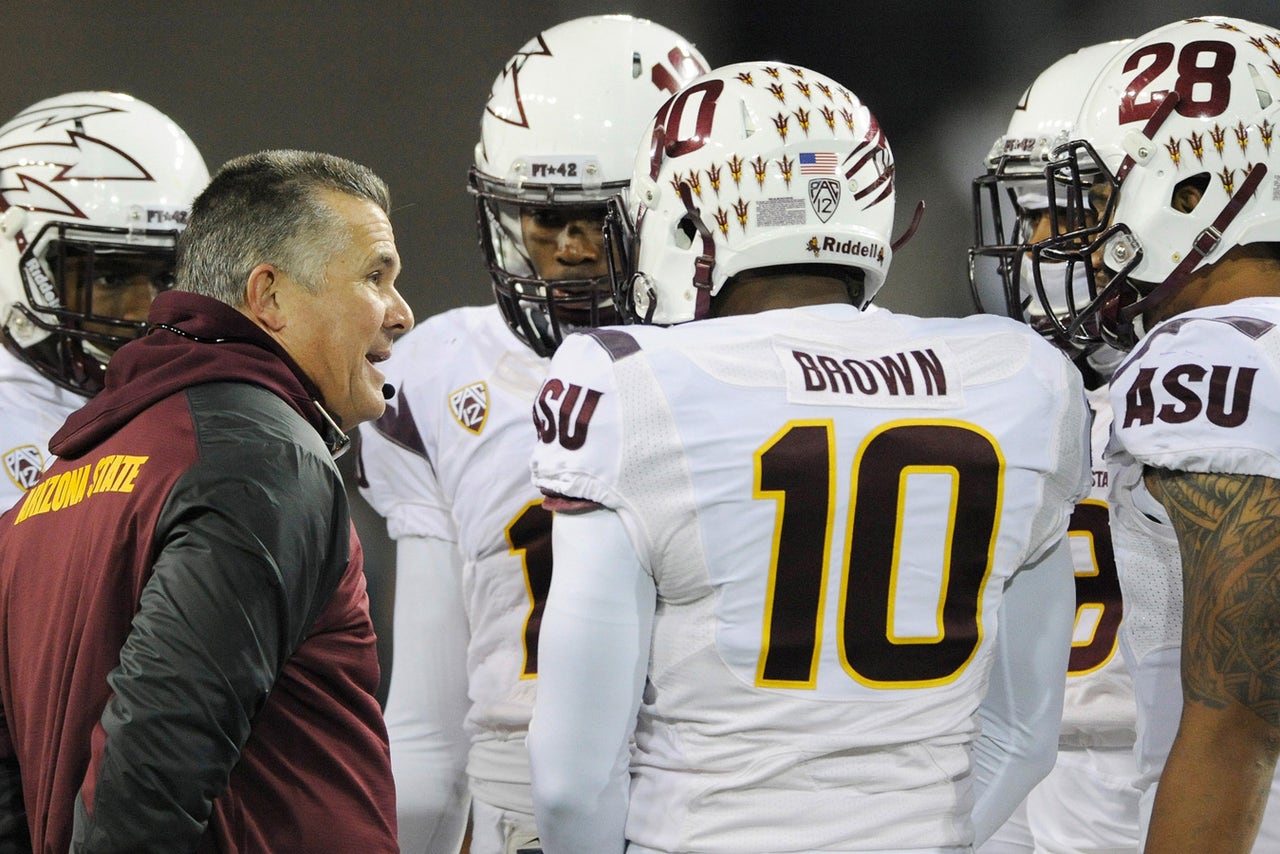 TEMPE, Ariz. -- When Arizona State lost to Oregon State last week, it was like someone let all the air out of the Sun Devils' balloon -- a balloon that had grown to national proportions. They were in the College Football Playoff picture and controlled their fate in the Pac-12 South.
All that's changed. But No. 13 ASU this week focused on what it still has to play for -- a Pac-12 title -- and taking the next step toward it against Washington State on Saturday.
"Everything's been on Washington State and going to the next week," senior safety Damarious Randall said. "We've just been focused on Washington State and competing for the Pac-12 South championship."
While the Pac-12 title is ASU's goal, it must win the Pac-12 South first. Doing so will require some help from USC or Stanford, the two teams left on South favorite UCLA's schedule, and the Sun Devils (8-2, 5-2 Pac-12) must win their final two games.
The first of those two, Saturday at 11 a.m. against Washington State (3-7, 2-5), would seem a walk in the park. But ASU learned last week no Pac-12 opponent can be underestimated. After all, these same Cougars went into Corvallis the week before ASU did and came away victorious.
What makes Washington State dangerous any given week is coach Mike Leach's "Air Raid" offense.
"It's a very, very different team we're playing because of their offense," ASU coach Todd Graham said. "It's just a different deal. We haven't played anything like it."
To understand the "Air Raid" you need only to know this season the Cougars have passed on 76 percent of their offensive plays. They've have 436 rushing yards, which is far less than ASU running back D.J. Foster's 872 and not much more than freshman Demario Richard's 367.
One-dimensional though it may be, the scheme works. Washington State's passing attack leads the nation with 477.6 yards per game. The 521.2 yards of offense it averages per game ranks second in the Pac-12 and sixth in the nation.
"It could be first-and-goal from the inch-yard line and they're probably going to pass the ball," Randall said. "That's just their style of game, and it has been very effective because they have one of the best offenses in the country."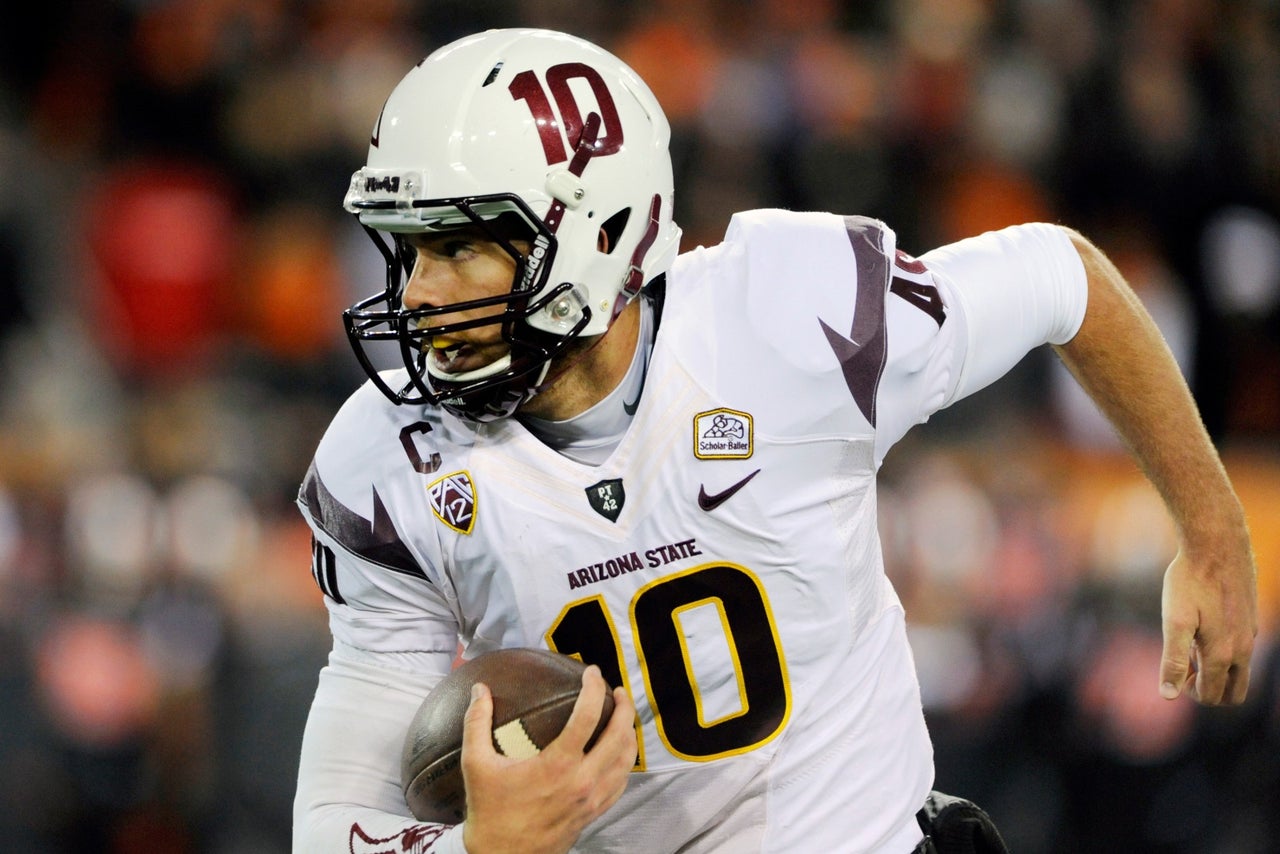 No. 13 ASU vs. WASHINGTON STATE
When: 11 a.m. Saturday
Where: Sun Devil Stadium, Tempe
TV: Pac-12 Networks (Kevin Calabro, Yogi Roth)
KEY PLAYERS
Taylor Kelly, QB, ASU: Kelly had probably his worst game of the last two seasons last week and needs to bounce back this week. If he doesn't early in the game, ASU will have to consider going to backup Mike Bercovici.
Damarious Randall, S, ASU: Against Washington State's pass-first offense, ASU's defensive backs will be tested. Randall could get chances for turnovers.
Luke Falk, QB, WSU: Falk stepped in for Connor Halliday (leg) and has been impressive. Over the last two games he is 82 of 118 passing for 817 yards, seven touchdowns and one interception.
Vince Mayle, WR, WSU: A Biletnikoff Award finalist, Mayle leads the Pac-12 with 115.2 receiving yards per game and should be targeted plenty Saturday.
WHAT'S AT STAKE
The Pac-12 South race. USC leads the division heading into the weekend. If ASU loses, the Trojans could clinch the South with a win at UCLA later in the day. An ASU win keeps the Sun Devils in the hunt, though they still need UCLA to lose a game while winning out themselves.
INJURY REPORT
ASU -- Out: DT Jaxon Hood (personal reasons), DB Ezekiel Bishop (knee). DL Corey Smith (hip), DL Marcus Washington (knee). Questionable: WR Jaelen Strong (concussion). Probable: S Jordan Simone (stinger), LB Laiu Moeakiola (shoulder). Washington State -- Out: QB Connor Halliday (leg), RT Cole Madison (unknown). Questionable: TE Nick Begg (unknown), S Sulaiman Hameed (unknown).
OUTLOOK
After last week's loss in Corvallis, ASU knows all too well you can lose any week in the Pac-12. At the same time, the Sun Devils may be more on guard, not to mention more comfortable at home. The Cougars should be able to rack up yards and score some points, but ASU should win comfortably.
PREDICTION
ASU 34, Washington State 21
ASU will try to use its heavy pressure to get to Washington State freshman quarterback Luke Falk, in for the injured Connor Halliday, and try to create turnovers chances.
"We need to keep everything in front of us, and we need takeaways," Graham said. "That's been the key to our success against them in the past, so that's something that's vital to us."
Just as vital for ASU will be its offense getting back on track. The unit has struggled during most of the past four games, coinciding with senior quarterback Taylor Kelly's return from a broken foot. Kelly has thrown an interception in each of those games and threw two last week while completing just half of his passes. On Monday, Graham suggested Kelly might not be 100 percent. Kelly confirmed as much Wednesday.
"I don't feel where I'm 100 percent yet," Kelly said. "Sometimes my feet are slow or the timer in my head is slow. It's not where I was at the beginning. It took me all summer, all camp to get those timings, so I've got to bring them back a lot quicker."
Graham on Thursday appeared to -- for the first time -- open the door a bit to the idea ASU might have to give backup Mike Bercovici a shot if Kelly continues to struggle.
"We all have to perform, and we've got to do what we've got to do to win football games," Graham said. "Coach Graham's got to coach better and Taylor's got to play better and make better decisions.
"No one's entitled to anything. We represent the people that pay the price of that ticket and are our fans, so it's important that we understand the bottom line is performance and winning."
While ASU's Pac-12 hopes are on the line, this week's game takes on added meaning as the final home game of the season. For 13 seniors, it will be their last game at Sun Devil Stadium, and Graham puts extra emphasis on winning on Senior Day.
The game is also an opportunity to further move on from the debacle in Corvallis. ASU admits it fell right into a trap game, and it knows it can't afford another catastrophe.
"It's about bringin' it -- bringin' it with a passion and being prepared mentally," Graham said. "That was the big focus this week."
Taylor Kelly's performance. Kelly has not been right since returning from a broken foot. ASU didn't consider pulling him during its loss to Oregon State, a game in which Kelly completed just 22 of 44 passes and threw two interceptions, but it sounds like if he continues to struggle this week ASU will do what it has to do to win.
Jaelen Strong's impact. If Strong, who suffered a concussion last week, doesn't play, the impact is huge. ASU's offense would be down its No. 1 playmaker. If he is cleared to play, it's hard to know if he'll be his usual self after getting banged up on multiple plays last week. Or he may be just fine and give Washington State's defense fits. Strong is 18 yards shy of becoming the second receiver in school history to record two 1,000-yard receiving seasons.
Big plays. With such a pass-centric offense, Washington State has a knack for the big play. It ranks sixth nationally in plays of 40 yards or more (14), is tied for third in plays of 50 yards or more (9) and is tied for fifth in plays of 60 yards or more (6). ASU gave up three plays of 66 yards or more last week. ASU will have to be assignment sound to avoid getting burned and may have to take fewer risks blitzing.
-- ASU leads the all-time series against Washington State 26-14-1 and has won nine of the last 10 meetings, last losing in 2011 on the road. The Cougars have lost five straight in Tempe, last winning here in 2001.
-- Saturday is Senior Day for ASU as 11 scholarship seniors and two walk-on seniors play their final game at Sun Devil Stadium. More on the senior class here.
-- ASU is averaging 8.0 tackles for loss per game, good enough for fourth nationally. That kind of pressure could force Washington State quarterback Luke Falk into a few mistakes.
Follow Tyler Lockman on Twitter
---