ASU head coach Graham: 'Every kid ought to learn from Bercovici'
BY foxsports • October 5, 2014
It's been nearly four years but if you mention Taft's 2010 playoff run around former head coach Matt Kerstetter it gets his blood boiling.
The Toreadors were one step away from advancing to the 2010 City Section final at the Coliseum when they loss to Carson in the semifinals. Kerstetter had one of the more talented teams in the City with wide receiver Michael Thomas (Ohio State), defensive lineman Antwaun Woods (USC), and quarterback Michael Bercovici (Arizona State).
In the 40-21 loss to Carson two of Kerstetter's stars -Thomas and Woods -were out due to injury. Unfortunately for Bercovici, the last man standing, he couldn't muscle Taft into the Coliseum on his own.
The loss still haunts Bercovici who was hoping for a chance to play in the Coliseum.
Saturday night, he got that chance and his first time in the Coliseum will go down as one of the most memorable experiences of his football life. Bercovici hit Jaelen Strong in the endzone on a 46-yard Hail Mary as time expired lifting Arizona State to a 38-34 win over No. 16 USC.
"Could you imagine if he would've left?" Arizona State head coach Todd Graham said of Bercovici. "Every kid out there ought to learn from this. Every person. I don't want to speak for him (but) that might be the greatest play of his football life. It don't get any better than that."   
Bercovici transferred from Westlake to Taft before the start of his junior season in high school but missed the entire season due to transfer rules.
After he was beat out by Taylor Kelly for the starting job at Arizona State many thought he would leave Tempe, too. 
He stayed and picked up his first career win as a starter in dramatic fashion at home in the Coliseum in front of about 100 family and friends.
Saturday night the game appeared all but over and the Sun Devils were headed to yet another loss inside the Coliseum -a place they haven't won since 1999. Buck Allen ran in a 53-yard score to put USC up 34-25 with 3:02 left in the game.
On the first play of the Sun Devils ensuing drive, Bercovici found Cameron Smith for a 73-yard touchdown. The Sun Devils then attempted an onside kick that was recovered by USC. The ASU defense forced a three-and-out leaving the offense with 73 yards to go in 23 seconds.
With seven seconds left from the USC 46-yard line, Bercovici heaved it up and Strong tracked the ball and found himself in the endzone as time expired.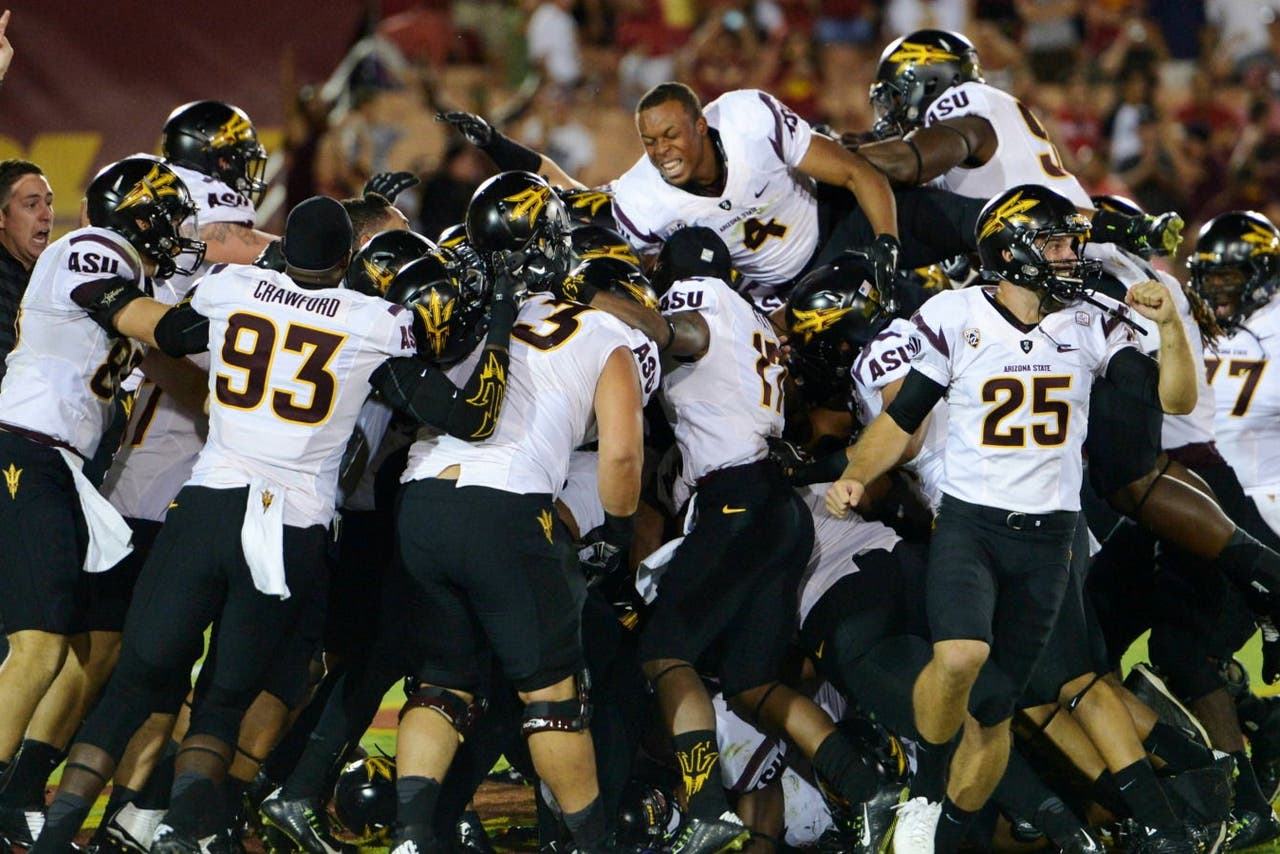 Highlight: Arizona State's game-winning hail mary
"I threw a duck," Bercovici said standing near midfield at the Coliseum just moments after his incredible throw. "I still don't know what happened. All I know is that we're on the Coliseum floor and (the scoreboard) says 38-34."
As he stood on the Coliseum turf in disbelief that same very venue was on the back of his mind.
"I thought we should have played here in the City championship against Crenshaw (when I was at) Taft my (senior) year but for my first time in the Coliseum as a starter, most amazing experience of my entire life," said Bercovici, who threw for 510 yards and five touchdowns against USC.
It's safe to say he made up for it.
---