ASU gets needed win in decisive fashion over Oregon St.
BY foxsports • January 28, 2016
TEMPE, Ariz. -- The player who defends the opponent's biggest scoring threat at guard for Arizona State is typically senior Gerry Blakes. But coach Bobby Hurley opted to try point guard Tra Holder on Oregon State star Gary Payton II Thursday night.
The move paid off. The Sun Devils offense shined with five players scoring in double figures, and Holder led the way in limiting Payton, the Beavers' do-everything guard who came in as the only player in the top 10 of the Pac-12 in scoring, rebounds, assists and steals, to 2 points on 1-of-7 shooting.
Obinna Oleka's 17 points led the offense as the Sun Devils cruised to a win over Oregon State 86-68. Blakes scored 16 points, six coming on a pair of 3-pointers at the shot clock buzzer, one in each half, and Willie Atwood added 13 points for Arizona State (12-9 overall, 2-6 in Pac-12), which won for just the second time in eight games.
Payton didn't score until midway through the second half as the Beavers couldn't overcome a rough start.
"I'm excited for Tra and that's a big step for him," Hurley said. "We've given Gerry a lot of tough assignments and I think that we need to focus on guarding the guy at our position. Tra was happy that he got the call on him (Payton)."
The Sun Devils led by as many as 27 points and only trailed once, 2-0, in the game. Holder finished with 8 points, 8 assists and 6 rebounds and ASU's 59.3 field goal percentage was its best in a conference game in almost three years.
"We've talked more about being balanced," Hurley said. "To see a lot of guys playing well and the shot distribution pretty balanced is a positive thing."
Oregon State (12-7, 3-5) has lost four of its last five games. Stephen Thompson Jr. led the Beavers with 14 points.
The Beavers didn't score for more than 5 minutes of the first half, committing four turnovers during that stretch. The Sun Devils used that time to go on a 12-0 run and go up 20-5 with 11:49 left, at which time Langston Morris-Walker ended the OSU drought with a free throw.
Oleka's 3-pointer with 6 minutes left made it 30-9 for the Sun Devils as the Beavers' woes continued. Oregon State finally got to double figures at the 5:09 mark, on a 3 from Malcolm Duvivier.
Arizona State led 36-17 at halftime, the fewest points it has allowed in a first half this season. The Beavers' 17 points were a season low for a half with Payton held scoreless on only three shots. OSU made only 5 of 26 shots in the first 20 minutes.
"(Arizona State) put our guys back on their heels a bit offensively, and that in combination with not shooting it very well was tough," Beavers coach Wayne Tinkle said. "But more disappointing than that was our lack of focus defensively. That was not us. We didn't defend well in the first half."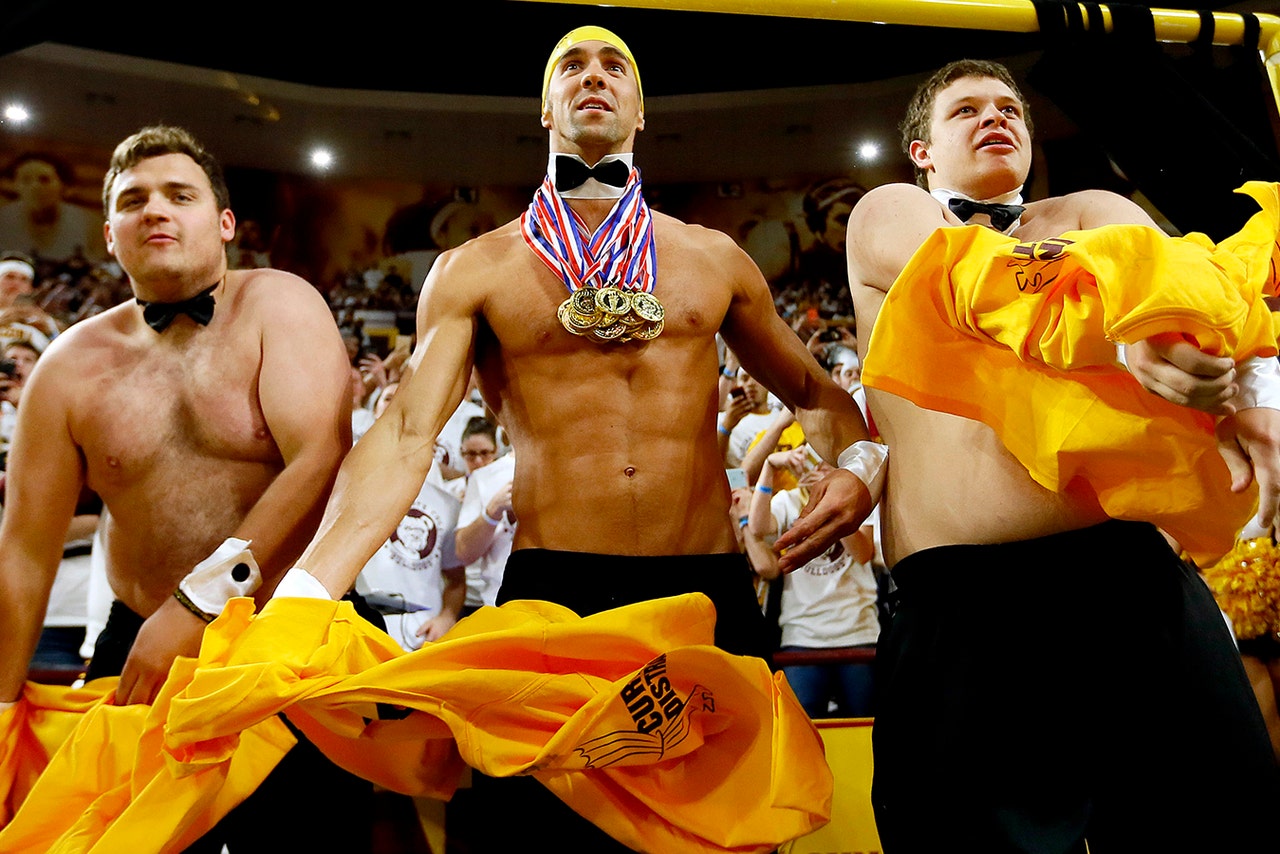 Olympic swimmer Michael Phelps behind the "Curtain of Distraction" Thursday.
U.S. Olympic swimming star Michael Phelps appeared from behind the ASU student section's infamous "Curtain of Distraction," gold medals around his neck and swim cap on his head, with 13:47 left to play. With Phelps, who is working as an assistant swim coach at ASU this year, flashing nothing but a swimsuit and six-pack abs between two shirtless students, Oregon State's Thompson Jr. missed both foul shots. The moment drew the loudest cheers from the crowd at Wells Fargo Arena.
The student section chanted "Who's Your Daddy?" at Payton, the son of the former NBA star. The chant was heard in the first half with Payton at the foul line, and he missed both free throws.
Oregon State: Though he came up well short Thursday, Payton has as many 20-point games this season, six, as he had all of last season. ... The Beavers made just 9 of 20 free throws for the game.
Arizona State: The Sun Devils entered the game averaging 75.8 points per game, their highest mark since the 2004-2005 team averaged 76. ... The 18-point win was the Sun Devils' second-highest victory margin of the season. A 19-point win over Houston Baptist in December is the largest. ... ASU has won eight straight over OSU, a streak that started in 2008.
Oregon State at No. 18 Arizona on Saturday.
Arizona State hosts No. 23 Oregon on Sunday.
---