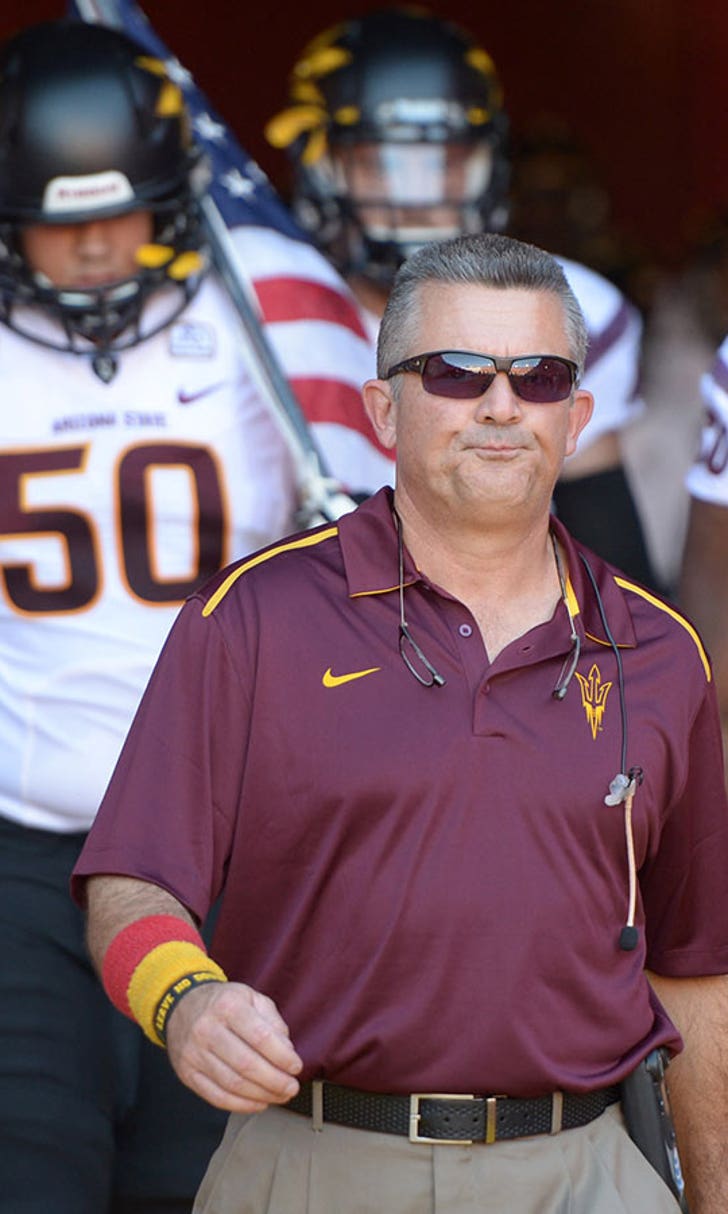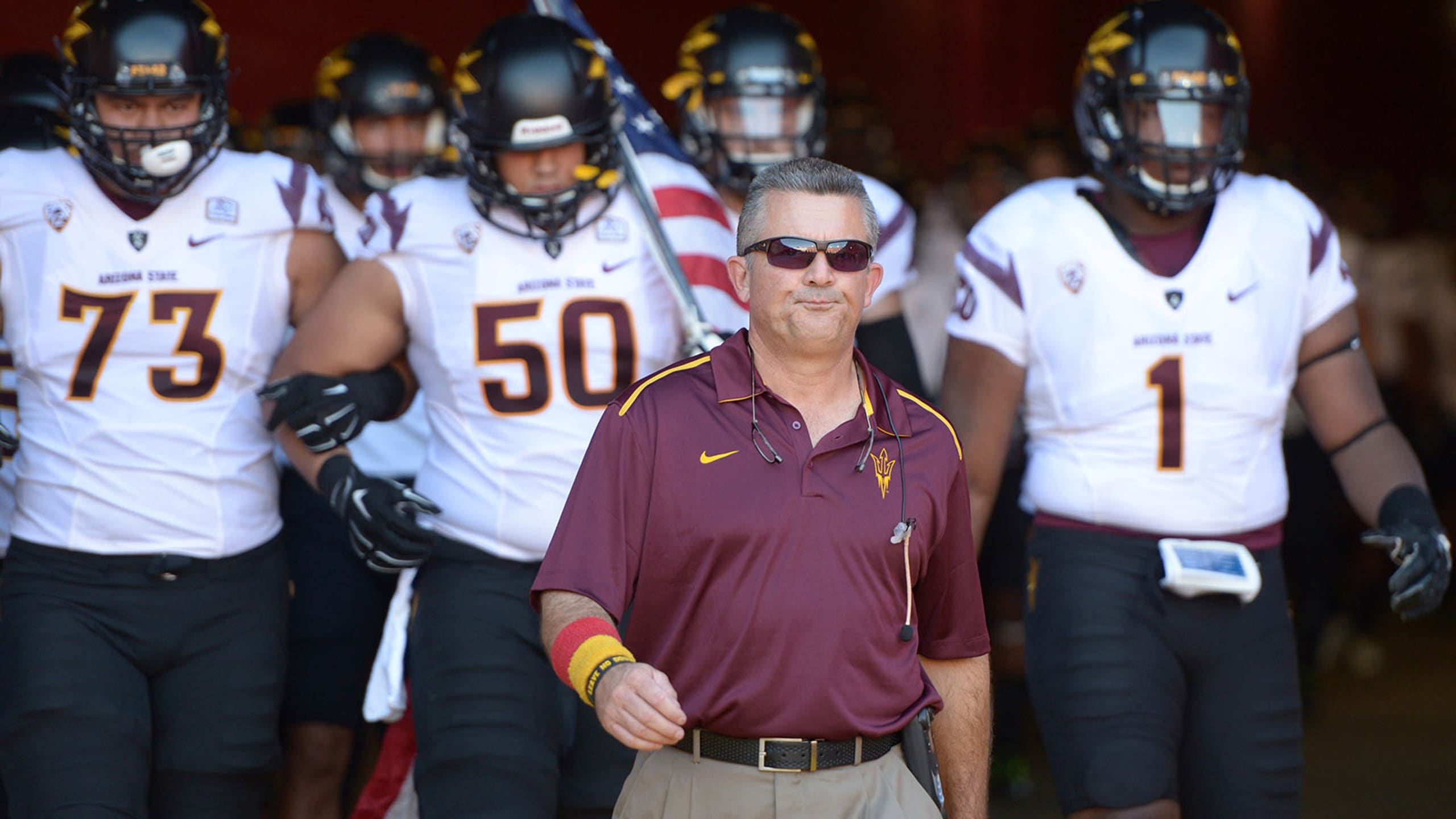 ASU football recruiting: Breaking down National Signing Day 2015
BY foxsports • February 3, 2015
TEMPE, Ariz. -- A year before Todd Graham signed his first recruiting class as ASU's head football coach, nine of 20 players in the Sun Devils' incoming class were ranked as 2-star prospects, per Scout.com. Then-coach Dennis Erickson had assembled the 64th-best class of 2011.
For a warm weather school in the Pac-12 with a relatively high acceptance rate and plenty of financial backing in the athletic department, the Sun Devils knew they could do better than that. The on-field performance for Erickson's teams also had something to do with it -- he finished 2011 with a 6-7 record before being fired -- but this is the time to remind you that recruiting talent matters.
Graham and ASU will officially announce their 2015 class on Wednesday, and it is expected to be yet another example of the direct correlation between winning and recruiting in college football.
Graham's first class in 2011, assembled in just a few months, ranked 43rd. He pulled the 30th-ranked class the next year, then brought in the 17th-best class in 2014. This year's class, with the Sun Devils building upon back-to-back 10-win seasons, was ranked 17th as of Tuesday, and every one of the 21 players committed is ranked as 3-star or better.
With the help of Scout.com director of recruiting Brandon Huffman, here's a look at Arizona State's expected class and what could change on signing day.
The only 5-star prospect in ASU's 2015 class is already safely signed. Butler County Community College linebacker Davon Durant signed his letter of intent on Dec. 23 as a junior college transfer and could be the most college-ready player of this year's crop. Durant could be most utilized at the Devil-backer position, which is up for grabs heading into next year.
And beyond Durant, the linebacker crop might be the strongest position group for ASU's 2015 class. Joining him is 4-star outside linebacker JayJay Wilson, who verbally committed to ASU out of Valencia High School on Monday. Middle linebacker Khaylan Thomas out of Etiwanda High School in Rancho Cucamonga, Calif., is also a 4-star player and ranked second at his position in the rich recruiting grounds of California.
Other four-star players in Graham's class include quarterback Brady White, running back Jaason Lewis, offensive guard Zach Robertson and cornerback Stanley Norman.
The known commitments include four running backs and four offensive linemen, as well as two tight ends.
Huffman's take: Lewis is maybe the most intriguing prospect. At 6-4 and 241 pounds, the athlete from Virginia Beach, Va., might end up being used at another position considering his size, but as an incredible athlete, it's important only at this point that Arizona State win the final day of his recruitment. They can figure out where he plays later.
Lewis is considered a soft verbal heading into signing day.
Huffman says the Sun Devils are still playing catch-up recruiting in the state of Arizona despite bringing in four local prospects.
Maybe bigger than that, ASU didn't grab a single wideout in this class heading into signing day -- but there's an asterisk here.
The Sun Devils lost out on local receiver Christian Kirk out of Saguaro High School. The 26th-ranked player in the entire 2015 class chose Texas A&M over ASU. Kirk, who owns several state touchdown and receiving records, would have been a monstrous get for Arizona State, and while it's a minor quibble, it's still been difficult for Arizona State to keep the top in-state players around.
Huffman's take: ASU has made progress since the Erickson era, but picking up commitments from the best in-state prospects would bring this turnaround full-circle.
Arizona State's signing day could be eventful. While the lack of receivers in the 2015 class has been noted, the Sun Devils are still in the running to land two 4-star receivers and have unlikely shots at getting a few more suprises.
WR Jaylinn Hawkins: According to 247 Sports' crystal ball, which predicts outcomes by polling recruiting experts, Arizona State is a favorite to land Hawkins, a 6-1, 180-pound wideout, over Cal, USC and UCLA. 
WR Cordell Broadus: Cordell Broadus, the son of rapper Snoop Dogg, is considering ASU. The Sun Devils are behind UCLA and USC to land Broadus, according to the crystal ball. Broadus will announce during the 12 p.m. (MST) hour on ESPNU.
RB Jaason Lewis: Lewis, who decommited from UCLA before committing to ASU, has been visiting schools right up to the deadline. At the end of January, he took a visit to Mississippi, which could have Graham and the staff a bit nervous heading into signing day.
LB Cassius Peat: A local product from Corona del Sol High School, Peat is considered a "soft" commit for UCLA but is said to be considering the Sun Devils as well as Michigan State.
DE Joseph Wicker: The Sun Devils are fighting an uphill battle to grab the 4-star defensive end away from UCLA and Texas Tech. Wicker will announce during the 2 p.m. MST hour on ESPNU.
DT Rasheem Green: As a near-100-percent lock to USC, ASU is even more unlikely to steal the 5-star Green, but he hasn't given a commitment yet. He will announce during the 12 p.m. MST hour on ESPNU.
Huffman's take: Expect at least one of the wide receivers to commit to the Sun Devils. Anyone else would be the cherry on top to a successful 2015 class.
Follow Kevin Zimmerman on Twitter
---