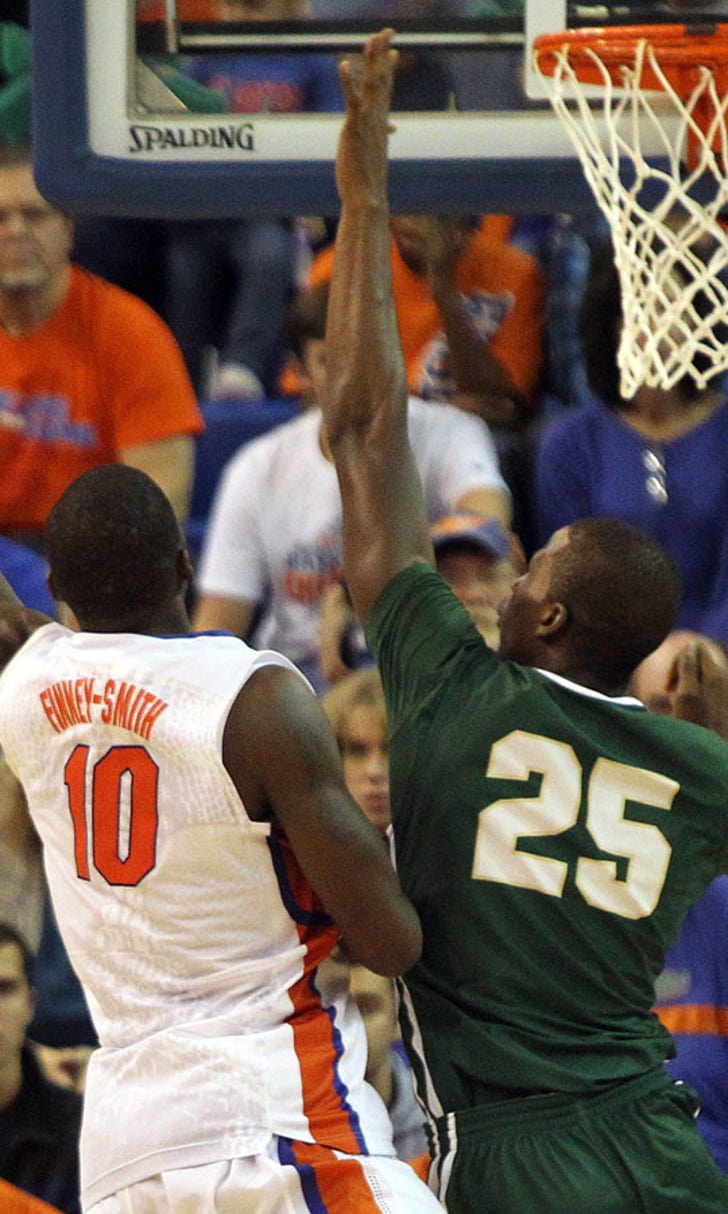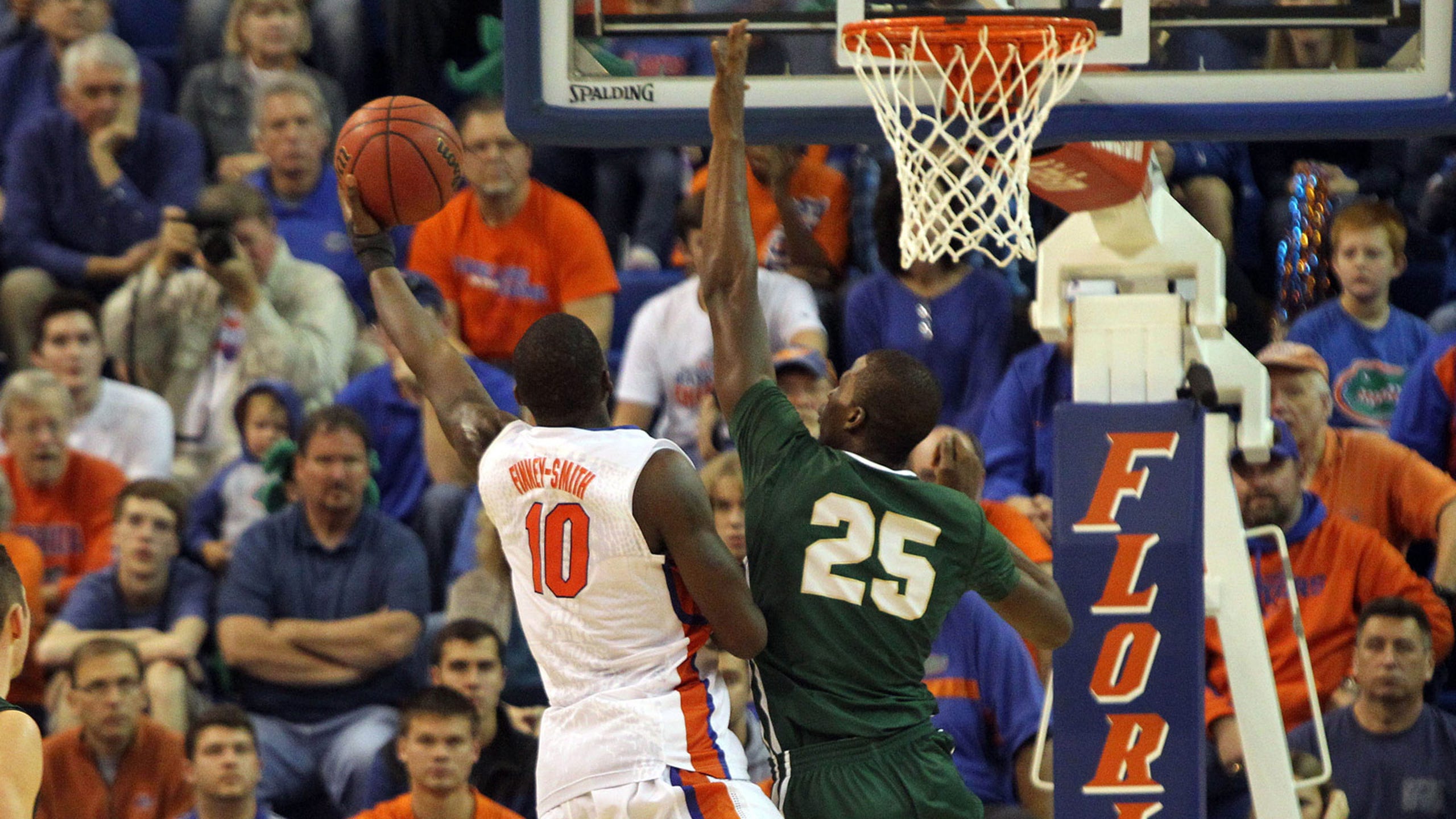 As Florida gets healthy, wins continue rolling in
BY foxsports • December 14, 2014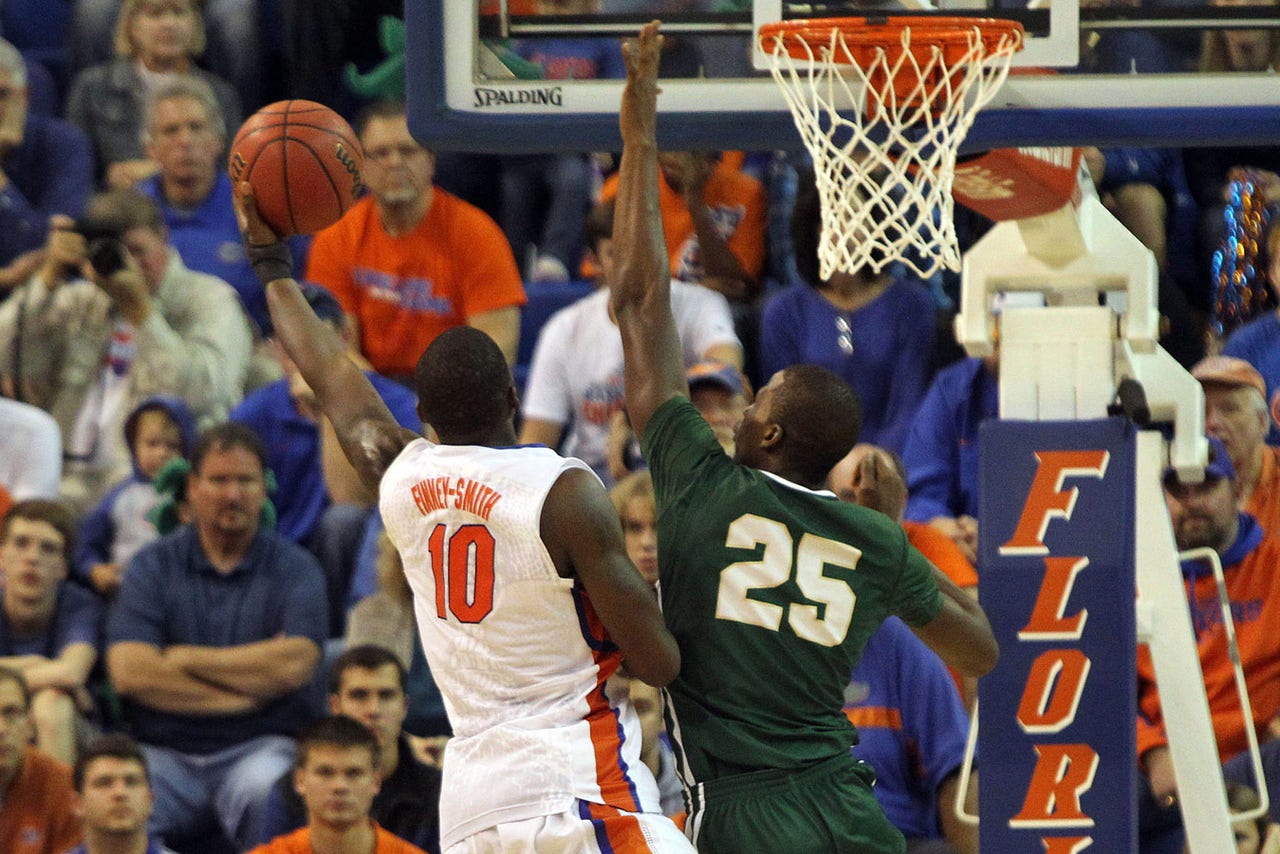 GAINESVILLE, Fla. -- Little by little, some of the pieces are starting to slide into place.
As they do, the wins are starting to add up.
The Gators made it three in a row Sunday afternoon with a 79-34 walloping of Jacksonville in front of an announced crowd of 10,123 at the O'Connell Center.
It wasn't perfect.
"We didn't come in with the right approach," Gators coach Billy Donovan said. "It was a little bit of fool's gold to start the game."
The Gators never trailed and jumped to a fast 12-4 lead thanks to a 4-for-4 performance from 3-point land as Michael Frazier made a pair and Dorian Finney-Smith and Devin Robinson connected from long range.
You got the idea that this one could be over quickly.
However, instead of running away and hiding from Jacksonville before halftime, the Gators led only 18-17 with 9:21 left in the first half following a bucket by Jacksonville's Kori Babineaux.
No one knew it at the time, but with more than 29 minutes left to play, the Dolphins had already scored half their points in the game.
The Gators closed on a 16-7 run to end the first half to grab a 34-24 halftime lead.
And then as he is known to do -- especially this season and with this team -- Donovan challenged the Gators at halftime.
During their 3-4 start -- marking the first time in 16 years Florida dipped below .500 -- the Gators had trouble finishing strong, most notably watching their 18-point lead at Kansas on Dec. 5 disappear and turn into the young season's most disappointing loss.
There was no such problem Sunday.
"Coach challenged us to come out with more passion and more fire after halftime," said Frazier, who finished with a season-high 22 points and six 3-pointers.
How did the Gators respond? Well, how's 45-10 sound? That was the second-half score.
The Gators came out early for the second half to loosen up as they have of late. Someone should have told the Dolphins not to bother coming back out.
In a span of 5 minutes, 7 seconds, Florida's 10-point halftime lead was 20 (46-26) following Frazier's 3. The lead was 25 (51-26) after a 3-pointer from Eli Carter less than two minutes later.
The lead grew and grew and grew from there.
The Gators never let up and doubled the Dolphins at 62-31 when Finney-Smith connected for a 3-pointer with 10:44 left in the game. The 28-7 run to open the second half erased any doubt whether Donovan's halftime message got through.
"It feels good. It's a step in the right direction," center Jon Horford said. "Guys are really buying into the process."
The 45-point win is Florida's largest margin of victory this season and the dominant second-half performance was a good way to launch into a five-day break from games. The Gators don't play again until Saturday against Wake Forest in the Orange Bowl Classic in Sunrise, Fla.
They will use this week to finish finals and try to build on their modest three-game win streak by improving at practice.
"We certainly did a better job with our intensity level [after halftime]," Donovan said. "I was really disappointed in the first half."
Much like he has been forced to all season due to various injuries, Donovan had to adjust the starting lineup due to point guard Kasey Hill's stomach bug. Hill (photo, left) did not participate in the pre-game shootaround and his status remained uncertain until less than two hours before tip-off.
Freshman Chris Chiozza started in Hill's place and according to Donovan, looked a little nervous at the start of the game. Chiozza did not score in 29 minutes but added four assists and four rebounds. Meanwhile, Hill played 21 minutes and chipped in two points and three assists.
Finney-Smith was the leader of Florida's pack on Sunday, scoring a career-high 25 points. He made 10 of 15 shots, including 5 of 7 from beyond the arc. He added six rebounds and played with the same aggressiveness he did a year ago when he was the SEC Sixth Man of the Year.
Finney-Smith missed two games and has been slowed since suffering a pair of hairline fractures in his left non-shooting hand.
He looked like his old self against the Dolphins, exactly one month after suffering the injury on Nov. 14 in the season opener against William & Mary.
"I can say it's getting better," said Finney-Smith, whose previous career high was 22 points. "I couldn't do things I usually could do [after the injury]."
Now, Finney-Smith said he is playing with a "free mind" and can "let it go."
"For him, every day that goes by it gets a little bit better," Donovan said. "He is at least moving to a point of being healthier each day."
The same might be said of the Gators.
They are expected to have Duke transfer Alex Murphy available soon -- perhaps as early as Saturday's game against Wake Forest -- which provides Donovan with another weapon.
Little by little, the pieces are adding up. The wins should too with more performances like Sunday's.
---