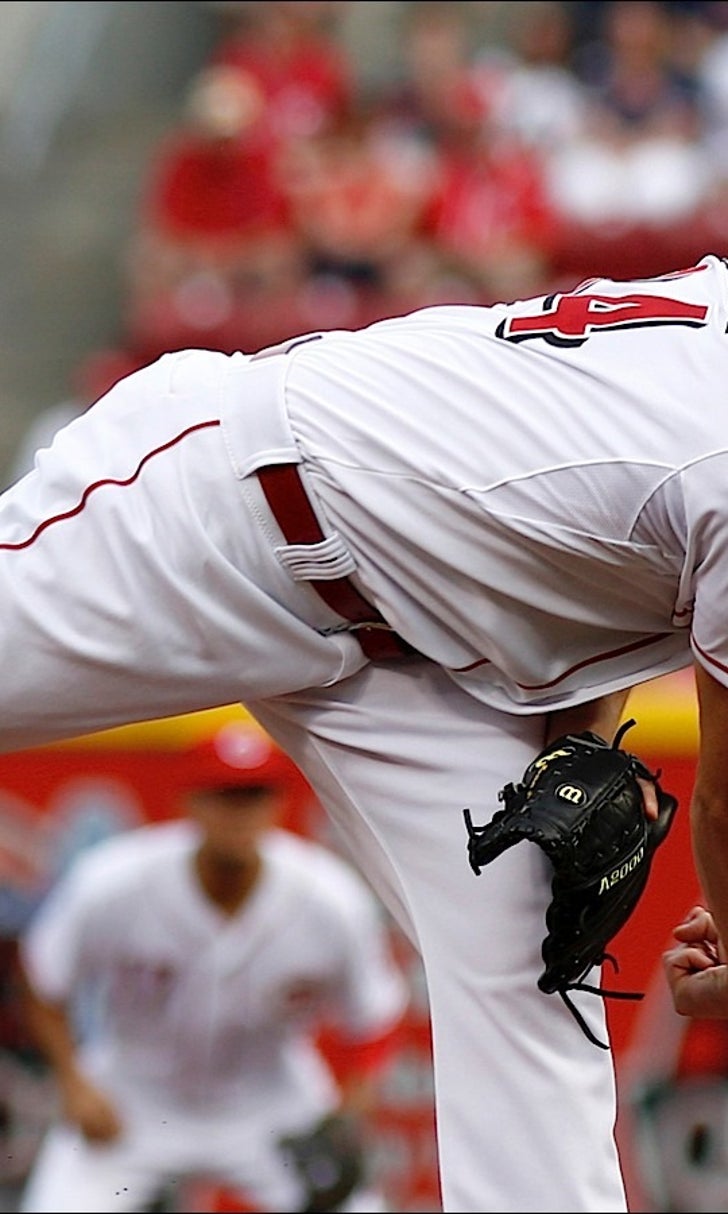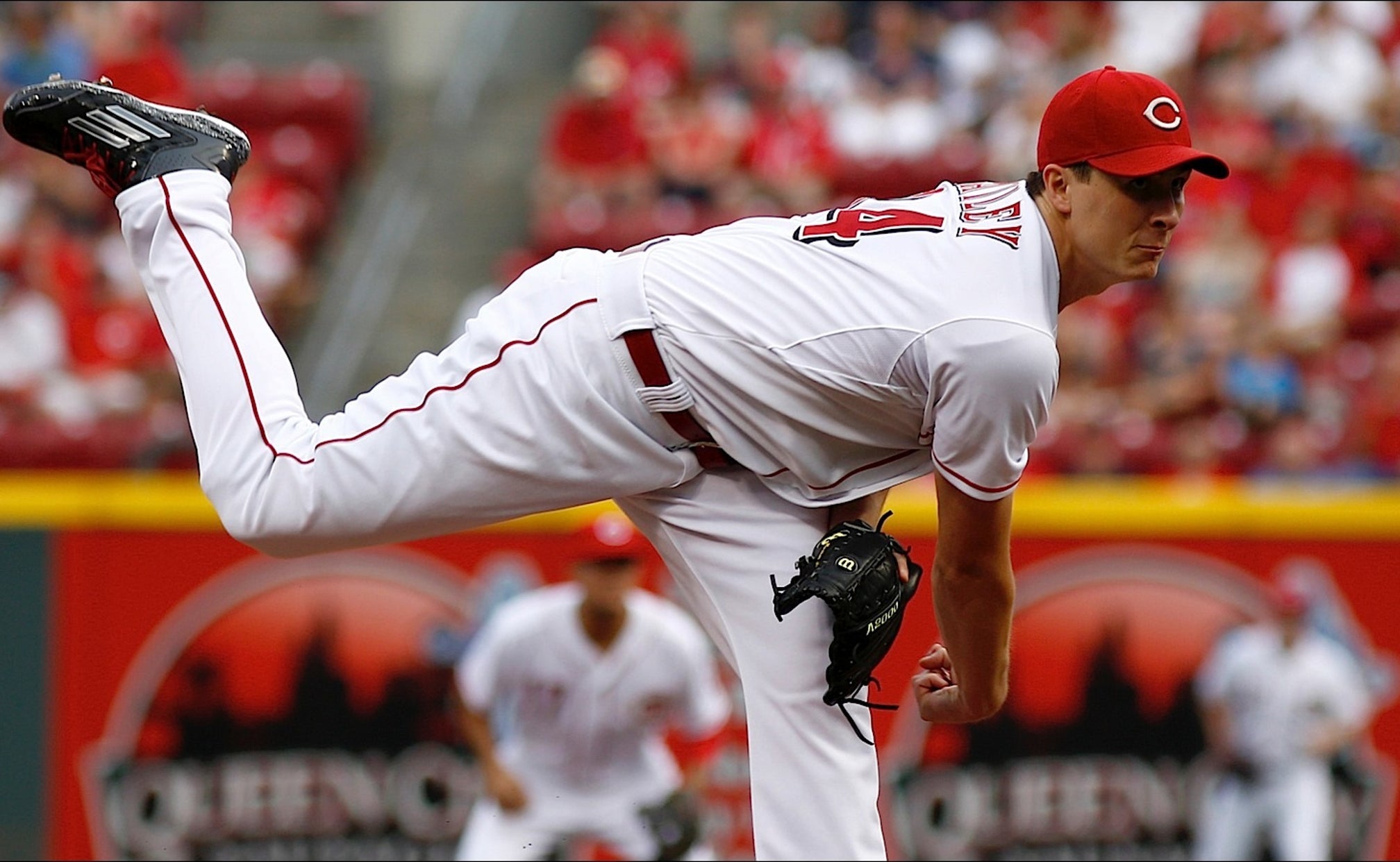 Arm injury prevents Homer Bailey from doing his three favorite things
BY foxsports • September 25, 2014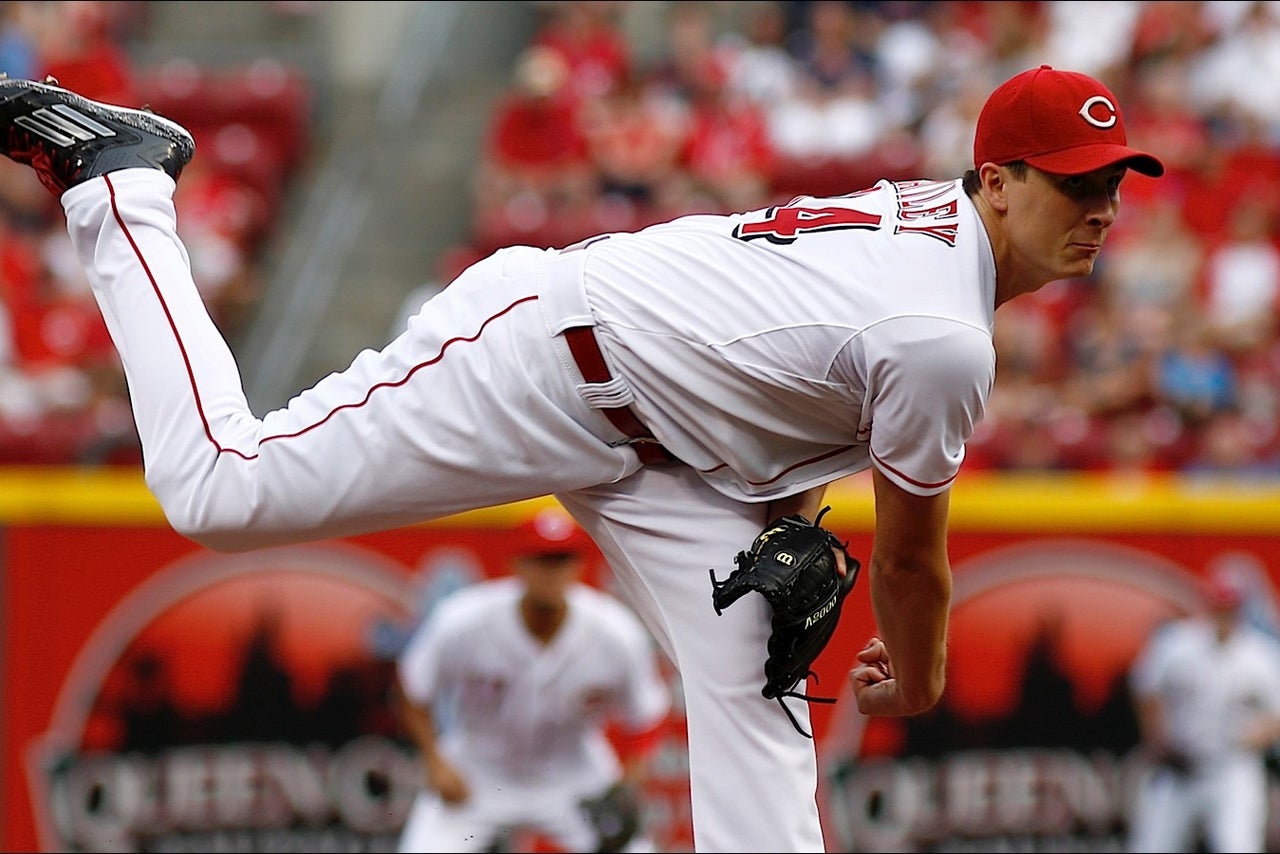 CINCINNATI -- While the rest of the Cincinnati Reds were slipping into their uniforms Thursday morning, preparatory to playing the Milwaukee Brewers, Homer Bailey sat in front of his locker in strange attire.
There was nothing strange about the black baseball cap with a cowboy on a bucking bronco on the front or the cowboy boots on his feet or the white T-shirt.
That's Homer Bailey all the way -- down home Texan.
It was the cumbersome gadget on his right arm that was strange, a high-tech alloy with a gizmo on it to dial up the degrees at which he can hold his arm.
"It's at 90 degrees now," he said, looking at the black brace, the aftermath of his right forearm surgery.
It is bad enough for Bailey that he couldn't pitch after early August, that he didn't have an opportunity to throw his third no-hitter, but he also had to cancel a postseason trip to British Columbia to go grizzly hunting with bows and arrows.
"There are three things I enjoy doing most," said the 27-year-old pitcher who finished the year 9-5 with a 3.71 earned run average. "I love throwing a baseball, hunting with a bow and team roping -- and I can't do any of them. I can't rope, I can't shoot a bow, I can't shoot a gun and I can't throw a baseball. I can't do a damn thing and I'm not able to do anything right now."
Bailey laughed and said there are two other things he can't do that he didn't think about pre-surgery: "I can't put my socks on and I can't put a pinch in my mouth."
At least he can hold his cell phone, which he was doing as he talked. He couldn't hold it a few days after the surgery. "I had it in my right hand and it just fell to the floor. I didn't have enough strength to hold it in my hand."
Bailey isn't certain what he'll do in the offseason other than the protocol to strengthen the forearm. "I have no idea what I'm going to do. If I can drive a tractor I guess I can clear some brush," he said, which would be on his father's chicken farm (a million chickens) in LaGrange, Tex.
Bailey said he did enjoy watching the surgery on DVD, "And saw what the inside of my elbow looks like. Pretty cool."
His father, the surgeon (team medical director Dr. Tim Kremchek) and Bailey watched the DVD together and his father owns the same dry humor that Bailey does.
"My father watched Dr. Kremchek put a knot in the tendon and said, 'Anglers have all those special fancy knots and what do you do? You put a simple square knot in it,'" said Bailey.
Bailey is not certain how he hurt the forearm and at first thought he might have done it swinging a bat. But he isn't sure.
"It's hard to say because in the last game I pitched I was really throwing good," he said.
Good? How about great? He pitched seven innings on Aug. 7 against the Cleveland Indians and gave up no runs and four hits while walking one and striking out eight.
"It was after about the fourth inning and I sat down and my forearm tightened up on me," he said. "I had had it before so I kept throwing and throwing. After the seventh they asked me, 'You want another one (inning),' and I said, 'No, I'm done. Something doesn't feel right.'"
The next day it still didn't feel good so they pushed a bullpen session back and pushed his next start back.
"I did some throwing in between and they asked me how it was going and I told them, 'Man, it ain't getting any better.' So (trainer) Paul Lessard said, 'I've had enough. Let's get an MRI.'" And that's when the tears in the tendon were discovered.
It isn't often a pitcher hurts his arm at home plate instead of on the pitching mound, but Bailey said, "I got a hit in the second or third inning and I think it was the next inning that it started locking up on me. So whether it was the swing or whether it was me throwing, I really don't know. But I was feeling really good just before the at-bat. All of a sudden it kicked in and I thought, 'Man, that's kid of strange.'"
Bailey said he will start throwing in December or early January, "That's the plan now. Of course, it could be sooner and it could be later, but that's the plan. We're hopeful not to miss a start next year, but realistically I might have to miss one or two. If I have to miss one or two, that's not that big of a deal. Hopefully, I won't have to miss any."
Bailey plans to follow the protocol to the letter. Why not? He can't do anything else he likes to do.
"I always try to go about things the right way," he said. "So I'll rehab extremely well and do whatever they tell me. If they want me to do more, I'll do more."
Bailey smiled at The Grand Plan and said, "That's what we plan to do. But then again I've never had a drill bit shoved into my elbow."
---