Arizona's unlikeliest hero: Long-snapper Jose Romero
BY foxsports • November 19, 2014
TUCSON, Ariz. -- When he was 16 years old, Jose Romero left his dad. He left his mom. He left his family, friends, school, football team. He left his country.
A skinny quarterback chasing a dream to play college football, Romero left behind everything he knew in Cancun, Mexico, and moved to Phoenix to live with his mom's best friend and attend Mountain Pointe High School. It didn't work out.
He stopped being a quarterback.
No school wanted him out of high school.
No school wanted him after two years at Glendale Community College.
Arizona didn't want him when special teams coach Charlie Ragle went up to give him a tryout in December.
And then, because Romero wasn't willing to give up, wanted to exhaust one final opportunity, it all worked out.
The old saying is you never notice the long-snapper until he screws up, but that's not true in the case of Wildcats junior Jose Romero, a second-string injury replacement who perfectly played his part in Arizona's 27-26 victory over Washington on Saturday.
Coaches credit his snap for nicely leading kicker Casey Skowron into an 18-yard run around right end for a touchdown on a fake field goal, and then, with the game on the line, Romero fired the ball on the money to holder Drew Riggleman, who placed it for Skowron to boot through the uprights from 47 yards on the final play.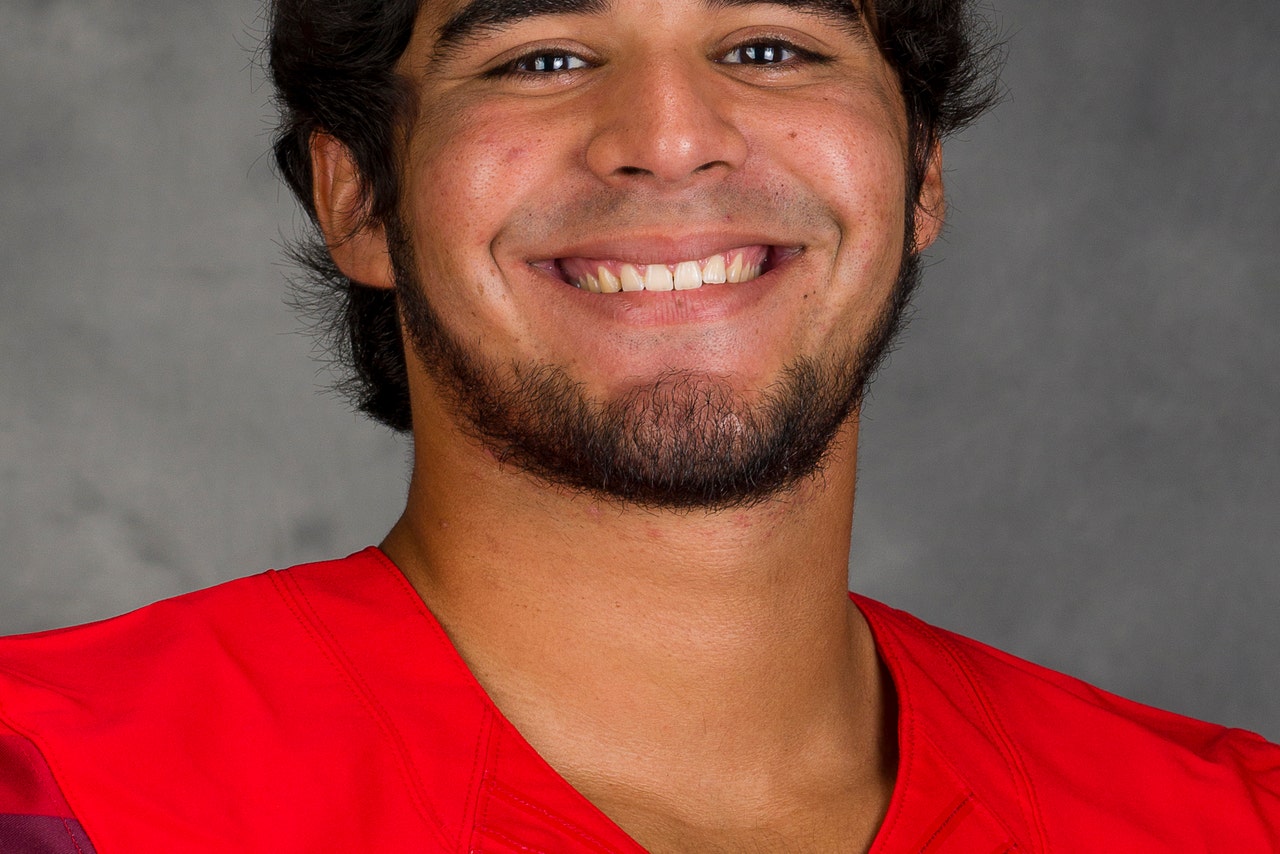 Arizona long-snapper Jose Romero
"After he kicked it, I turned around and looked at him," Romero said. "Drew was already hugging him and coach (Rich Rodriguez) was already running onto the field. I just kind of looked up into the sky and I was like, 'Thank you for the opportunity to be in this situation.'
"I didn't even run or hug Casey until after. I was kind of thinking of how grateful I was to be in that position and how happy that I got the chance to play. Every play that I get to play is the best for me. It means a lot to me because I came from a long ways."
Romero grew up playing football in Mexico, coached by his dad, who played semi-pro ball in the United States.
"I played football for 10 years and then my dad basically told me that if I wanted to keep playing football at the next level, I had to leave Mexico," Romero said.
While it was his decision to leave home, his football path ultimately was guided by serendipity.
"Our long-snapper (at Mountain Pointe) actually messed up in a game, and that Monday when we came back to practice, I was in the locker room, saying how mad I was because we messed up on a special teams play and it cost us the game," Romero said.
"Coach overheard me, and he said, 'If you think you can do better, I want to see it.'"
Challenge accepted. Romero tried it. He was pretty good at it. His quarterback days were over.
But it's not as if long-snappers who weigh less than 200 pounds are in high demand for college scholarships, so that was nearly the end of the road. At least until former Arizona State and NFL kicker Luis Zendejas, given a heads-up from another former ASU player with Mexican heritage, brought Romero to a tryout at Glendale Community College.
"He was really good," said Gauchos coach Mickey Bell. "And, by chance, we needed a long snapper."
Two seasons at Glendale went well enough for Romero, but it looked like another dead end after last season. The Glendale staff, which has already sent a few players to Rodriguez, called Ragle to ask if he would come up and give Romero a look.
"But our season had been over and Jose hadn't snapped in a month," Bell said. "He snapped terribly, and Ragle said, 'He can't snap for us.'"
At that point, Romero sought a final piece of advice.
"I had to ask my junior college coaches their honest opinion if they thought I could do it," Romero said. "If not, I would have been like, 'You know, I'm done.'"
Instead, Romero enrolled at Arizona at the winter break and dedicated himself to practicing. He pleaded with and dragged friends to near the student union to catch his snaps. This was Romero's last chance. He attended an open walk-on tryout before spring ball.
Pressure? Forget a last-second snap. Pressure was putting the last of your dreams into a longshot walk-on tryout.
"It's just whoever shows up," Rodriguez said. "It could be someone who never played football ... or maybe they were in a band or something."
Romero went and he waited. And waited. And then the phone call with the good news. He had made it.
"That was probably the most nervous I have ever been in my entire life," he said of the phone call. "It was that moment of not knowing whether I was going to be able to do what I love for the next two years or not. When I got that call, it felt so great. My hard work paid off."
Still, nobody outside the program had heard of Jose Romero. Did you know before Saturday he had been snapping for most of the past three games? He came in for senior Chase Gorham (abdominal strain) during the game at UCLA on Nov. 1.
"I was thinking back to when I was in Mexico, when I watched games with my dad, the big thing was the Rose Bowl," he said. "That's the thing my dad and I would really talk about -- the history of the Rose Bowl and everything. There was a lot of pressure on me, but I managed it well."
Romero continues to fill in and manage the pressure as Gorham recovers. Romero, Riggleman and Skowron worked on the fake field goal during practice last week.
The coaches called for the potential fake on fourth-and-4 at the Washington 18 late in the first half. Riggleman scouts the defensive alignment before giving the voice call to his teammates. Romero had to be prepared for a regular snap or the fake snap.
Arizona got the look it wanted to see from the Huskies. The Wildcats spotted defensive back Sidney Jones lined up on the left edge, ready to rush hard for the block and ignore the snap. That would allow Skowron the room he needed on the outside. Sure enough. Watch the replay. Jones charged all the way to in front of Riggleman -- carrying out the fake by pretending to spin an imaginary ball -- before he even looks up and notices Skowron taking off around the right side.
The trick for Romero was to deliver the snap over the hands of Riggleman and a little to Skowron's right, allowing the kicker to take a step, catch and be on his way to the end zone. If the snap had been off target and directly to Skowron, chances are he would not have picked up the momentum to gain the edge.
"We wanted him to lead Casey a yard or two on that, and it was just right," Rodriguez said. "Almost too right."
From there, Skowron had the option to run or to pass to linebacker Derrick Turituri, running in the flat. On his own, Turituri turned and blocked a Washington player, springing Skowron to get to the front right corner of the end zone for a momentum-changing touchdown.
"I was hoping we wouldn't have to throw it, because Casey might tell you he can throw really well, but I've seen him throw a little bit," Rodriguez said. "He's OK, but he's not a thrower, he's a runner."
No argument from Skowron.
"There is so much that can go wrong with the throw," he said. "One, trusting my arm. Two, trusting Derrick is going to make the catch. When I saw that space was open, I was glad that I had the run available."
Romero's father makes most of his son's home games at Arizona, like he did when Jose was at Glendale Community College.
"My mom gets a little upset," Jose said. "She's like, 'You're not spending time with me; you're just going to see our son.' My dad loves it. He's like, 'OK, what time do I get there, can I see coach Rod, can I go into the locker room, can I take pictures?' I think he's more excited than me, honestly."
Romero's dad wasn't at Saturday's game, though.
"He pretty much called me, crying," Romero said.
The family's sacrifice led to that one moment last week when a kid who made the team in an open walk-on tryout snapped the ball to another kid who made the team in an open walk-on tryout ... and it all become football magic in an 8-2 season that continues Saturday at Utah.
"I'm doing what I love. I'm doing this to make my family proud," Romero said.
"It's been a long process, but I've been really blessed with people who support me and believe in me. Coach Ragle and coach Rodriguez, them telling me that they think I can do it, that's enough for me to keep working hard."
Follow Anthony Gimino on Twitter
---