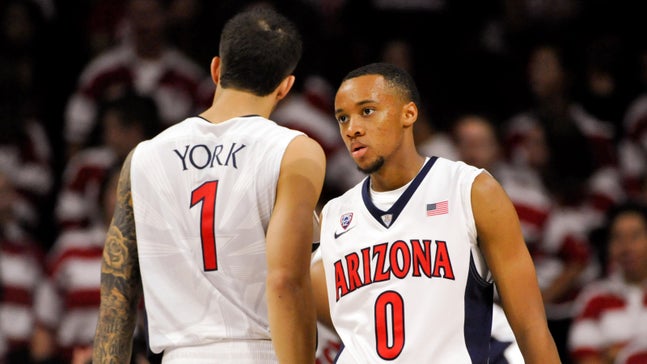 Arizona's Sean Miller alters recruiting strategy to avoid drop-off
Published
May. 6, 2015 10:35 p.m. ET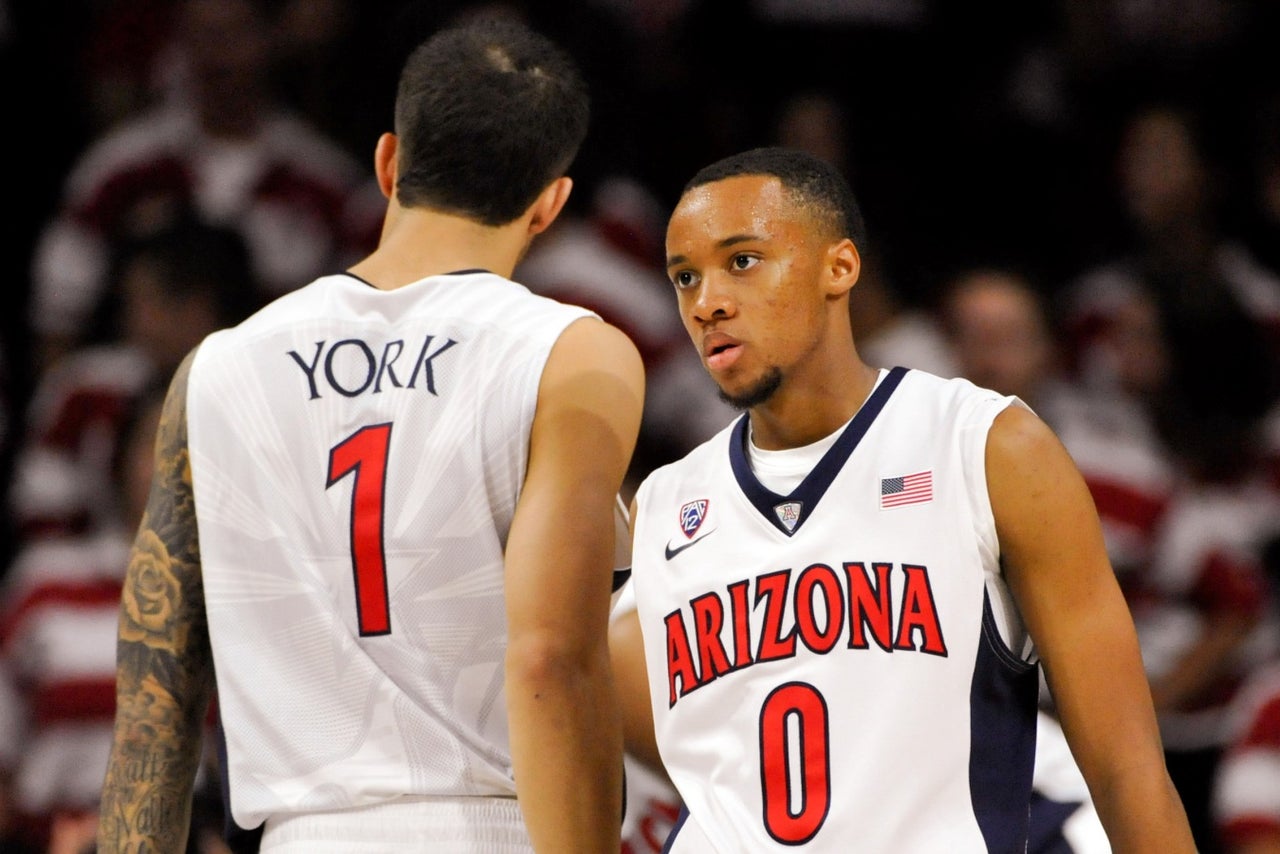 PHOENIX -- Sean Miller's recruiting success rates well because of his ability to recruit high-profile high school graduates, but he's also welcoming new ways of finding immediate success -- without devaluing how important experience plays in to winning.
"It wasn't that long ago in college sports that if you recruited well, you almost recruited less, because those players would be the pillars of your future. Now, the more talented they are, the quicker they leave. You have to adapt to it," Miller said Wednesday in a Wildcat alumni event in Phoenix.
Miller keeps recruiting top-rated high schoolers -- freshmen Allonzo Trier, Justin Simon, Chance Comanche and Ray Smith this year -- but he's also working other angles to keep his team in the upper echelon. He's hoping to avoid dips in success due to losses of one- or two-year stays by players such as likely first-round NBA draft picks Stanley Johnson and Rondae Hollis-Jefferson.
One way of doing so is taking on transfers. University of San Francisco graduate Mark Tollefsen will play immediately next season, and Arizona will also add redshirts Ryan Anderson (Boston College) and Kadeem Allen (junior college) to the mix. Anderson and Allen practiced with the Wildcats in 2014-15.
Then there's the expected improvement from players who will stick around. Gabe York and Kaleb Tarczewski will have the chance to take on much bigger roles as seniors. But the player who could take the biggest step forward is sophomore-to-be Parker Jackson-Cartwright, who'll be expected to take over point guard duties from team leader T.J. McConnell.
"I think Parker Jackson-Cartwright is going to make a lot of progress this offseason," Miller said. "He's already physically really changed. I'd say he weighs in the 160s now, whereas when he first came to the school a year ago he was in the 140s. By him just getting bigger and stronger, (with) the experience that he gained, no question he'll take a huge step up. He's not a new player but he has a chance for a larger role.
"We have a lot of players that are (already) in our program that have a chance for a bigger role."
Here's what else we learned Wednesday from Miller, UA athletic director Greg Byrne and football coach Rich Rodriguez before they met with Wildcat fans in Phoenix.
Unofficially official: ZagsBlog.com's Adam Zagoria reported Miller will be named the USA Basketball Under-19 team head coach after former coach, Florida's Billy Donovan, accepted the head job with the NBA's Oklahoma City Thunder. Miller, who served as Donovan's assistant this past summer with the Under-18 team, wouldn't confirm the report ... but sort of did. "I don't know if that's official yet," he said. "Twitter can be official but it's really not, so we'll have to wait and see on that."
Bowling in the Old Pueblo?: Arizona could feature up to four postseason college football games in 2015. Three -- the College Football Championship game, the Fiesta Bowl, and the Cactus Bowl -- are certain. A fourth in Tucson that could take place in Arizona Stadium was approved Wednesday, but the Arizona Daily Star's Bruce Pascoe reports it has a long way to go before becoming reality. "We haven't been too involved," Byrne said. "We want to see Tucson thrive. There are so many strengths of what we have in Southern Arizona. So if a bowl game is a part of that, we want to help, but it's still too early to tell whether that will happen or not."
Praise for a rival: New Arizona State basketball coach Bobby Hurley has a background similar to Miller's. Both are fiery former point guards who starred in college during the late '80s and early '90s. Both learned the trade under fathers who were well-respected high school coaches. "I know Bobby, respect him a great deal, really respect his family," Miller said. "His dad's in the hall of fame as a high school coach, and his brother Danny has done a really good job at Rhode Island. I think Bobby's work at Buffalo speaks for itself. I think we're all really excited to have him in the Pac-12."
Believing in Billy: Miller believes Donovan will do great things coaching Kevin Durant, Russell Westbrook and the Thunder. "What he did at the University of Florida over a 20-year period is a Hall-of-Fame type of career -- it is a Hall-of-Fame career," Miller said. "I think he'll pick up where he left off in coaching a great organization, and I think at a time in his career and life he's excited to do it."
NFL hopefuls: No Wildcats were selected in the 2015 NFL Draft, but Rich Rodriguez believes rookie free agents such as Austin Hill, Jared Tevis and Mickey Baucus have the ability to land on a roster. "I was rooting for our guys. I thought we had one or two who had a chance to get it. We had several guys sign free-agent deals. That gives them a shot."
Rule changes aren't as drastic: Rodriguez has been adamantly against rule changes that threaten his up-tempo system but said the discussion during Pac-12 meetings this week have been more about recruiting than on-field changes. "There are some NCAA rules coming down the road I think, involving signing day, possibly having parents ... paying for their official visits. I think we're going to have an early signing period maybe starting in the next year or so, in December."
Byrne welcomes the rivalry: With Arizona State recently hiring Hurley and adding Michael Phelps' personal swimming coach, Bob Bowman, it was worth asking Byrne how the hires are viewed down south.
"Having a good, strong rivalry is healthy for what we do. It creates interest in our programs 365 days a year," he said.
Arizona on Wednesday announced a hire of its own by hiring former Stanford gymnastics assistant coach Tabitha Yim.
"You look at her bio, you look at her experience, everything she has done in her life she has done extremely well," Byrne said.
Follow Kevin Zimmerman on Twitter
---