Arizona State loads up on elite junior-college recruits
BY foxsports • February 3, 2016
TEMPE, Ariz. -- Todd Graham's incoming class of 18 2016 football recruits at Arizona State features seven players ranked among the top 100 junior-college recruits in the nation.
All told, ASU signed eight junior-college players to national letters of intent and 10 high school players. Seven of the newcomers were mid-year signees who are already on campus and will participate in spring practice.
The biggest impact from the junior-college players will be on defense, thanks to the addition of defensive ends Dougladson Subtyl, Christial Hill and Koron Krump and defensive backs Maurice Chandler and J'Marcus Rhodes.
Four of the high school signees ranked among the nation's top-300 overall prospects by at least one recruiting service: wide receiver N'Keal Harry and defensive back Chase Lucas of of Chandler High School, quarterback Dillon Sterling Cole and offensive lineman Cohl Cabral.
Scout.com ranks ASU's class at the 36th best in the nation and sixth-best in the Pac-12 with an average star ranking of 3.33.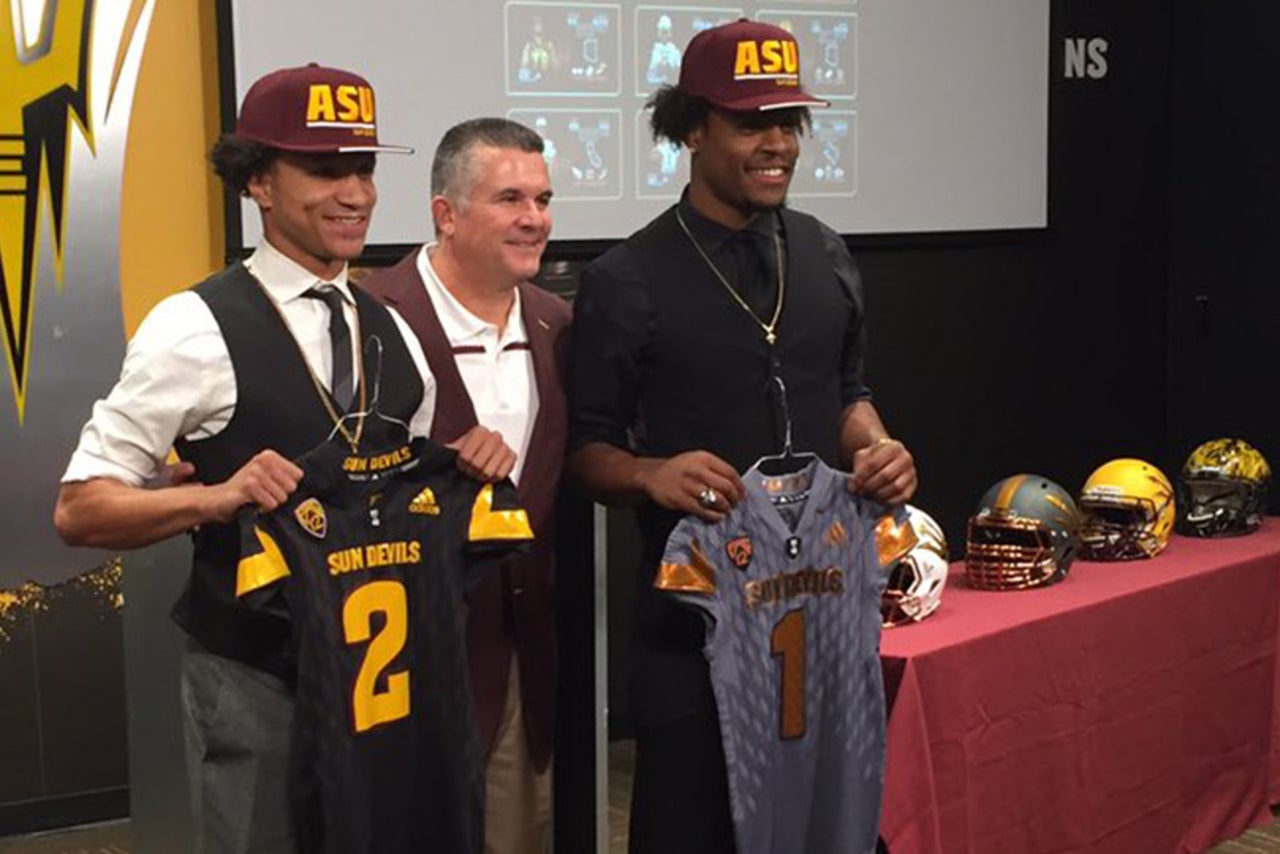 Todd Graham flanked by Chandler High standouts Chase Lucas and N'Keal Harry.
Arizona State lost two of its top recruiters and three other coaches for various reasons, putting a dent in its 2016 recruiting efforts.
Despite the turnover, the Sun Devils still managed to sign all the players who previously committed, pulling together a strong recruiting class that includes one of the best receivers in the country.
"I think it speaks volumes about where our program is, the respect our program has and being able to hang on to these guys," Arizona State coach Todd Graham said Wednesday, the first day recruits can sign a national letter of intent. "I think we could have easily had a top-15 class if you don't have that, but that's just part of it."
Best in class: N'Keal Harry. Big and athletic, the 6-foot-4 200-pound Harry not only gives the Sun Devils a big-play threat, but is a local product who decided to stay in the Valley of the Sun. "I can't tell you how excited I am about this guy," Graham said.
Best of the rest: ATH Chase Lucas. Though thin for his frame -- 6-foot, 170 pounds -- Lucas can play safety or cornerback and could play slot receiver. He was a teammate of Harry's at Chandler.
Late addition: S Jack Smith, son of Sun Devils baseball coach Tracy Smith, on Thursday morning decided to flip from Northern Arizona to Arizona State. Smith was going to be a QB at NAU.
One that got away: DB Byron Murphy. The Sun Devils made a big push to get the local product, but he signed with Washington on Wednesday.
How they'll fit in: The Sun Devils have some holes to fill after a disappointing six-win season in 2015. Harry should have an immediate impact in ASU's high-octane offense and two JUCO transfers should solidify the O-line. Arizona State also took steps to shore up its pass rush and shaky secondary.
Jared Bubak, TE, FR, 6-4 230, Lincoln, Neb./Lincoln Christian HS
Cohl Cabral, OL, FR, 6-5 285, Rancho Cucamonga, Calif./Los Osos HS
Maurice Chandler, DB, JR, 6-1 190, Lawton, Okla./Lawton HS/NE Oklahoma A&M
Dillon Sterling-Cole, QB, FR, 6-3 200, Houston, Texas/Westfield HS
Koron Crump, DL, JR, 6-4 200, St. Louis, Mo./Cleveland NJROTC/Fort Scott CC
Michael Sleep-Dalton, P, SO, 6-2 210, Geelong, Australia/St. Joseph's College/City College of San Francisco
N'Keal Harry, WR, FR, 6-4 200, Chandler, Ariz./Chandler HS
Christian Hill, DL, JR, 6-6 265, Kansas City, Mo./Staley HS/Glendale CC
Chase Lucas, DB, FR, 6-0 170, Chandler, Ariz./Chandler HS
A.J. McCollum, OL, JR, 6-2 280, Beaverton Ore./Aloha HS/City College of San Francisco
Marshal Nathe, OL, FR, 6-3 290, Peoria, Ariz./Centennial HS
J'Marcus Rhodes, DB, JR, 6-1 195, Orange, Texas/West Orange-Stark HS/Kilgore JC
Tyson Rising, OL, JR, 6-5 275, Ventura, Calif./Buena HS/Ventura College
Robbie Robinson, DB, FR, 5-10 175, Hampton, Va./DeMatha HS
Jeremy Smith, WR, FR, 6-2 180, Missouri City, Texas/Fort Bend Marshall HS
Dougladson Subtyl, DL, JR, 6-4 245, Bunnell, Fla./Flagler-Palm Coast HS/Victor Valley College
Tre Turner, RB, FR, 5-10 190, New Orleans, La./Holy Cross HS
Kyle Williams, WR, FR, 5-10 175, Murrieta, Calif./Vista Murrieta HS
---