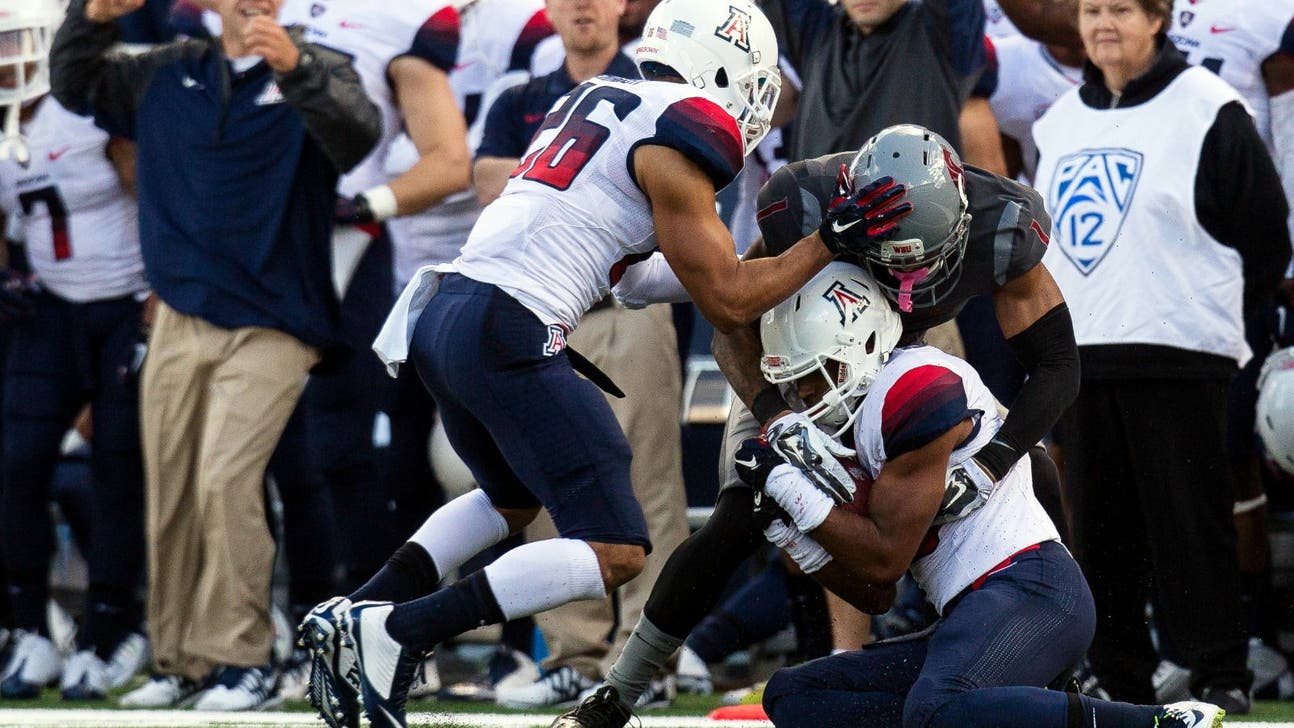 Arizona freshman Denson passes first major test at corner
Published
Oct. 27, 2014 8:14 p.m. ET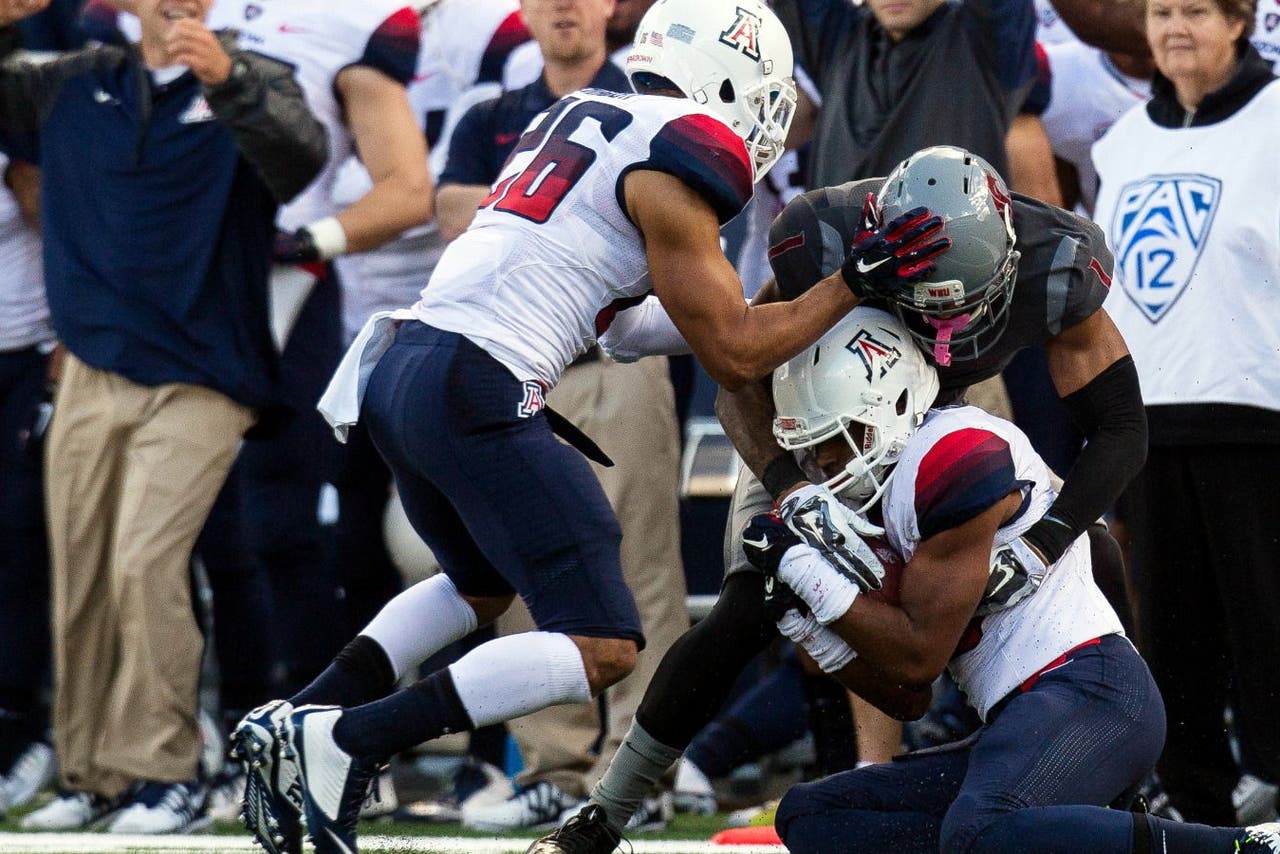 TUCSON, Ariz. -- Cam Denson, the centerpiece of the Arizona Wildcats' 2014 recruiting class, last week got his first extended chance to show what he can do.
Stepping in for Jarvis McCall, who left in the first half with an undisclosed injury, Denson made seven tackles and came up with an interception of Washington State's Connor Halliday in a 59-37 victory in Pullman, Wash.
"I thought Cam competed pretty well," Arizona coach Rich Rodriguez said on Monday.
"The interception was a tremendous play. Then he had a couple of plays where they got him, too, but he kept competing. That was the thing I was proud about. One of the things we liked about him when we recruited him was that this guy loves to compete, has great ball skills, and he could probably help us on both sides."
Denson, a four-star recruit, led Tucson Salpointe Catholic to the Division II state title last season as a two-way player as well as a standout in the return game. Arizona pegged him as a college wideout on Signing Day, but coaches placed him on defense in camp because of lack of depth at cornerback while the receiver position overflowed with talent.
"I told RichRod, if it's best for the team, I'll play corner," Denson said in August.
Good move. Although his playing time was limited through six games as the team's third cornerback behind starters Jonathan McKnight and McCall, his ability to be the next man in, without a drop-off in production, is what the Wildcats needed Saturday.
"I thought his interception was one of the bigger plays of the game," Rodriguez said.
Denson's first career interception came early in the second quarter at the Arizona 32 as Halliday tried to hit Vince Mayle near the left sideline.
"His footwork has gotten better and he's confident. He's playing like he's been there before," said senior free safety Jourdon Grandon. "That's what I've noticed. He has confidence and he has poise. He's a good athlete. Just seeing him make that back shoulder play, that was good because all week we've been working on that."
While Denson earned some trust from the coaches, the extended playing time also will provide ample teachable moments. Denson picked up second-half penalties for a personal foul and pass interference.
"He did good except for his personal foul, but that's a freshman mistake," Grandon said. "But other than that, he played excellent. To do what he did against them, it made me proud."
Arizona is 3-0 on the road, including a 2-0 record in conference play, contributing to what continues to be one of the weirdest stats in the country: The road team is 20-9 in Pac-12 games.
The Wildcats will look to keep it going Saturday when they play UCLA, starting at 7:30 p.m. in the Rose Bowl.
Parity is a partial explanation for the success of road teams, but Pac-12 coaches mostly shrug their shoulders trying to find other reasons why. For Arizona, probably like most teams, it's a matter of embracing an us-against-the-world mentality and feeding off any negative energy directed toward its sideline.
"Anytime you get a 'boo' or have stuff said to you, you should get a smile on your face rather than making it worry you because it at least means they think you're important enough to boo," Rodriguez said.
Arizona flopped against Arizona State in Tempe to end the 2013 regular season, but won conference games at Colorado and Cal before that. So, the Cats are 4-1 in their past five league road games.
"The last couple of years, there are a couple of road games where we haven't played really well, but I think our guys have taken a business-like approach, from the time we get on a plane to the time we get back," Rodriguez said. "I think that really helps."
Here's what also helps: Winning at Oregon. When a team wins at Autzen Stadium, as the Wildcats did 31-24 on Oct. 2, it fuels a belief that it can win anywhere.
"Our attitudes have definitely changed within the past year," Grandon said. "We believe that we can win anywhere against any team; it's just a matter of having the confidence."
The Pac-12 probably has more elite return men than any conference in the country -- Stanford's Ty Montgomery, Utah's Kaelin Clay, UCLA's Ishmael Adams, USC's Nelson Agholor, Cal's Trevor Davis, etc. -- and Arizona sophomore DaVonte' Neal could join that list.
He had an 81-yard punt return for a score after the first possession of Saturday's game at Washington State.
"He made the first two guys miss; we did a poor job of blocking," Rodriguez said. "And then he got some blocking on it. We've got some guys who can take it the distance if we can just help them on the blocking part."
It was the second consecutive game with a big return for Neal; he had a 43-yarder against USC. Against Washington State, the Notre Dame transfer also caught three passes for 29 yards and a touchdown, continuing to emerge after being slowed early in the season by an ankle injury.
"He loves playing," Rodriguez said. "You know his energy is always going to be there."
--Sophomore linebacker Scooby Wright was chosen the Pac-12 Defensive Player of the Week. He had eight tackles, including three sacks, and forced three fumbles against Washington State. His five forced fumbles this season are the tied for the most by an Arizona player since the school started keeping records in 1973.
--The Pac-12 announced that Arizona's homecoming game against Colorado on Nov. 8 will kick off at 6 p.m.
--True freshman Trevor Wood, recruited as a tight end, made one tackle against Washington State as a backup defensive lineman. He'll continue to work on that side of the ball the rest of the season, Rodriguez said.
Follow Anthony Gimino on Twitter
---