Arizona Wildcats
Arizona Wildcats
Arizona enjoys victory but has work to do before facing Colorado
Published
Oct. 12, 2015 8:23 p.m. ET

TUCSON, Ariz.  -- After two down weeks, Arizona was able to enjoy the spoils of victory after Saturday's 44-7 thrashing of Oregon State ... but not for long.
"There are obviously a lot of things we need to clean up and be better at," head coach Rich Rodriguez said Monday. "We are still in the same situation injury wise that we were a week ago. We have to be able to adapt to that. It was nice to get back and have a good feeling again. Guys had a good attitude all week, they had a good attitude yesterday, and now we have moved on to the challenge of Colorado."
The Wildcats (4-2, 1-2) will be on the road this week against Colorado (3-3, 0-2), which is coming off a 48-23 loss at Arizona State. Kickoff is set for 6 p.m. (Arizona time), and the game will be televised by FOX Sports     .
"They have won a couple games, but they've also been very close to beating some very good teams, especially at home," Rodriguez said. "So our guys will understand that, and we know what a challenge it is. We've got a lot of things to get better at. Defensively, we played better which is good. Offensively, we've been moving the ball, but we also had some self-inflected errors that we need to fix."
The Wildcats regained some offensive balance with the return of starting quarterback Anu Solomon. They also juggled some personnel -- giving true freshman Orlando Bradford is first extended action at tailback, and moving Freddie Tagaloa to guard and inserting Layth Friekh into the starting lineup at left tackle. The Wildcats piled up 644 yards total offense, and Bradford ran for three touchdowns.
Bradford's extended duty enabled Rodriguez to get some extra rest for banged-up starter Nick Wilson.
"He's a physical runner," Rodriguez said. "Coach Magee has done a great job with him. He has a great feel for the game, and he's faster than you think. He's going to keep getting better, he kind of reminds me of what Nick (Wilson) was last year; he's a freshmen but he's learning quickly."
Defensively, the Wildcats got a big boost from junior safety Paul Magliore, who led the team in tackles while making his first start at linebacker due to a succession of injuries.
"Paul is a great kid and competitive guy, and he is still learning, but he learned what little bit we put in and did pretty well," Rodriguez said.
The Wildcats are hoping to get starting outside linebacker Derrick Turituri back this week, but Rodriguez said All-American Scooby Wright remains out.
"He won't play this week, and I don't know what his status will be for next week," Rodriguez said. "He's progressing well, though."
---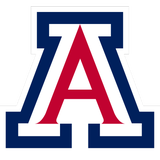 Get more from Arizona Wildcats
Follow your favorites to get information about games, news and more
---