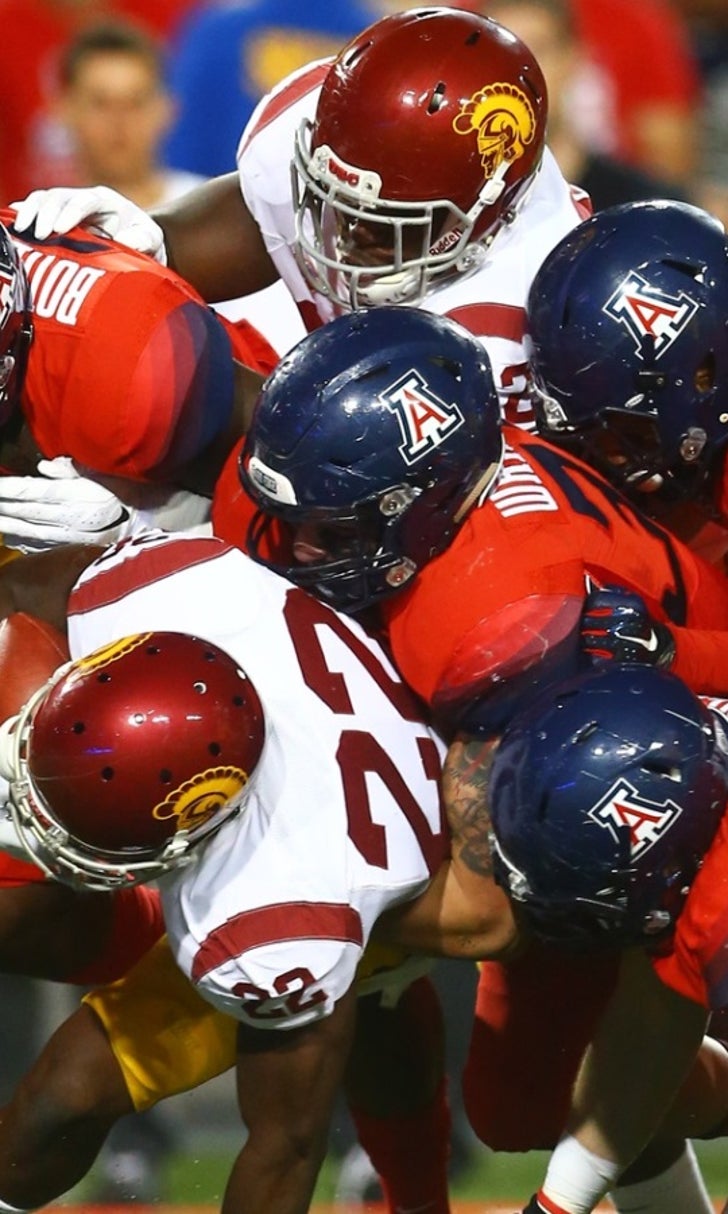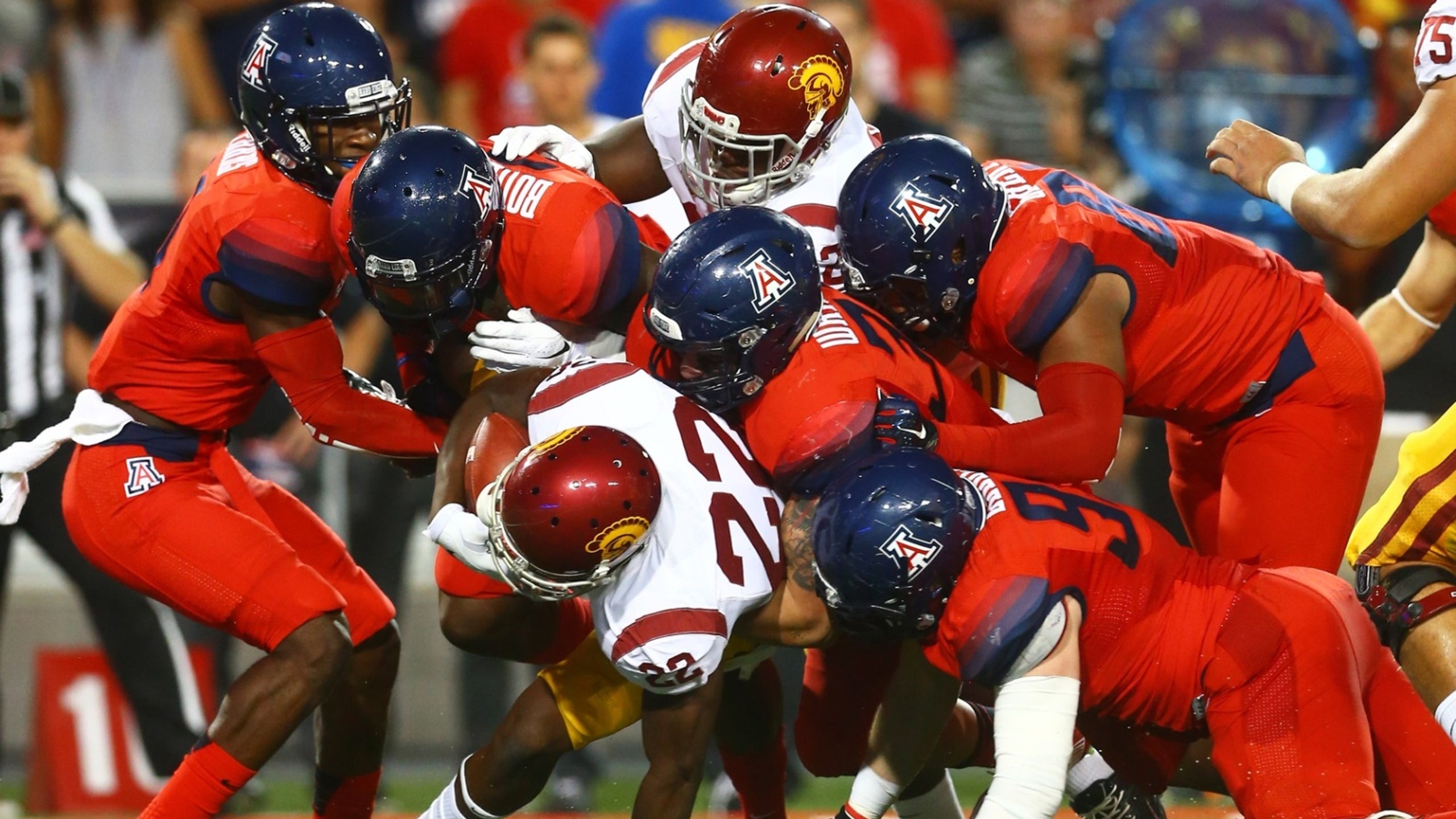 Arizona defense picked its spots in season to remember
BY foxsports • December 17, 2014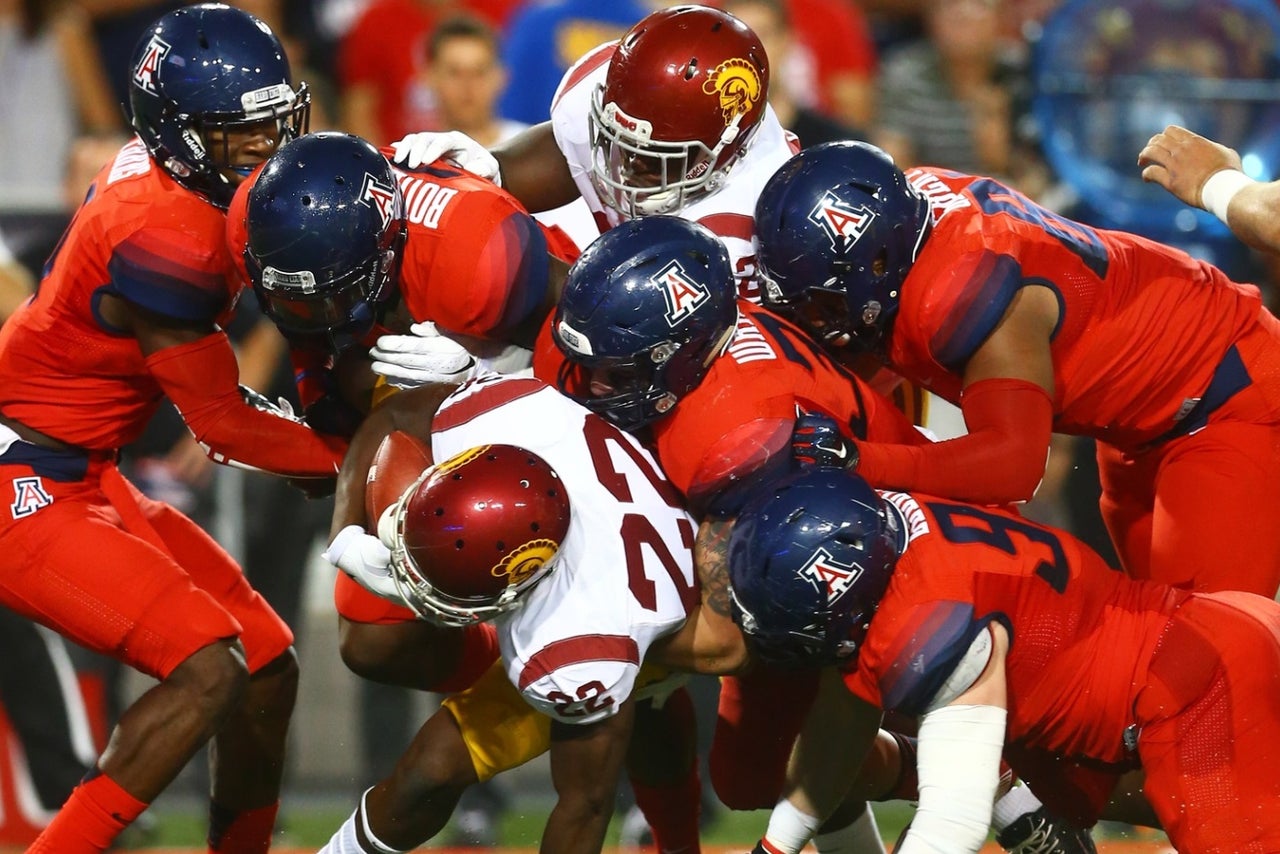 TUCSON, Ariz. -- The numbers don't tell the complete picture when it comes to the Arizona's defense.
Never mind the statistics. Call it a slow burn.
Or, as the players say, it's been "a progression."
Arizona gave new meaning to "bend-but-don't break" in that it finished 10th in the Pac-12 in total defense, giving up 469.4 yards a game. That's 33 yards more than last year's average but still 50 yards better than in coach Rich Rodriguez's first year.
And still, Arizona finished 10-3 in what will long be considered an incredible season as it prepares to face Boise State in the Fiesta Bowl on Dec. 31. For a five-game stretch Arizona gave up just 21.6 points a game. So, yards didn't mean points.
"We got better and just kept our eye on the goal this season," said All-American sophomore linebacker Scooby Wright.
This group full of questions turned into a surprising bright spot, or at the very least picked its moments to shine. Questions of the 3-3-5 scheme no longer lingered. Instead, it proved capable in the last half of the season. It was a reason why Arizona was able to stay in games and eventually pull off wins.
"People thought the defense couldn't be what it could be," Wright said. "We tried to step it up a level."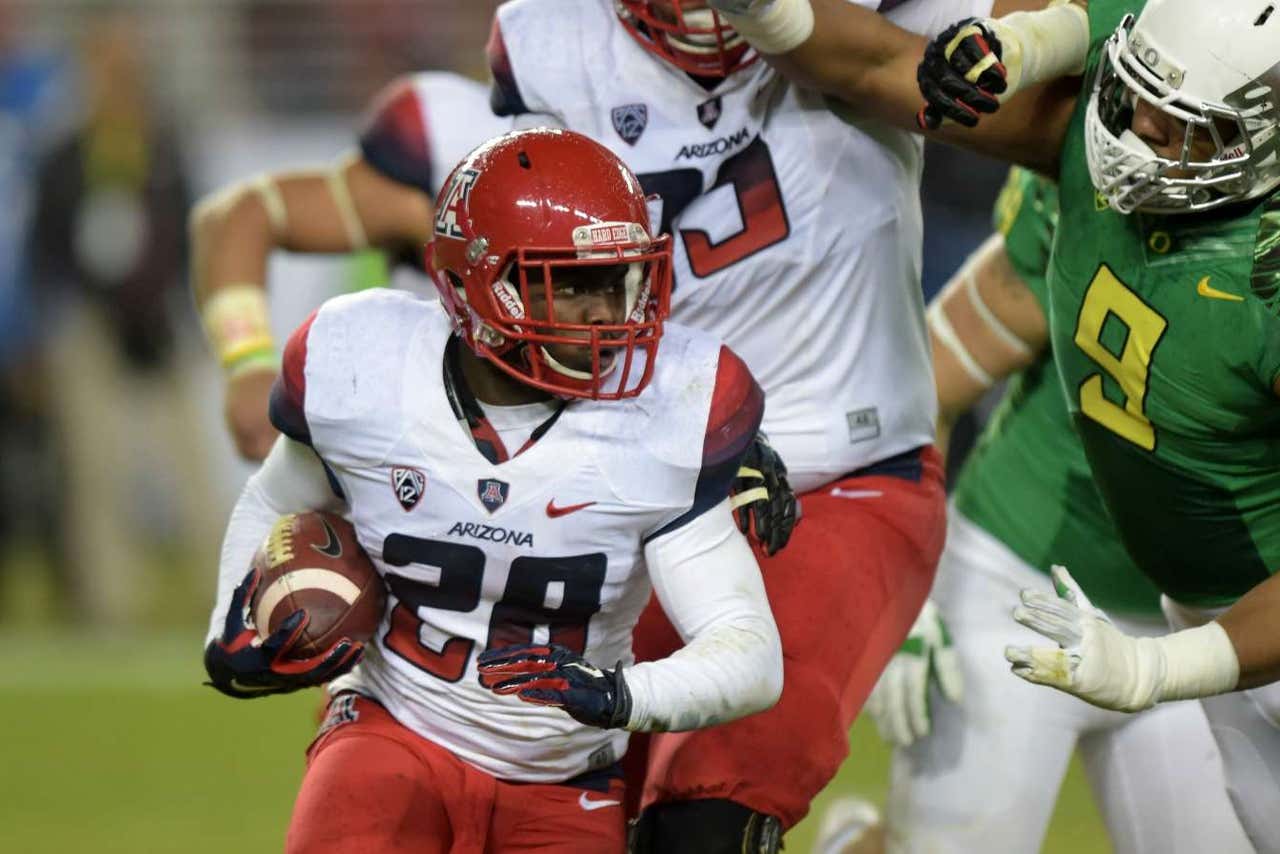 FIESTA BOWL
Arizona vs. Boise State
When: 2 p.m. Dec. 31
Where: University of Phoenix Stadium, Glendale
TV: ESPN
Arizona stifled ASU, registering 15 tackles for loss (including seven sacks). It was the most tackles for loss in 14 seasons and the most sacks in four seasons.
"It was our plan all year to be consistent all year," said safety Tra'Mayne Bondurant. "I feel we've accomplished that. We still have work to do with one game to prove ourselves. We do have some good players. And there's been an attitude that we established and now it's paying off for us."
A big reason was the play of Bondurant, who Rodriguez often likes to say started in the dog house, found himself on the porch and now is comfortably in the house.
Bondurant came in out of shape and perhaps unmotivated. But realizing football was his life and a means to a possible end, he worked hard and nearly a month and a half later, he was starting again at the linebacker/safety spot where he's been able to help Arizona's defense take on a new life.
"Football is really important to him and he's played like that," Rodriguez said. "He is playing his best football right now ... this season he's been on an upward trend all year."
If Wright has been the Arizona's cornerstone on defense, Bondurant has been Arizona's Magic Man, where fumble recoveries, forced fumbles and interceptions have become common place. It's rubbed off on the team. Before Oregon, Arizona had created turnovers in nine consecutive games and 13 in the last five games. Arizona created just two turnovers in the first three games. Arizona outscored opponents 104-35 in points off turnovers.
Tackling and turnovers was the difference, said senior free safety Jourdan Grandon.
"It became an emphasis near the end," Grandon said, of the turnovers. "We made sure made that we got after it."
Grandon called it playing with a "chip on your shoulder."
"We knew we had a lot of experience in the secondary and we knew we had the ability to make plays. But we also knew we had to pick it up and in order to be great we had to do our job. We also know that defense wins championships and that we had to do our part of it."
Wright, winner of every major national defensive player award, has helped by being all over the field.
"Man, I expected him to be dog and get after it," Grandon said, "but he's been a stud. He's been like a savage. It started in the summer and spring. People don't see what we do."
Rodriguez obviously has. Yes, he said, it's been good and it's going to "get better.
"We're still not to the point where we play as many guys (as they'd like to)," he said. "I think we will be able to do that in the next couple of years."
Follow Steve Rivera on Twitter
---