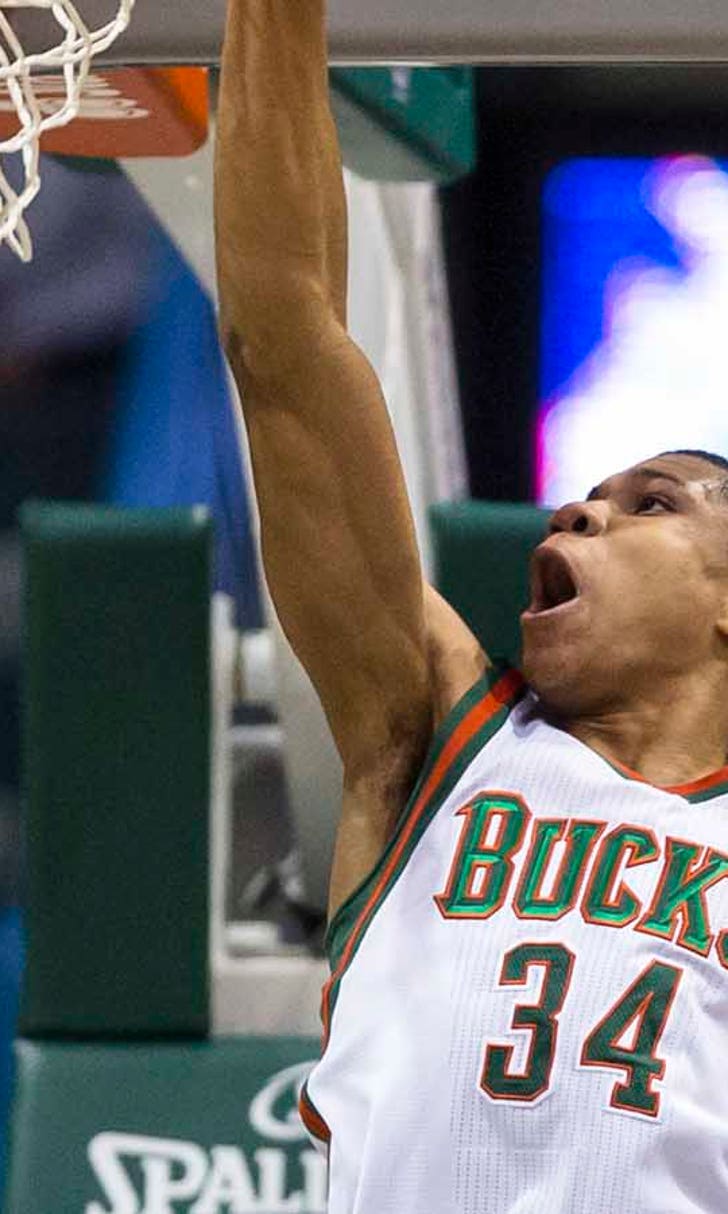 Antetokounmpo makes Rising Stars Challenge
BY foxsports • January 29, 2014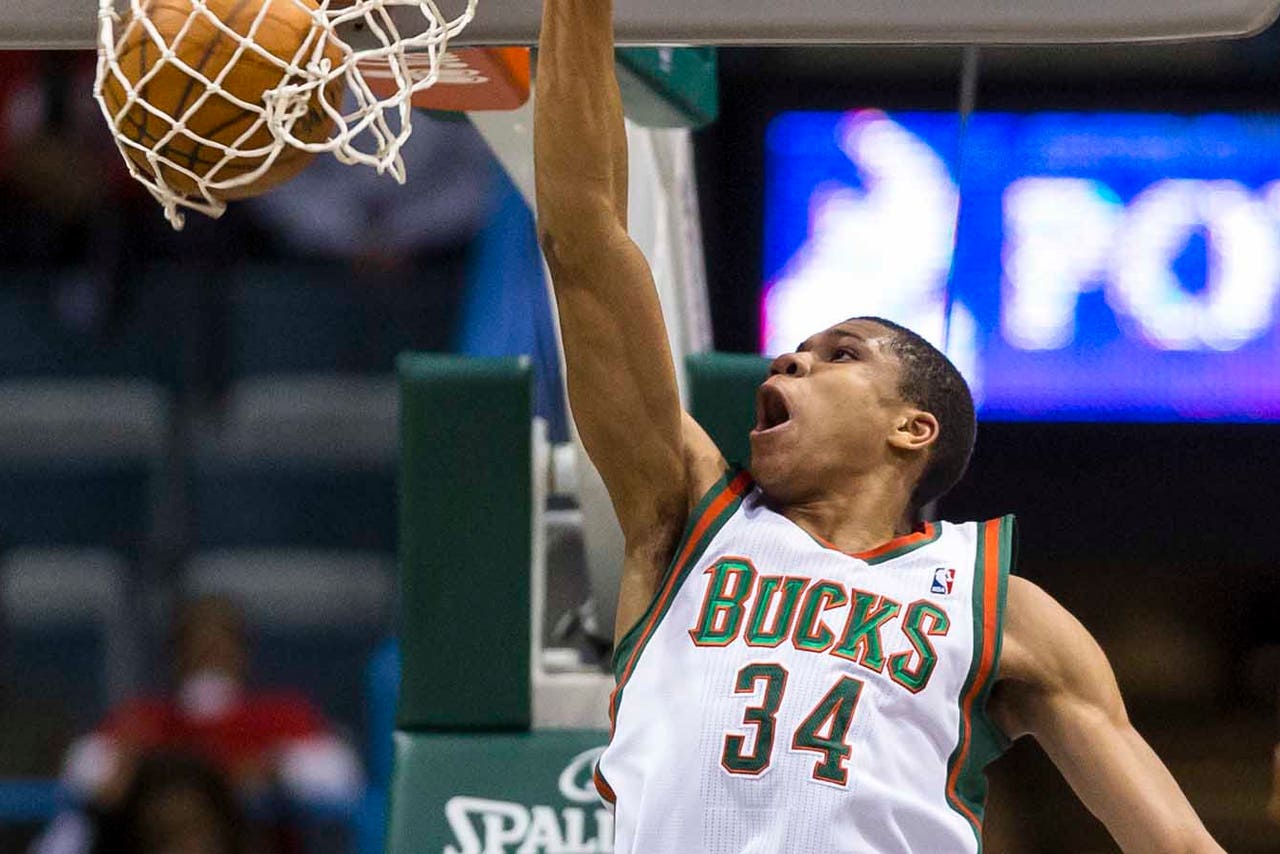 MILWAUKEE -- When Giannis Antetokounmpo first glanced at his phone Wednesday, he knew the news had to be good.
Milwaukee's rookie forward was selected to participate in the BBVA Compass Rising Stars Challenge by NBA assistant coaches as part of NBA All-Star Weekend in New Orleans. Antetokounmpo is the seventh player in Bucks history to take part in the game which began in 1994, joining Brandon Jennings, Yi Jianlian, Andrew Bogut, T.J. Ford, Ray Allen and Glenn Robinson.
"I'm really happy for the kid, I really am," Bucks coach Larry Drew said. "I don't think he quite understands the magnitude of it, but when he gets there during All-Star weekend I'm sure it will really slap him right across the face.
"He's a bubbly kid from the beginning so I think when he gets there he will feel the magnitude of what All-Star weekend is really about. When I got the e-mail I was ecstatic for him."
Nine players picked ahead of Antetokounmpo in last June's draft were not selected for the game, included No. 1 overall pick Anthony Bennett of Cleveland.
The new format of the game, introduced in 2012, includes a fantasy draft on TNT next Thursday between analysts Charles Barkley and Shaquille O'Neal to pick the two teams mixed of rookies and sophomores.
"It's my first year in the NBA, first time going to the All-Star (weekend)," Antetokounmpo said. "I wish they call me more times. (I'm excited) to just go there and play against the other guys, Damian Lillard, Anthony Davis, all those guys. Just play against them so I can see where I am, you know? How good they are and how good I am."
From where Antetokounmpo was on draft night to now being one of nine rookies selected for the Rising Stars Challenge is a significant accomplishment for a 19-year-old who hadn't been out of his home country of Greece prior to this summer.
"When I went over and saw him in Estonia (in the summer), I just thought he had a ways to go," Drew said. "Physically, I thought he was not ready for the NBA style yet. I thought the language barrier would be somewhat of a problem as well. Just learning the NBA way and the NBA lingo, I thought would take some time."
But Antetokounmpo has quickly become a fixture in Milwaukee's lineup despite being the youngest player in the NBA. He's started 20 of the 39 games he's played in, averaging 7.0 points, 4.7 rebounds and 1.8 assists in 23.7 minutes per game.
A trip to New Orleans and the bright lights of All-Star weekend will be another eye-opening experience for Antetokounmpo.
"I don't think he's going to get a lot of sleep," Drew said. "I think he'll be so excited about what's happening to him and being a part of that big weekend. I'm sure he's going to be really, really giddy that weekend. I think that's a phenomenal accomplishment for him."
Bucks second-year forward John Henson was not one of the nine sophomores chosen, even though he's averaging 12.1 points, 8.2 rebounds and is fifth in the league at 2.2 blocked shots per game.
"I think at the very beginning we all had our fingers crossed that (John Henson) would be selected," Drew said. "I think he deserved it. But as you guys know they can't select everybody."
The sophomores heading to the Rising Stars Challenge are Harrison Barnes (Golden State), Bradley Beal (Washington), Anthony Davis (New Orleans), Andre Drummond (Detroit), Terrence Jones (Houston), Damian Lillard (Portland), Jared Sullinger (Boston), Jonas Valanciunas (Toronto) and Dion Waiters (Cleveland).
Joining Antetokounmpo among the rookies are Steven Adams (Oklahoma City), Pero Antic (Atlanta), Trey Burke (Utah), Michael Carter-Williams (Philadelphia), Tim Hardaway, Jr. (New York), Victor Oladipo (Orlando), Kelly Olynyk (Boston) and Mason Plumlee (Brooklyn).
"I know that there are guys that were picked (before) me that did didn't get selected," Antetokounmpo said. "I'm really happy I made it. I just need to keep working hard so I can make it next year and then the following years."
Follow Andrew Gruman on Twitter
---