Angels' Hamilton and Shoemaker eligible for playoffs
BY foxsports • September 30, 2014
Angels' rookie right-hander Matt Shoemaker and outfielder Josh Hamilton have appeared to have made recoveries from the injuries that plagued them over the final weeks of the season.
Hamilton (chest, shoulder, ribcage injuries) participated in workouts Monday and Tuesday, taking batting practice, hitting off of Drew Rucinski playing long toss, before declaring himself available for play in the first game of the ALDS, which will start Thursday night at Angel Stadium.
Pitcher Matt Shoemaker (oblique) threw a full bullpen and said he felt no pain.
"I'd say great, but everything felt normal - which is great," Shoemaker said. "Today was a great bullpen, it felt good - that was the important part - so we'll probably take that today and into tomorrow and see what's going on."
Neither player was placed on the disabled list but both were shut down for the final days of the regular season.
Hamilton (.263 average, 44 RBI) hasn't played since September 4, trying a variety of treatments including a series of 12 injections that finally seemed to ease the tightness he was feeling in his ribcage and chest that stemmed from an earlier shoulder injury.
"I'm much more confident after yesterday's workout," said manager Mike Scioscia. "In terms of running and throwing, it was really important that he did not have any setbacks yesterday. He really swung the bat well and it was fun to watch."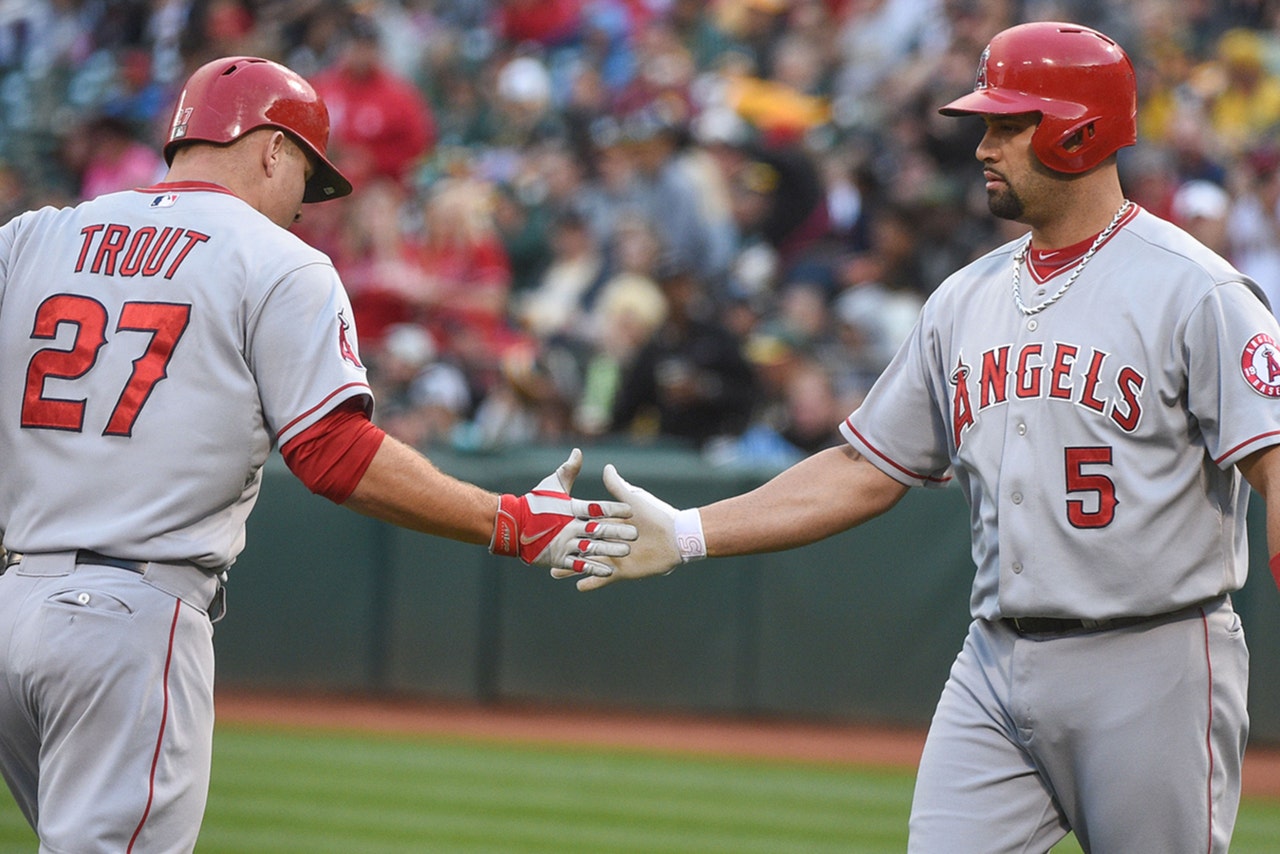 Week ahead for Angels: Playoffs begin Thursday #getoctobered
But it's Shoemaker that the Halos really need. Without him, the Angels would only have three healthy starting pitchers. A three-man rotation can be done in the shortened ALDS but lefties Hector Santiago and C.J. Wilson have struggled as of late and puts more even more of a load on the Angels' workhorse bullpen. 
Shoemaker (16-4, 3.04 ERA) threw roughly 30-40 pitches in his Tuesday bullpen session, going up and down with a break to simulate multiple innings of work. 
"There's no doubt that the way the ball was coming out of his hand was what you need from Matt," Scioscia said. "There are other hurdles, like stamina, that we're not going to be able to find it (if he can clear) before he has to pitch. But just trying to put the pieces together where we are, I think it will be a big step today, his up-down bullpen just to make sure he feels good and he isn't stiffening up after a certain amount of time."
With tightness still only a a few days ago, Shoemaker was so encouraged by Tuesday's bullpen that he has lost all fear of re-aggravatig the injury. 
The story of the year for the Halos will get to write another chapter, as the pitcher that went undrafted out of college and pitched seven seasons in the minors will finally pitch in his first career postseason game.
"It was definitely a pleasant surprise," Shoemaker said, of his recovery. "But going in the day it happened, the positive thing is that it was a blessing that it was only mild. It wasn't any more severe. I think that the fact that given what it was and its mild state, we were able to heal and knock it off very quick. Which I definitely am very happy with."
"He saved our season," Scioscia once again reiterated. "There's a lot of things that we went through after we made the turn at the All-Star break that would have sunk a lot of ships. And these guys did the things that they needed to do and it was really fun to watch."
---