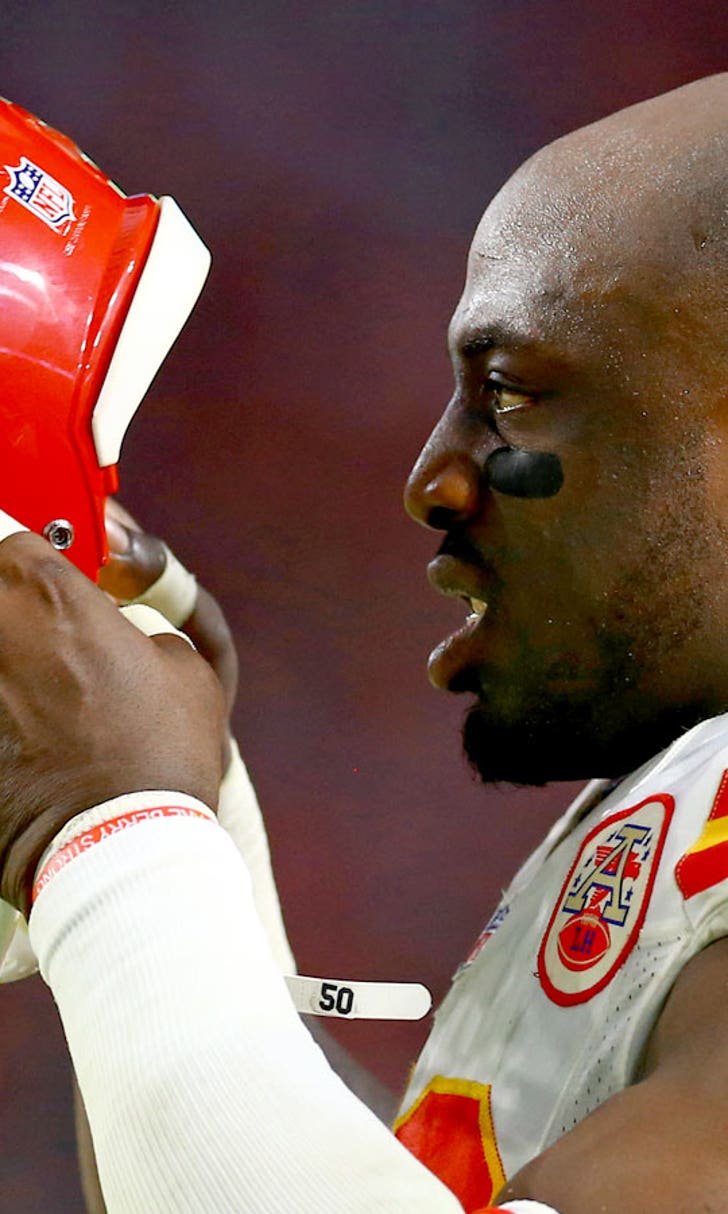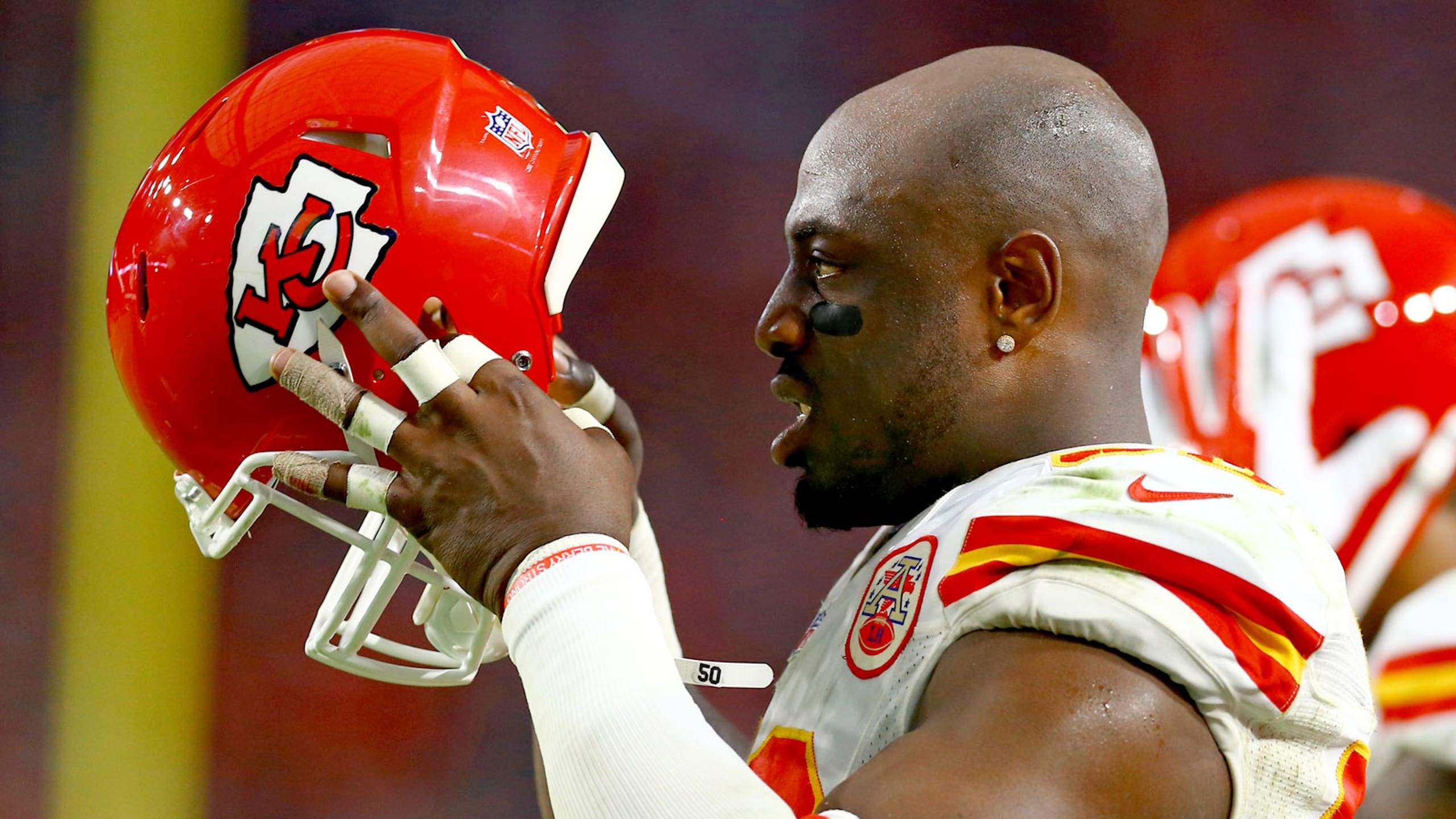 Andy Reid's got 99 problems -- but he says Chiefs holdout Houston ain't one of 'em
BY foxsports • June 18, 2015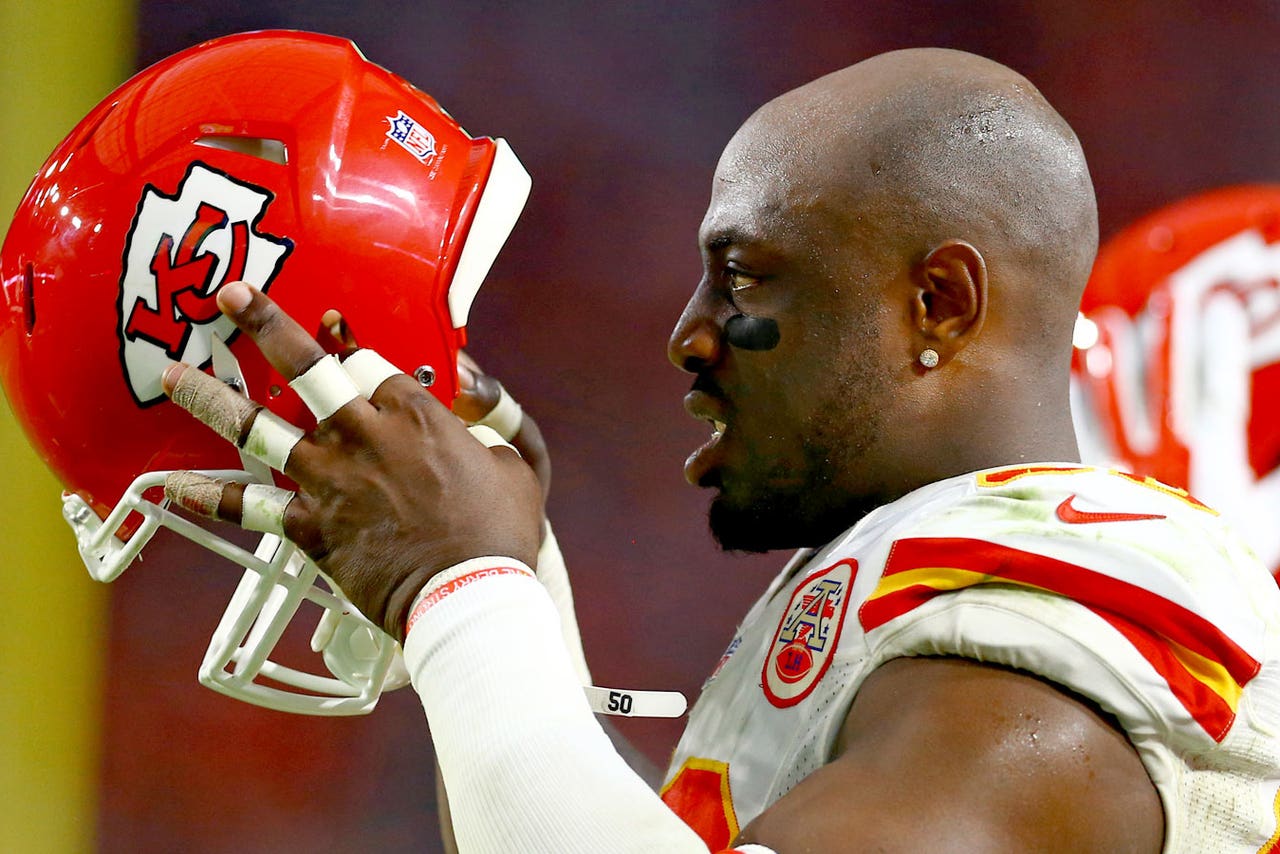 KANSAS CITY, Mo. -- Andy Reid's got 99 problems, but Justin Houston ain't one.
"Do I think he's working out? Absolutely," the Kansas City Chiefs' coach said of Houston, his pass-rushing ace, currently franchise-tagged and holding out. "That's just him by nature. He's not going to let things slide on his end."
That said, for the second straight spring, the Chiefs' Pro Bowl outside linebacker was a no-show for organized team activities and mandatory veteran minicamp, which wrapped up Thursday afternoon.
"They're continuing to talk," Reid said of Houston, who reportedly has a one-year tender on the table worth roughly $13.2 million. "Whether he's here or not (for the start of training camp), that just depends on how things go. We'll continue to move on and hope that he's here at the beginning of training camp."
Rookies and quarterbacks are scheduled to report for preseason camp at St. Joseph, Missouri, on July 28. The entire squad -- including Houston -- is expected to report by July 31.
And the next three-and-a-half weeks could get, very, very, very interesting -- or very, very, very quiet. Both sides have until July 15 to hammer out a long-term deal; if a contract agreement isn't reached by then, the outside linebacker, who notched a single-season franchise-record 22 sacks last fall, is left with only the one-year tender.
After July 15, it's largely up to him -- or rather, his camp -- when, or even if, he chooses to sign it. Players must sign by Week 10 of the regular season in order to accrue a league year toward free agency.
"I don't get caught up into that -- I never have," Reid said. "The business side of it takes care of itself, and then you move on. And the man misses (time), it's another man's reps. That's how we go, so ... there's lot of rules and regulations. I don't get caught in those, (general manager John Dorsey) does. He's got to deal with all that. I don't worry about that. I trust both sides, actually, that they'll get something done."
Reid rolled, rapid-fire, through a number of other topics before closing up shop, including ...
• Cornerback Sean Smith, who may be facing a suspension from the NFL to open the regular season and was not in attendance for the final minicamp practice: "Uhhhhh, Sean ... had a personal matter that he had to deal with. And he was excused."
• Sanders Commings, the Chiefs safety whose cousin, the Rev. Clementa Pinckney, was among nine shot and killed Wednesday at the Emanuel African Methodist Episcopal Church in Charleston, South Carolina: "First of all, thoughts and prayers go out to Sanders Commings and his family.... He's doing OK. It's a pretty big shock, that's all I can really say."
• Safety Eric Berry, whose football future -- and health -- remain in limbo as he reportedly completes treatment for Hodgkin lymphoma: "There's really no update on Eric Berry. He's having, like I mentioned, some testing done and the doctors will meet and talk it over along with Eric and his family."
• Free agent guard Evan Mathis, who played for Reid in Philly and was reportedly linked with the Chiefs: "No, we're not (going after him)."
• Center Eric Kush, who worked with the first team almost the entire spring: "He's brought energy every day. He's done a nice job with it. It's when you get into those dog days of camp, where it's hot, (you're) mentally and physically ready to become extinct, and you just kind of push yourself (through) and you have a guy who helps out there, whether you're laughing at him or listening to him -- it works either way. So he's got the ability to do that."
• Rookie cornerbacks Marcus Peters and Steven Nelson, who missed all of OTAs because of their academic calendar: "You know what? I thought they did a pretty nice job, actually. Were they rusty? Yeah. ... (When) I say, 'rusty,' they haven't even been in the place to even get rusty yet. But they're getting caught up (to) the speed of the game, which it looks like they adjusted to very well."
• Whether he agrees with quarterback Alex Smith's take that the team's passing game is as far along this spring as it has ever been: "I do. I think he's obviously in full command of it. He understands it and gets it. He has a lot of trust in the guys around him -- which is a good thing -- with some of the guys he's played with. Then the other guys, like Jeremy (Maclin) comes in, Jeremy's got experience in the offense, Jason Avant has experience in the offense. It just took them a short period of time to blend with Alex. That transition seems easy, they've really handled it right. They've got good communication between them. They're willing to talk and get on the same page, then come back and make it an even better play the next time we run it."
• Father's Day 2015, coming up Sunday: "You know, my kids were going to take me to a buffet," the coach cracked, grinning the way Santa does when he shakes his bowl full of jelly. "I'm pretty excited."
You can follow Sean Keeler on Twitter at @SeanKeeler or email him at seanmkeeler@gmail.com.
---
---