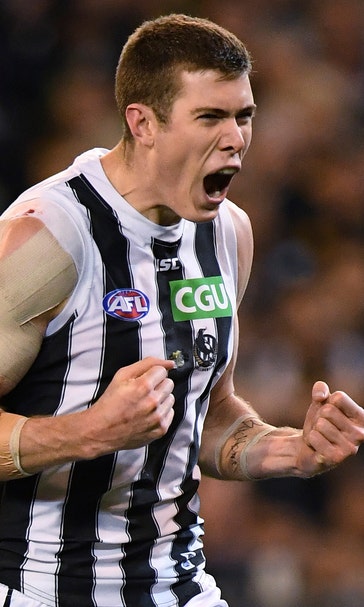 'American Pie' Mason Cox and Magpies in AFL final
September 26, 2018
The Australian Football League grand final annually attracts a crowd of about 100,000 to the Melbourne Cricket Ground — the largest single-game attendance of any sporting event Down Under.
This year the Collingwood Magpies, with a tall Texan as an integral part of the team, will attempt to win their 16th league title, tying them with Essendon and Carlton for most number of premierships. The Magpies won their last league championship in 2010.
Their opponents on Saturday, the West Coast Eagles based in Perth, Western Australia, are trying to win their fourth league title in a competition that was first known as the Victorian Football League, with its beginnings in 1896.
Here are a few other things to know about the "Aussie Rules" championship match, the league's 122nd:
ANOTHER SLICE PLEASE
Collingwood fans will be hoping their "American Pie" — 6-foot, 11-inch (2.12-meter) Mason Cox — will have another match like Collingwood's semifinal win last weekend over defending champions Richmond.
Cox kicked three goals in the second quarter — the first player to achieve that feat at the senior level of Australian Rules football this season.
The 27-year-old Cox, from the Dallas suburb of Highland Village, had his parents, Jeanette and Phil, among the crowd last weekend at the MCG, and they are planning to be there for the grand final.
Chants of "USA, USA" rang out when Cox went on his scoring spree five minutes into the second quarter that helped increase Collingwood's lead from 23 to 42 points.
Cox, who first came to the attention of AFL scouts during a league combine in Los Angeles in 2014, said it's a surreal experience to have his family watch him play in Australia.
"This AFL thing is a bit crazy for the whole family," Cox said, "and for them to be here for games like this and to experience it ... it's something that we never pictured in my life."
PYKE'S BEEN THERE
Canadian rugby union convert Mike Pyke, who helped Sydney win the 2012 AFL title, says ignorance might be bliss for Cox.
"The one thing that falls in his favor is that this isn't a Super Bowl. It's not an NBA Finals," Pyke told Australian Associated Press. "It's not a sport that he grew up thinking 'Oh my God, I hope one day I'll get there.' It's helpful to be a foreigner in that case. In some ways that is a positive thing."
AFRAID TO LOOK
West Coast midfielder Dom Sheed still hasn't watched a replay of the club's 2015 grand final flop.
Sheed was only 20 years old and on the field when the Eagles came up against Hawthorn in that year's decider, one that the Eagles lost by 46 points. Sheed has refused to watch the match in its entirety, but his position might change if the Eagles beat Collingwood.
"Nobody wants to watch a losing grand final, so I probably won't watch it unless we win one," Sheed said.
ALL-NIGHT PARTIES
The grand final begins at 2:30 p.m. in Melbourne, or 12:30 a.m. on the east coast of the United States.
Expatriate Australians in the U.S., along with American fans of the sport, are expected to once again crowd bars and restaurants across the country for what has become an annual, all-night party to watch the live telecast.
This year, the United States Australian Football League, which has 10,000 members playing on or supporting 60 men's and women's teams in the U.S., is hosting "watch" parties in at least 29 cities. That includes Detroit, home of the USAFL's Motor City Muscle, Madison, Wisconsin, where the Wisconsin Wombats play, and Dallas, home of the Dallas Magpies.
---