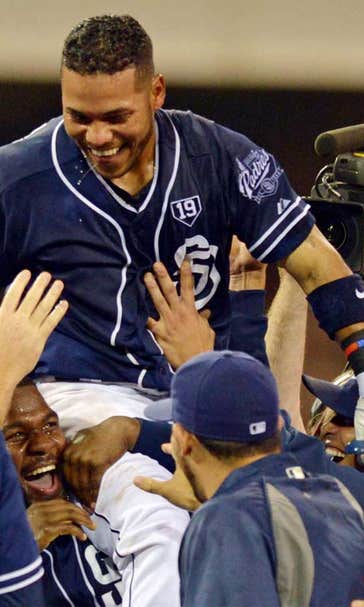 Amarista's 10th-inning single beats Dodgers
August 31, 2014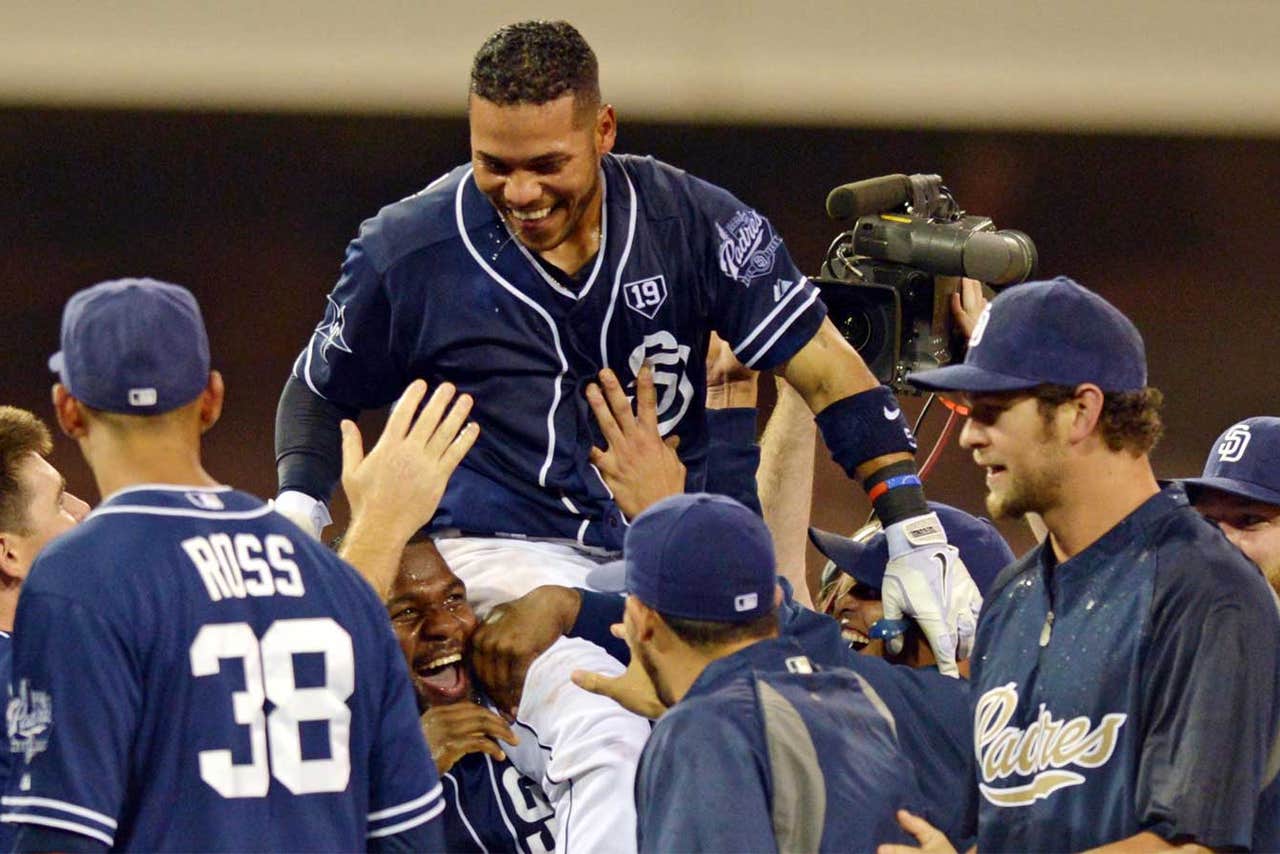 SAN DIEGO (AP) -- Padres manager Bud Black watched Alexi Amarista's winning single in the 10th inning from the tunnel behind the dugout.
Black had been ejected in the top of the inning for unloading on first base umpire Clint Fagan, who had just ruled that Yasiel Puig checked his swing on a 2-2 pitch with Matt Kemp on second and two outs in a tie game.
Things have been going the Padres' way lately. Puig struck out swinging and then Amarista lifted San Diego to a 2-1 win against the Los Angeles Dodgers on Saturday night.
For the first time in franchise history, the Padres managed to win extra-inning games on three straight days.
"That was really a critical point of the game," Black said of the ejection. "When you think about it, Yasiel Puig up, with Matt Kemp at second base, in the 10th inning. I think Todd Tichenor is one of the best umpires in the National League. The fellow at first is a good, young umpire. I thought he swung. That's the bottom line. Obviously in the heat of the moment I reacted like I did because you're trying to win a major league game and it's hard to win sometimes."
When Puig checked his swing, catcher Yasmani Grandal asked Tichenor to appeal to Fagan, who said he didn't go.
A few moments later, Fagan was tossing Black.
Will Venable started the winning rally with a single to center off Jamey Wright (4-4) and stole second as pinch-hitter Rymer Liriano struck out. Amarista then lofted a single over shortstop Hanley Ramirez, and Venable slid in headfirst just ahead of the throw.
"This is another game that sort of builds confidence for our guys and they realize we can beat a first-place team," Black said.
The Dodgers' lead in the NL West was to cut to 2 1/2 games over San Francisco, which beat Milwaukee 3-1 behind former Padres star Jake Peavy.
Tim Stauffer (6-2) pitched the 10th for the win for the Padres, who remain mired in third in the division, 11 games back.
"I think the main thing we've seen is, we're not swinging the bats as good and it goes back to giving the other guys credit," Dodgers manager Don Mattingly said. "They did a nice job with us and they always have. We have to make adjustments back."
The Padres had runners on first and second with no outs in the ninth when Yasmani Grandal lined a shot back at J.P. Howell. The reliever somehow caught the ball, turned and doubled Abraham Almonte off second. Brian Wilson came on and got Jedd Gyorko to fly out to left.
Starters Zack Greinke and Ian Kennedy both pitched well.
On June 12, 2013, Kennedy, then with Arizona, was one of six players and coaches ejected after a brawl with the Dodgers. Kennedy hit Puig and Greinke with high pitches.
Greinke held San Diego to one run and four hits in eight innings. He struck out eight and walked two.
Kennedy went seven innings, also allowing one run and four hits while striking out eight and walking three.
Kennedy doubled into the gap in right-center with one out in the third to bring in Rene Rivera and give San Diego a 1-0 lead. Rivera was aboard on a leadoff double down the left-field line.
Adrian Gonzalez tied it with a drive into a party deck on the right-field wall with two outs in the sixth. It was his 19th homer.
Gonzalez extended to 61 his record for home runs at Petco Park. He hit 47 when he was with the Padres from 2006-2010.
Puig was back in the Dodgers' lineup a day after being benched because Mattingly felt the outfielder was frustrated. Puig struck out in his first two at-bats. In the sixth, he lifted a high fly ball to deep center field and flipped his bat, thinking it was a home run. Instead, it was just another long fly ball to the fence at spacious Petco Park.
TREVOR TIME
Before the game, Trevor Hoffman was inducted into the Padres Hall of Fame. When he retired after the 2010 season, Hoffman was baseball's career saves leader with 601, 552 of them in 16 seasons with the Padres. He is currently the Padres' upper-level pitching coordinator.
LATE HEROICS
The Padres have won in their last at-bat in three straight games. It's the first time they have accomplished that feat since they did it four straight times from April 13-16, 1986.
TRAINER'S ROOM
Dodgers: LHP Hyun-Jin Ryu is scheduled to come off the disabled list and start Sunday's series finale. He has been out since Aug. 14 with a strained right hip.
Padres: Black said closer Joaquin Benoit will be sidelined because his right shoulder is sore again. He recently went 11 days between appearances because of soreness.
UP NEXT:
Dodgers: Ryu (13-6, 3.28 ERA) last pitched in a loss at Atlanta on Aug. 13, allowing three runs in 5 2-3 innings.
Padres: Eric Stults (6-14, 4.63 ERA) has allowed two or fewer earned runs in 10 of his last 12 starts.
---