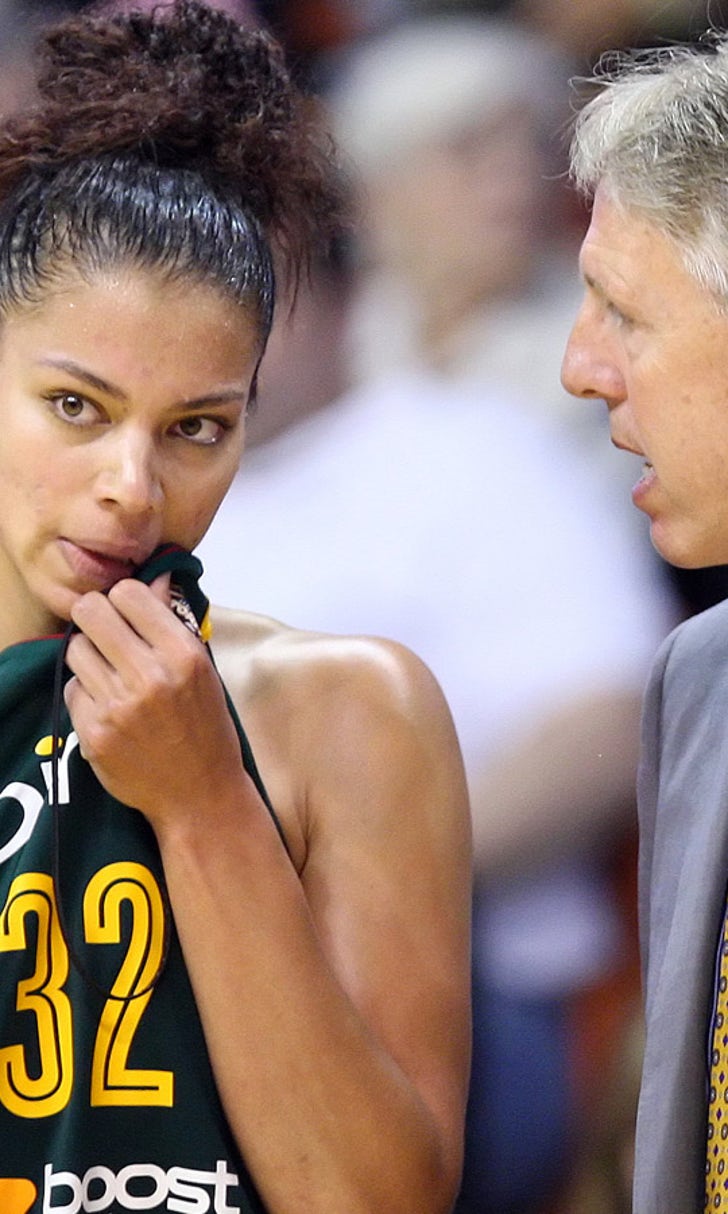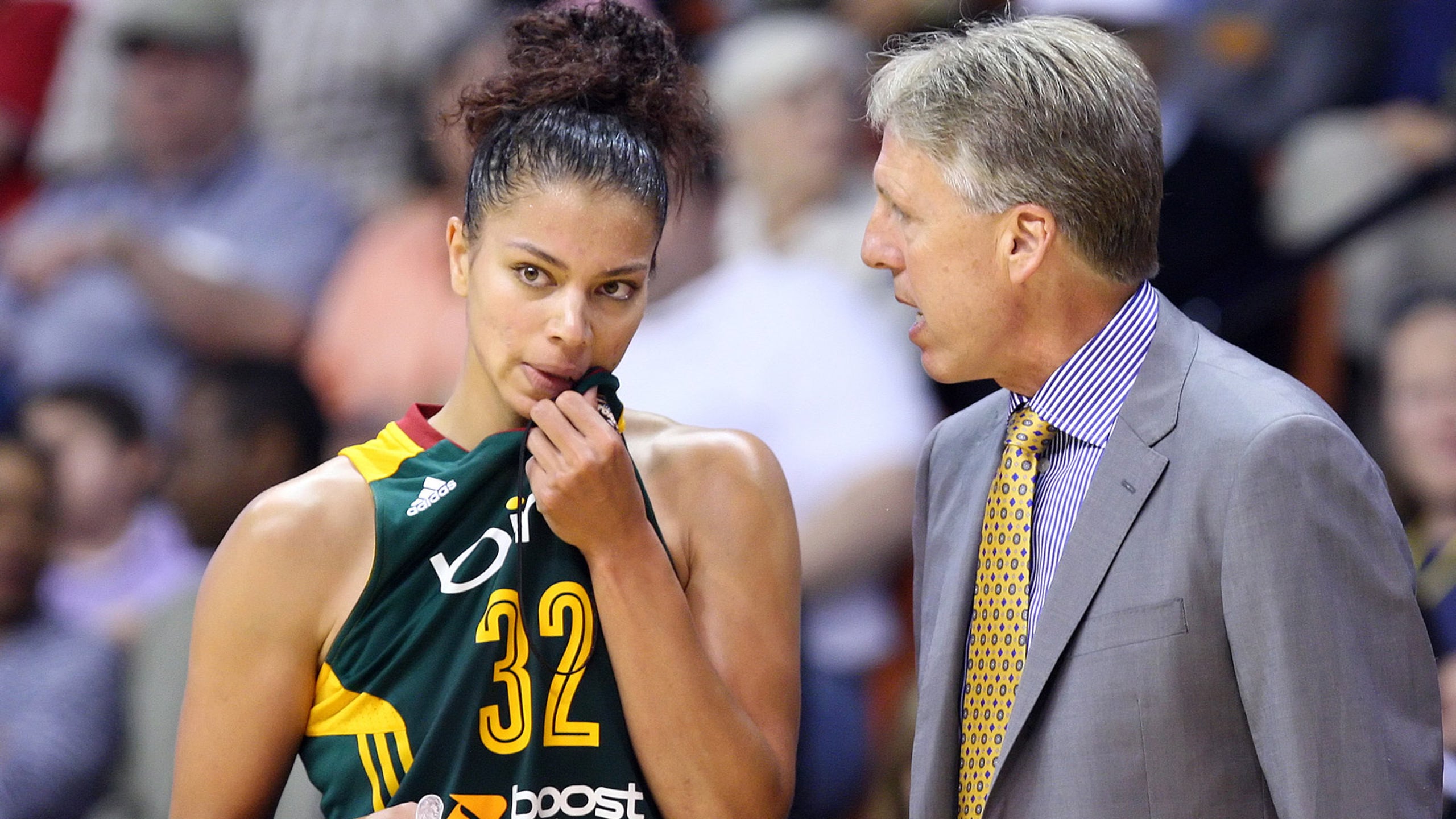 Alysha Clark doubling as WNBA player, college coach
BY foxsports • January 23, 2014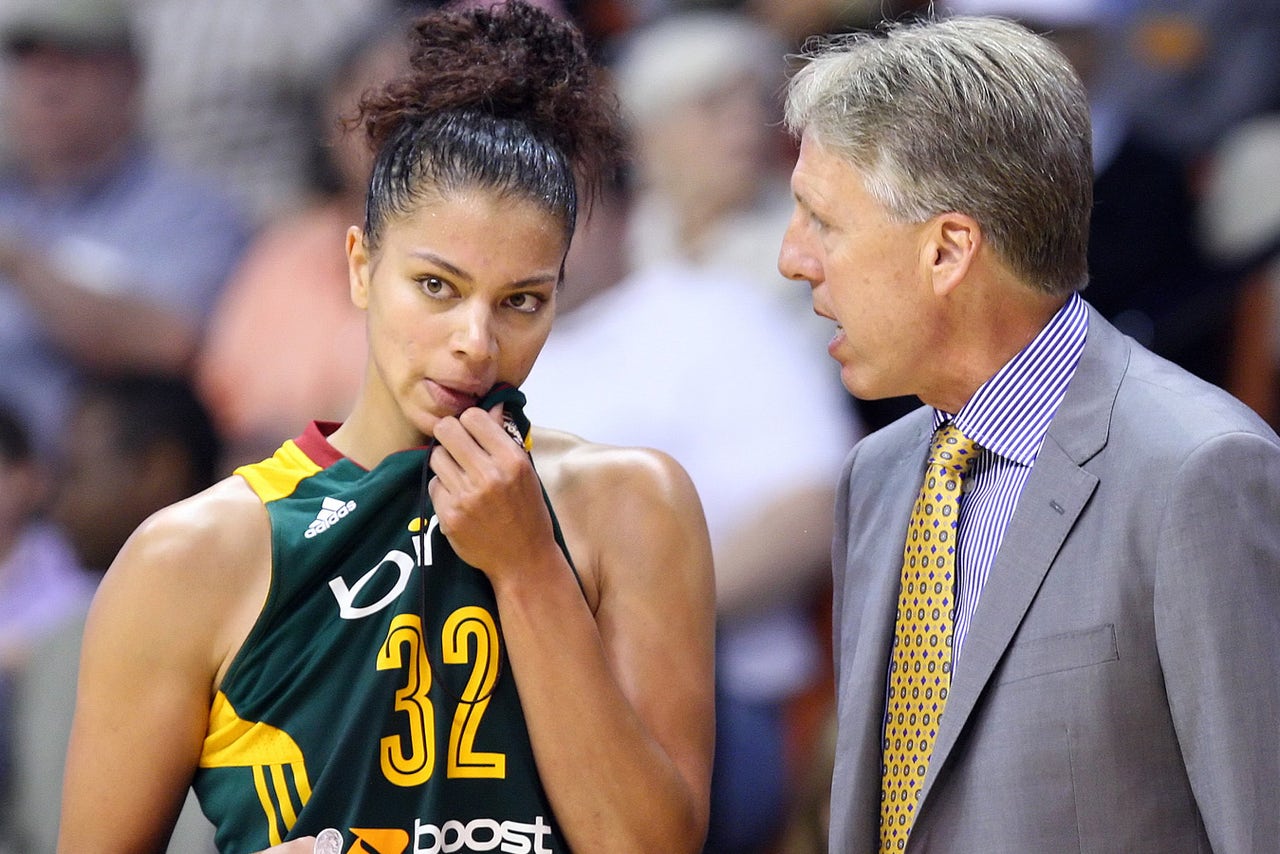 MURFREESBORO, Tenn. -- Is Alysha Clark a professional basketball player who just so happens to also be a college basketball coach, or is Clark a college basketball coach who just so happens to be a professional basketball player?
"It's probably a little bit of both," she said of balancing a budding career that includes playing for the WNBA's Seattle Storm while also being a member of the women's basketball staff at her alma mater, Middle Tennessee.
"I'm still trying to find that identity, I guess," she said. "So, I am kind of an athlete and a coach."
Prior to finishing her second season with the Storm, Clark was approached by Lady Raiders coach Rick Insell and with the blessings of the Seattle front office and coaching staffs, Clark accepted and joined the MTSU team once the Storm were eliminated from the WNBA playoffs in late September.
"It's a great opportunity," Clark said of coaching the Lady Raiders, for whom she played two seasons after transferring from Belmont. "I have always thought about coaching. I coached AAU when I was in high school and college.
"People always said I would be a great coach. I wanted to see if this is something I do want to do. I couldn't pass up this opportunity to be back home at MTSU and learn from coach Insell, who helped me get to where I am."
After splitting her college career with two seasons at Belmont and two more at MTSU, where she was twice named Sun Belt Conference Player of the Year, Clark finished fourth in NCAA women's basketball history with 75 double-doubles and 12th all-time in scoring with 2,852 points. She led the nation in scoring her senior season at 27.5 points per game.
In 2010, Clark was a WNBA second-round draft pick of the San Antonio Silver Stars, but didn't make the roster out of training camp. Instead, she spent two seasons playing professionally in Israel, eventually being named All-Israeli First Team and Domestic Player of the Year by EuroBasket.com.
In March 2012, she signed a free agency deal with Seattle and has played for the Storm the past two seasons. She notched a career-high 12 points in Seattle's playoff opener this past season against Minnesota after notching 11 points in the team's regular-season finale against Tulsa.
"It's a tremendous opportunity for Alysha to not only get into the coaching profession, but to get the opportunity at her alma mater," Storm head coach and general manager Brian Agler said. "Rick Insell has a great program at Middle Tennessee State University, and Alysha will be a great addition to his staff.
"If Alysha brings her passion, knowledge and work ethic to the coaching profession, she could turn into a great coach."
This past season for the Storm, Clark -- a 5-foot-10 forward -- ranked fourth in the WNBA in 3-point field goals per 40 minutes (2.2), seventh in defensive rebounds per 40 minutes (10.9) and 13th in efficiency ranking per 40 minutes (19.6).
Making the change from professional player who's on her own while away from the team to the time-demanding role of being an assistant college coach has taken some adjustment on Clark's part.
"It took me a while the first half of the season to kind of just get adjusted," Clark said. "It's time consuming. There are other things than just basketball that you have to deal with in terms with the girls off the court, academics, recruiting.
"As a player, I can understand that, but you don't really know how much goes into it. And so, just being here in the office in the morning, it's getting accustomed to pro time to coaching full time."
For the Lady Raiders, who are 16-3 overall and 5-0 in Conference USA play, she has played a key role in helping coach a team that has won 15 straight games, including Wednesday night's 60-41 win over Texas-San Antonio.
"Alysha brings her enthusiasm and her personality to the staff," said Insell, whose team has made the NCAA tournament seven of eight years. "Her relationship with the girls is outstanding. That's something that is very important.
"And the best thing about Alysha is that she is genuine."
While in college, Clark was an undersized post player, allowing her now to relate to Lady Raiders star Ebony Rowe, also a smaller post player who is eight points away from being the school's all-time leading scorer.
"Oh, my gosh, it has been amazing," Rowe said of being coached by Clark. "I have gotten so much. Her experience in playing basketball professionally, and the fact she played here and played my position, so she literally understands everything I am going through.
"She has an amazing way to getting through to us. She has a perfect balance. She is still close in age to us, but still demanding respect and getting us to perform how she wants us to perform."
With her bachelor's degree in electronic media journalism, Clark also has set sights on another career beyond playing professionally and coaching. She wants to enter sports broadcasting at some stage of her career.
"That is another passion that I have, writing and telling a story," said Clark, who also is a professional model, but has put that on the shelf for now. "I have so many thoughts. I'm 26, and I don't really know which direction I am going. Right now, I am just trying to take it one step at a time.
"But broadcasting is definitely something that I would love to do, especially for women's basketball. That is something I know. I may not know a lot about all the other sports, but definitely women's basketball is something I would absolutely want to do."
Following the current college basketball season, Clark will soon turn attention back to her WNBA career. Seattle training camp begins April 27 for a season that starts some three weeks later.
In the meantime, she's busy trying to help the Lady Raiders win a C-USA championship in their inaugural season in the league and return again to the NCAA tourney.
"I am like a sponge," Clark said of her rookie season of coaching on the collegiate level. "I am soaking everything up, just like I was playing. I do the same thing as a coach."
She's also getting first-hand experience of the demands that go into college coaching, which will give her better insight should she want to make it a long-term professional commitment.
"I told Alysha she might decide after one year that it might not be for her and she might not want to coach," Insell said. "She is learning how much goes into it. Some people get there and say it's not worth it.
"For Alysha, I think she's really enjoying coaching this season. We'll see where it goes from there."
---