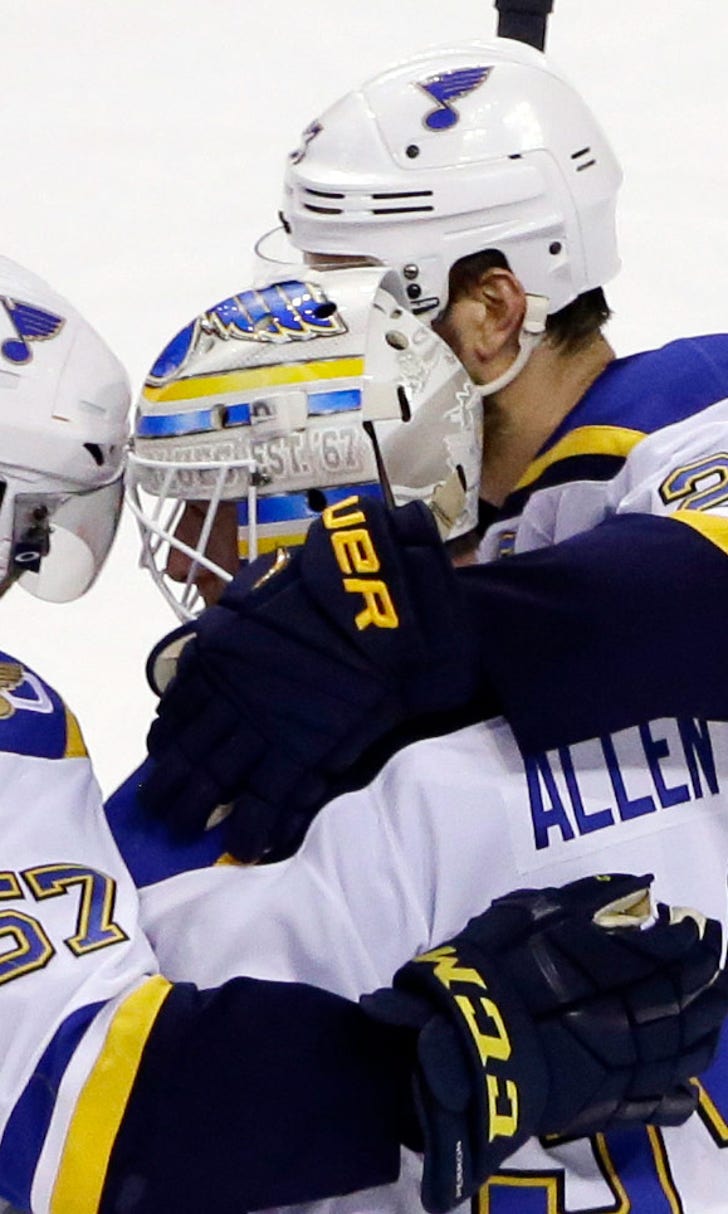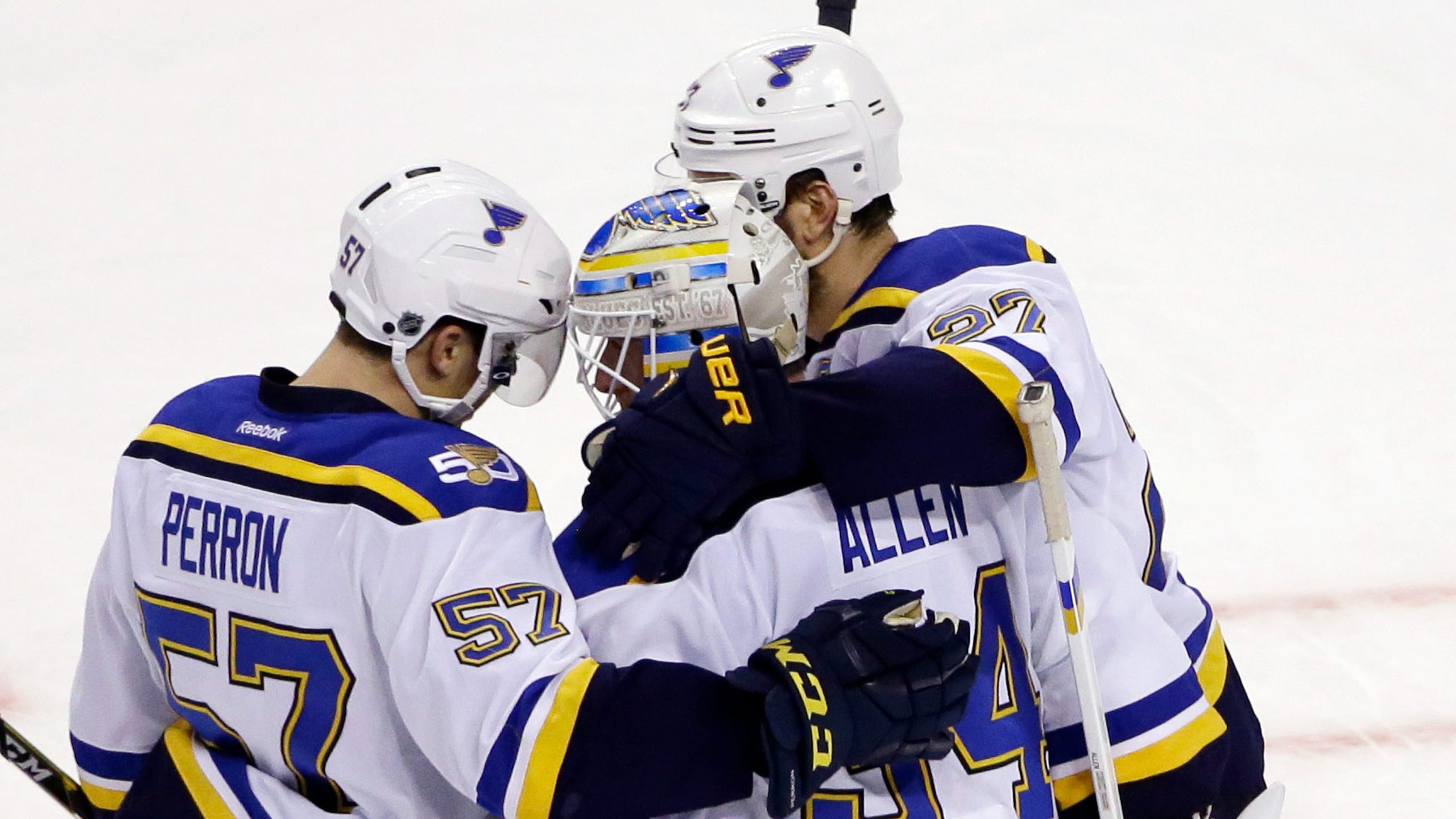 Allen saves 39 shots, Blues power past Bruins 4-2
BY foxsports • November 22, 2016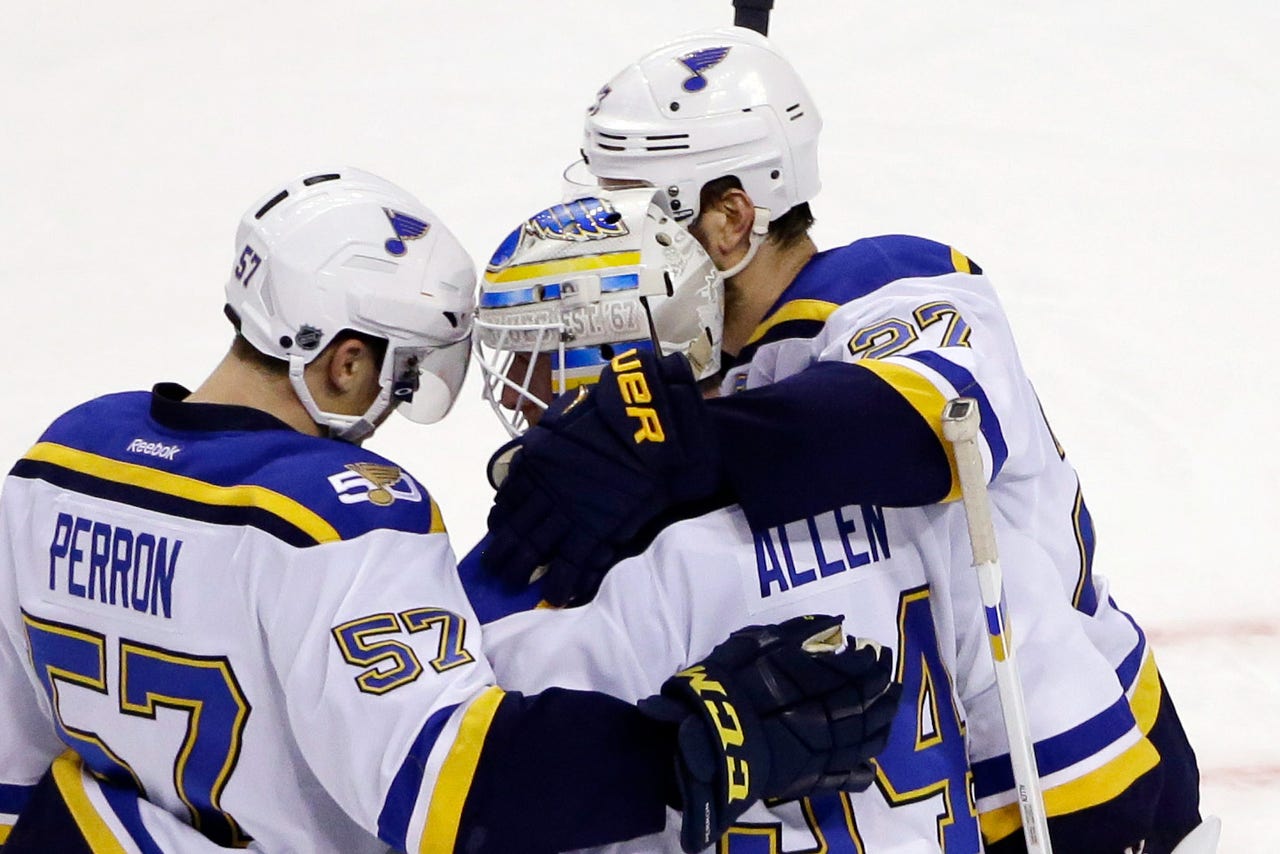 BOSTON -- The St. Louis Blues turned around a listless start by getting gritty in the second period.
Robert Bortuzzo and Paul Stastny scored 2:12 apart in the second and Jake Allen had 39 saves, helping the Blues beat the Boston Bruins 4-2 on Tuesday night despite getting just seven shots on net in the first 20 minutes.
"We were so sideways in the first period trying to make plays that weren't there," coach Ken Hitchcock said. "Once our attack went direct, I thought the second period was the best we've played on the road."
Star Bruins defenseman Zdeno Chara played just one shift in the second period before exiting with an undisclosed injury. With Boston using only five defenseman, St. Louis was able to wear the Bruins down.
Watch the Blues Live pregame and postgame shows before and after every St. Louis Blues game on FOX Sports Midwest.
"We got caught in our own end at times for long periods of time and then we had some guys that were out there tired," Boston coach Claude Julien said.
The Blues won their fourth straight and put an end to a four-game road losing streak. Hitchcock said the turnaround was remarkable and simple. The Blues kept control of the puck in the offensive zone, kept it moving and got themselves in position to capitalize on rebounds.
"I thought in the second period we had a lot of participants. We're still not there yet, but the second period was a marked improvement from what we've been playing on the road before," Hitchcock said. "It was a direct contrast to the first period."
Jori Lehtera scored twice for St. Louis, including a shot into an empty net with 1:16 left just after Allen stopped a one-timer to preserve the lead. Colton Parayko and Patrik Berglund each had two assists.
Longtime Blues captain David Backes scored for Boston in his first game against his former club, putting the Bruins up 1-0 early in the first with the 20,000th goal in franchise history. Montreal is the only other NHL team with 20,000 goals.
Dominic Moore also scored for the Bruins, who played much of the last two periods without Chara.
"Hopefully it's very temporary and he'll be back in short order," Backes said.
Boston lost for just the third time this season with Tuukka Rask starting in goal. Rask had 24 saves for the Bruins, who had won four of five.
After a troubling first period, the Blues had 14 shots in the second and scored three times to take a 3-2 lead into the third.
"I think we were just playing on our heels a little bit," Stastny said. "We were kind of playing wishing hockey a little bit, watching too much, trying to go for whole plays instead of playing that simple game. You've just got to find a way to possess the puck, get it on the forecheck and create your own chances. That's what we started doing."
Lehtera tied it at 1 when he tipped Parayko's past Rask 3:23 into the second. Boston challenged the goal but lost when the officials reviewed it and found there was no interference on Rask.
Moore put Boston back up briefly with a wrist shot over Allen's glove for a short-handed goal at 8:59 of the second.
Bortuzzo backhanded in a wide rebound to tie it again with 6:01 left in the second for his first goal of the season, then Stastny gave St. Louis its first lead when he poked in another rebound off a shot by Jaden Schwartz.
Backes, who signed with Boston as a free agent July 1 after spending his first 10 seasons with St. Louis, knocked in a rebound from in front of the crease when Allen couldn't control Torey Krug's slap shot 7:44 into the game.
NOTES: Krug's assist on the opening goal was the 100th in his career. ... LW Alexander Steen did not travel with the Blues and missed his third straight game with an upper-body injury. ... RW David Pastrnak, who leads Boston with 10 goals, missed his third consecutive game with an undisclosed injury.
UP NEXT
Blues: At Washington on Wednesday night, wrapping up a quick visit to the East Coast with back-to-back games.
Bruins: At Ottawa on Thursday night for an Eastern Conference opponent after playing five straight against Western Conference teams.
---
---