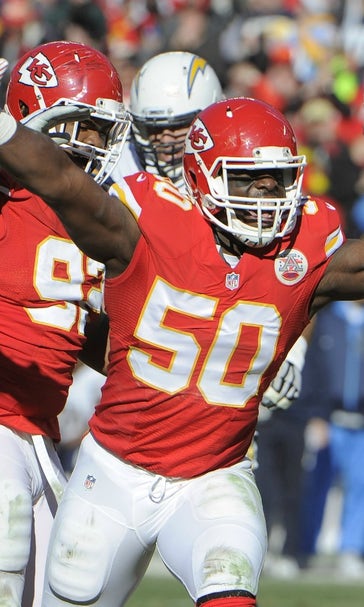 All-Pro LB Justin Houston absent from Chiefs OTAs
May 26, 2015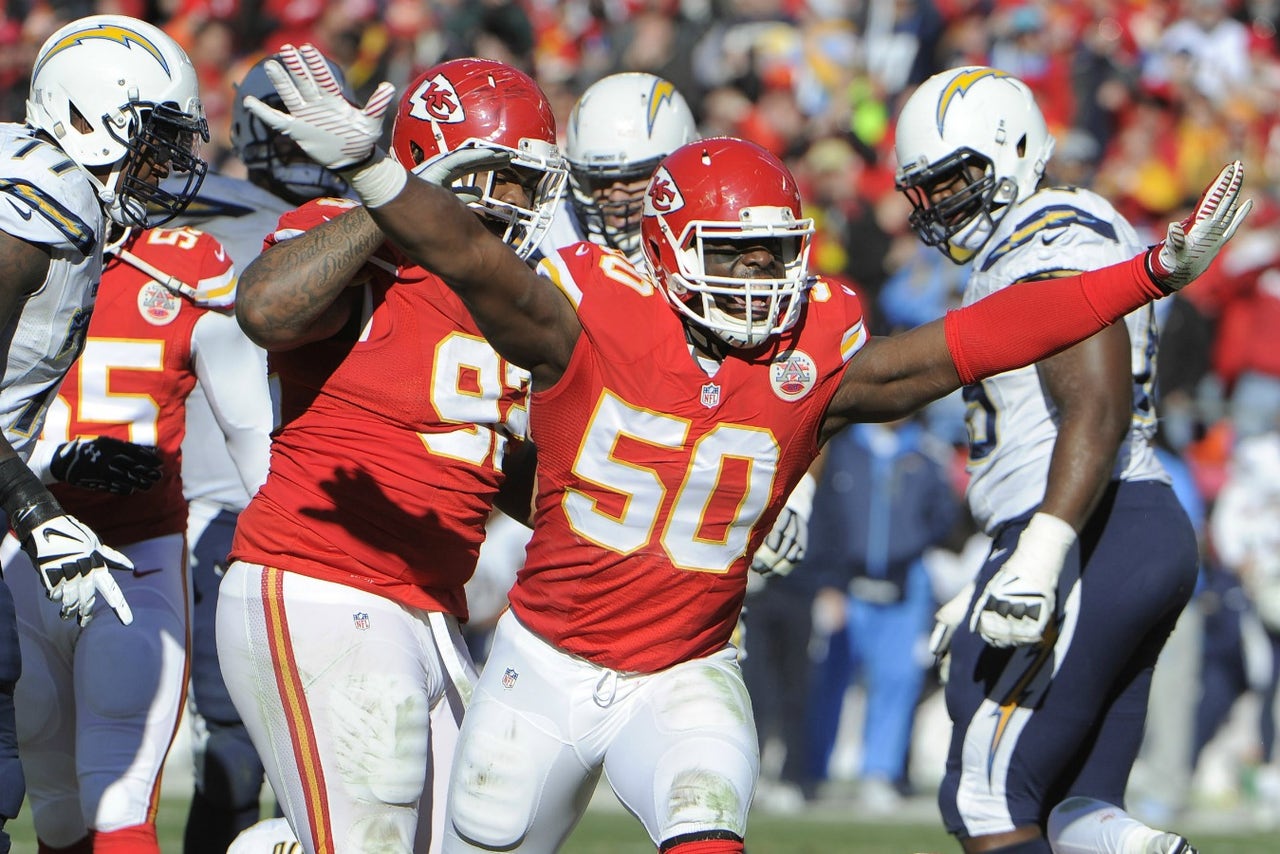 KANSAS CITY, Mo. -- The Chiefs kicked off the third phase of the offseason workout program Tuesday with the first set of voluntary organized team activities missing nine players.
The biggest name absent from the practice field didn't come as a surprise.
All-Pro outside linebacker Justin Houston, who has yet to sign a non-exclusive franchise tender, was not present as he seeks a long-term contract. The 26-year-old Houston also did not report April 20 for the start of the offseason workout program, following the same path he took in 2014 while entering the final year of his contract.
That missed time a year ago didn't hurt Houston, who went on to a third straight Pro Bowl selection after establishing a franchise-record and league-high 22 sacks.
Houston's absence doesn't concern fellow outside linebacker Tamba Hali, who said he talks to his teammate every two to three weeks.
"He's working his tail off," Hali said. "He's like any player, he wants to be here, but we know our league is a business. We got to allow that process to work itself out. He wants to be here. He's missing it."
Other players not on the practice field were rookie cornerbacks Marcus Peters, the Chiefs' first round pick out of Washington, and Steven Nelson, a third-round pick out of Oregon State; quarterback Tyler Bray (knee); strong safety Eric Berry (illness); free safety Husain Abdullah; strong safety Daniel Sorensen; defensive end Allen Bailey; and tight end Demetrius Harris.
Chiefs coach Andy Reid offered optimistic news on Berry, who is battling Hodgkin lymphoma and finished the 2014 season on the non-football injury list.
"He's been through all the treatments and now the doctors are going to sit down with him and go over exactly what the results of that are," Reid said. "We don't have that, Eric doesn't have that quite yet, but everything up to this point has been very positive from the doctor and Eric. I think we're heading in the right direction there."
Meanwhile, the absences of Peters and Nelson from OTAs were expected, as both players fell under the NCAA quarter system based on their respective school's academic calendar year. Peters and Nelson are scheduled to graduate on June 13 and expected to be at the three-day mandatory minicamp June 16-18.
Reid said Harris had foot surgery in early May on the same foot previously operated on in November 2014. Harris broke his right foot during pregame warmups against the Buffalo Bills in Week 10, and spent the rest of the year on injured reserve.
"The natural grafting that normally takes place when you put a screw in there didn't take place," Reid said. "They went in, they grafted it, they (put) a screw in the bones there and we'll see how he does. They feel pretty confident about this."
Reid said Sorensen was at the hospital to be with his wife, who was giving birth to their child, while Bailey and Abdullah were caught in the storm that hammered the South. Bray is still recovering from ACL surgery.
The team did welcome back two notable defensive starters who spent the 2014 season on injured reserve.
Linebacker Derrick Johnson and defensive end Mike DeVito, both of whom ruptured Achilles tendons in the regular-season opener, were back on the practice field. Johnson, who worked out without restrictions, was happy with what he accomplished in his first meaningful practice, albeit in shorts and helmet, since September 2014.
"I did better than I thought I was going to do today as far as mentally," Johnson said, "but physically I've been ready for the last couple of months."
The Chiefs wrap up the first set of OTAs on Thursday, and then return for the second set June 2-4 before concluding the voluntary portion of workouts on June 9-12.
NOTES: Hali said he had his knee scoped during the offseason to deal with floating cartilage, which was causing the knee to swell. "Doctor cleaned it out and I feel good," Hali said. ... Running back Cyrus Gray and offensive lineman Jarrod Pughsley were on the practice field, but did not participate. Reid said Pughsley has a hamstring strain: "It happened last week. It doesn't look like it's too bad, so I'm sure he'll be back out." ... Gray returns from an ACL injury suffered last season.
---