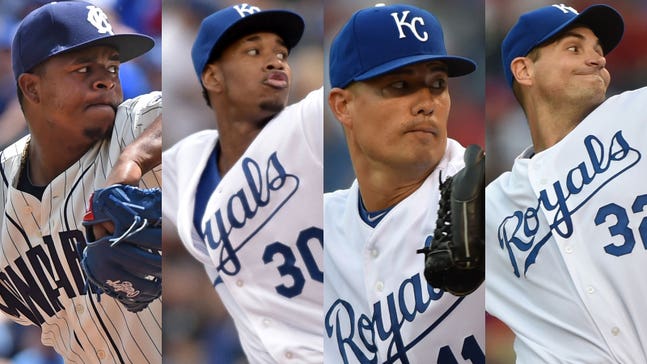 All hail Kansas City, home to the best rotation in baseball -- for a week, at least
Published
May. 23, 2015 1:35 a.m. EDT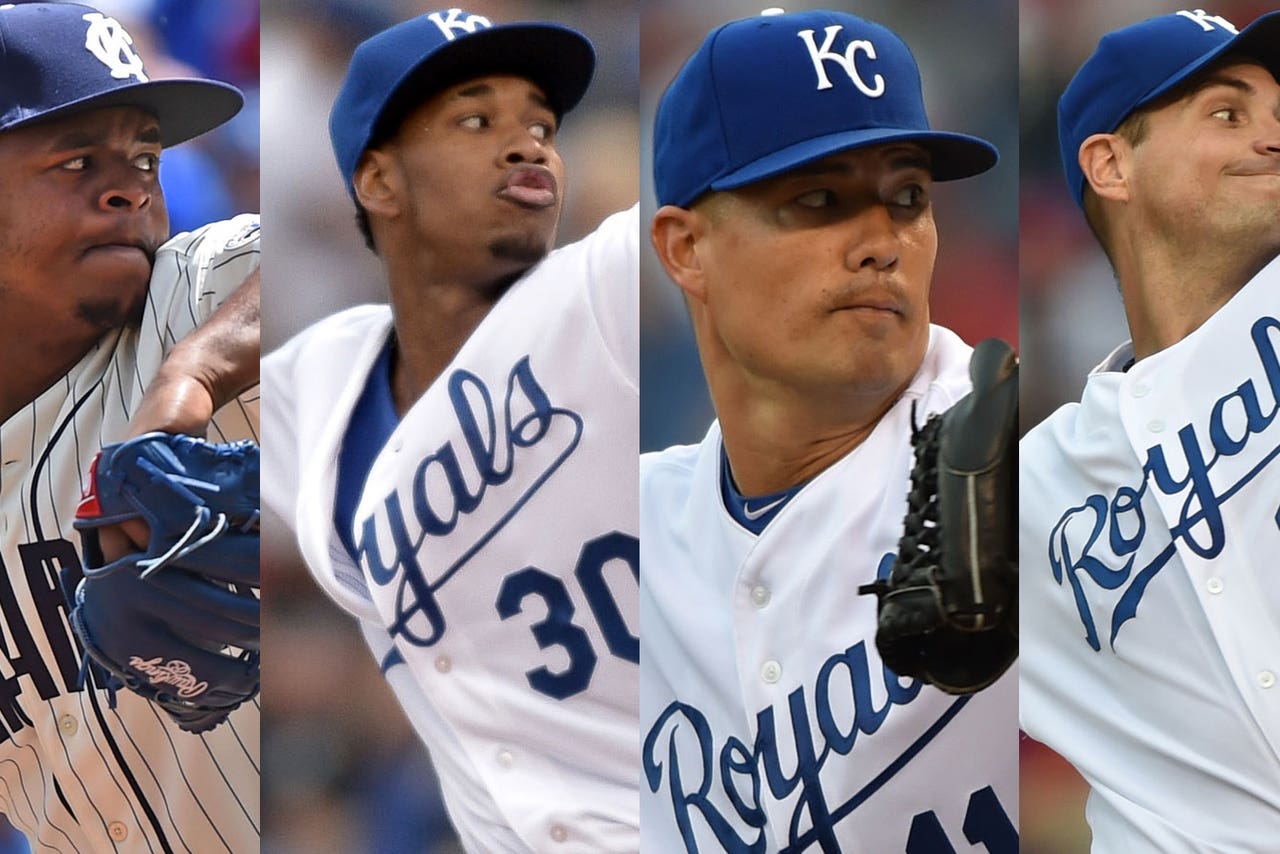 KANSAS CITY, Mo. -- It's a run of 26 scoreless now, a chain of goose eggs that stretches from Edinson Volquez to Chris Young, a pair of newbies, twin anchors of the best starting rotation in baseball.
OK, fine, the best starting rotation in baseball for a week. But why be pedantic when you're having this much freaking fun?
"No one is going to sit here and say it," Royals outfielder Jarrod Dyson said of the Kansas City starters Friday night after a 5-0 whitewash of the St. Louis Cardinals at Kauffman Stadium. "But everyone feeds off one another.
"It's just like hitting in the starting lineup. You get that guy hitting a double in front of you, you're trying to get him in, you're trying to hit that same double. It's like, if a guy goes seven innings with 10 punch-outs, then your next starter, he tries to do better or have the same type of game. So, yeah, we feed off each other in here. I think that's what we do a good job at. And try not to overdo it and just stay consistent in our work."
Over the last seven games, Royals starters have allowed seven earned runs in 41 2/3 innings -- a paltry ERA of 1.51. How's that for consistency?
"You try to ride that wave as long as you can as a rotation, because it helps everybody," offered reliever Ryan Madson, one of three arms to follow Young's six shutout innings and preserve the club's third clean slate in four contests.
"The hitters are going to be like, 'OK, they're only going to give up a couple runs, let's go, let's get some early runs for him.' When you have a good rotation, the bullpen is less tense, not on pins and needles the whole game.
"So everybody gets to relax. It helps in so many ways. That's why the starting rotation is so important. ... It helps the hitters, it helps the bullpen. That's why they get paid a lot more than the relievers do."
It's officially contagious now, the awesome kind of contagious. Volquez (seven shutout innings versus the Yankees) hands the paint brush to Yordano Ventura (seven shutout innings versus the Reds), who hands it to Jeremy Guthrie (six shutout innings, also against the Redlegs), who hands it to Young.
Tall, less tall. Dominican, Texan, whatever. Zero after zero after zero after zero.
"They definitely get on a roll," Madson continued. "And they feel like, if the last guy goes six and gives up zero runs, the next guy, that's his (mentality), it's going to be, 'Well, I'm going to go six.' And then it becomes like an expectation."
Which is funny, considering how low many fans had set the bar with this particular subset. In a post-James Shields world, the tenor with the starting five has been one of cautious optimism, accent on the former. The term "quality start" may be anachronistic, the way batting averages have become in a 21st century "Moneyball" world, but it's at least a functional baseline as far as usage. The Royals went into the I-70 Series with just 15 of them through their first 40 tilts, good for 12th out of 15 in the Junior Circuit, and well below the big-league average of 20 per club as of Friday morning.
To oversimplify the obvious, the fewer relievers you have to get warming up in the fourth inning -- or earlier -- the better it winds up being for everybody. In the long run.
And it is just that -- a long run. The Royals have the best record in Major League Baseball at 27-14 as Memorial Day beckons, which means we're only a quarter of the way into the dance. On May 23, 2014, the Fighting Yosts were 23-24, 6 1/2 games behind Detroit and in fourth place in the American League Central, looking up at the Twins and White Sox. Things change. Sometimes for the better. Sometimes not.
Of course, none of that means that you can't enjoy the present, especially when the present rocks like Judas Priest. It's amazing how little the big stage fazes this crew now, pitching or otherwise. On Friday evening, the Royals played their 24th game since last Sept. 30 -- the Wildest Wild Card of all -- in front of a home crowd of 28,000 patrons or more. They're 18-6 in those 24.  In 2014, the Yosts were 7-17 before 28,000-plus in the regular season.
"We're just like Nike: 'Just do it,'" Dyson quipped, as only Dyson can. "Seriously. That's how we conduct ourselves in here."
One man drops the rope, the man next to him doesn't sulk or point fingers. He picks it up. The line marches on.
And funny enough, for all the doom, gloom and occasional wobbly moments, going into Friday, the Royals were actually giving up fewer runs over the first five innings of contests (2.23, fifth best in the AL, 12th best in the majors) than they were a year ago (2.28, 16th best in MLB). In this race, more often than not, it comes down to how you finish. But a hell of a start never hurt anybody.
You can follow Sean Keeler on Twitter at @SeanKeeler or email him at seanmkeeler@gmail.com.
---
---