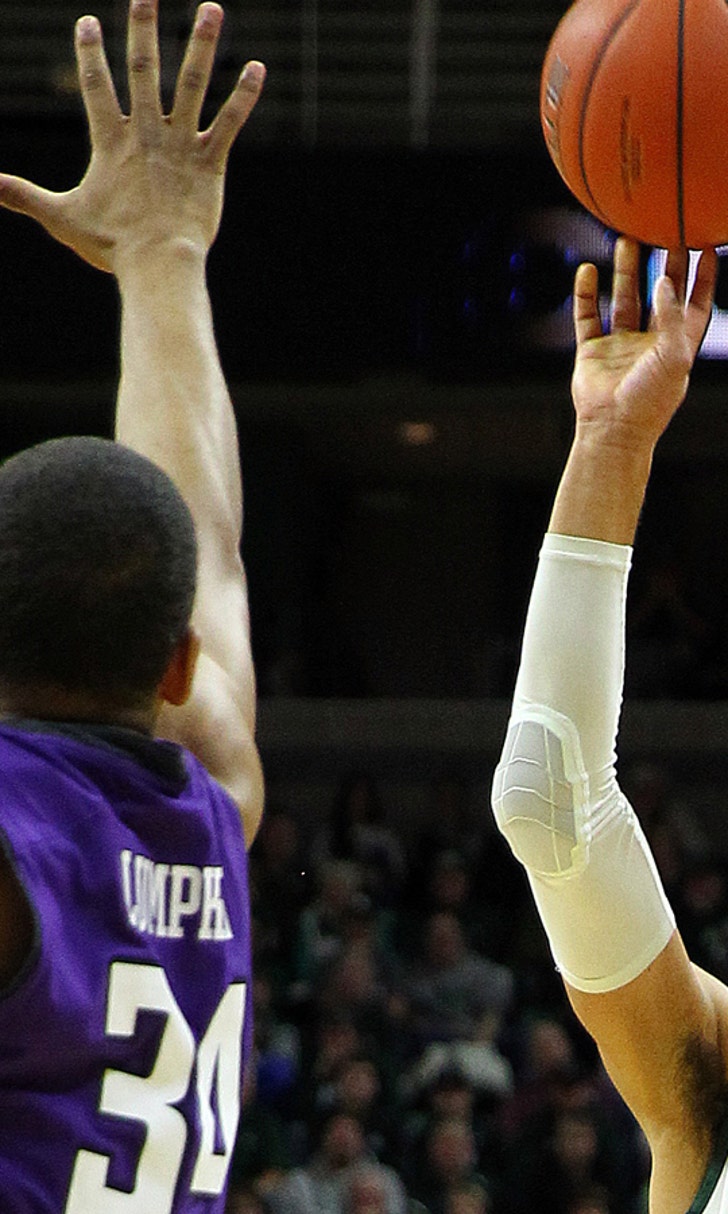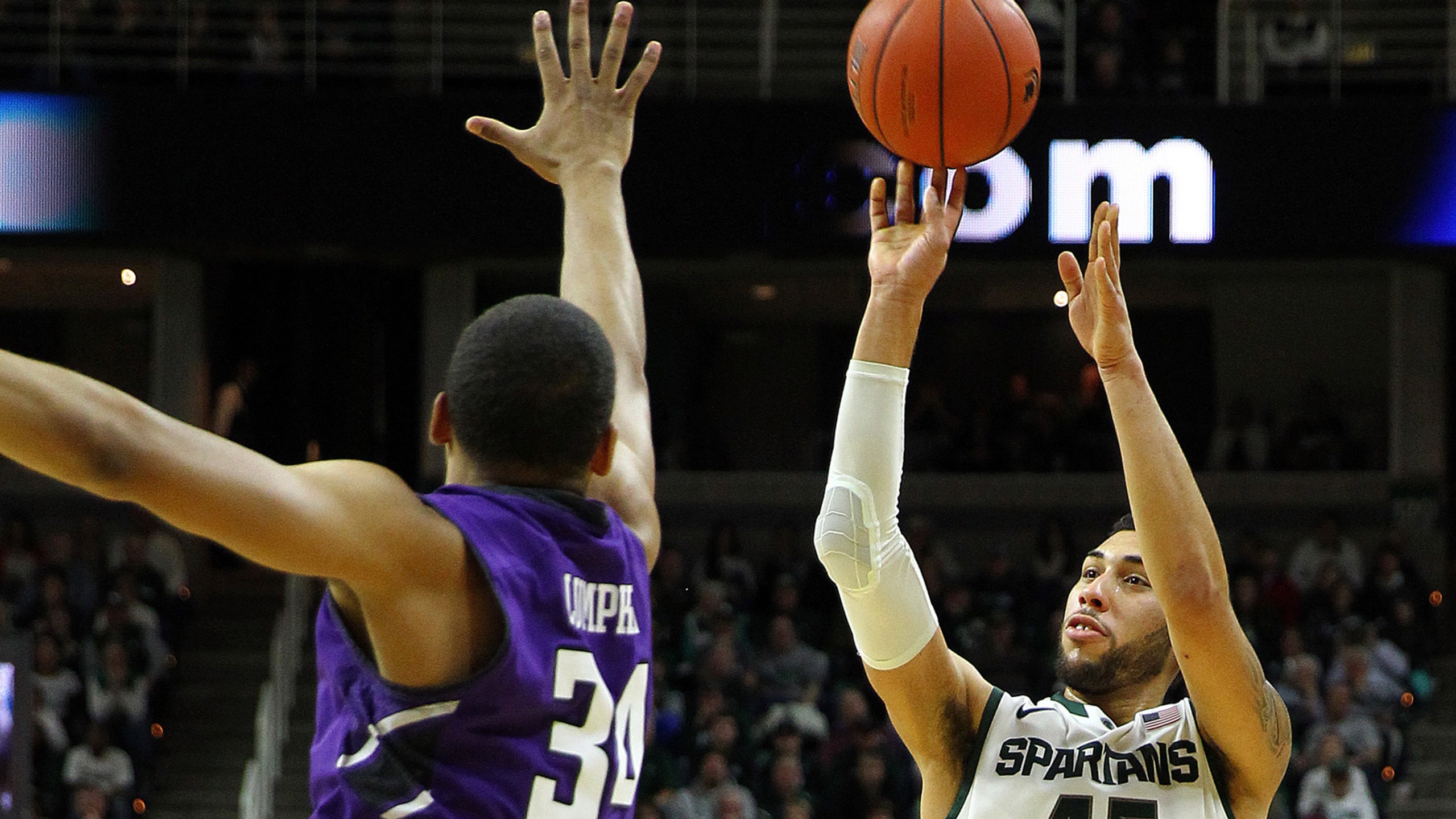 Ailing Spartans hold off Wildcats
BY foxsports • January 11, 2015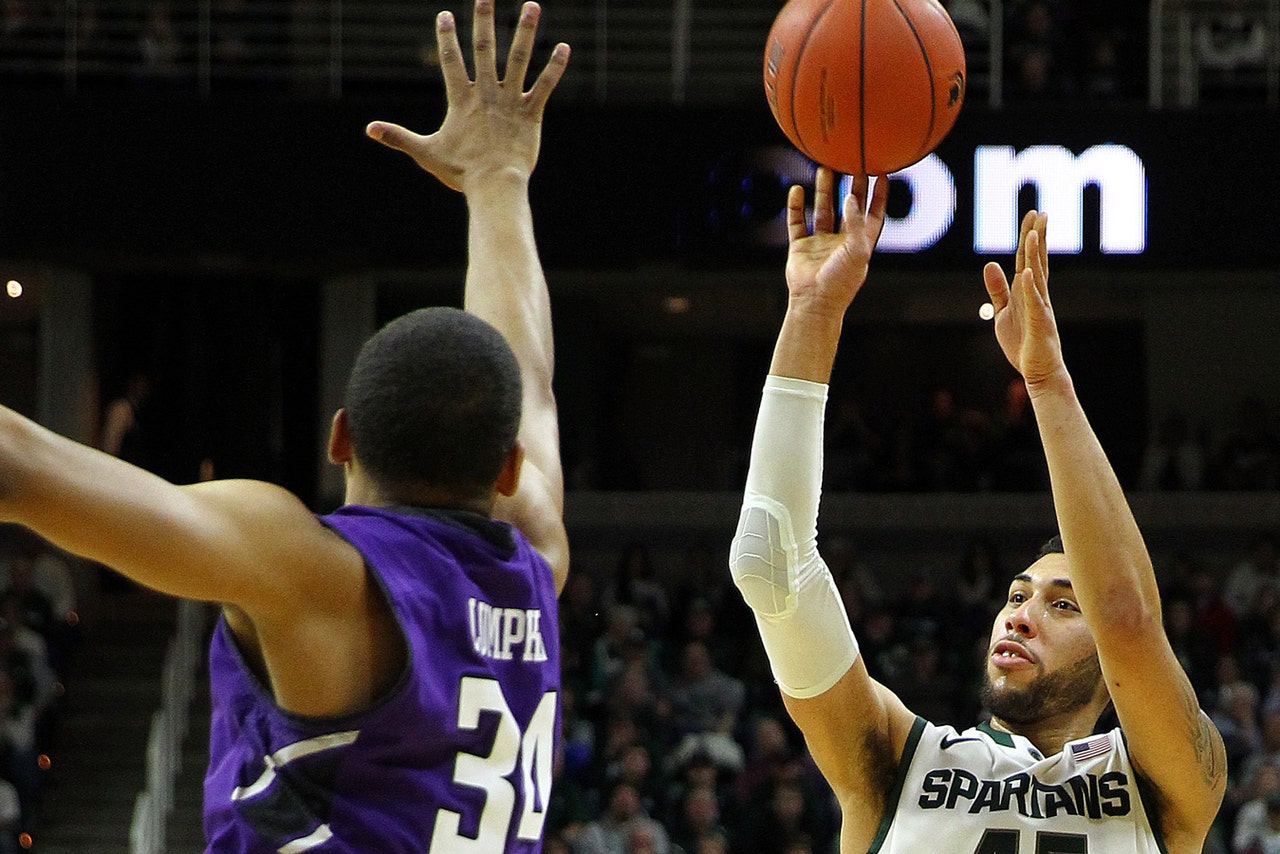 EAST LANSING -- All in all, Michigan State had a good week.
With an 84-77 overtime victory over Northwestern Sunday, the Spartans won their third game of the week, but looked every bit like a team that played three games in seven days.
Needless to say, coach Tom Izzo is looking forward to the next six off-days.
"Oh it's going to be fun," Izzo said. "I'm going to have a fun week, man. They are going to be six of the craziest days we've had. There are some issues."
A few of his players were looking forward to the break too, but for a different reason. Denzel Valentine and Matt Costello have been battling illnesses for about a week, and looked visibly fatigued against Northwestern.
"We're both not feeling the best but this is when everybody gets sick so you just have to deal with it," said Costello, who finished with just three points and one rebound.
Izzo wasn't pleased with Valentine's effort in the first half, and sat the starting guard for the first seven minutes of the second.
"He was ailing," Izzo said. "It wasn't a message, it was a statement. I don't pull a lot of punches. I was not happy."
MSU responded with a 14-2 run when Valentine re-entered the game, which didn't go unnoticed.
"Did you think he played a little harder when he went in?" Izzo asked members of the media after the game. "Me too. Case closed."
Valentine finished with 17 points, 11 of which came in the second half. He also made two crucial free throws with 18.5 seconds remaining to tie the game at 72 and force overtime.
It took the better part of 25 minutes for Valentine to get up to speed, but he persevered in the nick of time.
"It's frustrating but at the same time you can't use that as an excuse," Valentine said of his illness. "You just have to get the job done. At the end of the day nobody really cares how you feel they just care that you win."
The Spartans did just that, and it was anything but easy. MSU jumped out to a 23-9 lead in the first ten minutes of the opening half, but Northwestern outscored the Spartans 21-7 in the next five to tie the game at 30. The two teams entered halftime locked in a 40-40 tie.
MSU also went on a 17-2 run midway through the first half before Northwestern went on a 13-2 run of its own to tie the game with three minutes remaining.
The Spartans outscored the Wildcats 12-5 in overtime for the victory; a victory Izzo didn't think his team deserved.
"That team punched us in the mouth," Izzo said. "That team deserved to win."
The Spartans are still struggling to find their identity, and have relied on outside shooting rather than defense and rebounding -- past characteristics of Izzo-coached teams.
MSU is shooting .418 (130-311) from 3-point range this season, which leads the Big Ten and ranks fourth in the nation. The Spartans shot just 27.3% (3-11) against the Wildcats.
"Until we embrace that to be successful, it doesn't matter where you are, what you are or who you are, you have to do some things," Izzo said.
"It's been a miserable Christmas for me because we didn't do anything we did for 19 years."
The Spartans will have a six-day "break" to sort out their issues before facing a tough Maryland team on Saturday.
---
---