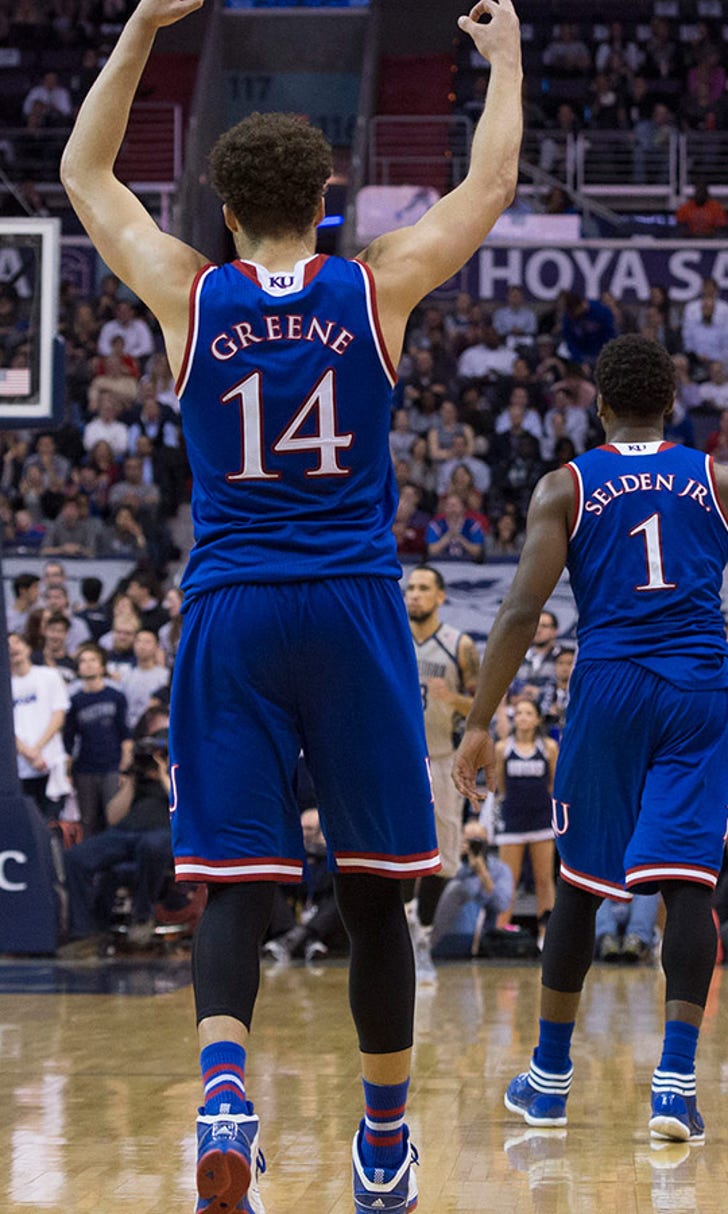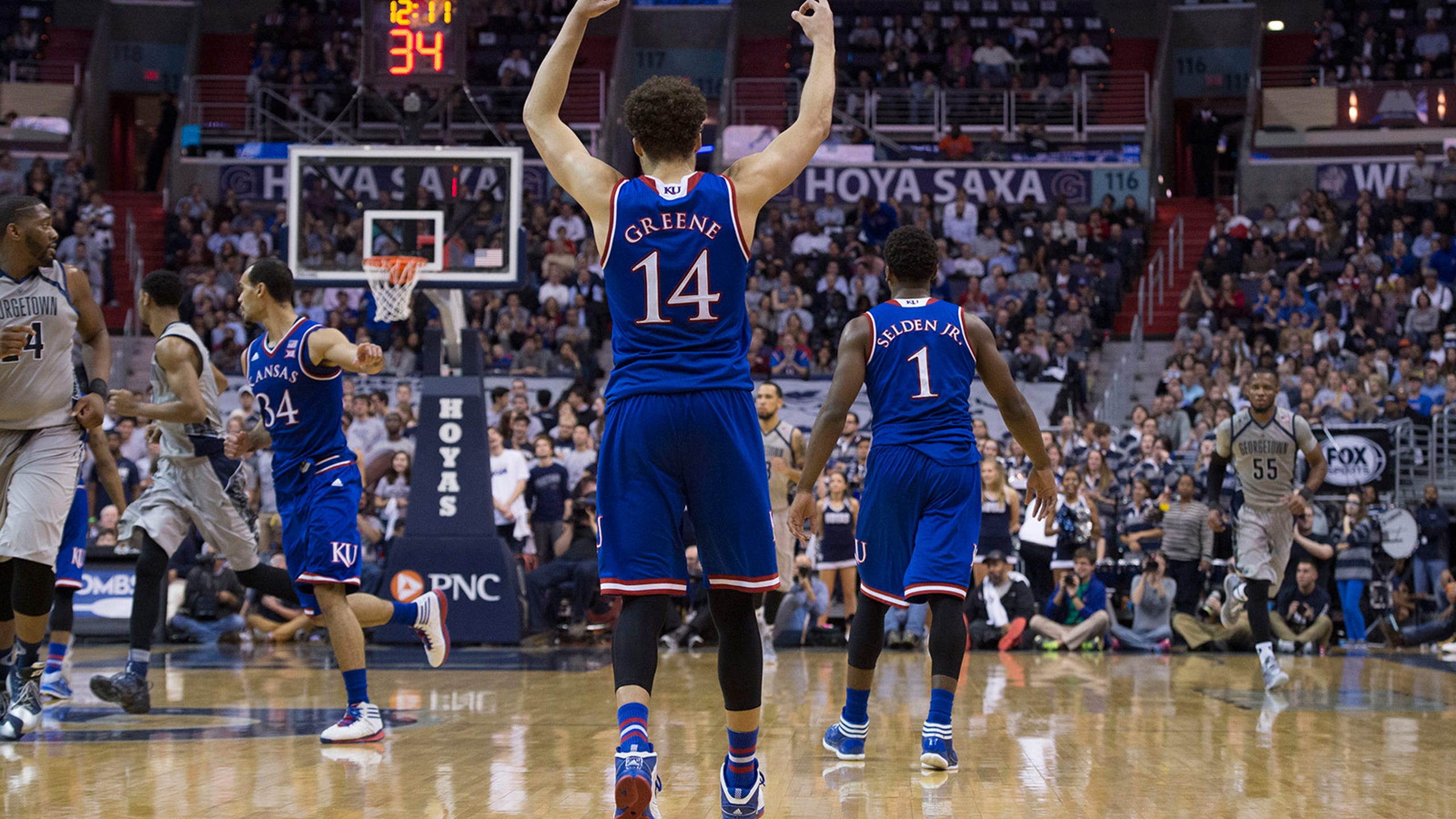 Against a united, physical Georgetown front, KU took its toughness to another level
BY foxsports • December 10, 2014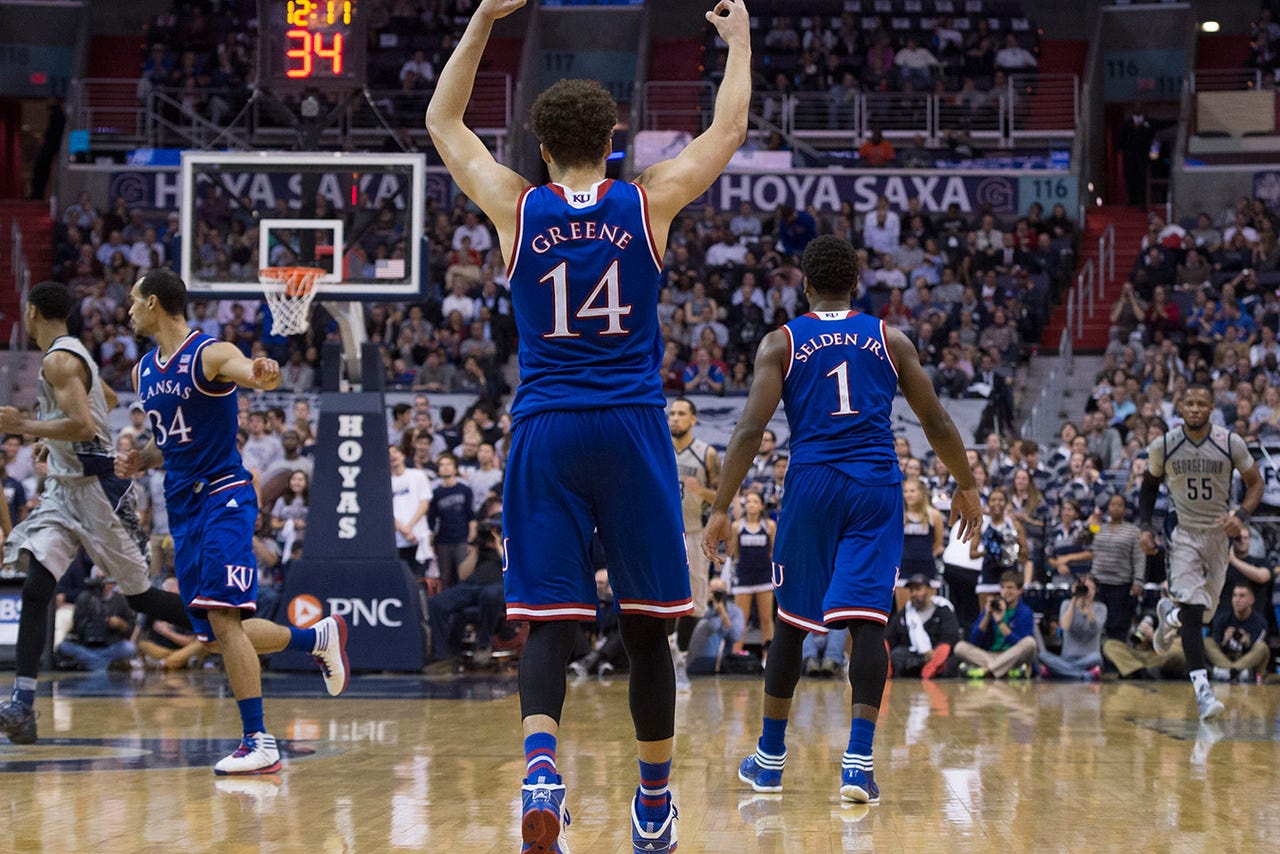 This was closer to Bill Self's vision, his master plan for 2014-15: Less tiger shark, more piranha. On offense, spread 'em out, make 'em chase and respect you at the arc; on defense, more wayward hands than a junior-high dance, little guys irritating the snot out of the big ones.
"We didn't play great," the Kansas men's basketball coach told reporters after his 10th-ranked Jayhawks knocked off Georgetown in D.C., 75-70. "We kind of played through foul problems, and guys are nicked up. But we competed hard."
And that last one Wednesday evening was big, as close to a glowing compliment the venerated coach can give a particular kid. Against a long, physical Hoyas roster, the Jayhawks (7-1) outboarded the hosts, 39-37, and went to the charity stripe 32 times in a Big East building -- a Verizon Center where Georgetown had won 33 straight out-of-conference tilts -- against a Big East opponent as strong as it was united.
Before tip, the Hoyas (5-3, 4-1 at home) took a stand collectively, wearing black T-shirts during warmups with the words "I Can't Breathe" emblazoned across the front. The phrase refers to Eric Garner, a New Yorker who died in July after being placed in a choke hold by a police officer during an arrest. A video recording of Garner saying "I can't breathe" while being pinned by police went viral, and when a grand jury didn't indict the officer involved, it sparked widespread protests.
High-profile athletes have made statements, directly and indirectly, on the Garner case as well. NBA stars such as Derrick Rose, LeBron James and Kyrie Irving have donned black "I Can't Breathe" shirts during warmups, but the Hoyas are believed to be the first major-college program to do so as a team.
And yet it was the Jayhawks who grabbed momentum early, storming to a 16-11 lead on freshman guard Kelly Oubre's jumper with 10:50 to go in the half. The light went on for Oubre, one of several gigantic KU wing guards with skyscraper potential so far unrealized (seven points, five rebounds, two steals); that light went supernova for another big backcourt weapon, sophomore Brannen Greene (19 points, 5 for 5 from beyond the arc).
Freshman power forward Cliff Alexander, who recorded a block and two massive free-throw makes in the final, pivotal five minutes, took another baby step forward. At times, poor Landen Lucas posting up the Hoyas' 350-pound tank of a center, Josh Smith, looked a bit like a 2-by-4 plank trying to prop up a wall. But the dude hung in there. So did they, and with swagger -- even without enforcer Jamari Traylor, suspended because of his arrest early Sunday morning.
Self likes that swagger. Needs that swagger. He wants people to think of his Jayhawks first not for a roster full of NBA draft picks and five-star resumes, but for being the hardest-working, toughest bunch on that particular floor on that particular night. When KU plays like a scrappy, try-hard mid-major that just also happens to be a blueblood, when the level of hard work meets the prodigious level of talent rather than using the latter as a crutch, that's the goal, the prime directive.
Point guards Frank Mason and Devonte' Graham embodied that work ethic in Washington, through thick and thin. The duo combined for three steals -- KU racked up nine on the night, a new single-game high -- while their whirls into the paint earned 12 trips to the line, a drive-and-kick or drive-and-dish combo growing in confidence with each ensuing possession, each mountain conquered.
Georgetown is the fourth team among the KenPom.com top 30 that KU has faced over the past three weeks, and the third to go down, with the 20th-rated Hoyas joining Michigan State (14th as of early Wednesday evening) and Florida (16th) among the vanquished. A fifth big boy, Utah (23rd), is up next at Sprint Center on Saturday afternoon.
"We're learning how to win ugly," Self told reporters after the game.
And, in Self's world, sometimes those Ws are the keepers, the ones that stay on the wall. Come March, given the benefit of hindsight and a resume built the hard way, Wednesday night just might turn out to be one of the prettiest pelts of all.
You can follow Sean Keeler on Twitter at @SeanKeeler or email him at seanmkeeler@gmail.com.
---