After 'redshirt' year, Packers LB Bradford says 'it's go get it or get gone' time
Published
Jun. 15, 2015 4:00 p.m. ET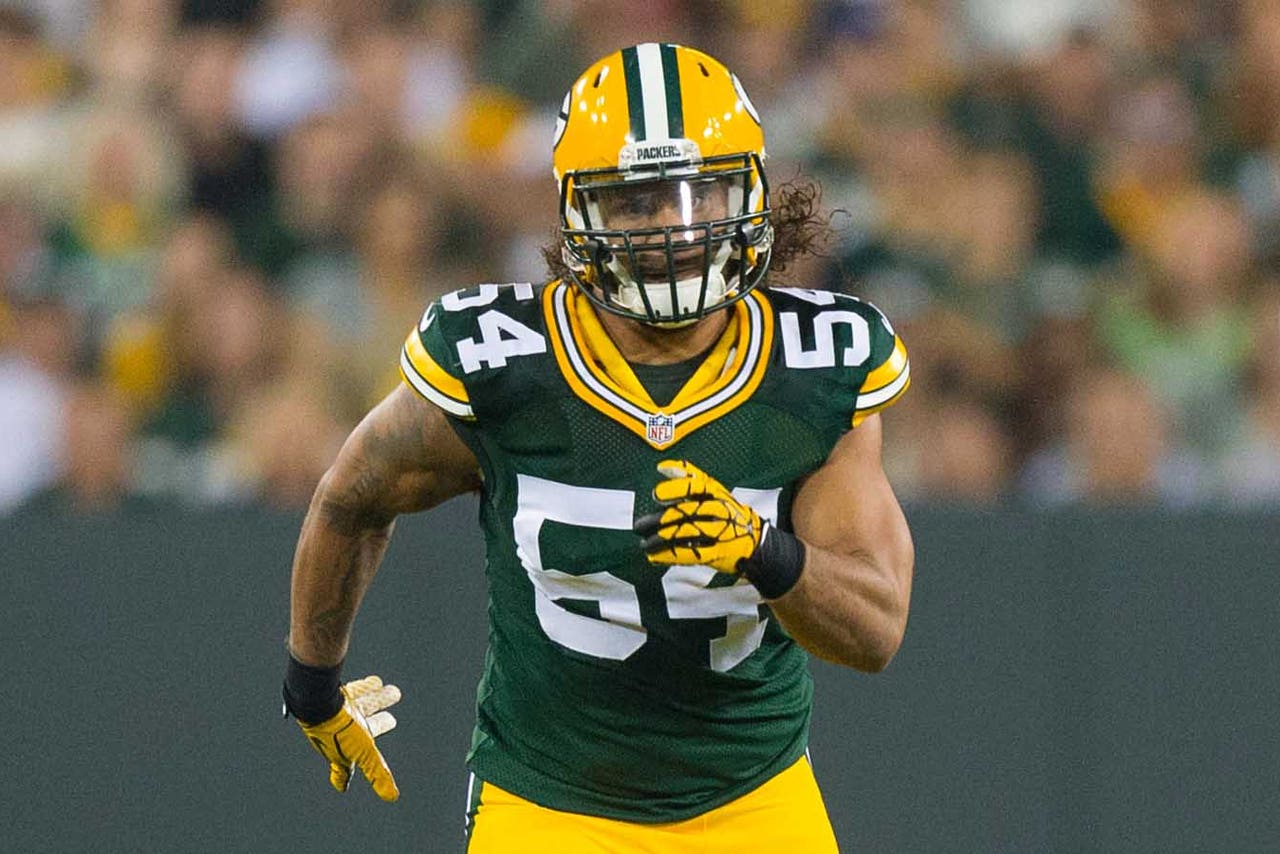 GREEN BAY, Wis. -- Carl Bradford's rookie season in the NFL didn't go the way he hoped it would. Selected in the fourth round by the Green Bay Packers as an outside linebacker, Bradford didn't even escape training camp with the same position that he was drafted to play.
Through 16 regular-season games and two postseason games, Bradford never got to be with his teammates in uniform on game day. He was a healthy inactive every week.
As disappointment began to set in, Bradford remembered back to being a freshman in 2010 at Arizona State. That redshirt season helped him learn what it would take to pick up the 20 combined sacks that he would later have in his final two years with the Sun Devils.
"Mentally, I definitely took a step back," Bradford said of last season. "Who doesn't want to play their first year in the NFL?"
However, Bradford said, "I kind of knew how to deal with it better than I expected." And that was as a result of his similar experience in college.
Bradford described his first season in Green Bay as "more like a redshirt season." Especially after being moved to inside linebacker in August, Bradford needed it. There was going to be an extended adjustment period given the position switch.
Bradford mentioned several times how comfort and familiarity were lacking for him last season. That's part of the reason he wasn't necessarily surprised to find himself not a part of the team's game-day plans.
More than anything physically, Bradford's biggest challenge entering the second year of his Packers career remains mental.
"Right now, just to know the defense inside and out," Bradford said of the most important hurdle for him to clear. "That's my main thing and main focus, to get this defense down like the back of my hand. Then it will fall in place from there."
If Green Bay would have kept its 53 most-deserving players (based on training camp and preseason performance) last season, Bradford likely would have found himself on the outside looking in. But general manager Ted Thompson obviously didn't want to walk away from a mid-round pick too quickly, thus giving Bradford one of the coveted final spots.
Though his draft-pick status will continue to work in his advantage to some extent, Bradford knows the preferential treatment won't be at the same level for much longer.
"It's full-blown, no-holding-back now," he said. "It's go get it or get gone, man. It's something where I have to attack and earn my job here."
Bradford is trying not to think about the pressure that's facing him in the buildup to the 2015 season. By August, that pressure will be real, whether Bradford chooses to ignore it or embrace it.
Linebackers coach Winston Moss doesn't want to measure Bradford in terms of the difference between now and this time last year. The practice snaps in a new-look Packers inside linebacker group (one that no longer includes A.J. Hawk, Brad Jones and Jamari Lattimore) are helpful to Bradford, but Moss believes it doesn't mean much yet.
"He's progressing, (but) only time will tell," Moss said. "The best measuring stick is not necessarily through your practice. It's good to see him working, good to see him develop, but you want to see guys do it live. And we're not going to get to that until preseason."
That's what Bradford is looking forward to, as well.
"I'm ready to show what I can do," he said. "I'm tired of talking about it."
There were questions immediately after Bradford was drafted as to which linebacker position best suited him. Green Bay initially thought the answer was outside linebacker, where Bradford thrived at Arizona State despite measuring at 6-foot-1 and 250 pounds with a 30-inch arm length.
Bradford thinks he could still play outside linebacker in the NFL, but he knows his chances there have likely come and gone.
"Wherever they want me, I'm going to play and I'm going to give my all at it," he said. "I love this opportunity. I love playing inside, just to get familiar with the game from that vision, to know the defense well and to quarterback the defense. I love it."
As of organized team activities in late May and early June, Bradford has his work cut out for him to play significant snaps at inside linebacker this season. He's behind Sam Barrington in the rotation, while Clay Matthews also stands in his way when the Packers are in their 3-4 defensive packages. Bradford will also face stiff competition from Green Bay's 2015 fourth-round pick, Jake Ryan.
Before Bradford can get on the field, he'll have to show great improvement in pass coverage. That's the area of the 22-year-old's game that remains his biggest weakness.
"I never had to do it before," Bradford said. "It's all new to me from that aspect. Getting used to it, and learning how to take the right drops and the right technique, it's a little different for me."
Bradford's role could come down to how well he lives up to the expectation of head coach Mike McCarthy, who speaks frequently about the jump players need to take from Year 1 to Year 2. With McCarthy stepping down as offensive play-caller and being much more involved with the defense, Bradford knows he has to impress the coaching staff as quickly as possible.
"I definitely came a long way from last year, but I definitely still have a mountain to climb," Bradford said. "I'm nowhere near where I want to be, but I'm taking steps in the right path."
Follow Paul Imig on Twitter
---